Hi Everyone,
As you all know—especially if you've been following along with our home renovations—I am completely design obsessed. Of course, part of that obsession comes with the job, but to some extent I've always had a passion for creating "that perfect space" that I can dwell in comfortably but that also speaks to my creative side. So naturally, the majority of accounts that I follow on social media reflect that!
If you could look at beautifully designed spaces all day like I can, then you'll want to keep scrolling for 10 inspiring interior design Instagram accounts you need to follow ASAP. You can thank me later…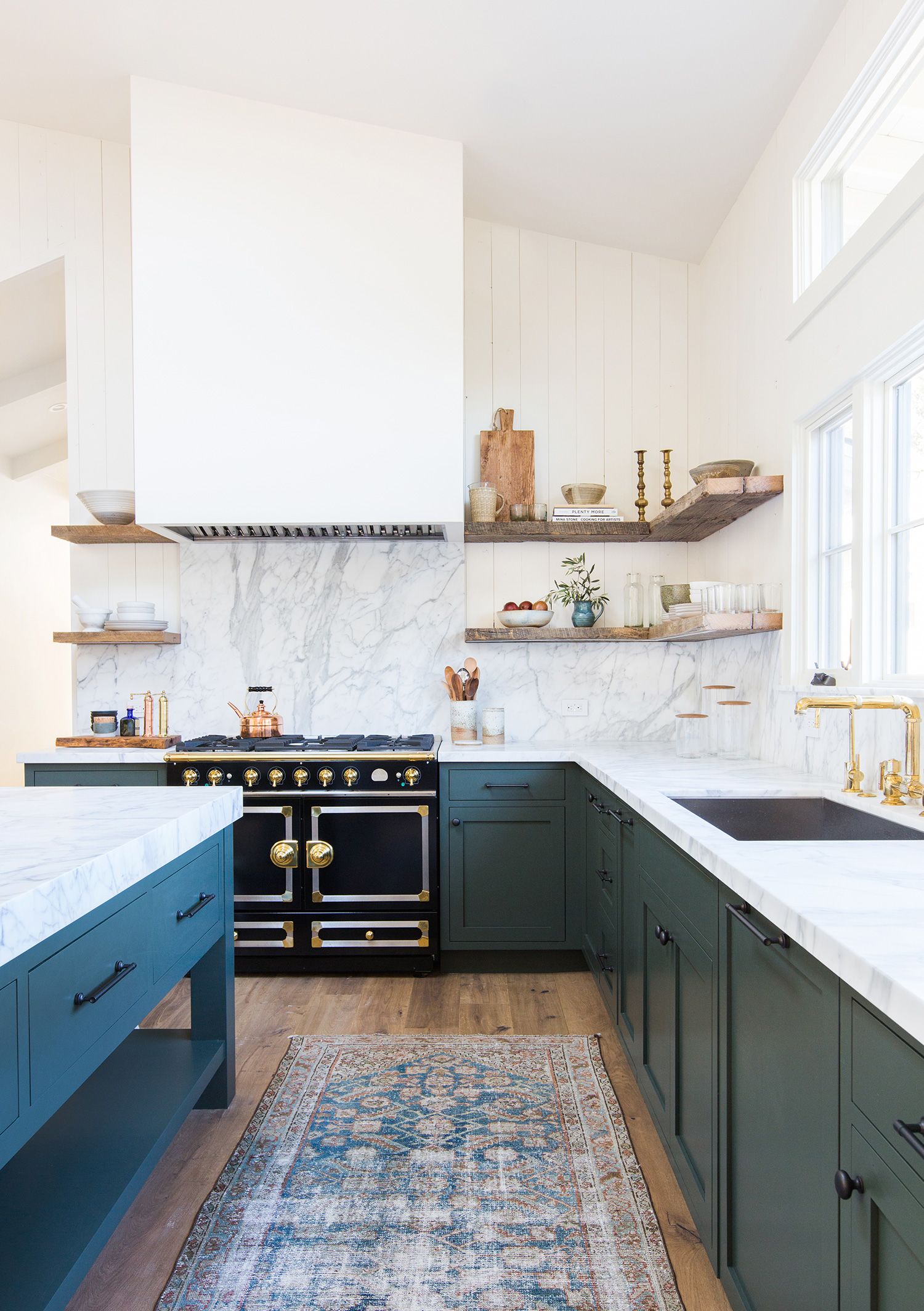 Photo by Tessa Neustadt for Amber Interiors
Design queen Amber Lewis is inspiring enough on her own Instagram account, but lately I've fallen in love with her shoppe Instagram. They have two locations—one in Calabasas and a newly opened location in Pacific Palisades—and they both look to-die-for! If you love Amber's design aesthetic, then you need to follow this account to shop her custom-made products and get her look in your own home.
Andrew Howard Interior Design totally appeals to the traditionalist in me. I love his New England inspired aesthetic and the way he mixes and matches patterns in his designs. Think lots of whites, blues, corals, and greens, mixed with breezy neutrals, wicker, and wood. A dream!

Photo by Lauren Pressey for Kate Lester Interiors
By now I'm sure you're all familiar with our superstar contributor, Kate Lester. Not only does she have unbeatable expertise in the interior design business that she shares with us on a monthly basis, but her California-inspired design aesthetic alone is beyond easy to love. She's a pro at mixing modern and vintage, and she even has her very own shop called Kate Lester Home where you can snag her look for your own space.
I mean… no caption needed, right? The fact that McCann Design Group is based in Palm Beach, Florida is evidence enough that their design aesthetic is a tropical dream, but look no further than their Instagram account for even more proof! Their design firm specializes in luxury interiors, paired with bright colors, fun pattern, and tropic-inspired accents. (P.S. Anyone else want to move right into this photograph?)

Photo by Kate Osborne for Studio McGee
Studio McGee is the perfect marriage of some of my favorite things… light wood details, natural fibers, and lots of coastal-inspired color palettes. This Utah-based design studio has a feed chock full of interior (and exterior!) inspo that you'll be drooling over. But if that's not enough for you, then follow their brand McGee & Co. too, for even more inspiration.
If bold, globally inspired design is your thing, then follow Kelly Behun immediately. Her page is full of eclectic interiors from all over the world that will have your imagination running wild, and will get your creative gears turning in a whole new way.
If you've seen a sneak peek of any room in our house, chances are you've spotted a piece (or two, or three) from Serena & Lily. They're always my go-to shop for all things décor, from outdoor pieces to bedding and accessories. I'll never tire of their laidback vibe, and the quality of their pieces is unbeatable. Plus, isn't their Instagram feed just the prettiest?
Another one of our amazing contributors, Daniela Benloulou is a designer you can't miss. Her aesthetic is light and bright, with touches of bold color and mid-century modern accents. Make sure to follow along with her for peeks at her adorable nursery, beautiful kitchen, and colorful dining room, as well as recent projects like this one above.
Do yourself a favor and follow Laurel & Wolf like, yesterday. They share tons of photos from their own design projects (like our studio makeover from last year, seen above) as well as plenty of design inspo from other outlets. Let's just say there is no shortage of inspiration on their page, and I don't think there is a single décor style they haven't covered, so there's something for everyone.
Photo by Amy Bartlam for JDP Interiors
If you're a sucker for neutrals and earthy design, then you'll love following JDP Interiors. Joyce designs the prettiest modern spaces with eclectic, vintage touches—and she's a pro at employing a neutral color scheme. If you love the blend of old and new, then give her a follow. You won't regret it!
Do you follow any of these accounts? What are some more favorites you'd add to the list?
Here's to lots of scrolling and plenty of design inspiration!
Cheers,
xx
GM

Photos: (Header) Kate Osborne for Studio McGee