Hi Everyone,
If you've been following along here on the blog, such as with posts like Farewell to Our First Home, or keeping up with me on my personal Instagram @graymalinpersonal, then you know that I moved into a brand new home at the end of last year. For fellow homeowners out there, I'm sure you can relate when I say - it takes time to make a new home your home - and while we're at it, the same thing goes for renters, especially those living in major cities where it's much more the norm to rent than own. Bottom line, your home is your haven and it takes a moment to make it feel that way, both in time and money...but it's all worth it, isn't it?
In my case, our new house was newly renovated and very much turn-key. Unlike our former house, there was no need to redesign the kitchen (Phase 1 & 2) or undergo a major project like changing the garage to a multi-purpose pool house. Funny enough, it's almost easier to look at something you don't like per se and know what you want to do to change it versus looking at something that's perfectly lovely but not quite you...yet. For me that was the challenge... taking on the daunting yet extremely rewarding job of adding personal touches to a new home's decor, which can be shown in something as noticeable as a wallpaper choice to the smallest of details like switching a door knob in the guest bathroom.
For my approach, I started with the front of the house which included the front porch, front entry and upstairs balcony. Today, I am excited to share these spaces with you, along with officially share the exterior of the house!
THE FRONT PORCH
I've always wanted a front porch as there is something so welcoming about them. I knew right away that I wanted to add a coastal touch, and the first way I did that was by consulting with the pros at Farrow & Ball. More on that later, though...first, let's talk about the fabulous outdoor furniture from a forever favorite of mine, Serena & Lily.
To start, we filled the space on both sides with the Riviera Bench. I love how versatile the natural shade of the rattan is paired with the corresponding bench cushion. Then, I played with a selection of their toss pillows, which are so fun! Together, it all creates a warm nautical vibe that transports you to the coast of France.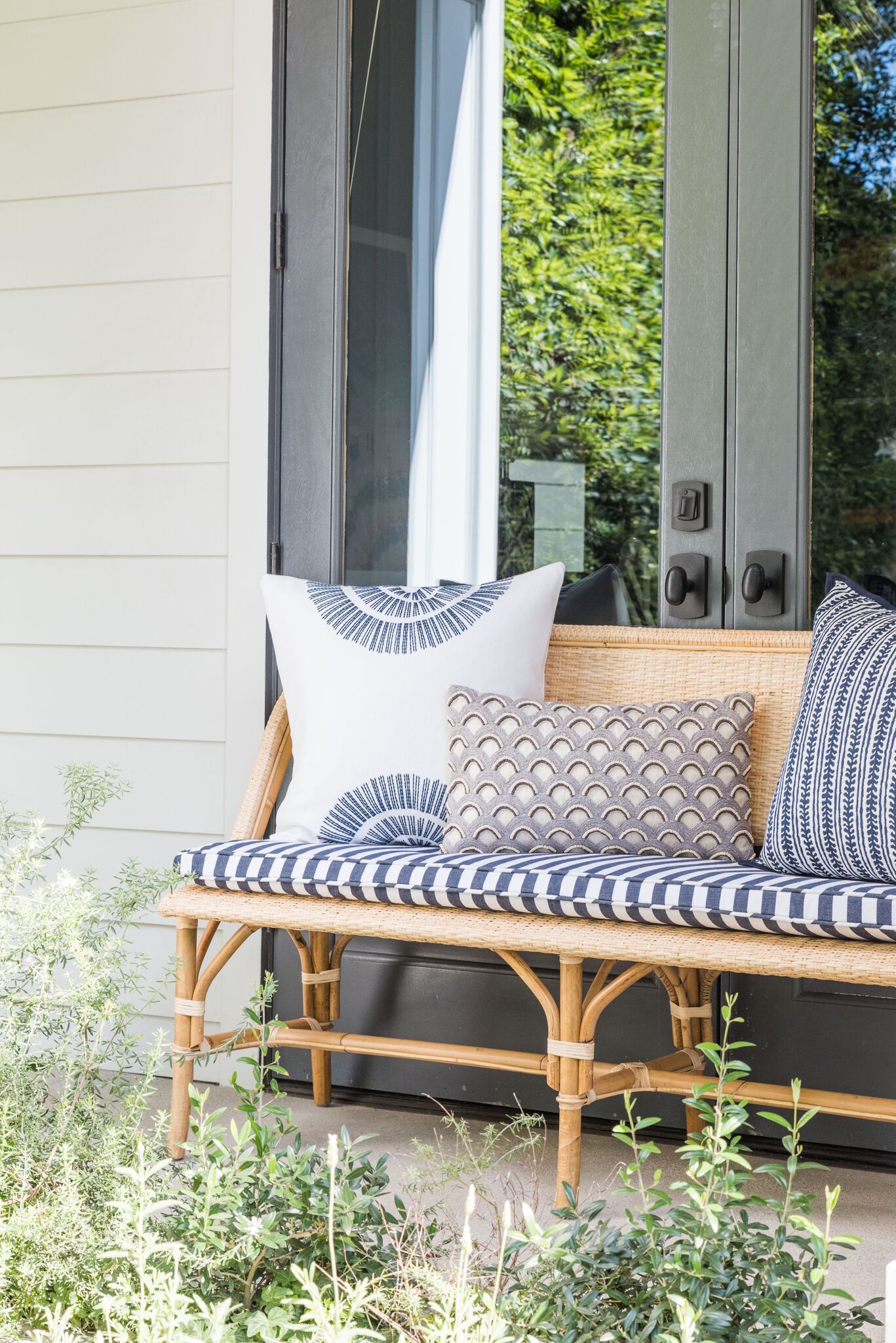 THE FRONT ENTRY
Okay, so the first thing I want people to do when they step onto the porch is.... look up! I had the ceiling of the porch painted a very pale blue, which I think adds that certain je ne sais quoi! Working with the masters at Farrow & Ball, their Los Angeles showroom's specialist enlightened me, quite literally. I'm now fully educated on the many ways a good coat of paint can take any decor project to the next level! For this one, in particular, we went with the shade entitled, Borrowed Light, which is named for "the delicate light that cascades through small windows and fanlights." Wow...even the description of the color is beautiful!
Last but certainly not least, we opted to add a little oomph to the entrance. Ha! See what I did there? Oomph is a home furnishings brand, that you may have seen here or here, as well as our Backgammon Table...which will pop up later this year in another reveal. Oomph's lighting fixtures are a personal favorite, so there was no question that we'd incorporate, at least, one into the new home. Ah yes, the Hobe Sound Lantern…. it was love at first site. I absolutely love Oomph's lighting fixtures, so it was a tough choice but I couldn't be happier with Kendall Charcoal color in a nickel finish.
For me the lighting fixture completes the front of the house's feel, adding dimension and depth while also playing nicely with the colonial style of the home. It's hard to believe that it wasn't there before as it blends in so nicely.
Let's head upstairs, shall we?
FRONT BALCONY
Oh, hello there! I'm just casually lounging with lemonade in one of Serena & Lily's Hanging Rattan Chairs paired with their Goa Side Table.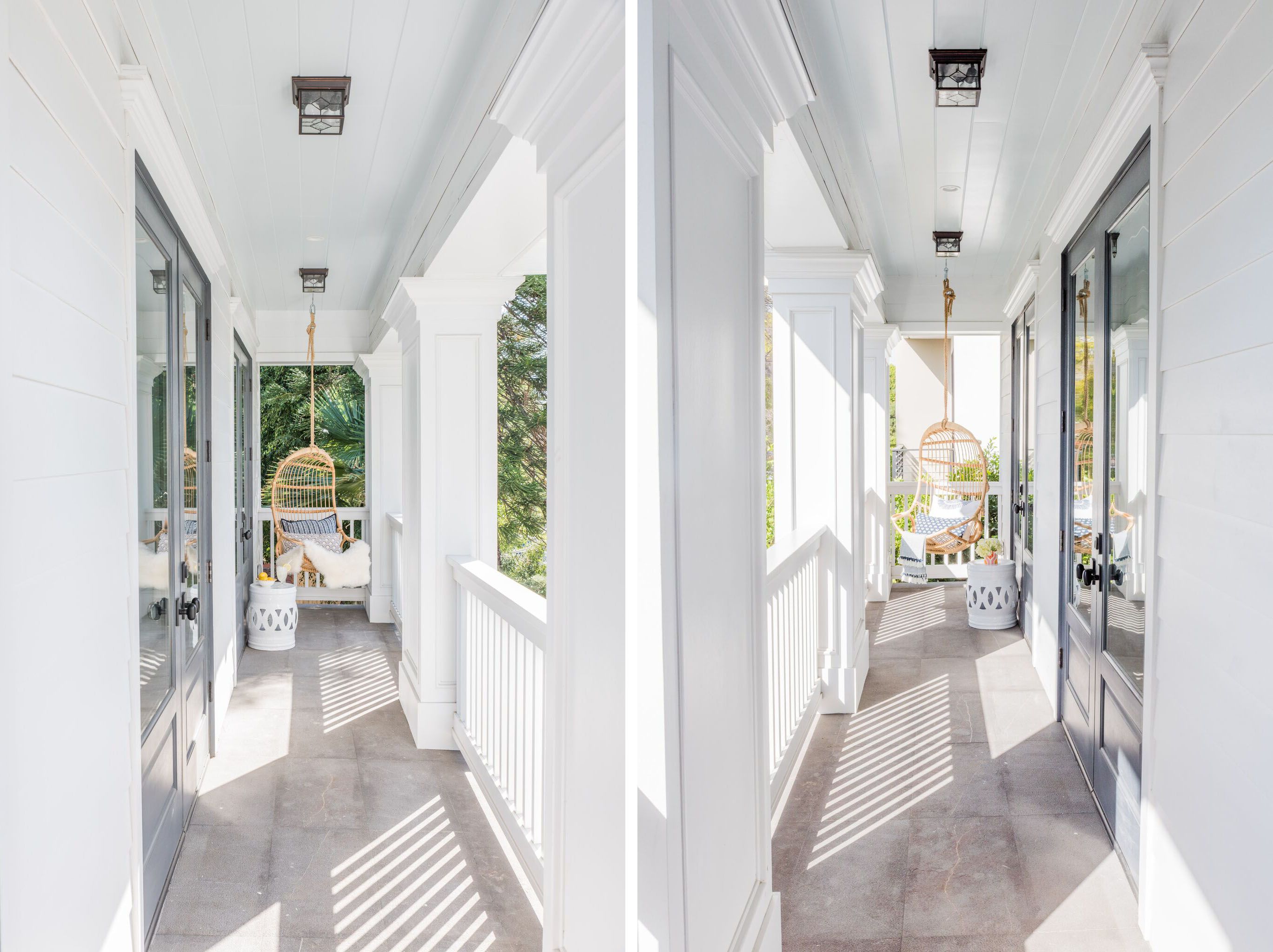 It is really nice having the two chairs so my husband and I can both sit together, close enough for conversation but far enough apart for a moment of relaxation. For the decor, I continued the Borrowed Light paint on the upstairs ceiling, along with a variety of throw pillows and blankets from Serena & Lily, like the Topanga Throw - it's perfect for a snuggle and a sunset.
Heading back downstairs, you can see a sneak peek of our entry which features a large framed print of The Coral Casino Beach and Cabana Club.
I hope you all enjoyed the reveal of the front of the home and I can't wait to invite you in next month for the reveal of the kitchen!
Stay tuned for more #projectGMdreamhome and in the meantime, I've put together a little product recap for all of you who might be curious on the specifics…
1. Hobe Sound Lantern Nickel - oomph, $3,345 I 2. Topanga Throw - Serena & Lily, $ 228 I 3. Goa Side Table - Serena & Lily, $248 I 4. Borrowed Light Paint - Farrow & Ball, $155 + I 5. Hanging Rattan Chair - Serena & Lily $498 I 6. The Coral Casino Beach & Cabana Club - Gray Malin, $299+ I 7. Throw Pillows Covers, Perennials & Sunset - Serena & Lily, $108 + I 8. Throw Pilows Covers, Avila & Vine - Serena & Lily, $128 + I 9. Riviera Bench & Cushion - Serena & Lily, $798 & $178+
Cheers,
Xx
GM