Hi Everyone,
Summer is (almost) here, and I couldn't be happier with the progress we've made on #projectGMdreamhome. Since the kick off of the exterior reveal, we tackled the ever important kitchen followed by lots of fun withthe final reveal of the roof deck. Well today, the fun continues, and this time it is all about the best room in the house...the living room!
Now, I know I often say the kitchen is my favorite room. However, this house has such a lovely open floor plan. There is a continuous flow between the two rooms, so I wanted to take special care to unite them, yet create individual identities for both. Having managed the kitchen design on my own, I knew I needed another pair of eyes and perspective on the living room. Enter Anthropologie's Home Styling Services, and my uber talented consultant, Anne.
"Gray imagined a space that was beautiful and thoughtfully designed but that was also laidback, inviting, and homey," says Anthropologie Home Stylist, Anne White. "His sensibilities lean toward clean, tailored lines and polished décor, so we wanted to create a room that was grand and luxe without being too visually overpowering or fussy."
![](https://res.cloudinary.com/gray-malin/image/upload/c_scale/gray-malin/blog-uploads/Screen Shot 2018-06-04 at 4.47.11 PM.png-GVMQTsk)
The first piece selected was the custom Edlyn Sectional Sofa in rosewater velvet. I haven't had a big sofa before, but I knew that I wanted a sectional for this space, as it's quite ample. We recently put a pink sofa in our office, and I just loved it the second it came through the door. By establishing the color, I was able to start building the room in my mind as well as convey that vision to Anne. Together we refined the room, set the overall tone and created a clear understanding of what other pieces would work with the sofa.
Typically, I approach room design by first selecting the artwork, so it was a nice change of pace to start with a key piece of furniture. The additional pieces fell into place rather quickly, too. Adding the carved consoles, wooden coffee table and leather ottoman to the blush velvet couch, we were able to achieve a wonderful contrast in the airy space, which I loved! The overall color palette of the furniture really steered me in terms of art selection.
To compliment the furniture and overall glamorous vibe, I knew right away that I wanted to use prints from my pop-culture inspired series, Bon Voyage. I particularly like to hang this series in multiples to mimic the feeling you are aboard the first class cabin of an airplane. The hand in each airplane window is a portrait of a famous cultural icon—can you guess who is who? In addition to the artwork, Anne carefully curated the shelves to incorporate souvenirs from my extensive travels, including porcupine quills from our honeymoon in Africa and llama statues from a market in La Paz. Since creating my series, Far Far Away, which was shot atop the Bolivian salt flats, llamas have become a favorite of mine. I think of them as a bit of a good luck charm.
Since I love to entertain, I challenged Anne to design a welcoming layout that would easily accommodate guests.
"We carefully considered the furniture selection and arrangement to ensure the room felt cozy and inviting. By using a sectional, we were able to create a U-shaped seating arrangement that lends itself to a relaxing, social set up. The deep seat of the Edlyn is perfect for lounging, while the rounded edges of the coffee table allow for easy movement through the seating area."
Not only did she achieve the furniture layout, Anne did not overlook my love of a beautiful bar cart moment.
Inspired by the light pink hues of my series, Gray Malin at the Coral Casino Beach and Cabana Club, we selected two prints to complement the color of the velvet sofas. We placed Coral Casino Beach and Cabana Club above the bar cart the The Cabana above the fireplace, both in the 36"x54" size.
I couldn't be happier with the combination of prints from the Bon Voyage and Coral Casino series as they both evoke a glamorous 'yesteryear' lifestyle that perfectly accentuate the pink sofas and chicly muted color palette of the room.
Even though it is my artwork, Anne and I still collaborated very closely on the selection of each piece, as it all played into everything else.
"One of Gray's favorite pieces, the Mina Cocktail Ottoman outfitted in premium leather, provides an unexpected counterpoint, as well as additional seating. He loved the brass legs, and the leather adds a nice masculine contrast to the velvet. As for the Lattice Flokati Rug, I hope his rescue dog Stella appreciates the warmth and texture it adds to the breezy space."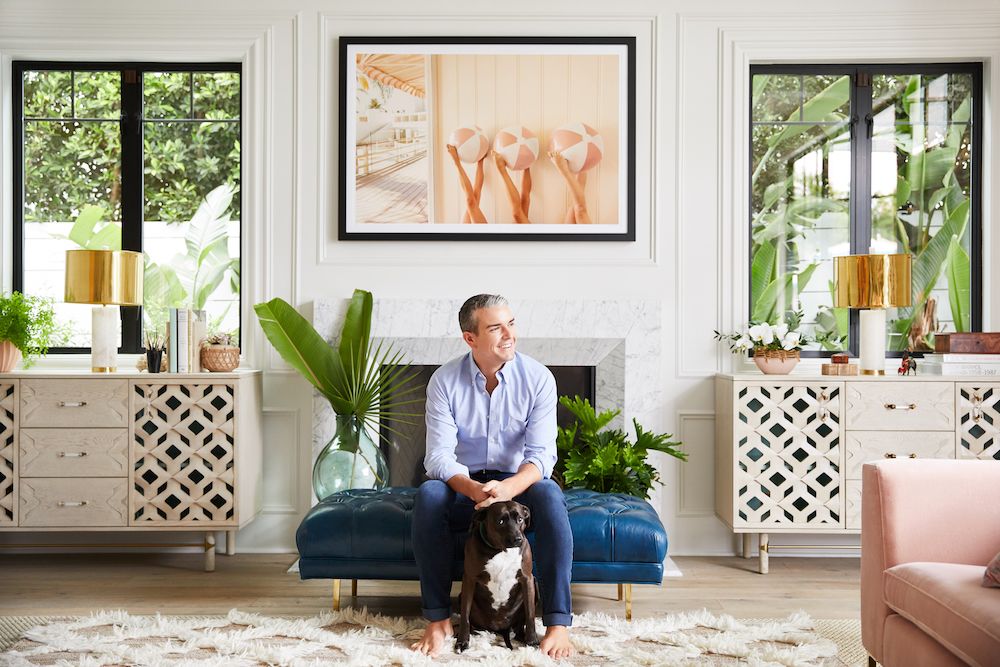 In the end, the completion of the room revealed a new point of view to enjoy that I had never thought of before….from the outside!
See what I mean? I am so happy with every single part of this design process! I am often asked where my favorite place to be is and I think the expected answer is an exotic location, but the truth is, the answer is my home. I travel so much for work, that when I'm home, I really am at peace. Thank you to Anne and the rest of the Anthropologie team for helping bring such an important room together! I intend to enjoy it as much as possible.
If you're an Anthropologie fan (b/c who isn't?) and are in the market for personal styling services, I highly recommend checking it out, online or at your closest Anthropologie store. Also, if you want to learn more about every single piece used in this room, you should head to their blog post for all the details.
Last but certainly not least, the fun doesn't stop here, as I am working with Anthropologie on a fun giveaway, that'll be announced later this week. Be sure to folllow us both on Instagram @graymalin and @anthropologie ...you might just have yourown reveal to share soon!
Cheers,
Xx
Gray