Hi Everyone,
Wow! This year is already flying by, right? I can't believe it's already the last week of March, and we're all (hopefully) starting to enjoy the best of what Spring season has to offer! I, for one, am enjoying all of the pretty flowers in bloom and longer days of sunshine. I'm also very happy to say that we're finally putting a dent in the decorating process of our new home
As promised last month, I'm going to be welcoming you all into my home throughout the year with special reveals, as I complete spaces. For today's big 'ta dah!' moment, I'm very excited to highlight my favorite room in the house...the kitchen.
Here it is as you approach, followed by a direct facing view...
In our former kitchen, I was very focused on bringing a nautical yet chic theme to life. This meant a combination of blues, greys and wooden textures. However, the approach was completely different in our bright new kitchen. Not only is it much larger in scale, it also came with one stunning element already in place. I'm referring, of course, to the beautiful marble countertops and backsplash along the walls. I wanted to compliment its rich texture with a collection of accessories but wasn't sure with what, at first. After some pinning, I landed on the idea of chinoiserie themed ginger jars in varying shapes and sizes.
This Asian motif is one that I've long gravitated to, so I was excited to shine a spotlight on it within my kitchen decor. Some of these pieces moved with me from the old house, but I added quite a few more from the Dallas based brand, Wisteria, who I stumbled upon in my conquest for an abundance of chinoiserie.
Products: Happiness Pots, 2 Sets of 3 l Isabella, Carafe l Herringbone, Tall Vase l Bon Voyage, Coasters
Moving closer to the sink, this is another design element that I die for - the wheel pulldown faucet from Waterstone. Isn't it gorg? Haha! Yes, it really is the little things that make us the happiest. In fact, this nook in the kitchen is a favorite for me. A bright window seal accented with handpanted bud vases and fresh flowers will always put a smile on my face.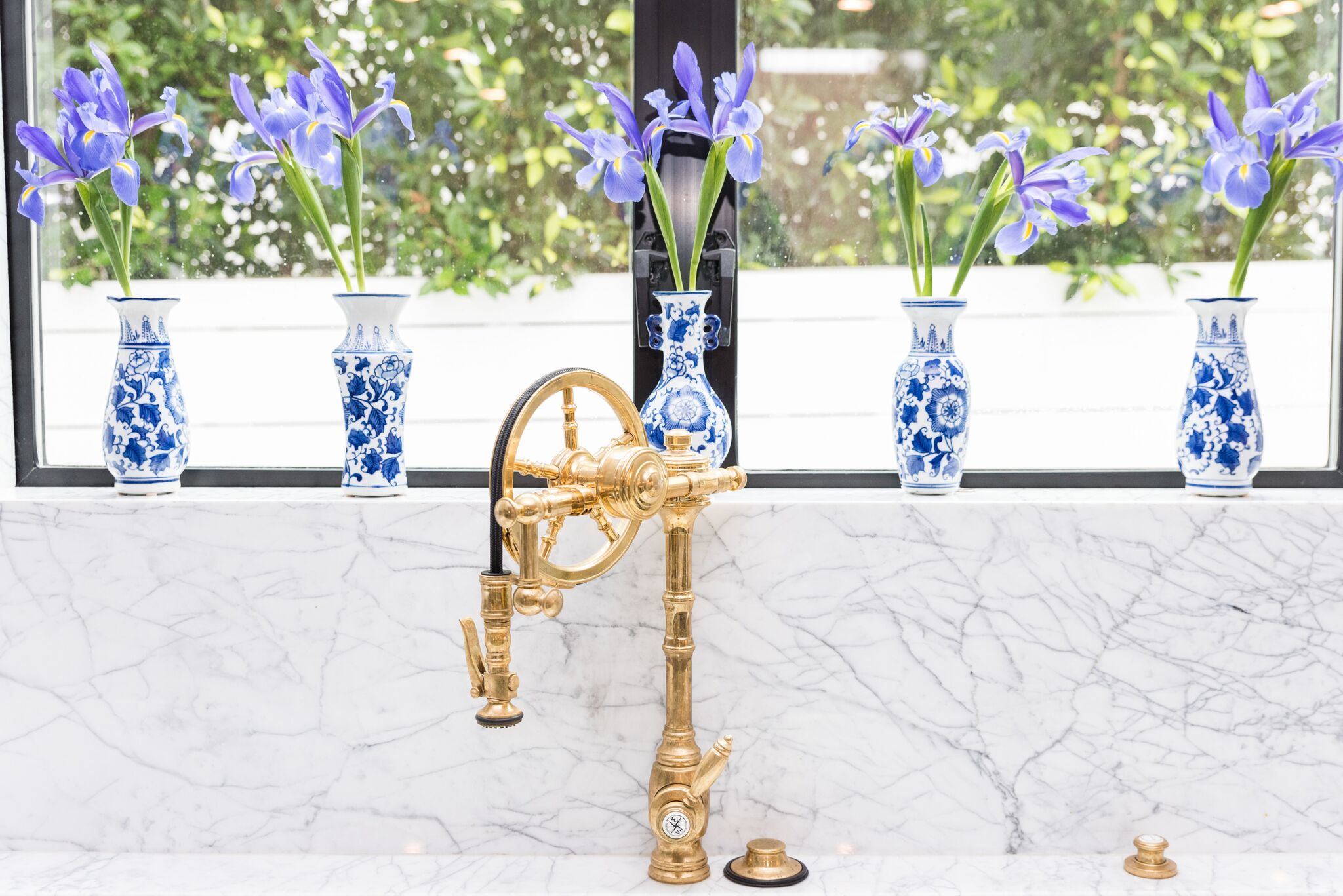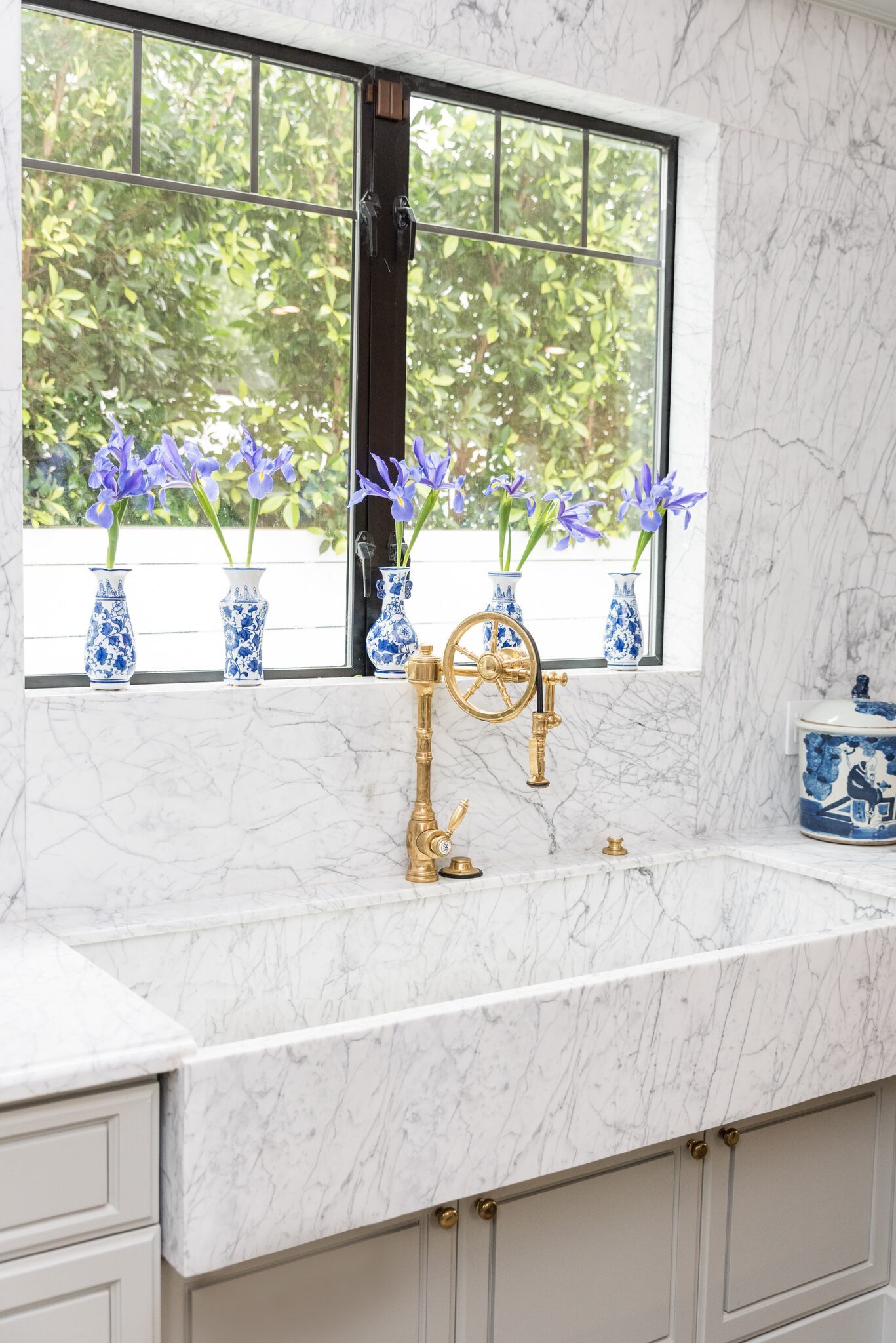 Let's not forget about our adorable pup, Stella! She has a special place in the kitchen, too..artwork and her very own Wisteria ginger jar, included.
Products: Ceramic Dog Bowls on Paws l Carter Kustera, Silhouette l Chinese Society, Jar
Turning the gaze back up, I'd like to share my inspiration behind the artwork in the room. To harmonize with the delicacy of the marble, I honed in on our more minimalist selections. Aside from The City Girl raising her glass, I also went with a medium framed print along the wall behind our stove. Obviously, I know this isn't the most practical spot for it, but it sure looks pretty and is so unexpected! I fell in love with the watercolor moment that it brings to this (already) peaceful space.
It's getting about that time...I'm referring, of course to Happy Hour. Shall we head over to the bar area for another part of the reveal?

The Parchment Dresser was one of our newer pieces in the previous house, so it clearly was coming with us to the new one. I love this piece of furniture as it pairs so easily in a variety of decor styles and spaces, not to mention it's multi-functionable. It doubles as both our tableware chest and the bar area. For such a popular spot in the room, I took special attention to ensure the space really popped!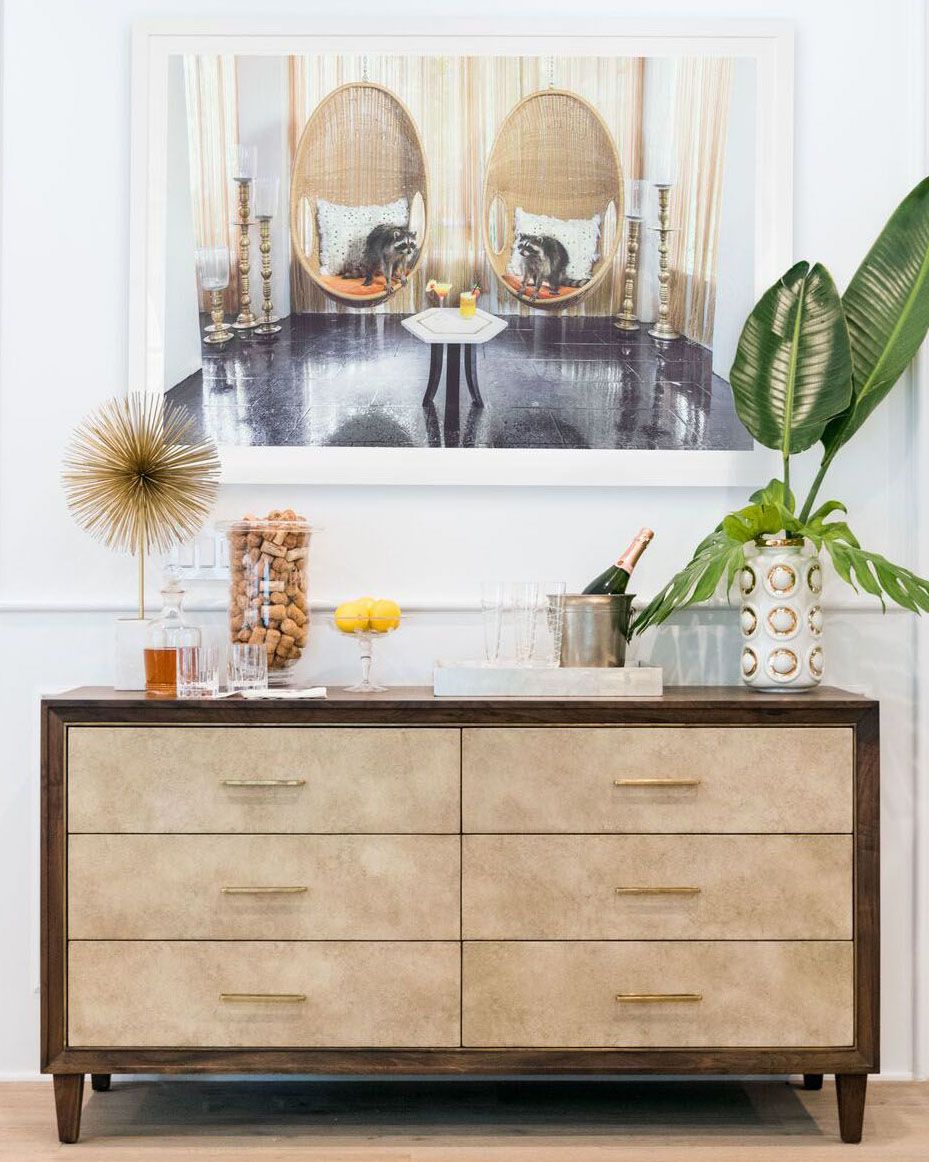 I opted to incorporate a large framed print of Happy Hour from my series, Gray Malin at the Parker. I love the pops of orange and yellow in the print. It really aligns with the lemons on display, which are another favorite decor accessory. Overall, I kept the alcohol display relatively minimal, so that the accents that are shown have a moment to shine.
For example, the large hurricane vase filled with corks is a big conversation piece, as it holds many stories within it. You see, whenever I open a celebratory bottle, I write the date and a special note to help remember what we were celebrating. It's something I've been doing for years, so it's a lot of fun to look at them from time to time as well as share their stories with my guests.
Products: Hurricane, Vase I Old Fashioned, Glasses I Champagne, Glasses I White & Gold, Porcelain Vase
Want to help me set up for dinner? I'm having some friends over to christen the new space. Not only will they get to see all of the blue and white chinoiserie accents, but I added a new rug, bar stools from Serena & Lily, a farmhouse style kitchen table, which I paired with...you guessed it, more Serena & Lily chairs.
Products: Round Woven, Placemat I Bamboo, Plate I Bamboo, Silverware I Blue Flowers, Napkin I Napkin, Rings I Wine, Glass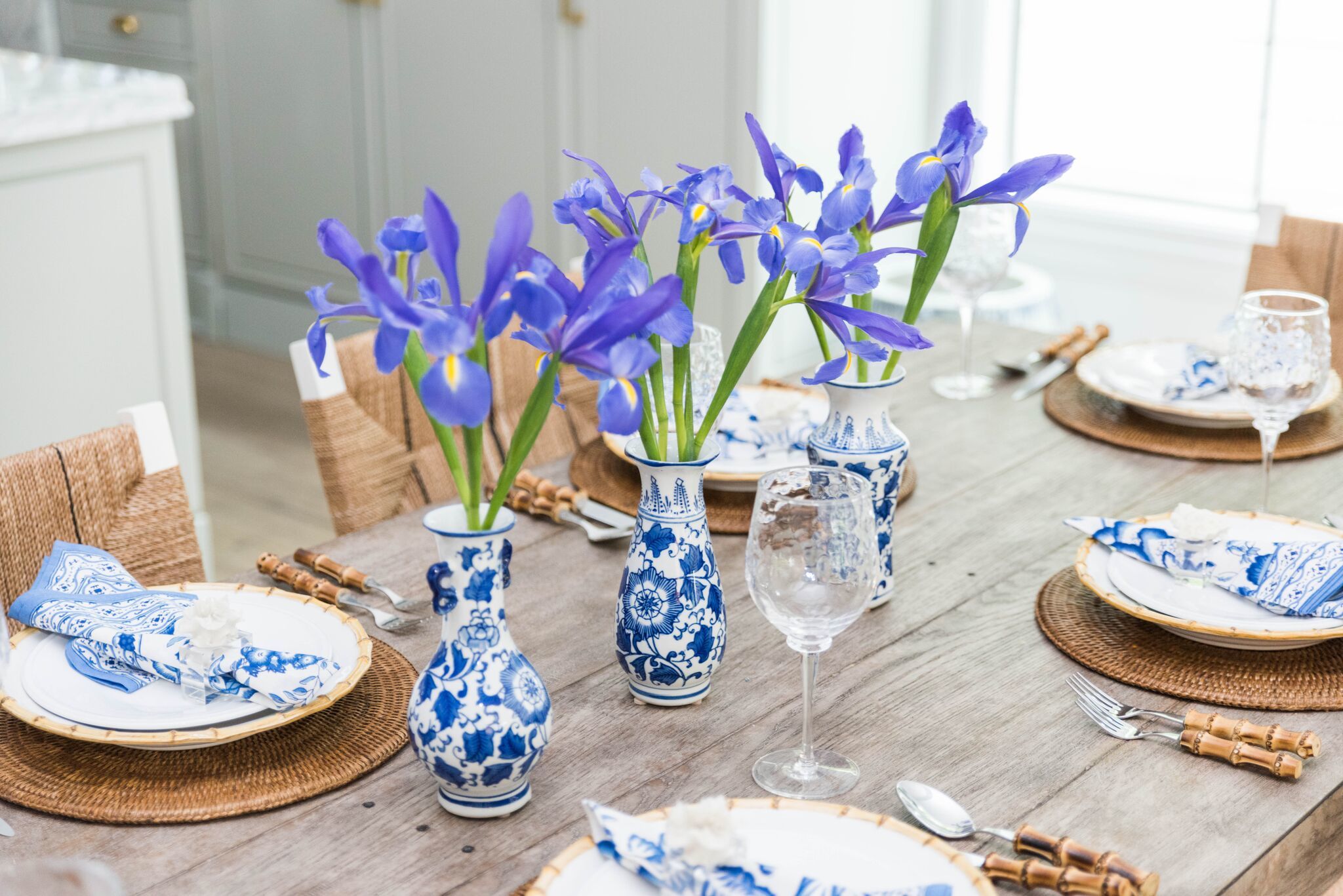 I really love creating an atmosphere for any sort of gathering I host. Fresh flowers, beautiful place settings with coral napkin rings and patterned napkins. The final touch? I set the mood with candles.
Thank you so much for joining me for my kitchen reveal! I hope you enjoyed reading about it as much as I enjoyed doing it. Stay tuned here and on @graymalin and @graymalinpersonal for more updates and sneak peeks into #projectGMdreamhome.
Cheers,
xx
GM