Valentine's Day is just over a week away, so it's no surprise that we have allll the red and pink décor on our minds. This color palette feels especially chic and romantic around the holiday of love, but if you ask us, pink and red deserve a place in our homes all year long. That said, whether you go all out this season and deck out your space in red and pink décor, or just pick up a few accent pieces to liven up your space, we highly recommend you adopt this color scheme sooner than later. Keep scrolling for our red and pink décor picks for every room, plus the color-appropriate prints to pair with them… (Who knows, you may even find a few Valentine's Day gifts in this lineup.)
For the Dining Room
Dining rooms are traditionally seen as one of the more formal rooms in the home, but we personally think that dining room design can (and should) be FUN. Say sayonara to stiff dining chairs and your run-of-the-mill rectangle table, and say hello to a few pieces with personality…
1. Poppy Wallpaper by Nathan Turner, $58 | 2. Albion Upholstered Dining Chair, $259.99 | 3. Lounging Ladies Print, $299+ | 4. Mid-Century Tulip Base Dining Table, $363.99 | 5. Amani Geo Basket, $59 | 6. Oomph Home Skinny Hobe Sound Console, $2,355 | 7. Dune Pitcher, $5.95 | 8. Sabrina Rug, $1,498
For the Bedroom
Even if you don't go for an all-pink or red bed frame or oversized dresser, that doesn't mean you can't inject a bit of this color palette into your existing décor. Pick up a couple of nightstands in a daring hue, add a unique rug underfoot, or let the artwork do the talking…
1. Mirrored Flora, $1,910 | 2. Rainbow Cowboy Hats I, $199+ | 3. Stack Small Pink Marble Tray, $129 | 4. Starburst Leather Pouf, $285 | 5. Easton Nightstand, $2,995 | 6. Sunburst Rug, Blush, $100 | 7. Presidio Rug, $1,125-$2,700 | 8. Fela Tasseled Sconce, $118
For the Living Room
If you don't know where to start, you can't go wrong adding a little color to your living room. (And if you thought that pink wasn't gender neutral, think again!) Whether you opt for a bold, red tête-à-tête or a subtle pop of pink in the form of lighting and accessories, you'll be glad you added these romantic hues to your living room to look at all year round.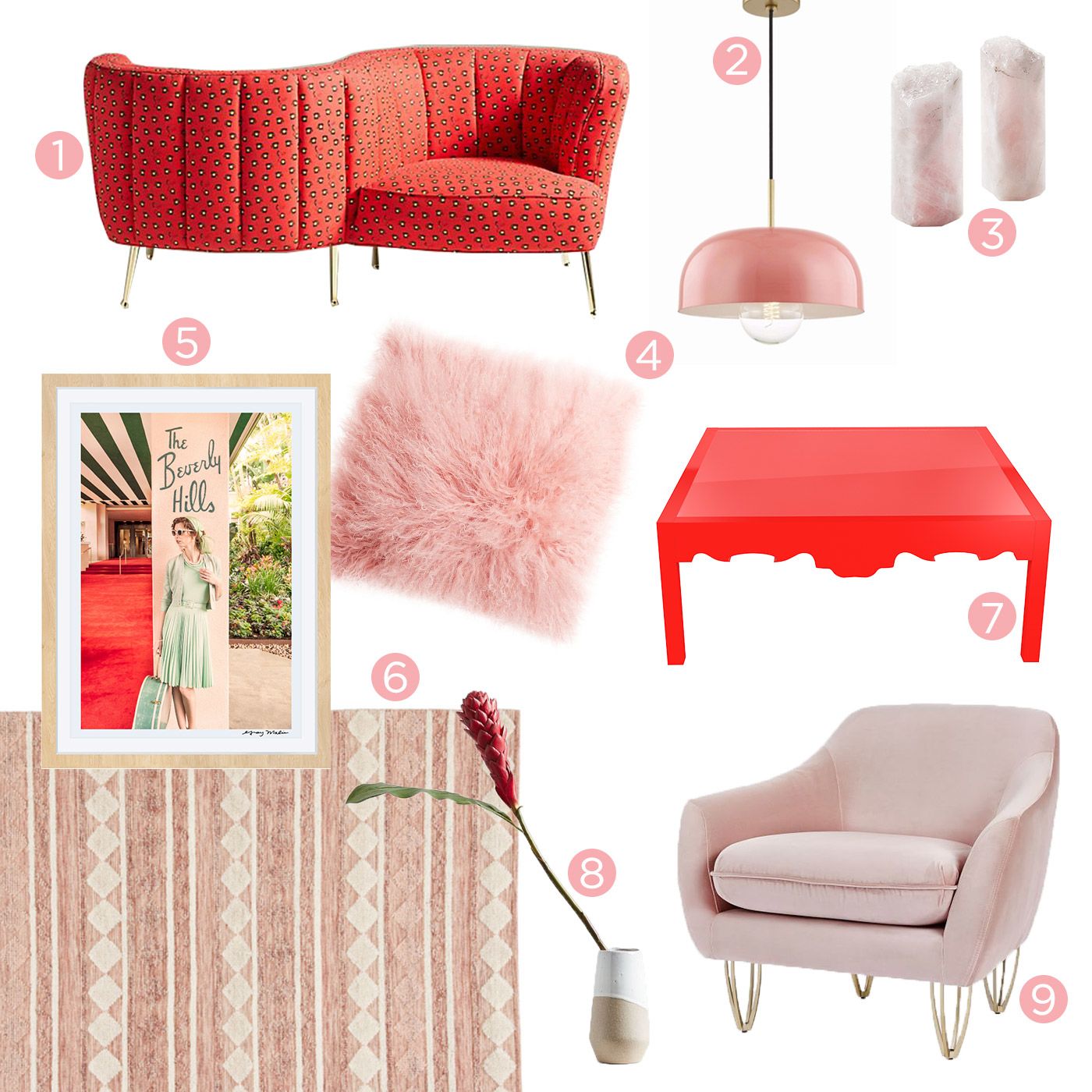 1. Colloquial Tulip Tête-A-Tête, $1,298 | 2. Dea Pendant, Aged Brass and Pink, $222 | 3. Rose Quartz Object, $69.95 | 4. Mongolian Sheepskin Pink Fur Pillow, $89.95 | 5. The Socialite, Beverly Hills Hotel Print, $299+ | 6. Docia Rug, Pink and Ivory, $165-$2,775 | 7. Oomph Home Charleston 42 Coffee Table, $2,750 | 8. Faux Ginger Flower, $4.99 | 9. Lily Chair, $699
Did you fall in love with any of this red and pink décor?
We can't blame you… We're pretty smitten ourselves. To shop more pink and red fine art photography prints, head over to the GM shop.
Xx Team GM
P.S. If you're still in need of some last-minute Valentine's Day gift ideas, click here.
Photos: Gray Malin