Hi Everyone,
I don't know about you, but it sure feels like the holidays have officially arrived! As we head into the merriest time of year, I am thrilled to reveal our formal dining room today. I really think you're going to be amazed by the transformation...I know I am! Just in time to have all of our family and friends over for festive dinners, I invite you all into our warm and welcoming dining room...but first! The 'BEFORE.'
And now, the brand new lewk, 'AFTER!'
I mean, right? I'm going to tell you ALL about what I did but first, I must introduce our VIP guest of the post, Frontgate. If you've been following along with all of my reveals this year, then you may remember that Frontgate contributed to my roof deck makeover in a major way. Needless to say, I was happy to work with them again and this time with a focus on all things that sparkle on the inside. We're also hosting a fun holiday giveaway together. The winner will receive $1,000 to spend at both Frontgate and at the GM Shop...Happy Holidays to YOU!
Now, back to the reveal...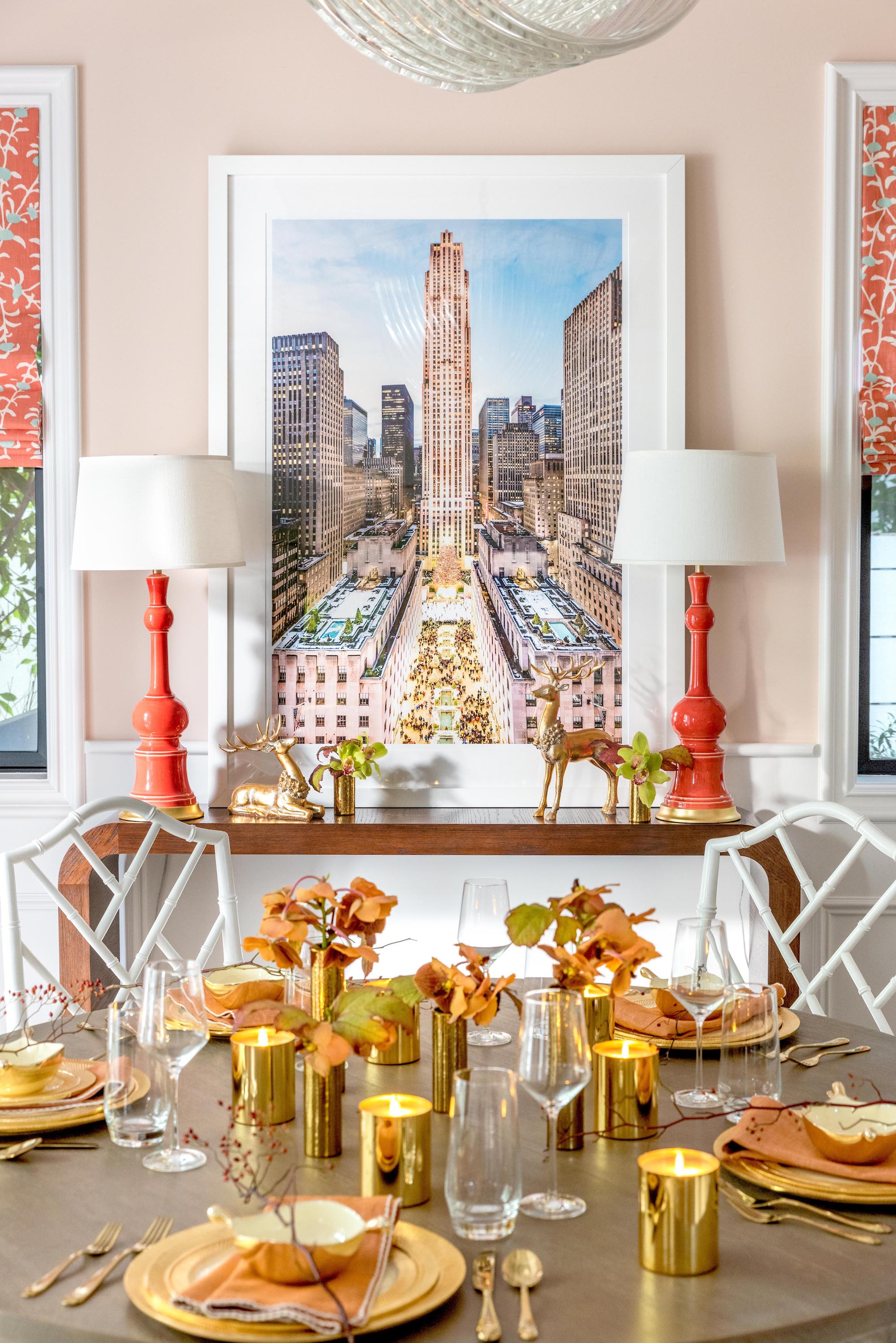 We're coming up on our first full year in the new house, so I wanted to make it special for the holidays, as well as hopefully create traditions for years to come in this home. Before we get into all thing's decor, let's start with the most obvious change first - the room's paint color. Painted black prior to moving in, I knew I didn't love the dark color but wasn't sure what the change should be, so I decided to wait until inspiration struck.
The release of Gray Malin at The Beverly Hills Hotel was exactly what I was waiting for, as I was inspired to mirror the warm tones and shades of pink seen throughout the series, so just like that - the decision was made to go pink! The walls were painted Pink Ground and the ceiling was painted a very light shade of blue called Borrowed Light, both by Farrow & Ball.
With one piece of art established, I turned my attention to a tradition that I grew up with and am starting to do myself, decorate with seasonal wall art. As I announced yesterday, I am honored to have been the first fine art photographer to capture the iconic Rockefeller Center Tree for us all to enjoy at home. Considering metallic shades often play a big part in holiday decorating, this holiday print paired perfectly with the tablescape as well as the gold spray we spontaneously incorporated into the 7' Christmas tree. From the Lunares Gold Feather dinnerware set to the bar cart to the sweet pair of reindeers, the room sparkles from top to bottom!
I have to say that decorating really helps bring the holidays to life, especially when the weather outside isn't exactly matching what you grew up associating with the season. Aside from incorporating holiday inspired artwork and decor items, there are two other things that must always be checked of my list before I'm satisfied with our holiday style for the season. The first is incorporating beautiful floral arrangements atop the table and anywhere else that makes sense in the room. For this particular occasion, I looked no further than my favorite local florist, Empty Vase. Perhaps you remember my Thanksgiving Table Setting Tips post? It's well worth a revisit if for nothing else than to see the epic floral centerpiece they created for the occasion.
I didn't think they could out do themselves, but they did, and it is stunning. Incorporating these fun pear-shaped ornaments from Frontgate, their floral stylists delivered this imaginative and beautiful centerpiece, then complimented it effortlessly with a variety of small bouquets in the Nicola Bud Vases.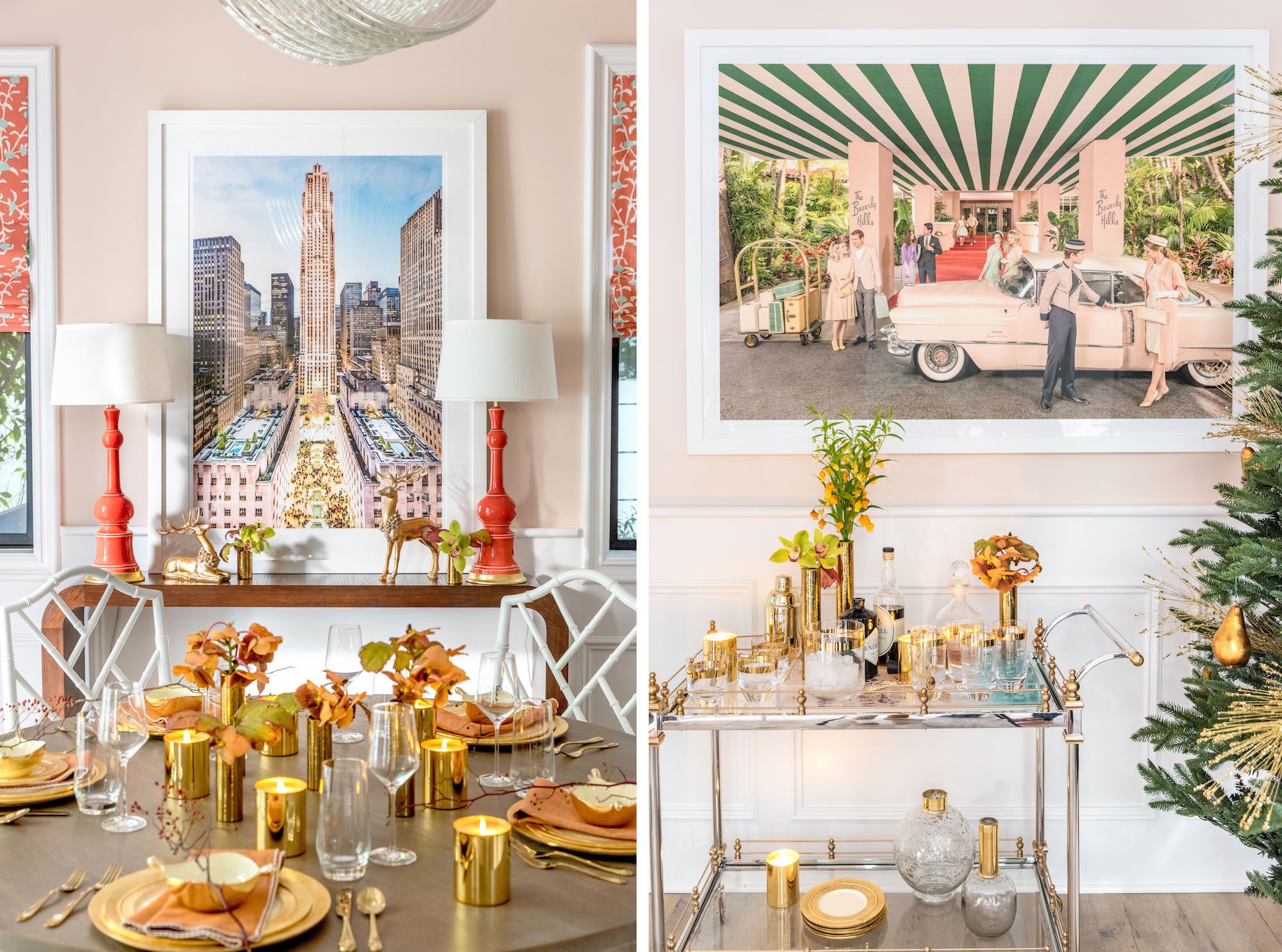 As for the second, there simply must be a signature cocktail for the holiday dinner. To liven up the night, I'm serving a cocktail that combines ingredients of the season. I've named it Gray's Cina-Cran Spritz, and I must admit, it is pretty tasty.
Ingredients: Bourbon, Grenadine Syrup, Club Soda, Fresh Cranberries, Cinnamon Sticks, Orange Rind Twist, and Ice.
Directions: In a rocks glass mix 2 jiggers bourbon, ¾ ounce grenadine syrup, and ice...give it a swirl with the cool long spoon from your bar tool set. Add club soda to your taste level (do you like it strong or a little diluted?), along with one cinnamon stick, a sprinkle of fresh cranberries and last but not least, that beautiful pop of orange, the twisted rind.
So, what do you think? Are you ready to cheers with me and Frontgate to a very happy holiday season? For more, be sure to follow along @graymalin and @frontgate...who knows, you just might win your chance to create your very own holiday-themed reveal! I do hope you enjoyed taking a look inside my newly finished dining room. Thanks so much for coming by and happy holidays!
Cheers,
xx GM
SHOP THE POST:
Table Top: Lunares Gold Feather Dinnerware, Arezzo Flatware, White Wine Glasses, Longdrink Glasses, Nicola Vase, and Dream Candles
Bar: Cart, Cocktail Shaker, Bar Tool Set, Highball Glasses, Old-fashioned Glasses, Ice Bucket, and Acrylic Tray
Special thanks to prop stylist, Kate Martindale.