Hi Everyone,
The arrival of our sweet baby boy and girl is rapidly approaching, and it feels like every moment leading up to it is something to celebrate. From an adventurous Baby Moon to Japan to getting the twin's rooms ready to our most recent celebration, the baby shower. Even amidst the madness of holiday sales, it feels my heart with love and joy to share this very special event with you all.
The Hostesses with the Mostest
From left to right, please allow me to introduce you: my cousin, Abby, my bestie, Mary, my sister, Lizzy and Jeff's sister, Lauren. Not one of them living in the same state, these ladies coordinated and strategized behind the scenes, and truly wowed us all with the attention to detail and whimsical touches to make this an incredible day for us.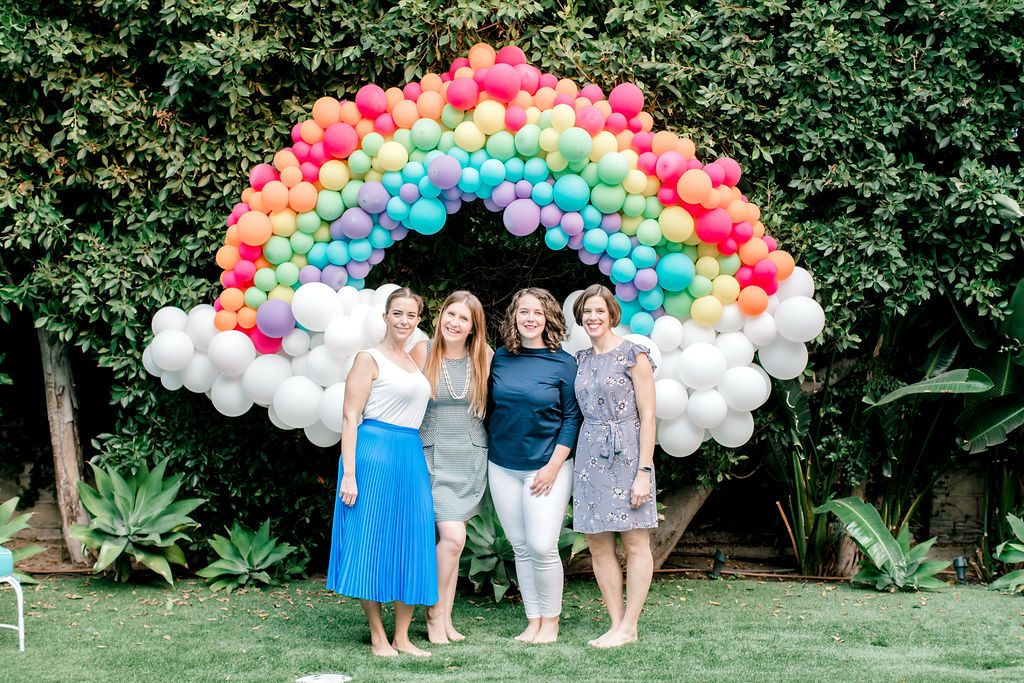 Inspired by my children's book Be Our Guest!, these four created an atmosphere that felt as if we were stepping into the pages of the book.
Let's head inside, so you can see what I mean!
The Decor
Actually, first let's start with the outside because seriously, how amazing is this balloon cloud and cascading streamers by Wild Child Party for an entrance!
It was amazing to see everyone's face as they walked in! It certainly made an impression as well as set the tone for more fun to come!
Greeted by two adorable penguins dressed like Jeff & I from our baby announcement post, guests were invited to sign their names in copies of Be Our Guest! Then immediately encouraged by yours truly to enjoy a glass of delicious Veuve Clicquot Rich Champagne...we even had signature champagne cocktails inspired by Be Our Guest! I'm telling you, it was like being immersed in the pages of the book..but you know, as an adult.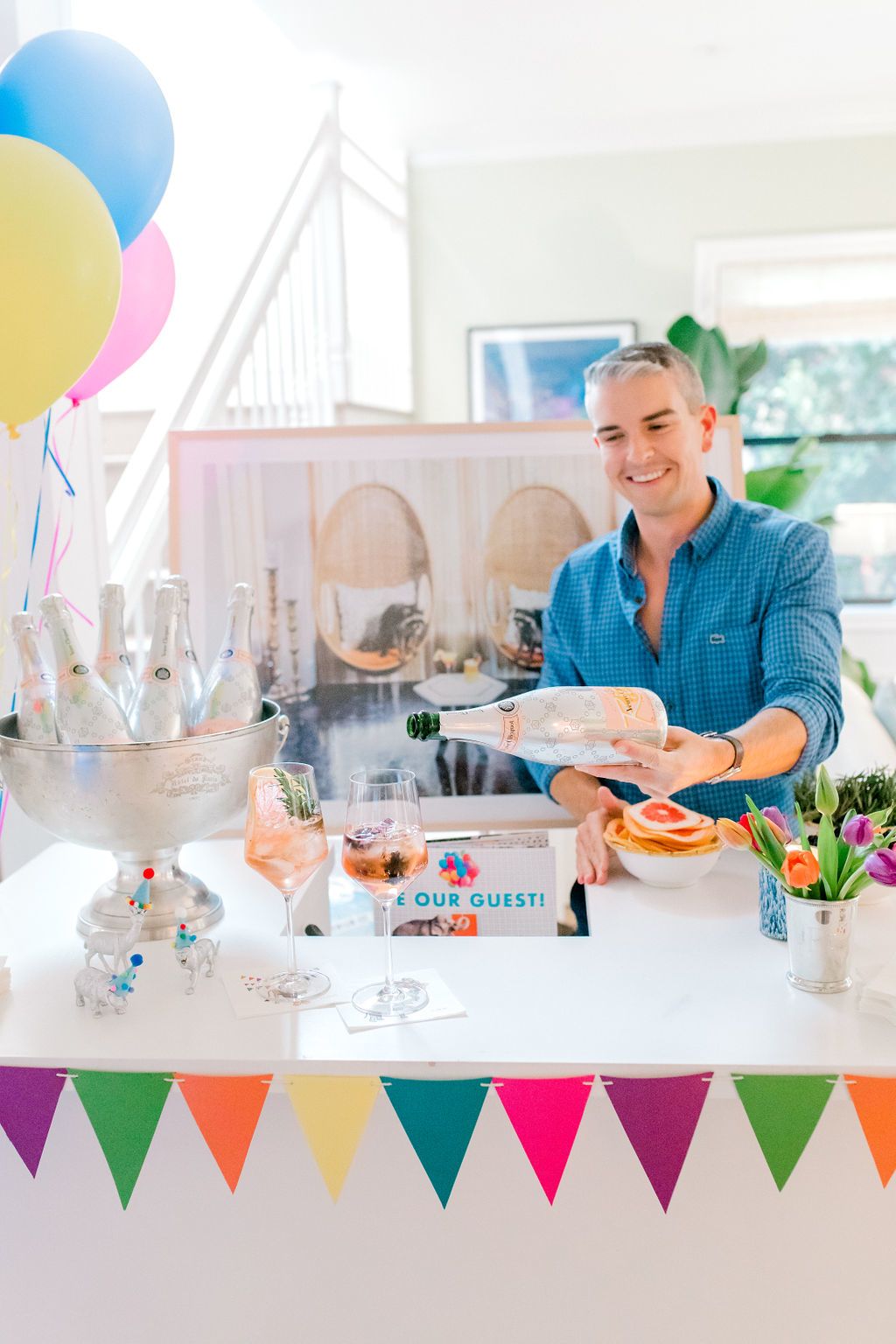 The decor combined with the food and refreshments really start to merge at this point, so I'm going to dub this portion the….
Edible Atmosphere
Transforming the newly revealed dining room into a sweet tooth's paradise, this was the room to consume a week's worth of sugar in one sitting. Styled with framed prints from the Gray Malin at the Parker series (which inspired Be Our Guest!), there is no doubt that adorable animals, sweet treats, and lots of balloons make for not just a kid's book, but a great party!
My cousin Abby showed off her skills as a baker, as she delivered multiple cakes to be devoured, and Jeff's sister Lauren got crafty with her hand painted little animals that decorated not only the cakes but could be seen all over the party. Last but not least, I got in on a little cake business too by taking a page out of Darcy Miller's DIY book and recreated her darling Be Our Guest! inspired cake topper.
For those who were looking for something a bit more savory, the ladies did not disappoint. Tapping the ever talented Haute Chefs LA for the soiree, there was a plethora of charcuterie and cheese boards to nibble from as well as steak, salmon and plenty of vegetables to complete the plate.
That's a Wrap!

With our bellies and hearts full, we concluded the day with a series of family portraits outside under the other Wild Child Party balloon installation. Everyone loved striking a pose somewhere under the rainbow…
..and for mine and Jeff's growing family, we had to end the day with a special photo with our first baby..our pup Stella.
It was a beautiful day full of laughs, hugs and maybe a few joyous tears. Thank you to our friends and family who shared in this day and thank you for joining along with us in this exciting new chapter.
Cheers
Xx GM
To see even more of the fun, check out this amazing article on People.com
Photography by Ashley Burns