Hi Everyone,
As we all plunge into the holiday season, Jeff and I are also anticipating the best presents of all, Peanut Butter & Jelly! We're a little under two months away from their arrival, and today, I wanted to share the fantastical Baby Moon trip we took last month. Just in case you're not familiar with what the heck I'm talking about, please allow me to elaborate via the dictionary, a Baby Moon is "a relaxing or romantic vacation taken by parents-to-be before their baby is born."
Isn't that a lovely tradition? It's quite literally a once in a lifetime trip! For ours, we decided to go somewhere neither of us have ever been before but both long wanted to explore. The list was short and quickly decided on...Japan. We were going to have our very own Lost in Translation moment, and it was going to include a lot of art, sightseeing and sushi...a lot of it.
With the decision made, I immediately began to research. As luck would have it, I found exactly what I needed with an easy keyword search of "Best Hotels in Tokyo." I landed on a luxury hotel focused website called Kiwi Collection, and I (literally) didn't leave until I found the hotel that we'd spend our last children-less trip together in. If you haven't come across Kiwi Collection, yet then please allow me to do the honors of introducing you to the website to research the world's best hotels all in one site. It's best summed up with this quote from Forbes.com - "Kiwi Collection is to luxury hotels what the Michelin Guide is to restaurants."
I reference this quote because it is spot on! For Tokyo, it provided a list of 13 hotels all ranging in price, amenities and location within the city. Their bespoke rating system is extremely easy to follow and helps you hone in on exactly what's important to you. Having never been to Tokyo, I was especially keen to read all about each hotel and gage the kind of experience we would have at each one. The big stand out was Aman Tokyo...I mean, just look at this pool. More on the hotel later, but I wanted to include the prep for the trip as it was just as important as the trip itself.
Now...let's get into our amazing week long adventure in Japan! We spent the first three days completely immersed in the Benesse Art Site Naoshima, then we were off to explore Tokyo for the next four…
BENESSE ART SITE NAOSHIMA
Similar to Marfa, TX the islands of Naoshima, Teshima and Inujima in Japan's Seto Inland Sea have emerged as a pivotal art destination. With various museums, art houses and installations scattered across the three islands, it is overseen by a foundation known as Benesse Art Site. To be honest, I would be doing a disservice to try to summarize exactly what it is, so I encourage you to read more about the history. In the meantime, I'll tell you about our experience.
Naoshima
To get there, you must fly into Takamatsu, then hop on a ferry for the final leg of travel to reach Naoshima. Here you will stay at the only hotel in existence amongst the three islands, the Benesse House is both a museum and a hotel, incorporating guest rooms and space for display of contemporary art. We arrived later in the day, so we took in the hotel, then turned in for the evening so that we could awake with lots of energy to explore!
Right outside the entrance to Benesse House, one will find the giant yellow pumpkin at the end of the pier, created by the brilliant avant garde artist, Yayoi Kusama. After a few dozen more photos, you'll be ready to take in the rest that the island has to offer.
Designed by architect Ando Tadao, the Benesse House Museum based on the concept of "coexistence of nature, art and architecture." Both inside and out, the museum houses numerous pieces of art from paintings, sculptures, photography, and installations.
Another must see is the Chichu Art Museum, also designed by Ando, which translates into "art museum in the earth," as it was built directly into the southern portion of the island. This subterraneum museum houses permanent collection pieces by such acclaimed artists as Claude Monet, James Turrell and Walter De Maria.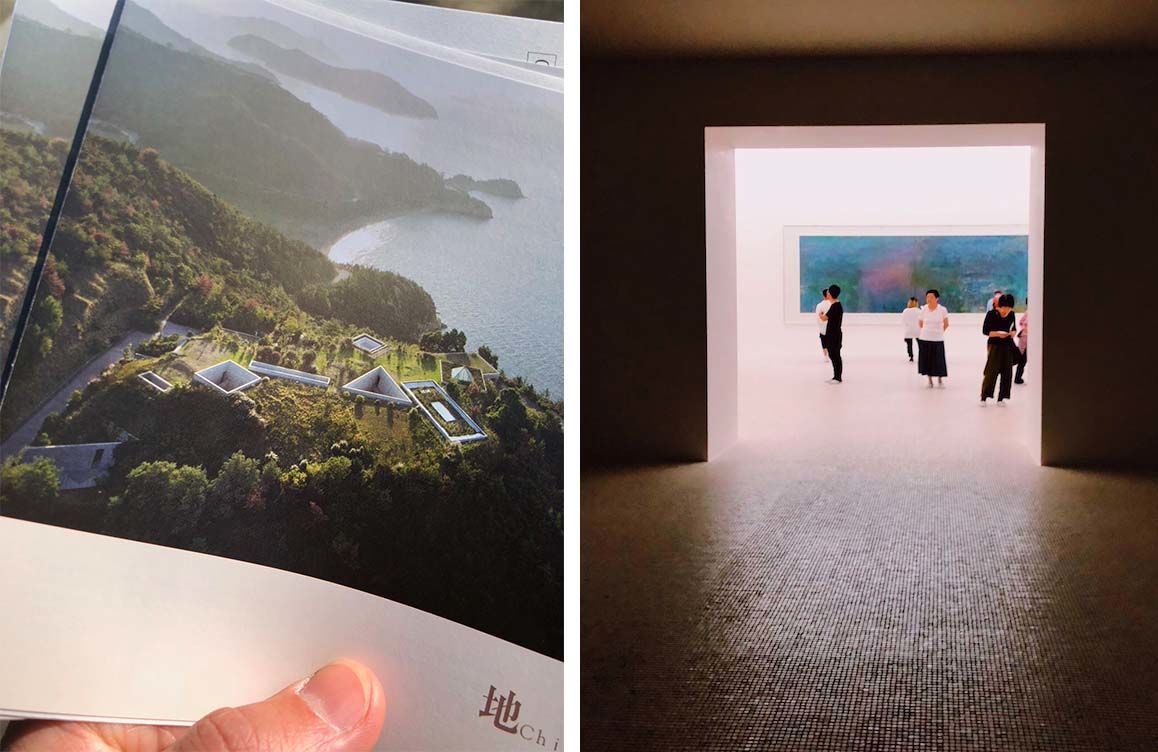 Other attractions on the island include the Lee Ufan Museum, Art House Project, Ando Museum, Miyanoura Gallery 6, and Naoshima Bath. You'll spend the entire day taking them all in via an adorable shuttle bus.
After exploring all of the joys Naoshima has to offer, I suggest enjoying a cheers with a view. Then, get some rest, as you're going to need it for Teshima the next day.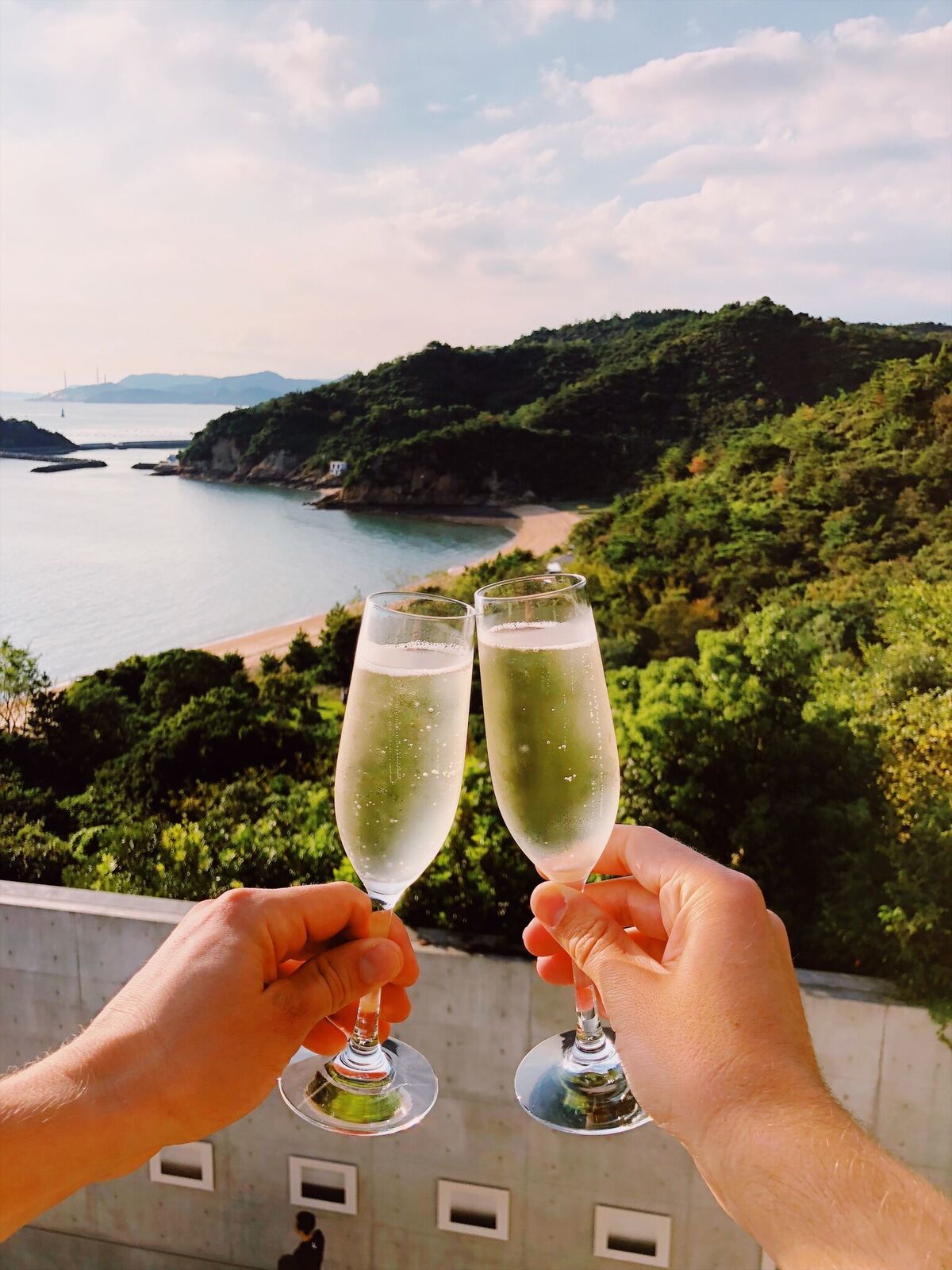 Teshima
The way to get around on the island of Teshima is by motorized bicycles. So hop on, and let's go see some more art!
First up, it's the Teshima Art Museum. The museum stands on a hill overlooking the Seto Inland Sea and the shape of the building is reminiscent of a drop of water. Stepping into this surreal place, a beautiful quiet takes over. The concrete structure is a solid oblong structure with two portal holes in the ceiling for light, cascading light onto the smooth service of the floor below. Then quietly and unexpectedly, random droplets of water will surface, and eventually gather together and float and flow across the floor, rolling seamlessly like live art. It is something you have to experience in person! I recommend making this your first stop as a line will begin to build shortly after the first ferry arrives.
The island of Teshima also is home to various other museums all more interesting than the next. The other museums on the island are mostly abandoned homes that have been converted into works of art. Many of the homes on the island were abandoned after World War II. The population was on a decline until the last two decades when the islands in this inland sea have become part of an art renaissance.
Not to mention, the island itself is absolutele natural beauty. It is a treat in itself to ride along and take in the environment as well as monuments from time's past.
As for the third island, Inujima, we unfortunately ran out of time to do a visit to it justice. There is certainly plenty to do there, though. Perhaps, next time? As for our next stop….
TOKYO
After a day of planes, trains, automobiles, and ferry rides, we finally made it to Tokyo. When we arrived to Aman Tokyo, we could not have been more happier to begin this leg of our trip!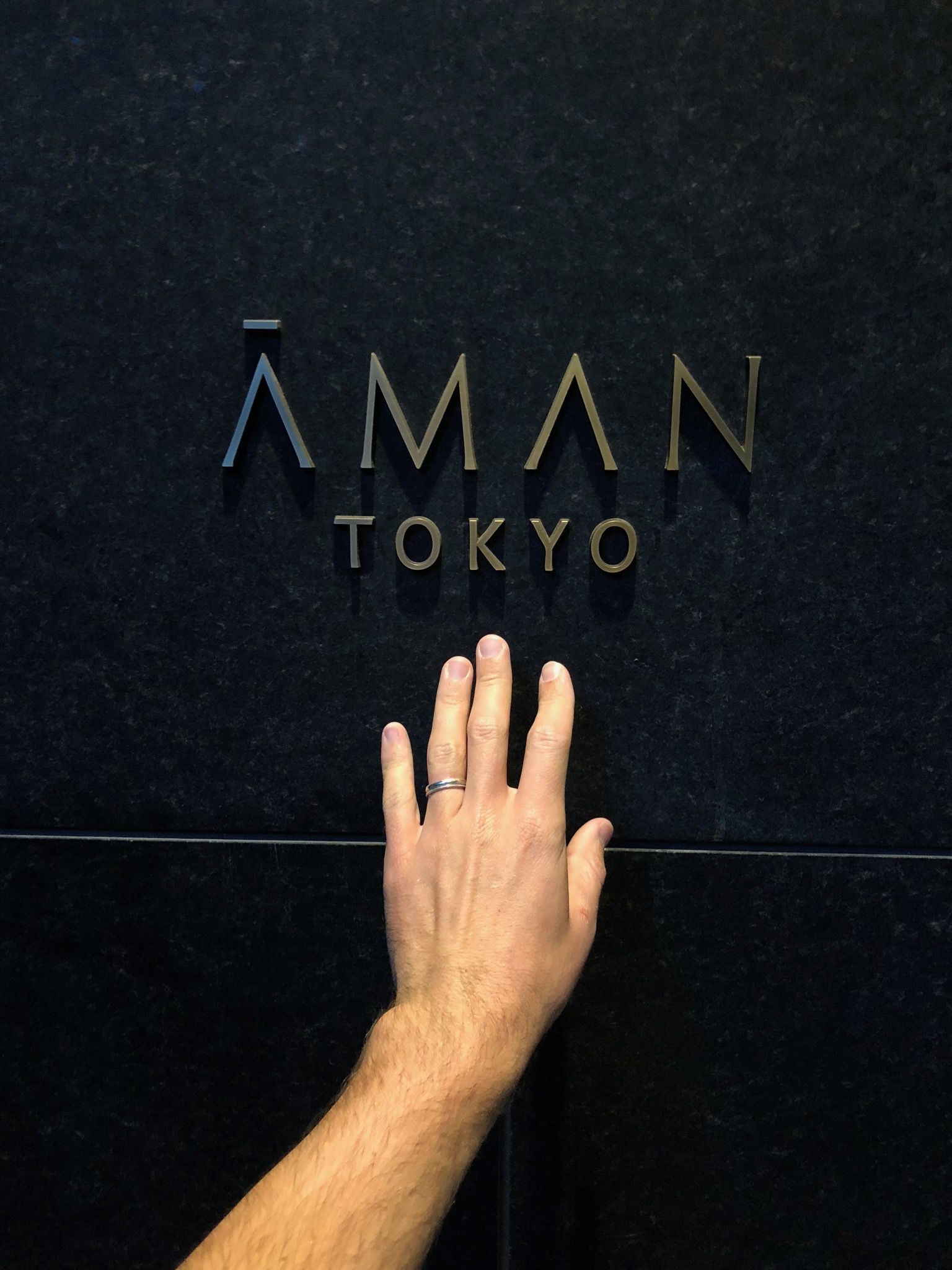 After checking in and getting settled into our room, we decided that we absolutely needed to visit the pool. It is, of course, not just any pool. Rather, it is a light-filled 30-metre pool with panoramic city views.
The dip was divine. Once dried off, we headed out to a nearby sushi spot, recommended by Aman's concierge before heading off to bed. We had a lot of ground to cover in the next three days, so we needed to rest up!
Day 1 - English Guided Walking Tour
For this trip, we decided not to have an intense itinerary. Yet, we still wanted some structure, so we opted for a fantastic walking tour on the first day. Our guide was tremendous, as he guided us through so many of the city's iconic attractions including: the Asakusa Shrine, the Imperial Gardens, Harajuku, Shibuya and Roppongi Hills. Though many signs in Tokyo are in English and Japanese, it's still extremely helpful to have an English speaking guide show you how to navigate the city and point out the key sight-seeing spots.
One of the many perks of having a tour guide is they not only know history, but they also know about all of the super random things, too where to get your face as latte art!
They also will do you the (constant) favor of snapping photos for you. Like the tourists that we are, we insisted on getting that obligatory shot of us traversing the famous Shibuya Crossing. It was complete madness!
Very much like Times Square in New York City, the energy in Shibuya is palpable and if I'm perfectly honest, a bit hectic. However, you can't go to NYC for the first time without seeing Times Square, and it's no different in Tokyo when it comes to Shibuya.
No trip to Tokyo is complete without visiting the wild streets of Harajuku!
To wrap the day, our guide took us to the Roppongi Hills Mori Tower, which had the most beautiful panoramic view of the city. It includes two observation decks- one indoors and one above, which is outdoors up on the 54th floor!
Needless to say, we were absolutely famished after a day of trekking across Tokyo. To satiate ourselves, we took the recommendation by Aman's concierge to indulge in sushi at Sushiko Honten Marunouchi Building. This sushi restaurant is rich in history...129 years of it! Isn't that amazing? Our chef told us that he had been working there as a chef for 31 years. It's not very often that you dine somewhere with over a century's worth of happy customers. I don't have any pictures to share, as we were much too distracted by the dining experience but take it from me, go there.
Day 2 - Bike Tour
For our second day, it was all about taking it up a notch...which of course meant, bike tour! We took a bike tour years ago during a trip to Barcelona and loved it, so I was excited to do it again in an incredible new city like Tokyo.
Through the bike tour, we went back to the Imperial Gardens, again..which was not a disappointment. It is incredible to think that an Imperial Palace is nestled within the city.
Once back at the hotel, we indulged in some spa services.
At the Aman Tokyo's Spa, it's not just a service...it's a journey.
Day 3 - Our Guide-less Tour
For our final full day in Tokyo, we decided to go it alone and make our own adventure. I think we both had anticipated Tokyo to be a difficult city to navigate as a non-Japanese speaker, however this proved to not be true. The subway is impeccably clean as well as orderly and organized in such a way, that it's pretty hard to not understand how it works. Oh, everything is also in English, which is clearly helpful.
The big discovery of the day was an incredible mall that was filled with luxury brands and products that neither of us had ever seen before, which made it that much better! Normally, I would steer clear of a mall, while taking in a city. In Tokyo, though it was somehow different and the Omotesando Hills mall was well worth the visit. The high-end stores of this mall are mostly Japanese and feature clothes and goods you just cannot find in the western world.
For our last night in Tokyo, we had to do it up! And by up, I mean we went to the New York Bar, which is on the 54th floor of the Park Hyatt hotel tower. This restaurant bar is definitely a beautiful place to take in breathtaking views of the city. However, a special fun fact about this particular place is its thematic fame from Sofia Coppola's Lost in Translation. Much like Bill Murray's character in the film, Jeff and I enjoyed the scene while listening to jazz and sipping cocktails. It was the perfect way to end a tremendous trip...a trip of a lifetime!
The next morning, we enjoyed breakfast at the Aman and took in the impressive design of this stellar hotel, one last time.
Thank you all for following along on this trip for the memory books! Whether you're inspired for your own Baby Moon or simply want to explore this epic location, I encourage you all to put Tokyo, Japan high on your list of places to visit.
Cheers,
Gray
Special thanks to Kiwi Collection and Aman Tokyo