Hi Everyone,
My home reveals continue and the latest comes just in time for summer visitors! Won't you please join me in our newly completed Guest Bedroom? I am particularly excited about this one, as I was able to incorporate all of my Hawaiian home decor ideas into one room! Right off the bat, you'll notice that I opted for artwork from my Hawaii collection.
When I dove into decorating this room, I knew it would be the perfect opportunity to decorate with my Gray Malin Wallpaper, which was key to making this room feel like an island oasis. Having spent time in Hawaii last year as well as earlier this year, I was very inspired to bring the tropical breeze of the Hawaiian islands into my own home.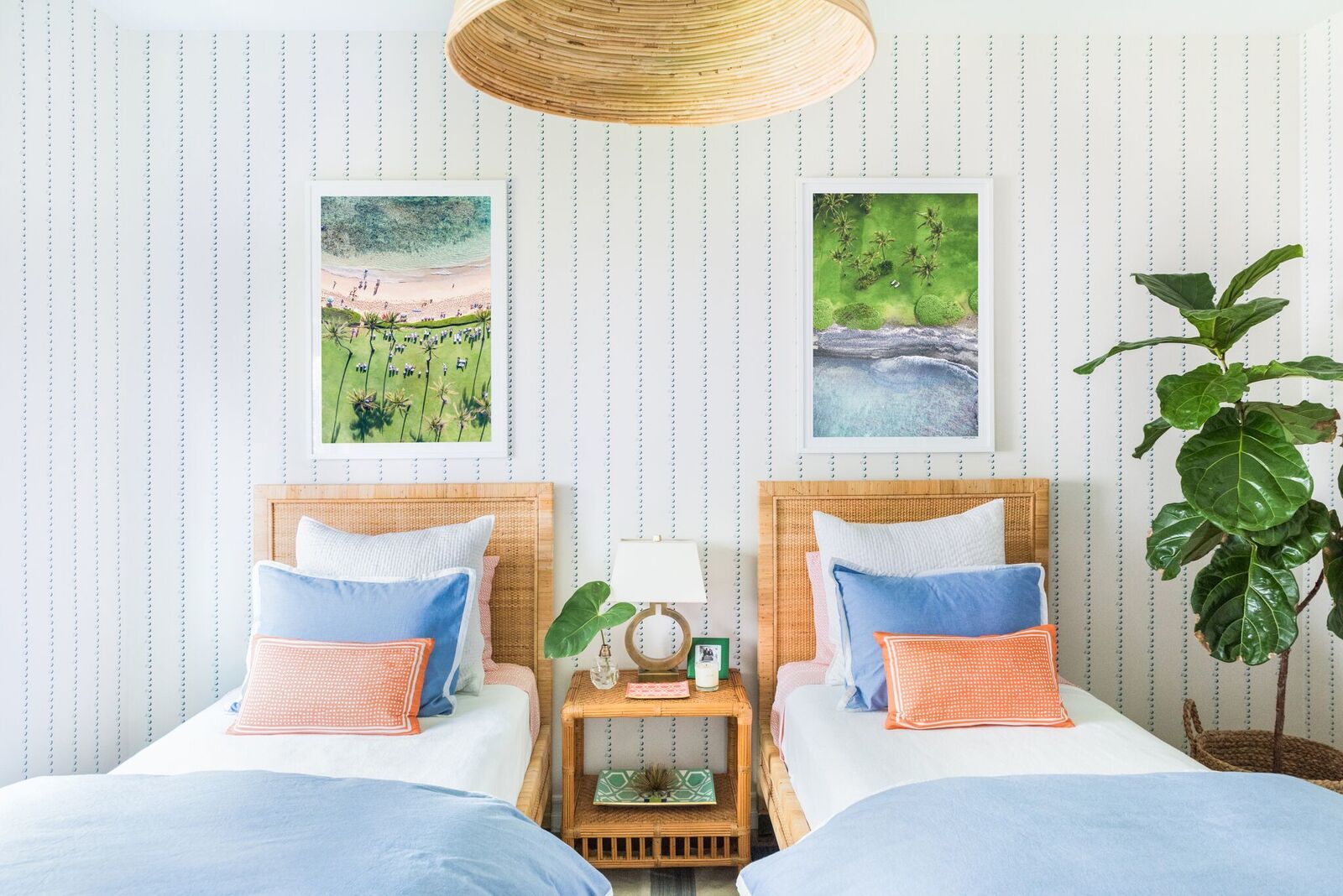 With the Hawaiian bedroom decor direction settled, I turned my attention to the wallpaper options. Since, I already had a great foundation in place with the Serena & Lily Balboa Twin Beds, side table, Brass Ring Lamp and a classic nautical striped rug, I had the room digitally mocked up with the four wallpaper options, in order to help me visualize and make a decision. From left to right, we have The Sunbathers, Ocean Waves, Pinstripe Umbrellas, and Riviera Stripe...as I'm sure you can imagine, it was a tough choice!
Ultimately landing on Pinstripe, I immediately went to work selecting and hanging the Hawaiian artwork.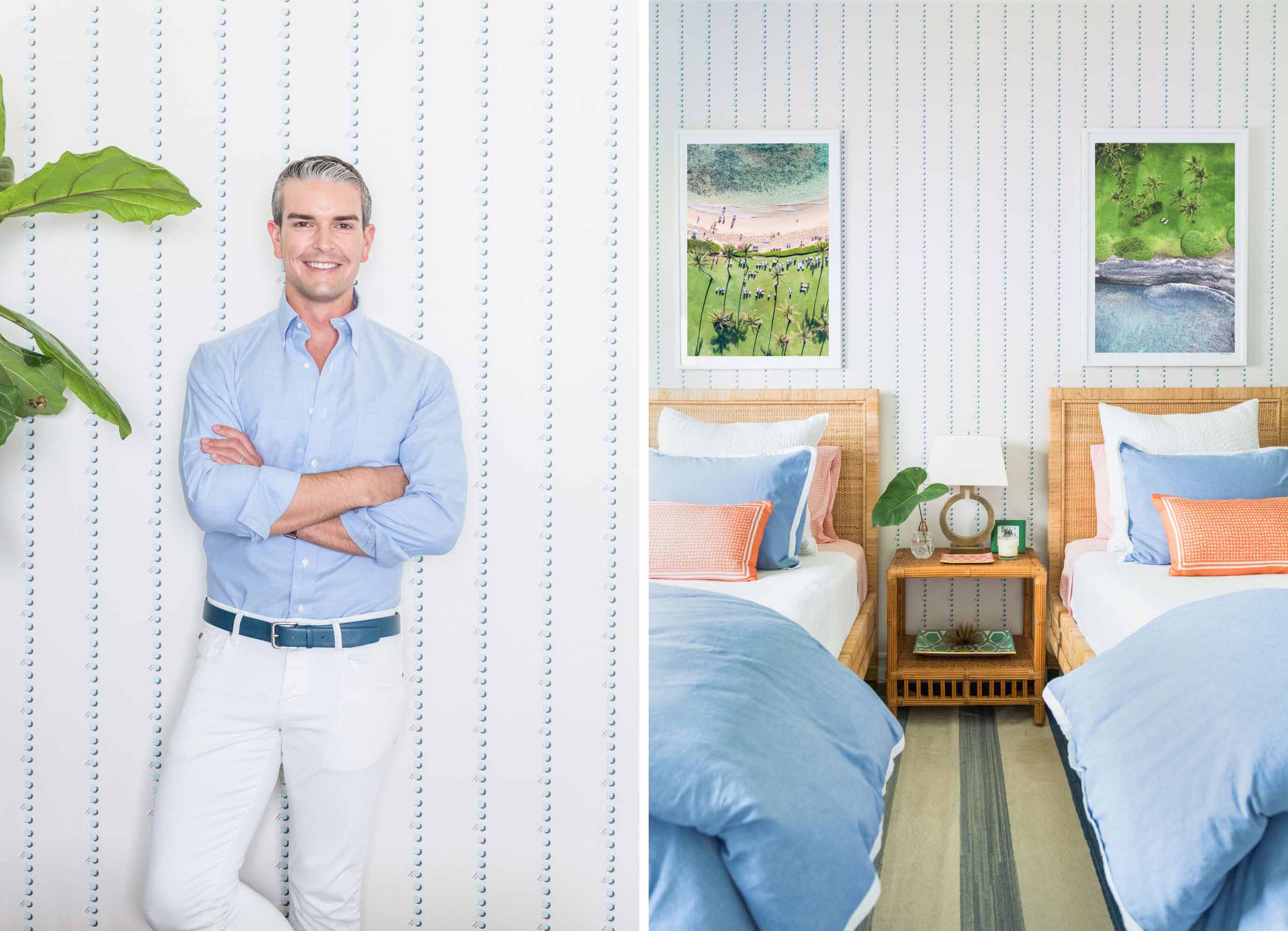 For above the twin beds, I really gravitated towards the pop of green that these two Hawaiian beach aerials brought to the room. I also opted for verticals over horizontal framed prints, as they really compliment the vertical visual effect of the wallpaper.
What do you think? I'm tempted to stay in it and I live here! I just love how it visually flows yet still keeps one engaged with the surprise pops of green via the artwork and plant stylings. If you're feeling inspired to start thinking about your own next decor project, then I think my job is done!
Perhaps, you're interested in a few beach aerials of your own? Well, I have a very large, my largest, series of beach aerial photography for your viewing pleasure and, for a limited time, you can currently shop my beach aerials for 30% off! Happy shopping…and to catch up on all of the Gray Malin Home reveals, look no further than right HERE.
Cheers,
Xx GM
{"slides":[{"label":"How to Pick the Right Lighting For Your Home","url":"/lifestyle/how-to-pick-the-right-lighting-for-your-home","image":"https://res.cloudinary.com/gray-malin/image/upload/c_scale,w_1000,q_50/gray-malin/blog_posts/hero_images/000/001/363/original/0-GillianSegal_Hamilton_G5A9402_copy_2.jpg?updated=1565981564"},{"label":"How To Pull Off Pantone's Summer Color Trends in Your Home","url":"/lifestyle/how-to-pull-off-pantone-s-summer-color-trends-in-your-home","image":"https://res.cloudinary.com/gray-malin/image/upload/c_scale,w_1000,q_50/gray-malin/blog_posts/hero_images/000/001/326/original/00_Header.jpg?updated=1565371945"},{"label":"10 To-Die-For Rug + Print Combos","url":"/lifestyle/10-to-die-for-rug-print-combos","image":"https://res.cloudinary.com/gray-malin/image/upload/c_scale,w_1000,q_50/gray-malin/blog_posts/hero_images/000/001/325/original/0-Header-20190529-EAGLEROCK-HOME15332_EDIT.jpg?updated=1565370436"},{"label":"How To Bring New England Charm to Your Interiors ","url":"/lifestyle/how-to-bring-new-england-charm-to-your-interiors","image":"https://res.cloudinary.com/gray-malin/image/upload/c_scale,w_1000,q_50/gray-malin/blog_posts/hero_images/000/001/321/original/01-Header.jpg?updated=1565133332"},{"label":"Wheeler Coberly, Using Minis to Liven Up Small Spaces","url":"/lifestyle/wheeler-coberly","image":"https://res.cloudinary.com/gray-malin/image/upload/c_scale,w_1000,q_50/gray-malin/blog_posts/hero_images/000/001/318/original/0-Wheeler_Coberly-2.jpg?updated=1564088401"},{"label":"How to Translate Fashion's Rainbow Trend Into Your Interiors ","url":"/lifestyle/how-to-translate-fashion-s-rainbow-trend-into-your-interiors","image":"https://res.cloudinary.com/gray-malin/image/upload/c_scale,w_1000,q_50/gray-malin/blog_posts/hero_images/000/001/306/original/00_Header.jpg?updated=1562027355"},{"label":"Pool House Décor","url":"/lifestyle/pool-house-decor","image":"https://res.cloudinary.com/gray-malin/image/upload/c_scale,w_1000,q_50/gray-malin/blog_posts/hero_images/000/001/305/original/00_Header.jpg?updated=1562026618"},{"label":"A Designer's Most Commonly Asked Paint Questions ","url":"/lifestyle/a-designer-s-most-commonly-asked-paint-questions","image":"https://res.cloudinary.com/gray-malin/image/upload/c_scale,w_1000,q_50/gray-malin/blog_posts/hero_images/000/001/314/original/00-Header.jpg?updated=1563389603"}],"label":"Have You Seen?"}
{"id":null,"number":null,"item_total":"0.0","total":"0.0","ship_total":"0.0","state":"cart","adjustment_total":"0.0","user_id":null,"created_at":null,"updated_at":null,"completed_at":null,"payment_total":"0.0","shipment_state":null,"payment_state":null,"email":null,"special_instructions":null,"channel":"spree","included_tax_total":"0.0","additional_tax_total":"0.0","display_included_tax_total":"$0.00","display_additional_tax_total":"$0.00","tax_total":"0.0","currency":"USD","considered_risky":false,"canceler_id":null,"display_item_total":"$0.00","total_quantity":0,"display_total":"$0.00","display_ship_total":"$0.00","display_tax_total":"$0.00","display_adjustment_total":"$0.00","token":null,"checkout_steps":["address","delivery","complete"],"bill_address":null,"ship_address":null,"line_items":[],"payments":[],"shipments":[],"adjustments":[],"credit_cards":[],"promotions":[],"total_shipment_cost":"$0.00","permissions":{"can_update":false},"use_shipping_for_billing":true,"use_new_ship_address":true,"use_new_bill_address":false,"selected_ship_address":null,"selected_bill_address":null,"display_completed_at":null,"item_count":0,"subtotal_minus_promos":"$0.00","coupon_codes":[]}
This site uses cookies to allow better navigation. By closing this banner, scrolling this page or clicking any of its elements, you are giving consent to all cookies. To learn more and to change your preferences please see our Cookies Policy.