Hi Everyone,
In combination with New Year's resolutions and cold weather (at least in this country), January is a month for planning, don't you agree? It is a time to look at your schedule and strategize on ways to improve one's health routine as well as begin to plan your getaways for the year! One destination that is always on my list, regardless of how many times I get the chance to visit, is Italy. Since 2015, I have been sharing my journal entries from this fantastical country, and I have kept it up through 2016 and 2017. Needless to say, 2018 will be no different, as I simply can not get enough of Italy.
This year, I'm focusing on Lake Como, as it revels in the spotlight. It was just last summer that I finally checked this luxurious destination off my "must visit" list. I hope you enjoy joining me on this trip down memory lane as well as the debut of a handful of brand new images from Lake Como...
Tuesday July 18
Today was a very busy day of boating around Lake Como! I knew I wanted to not only ride in a classic Como wooden boat, but also get some great photos of a boat as well. We contacted the wonderful Duilio at Como Classic Boats prior to our arrival and arranged for two boats for the day. One was an amazing wooden boat with this gorgeous turquoise leather with white trim called the Riva Tritone 81. It was quickly decided that we were going to spend part of the day riding in it, and the other photographing it with the stunning scenery as the backdrop. The other boat, Riva Super Florida 391, was smaller with white and red leather to take us around alongside the Tritone.

Jeff and I began the day with a hop into the Super Florida with Duilio at the wheel. He knew the area very well, so he easily strategized the navigation of my list of sites. We plotted out to shoot the west side of the lake first as to capture the gorgeous morning light, followed by more in the afternoon for the midday light. We would mostly stick to our western "finger" of the lake as the others would take extra time to reach. Much to our convenience, most of my prioritized sites were located on the west side, anyway.
Upon boarding at Tremezzo , I made sure to get shots there first and foremost, as the orange highlights of the hotel shone so brightly in the sun. It was the perfect time to capture it. We had the captain of the Tritone, Gabriel, try different positions and hats- including my straw hat and his own classic captains hat- and he and Duilio communicated via phone the entire time with iPhone ear pods and speakers; it was a lot for them to coordinate all the maneuvers but they were excellent!
After Tremezzo we set out to see some of the iconic villas and towns along the shore. First we cruised over to Villa del Balbianello - a truly exquisite place that is now a private museum which is wonderful since you can tour it. It features iconic cyprus trees and meticulously manicured lawns surrounding its several white buildings. It was truly breathtaking from all angles.

We took a few fun shots in the water of Gabriel and the boat with his different hat options cruising along. Duilio pointed out the villa of George Clooney and told us that he, Amal, and the twins were in town! I got some snaps of Gabriel and the boat and the villa is somewhere in the background of one of my shots - you'll just have to guess where ;)

We then headed over to Villa Cassinella, which I believe was my favorite of the day. It is comprised of several elegant yellow and red buildings and had exquisite landscaping that is one not to miss. The only problem with being able to see this stunning villa is that it must be done by boat- apparently it is only accessible via boat - or helicopter! There is a rock wall surrounding the other side so there is no road that can reach this place. There is a well known rumor that this villa is own by the billionaire Richard Branson, but even he has poked fun of this untrue fact on instagram. We later learned it is privately owned- but not to worry, it can be rented out if you so choose. All you'll need is 120,000 Euros for the week!

Up next, we set out for a famous waterfront hotel, the Villa D'Este. The beautiful white exterior made for some excellent shots as well as a gorgeous red and yellow colored villa next door. I made sure to get plenty of great shots here with the Tritone boat prior to heading over to the nearby Villa Erba, which is a grand white villa from the 19th century. This had among the most intricate of designs that we saw on the entire lake- and had two swans sitting on the beach nearby casually amping up the elegance.
Our last stop with Duilio was one of the most unexpected. We headed over to the other side of the lake, as the light was now centering over the it, since it was noon. There is a tiny village called Orrido di Nesso that has this beautiful small stone bridge in front of it that crosses over an inlet river to the lake. At first we had assumed this was the site to see, but then Duilio pulled in further and we could hear the faint sound of rushing water growing increasingly louder. It was then as we got closer we realized the main attraction- beyond the bridge there was a massive cascading waterfall into the lake below. It was truly spectacular in the twinkling light, and is a sight that I will never forget. After some shots of this wonder it was time to bid "arrivederci" to Duilio as our time with him was coming to a close.

We swapped boats and boarded the beautiful Tritone with Gabriel at the helm. I immediately wanted to get some shots from the bow of the boat next to my favorite of the day, Villa Cassinella.
I snapped a few pictures of myself manning the boat for a few laughs as well- how could you not with this gorgeous ship?!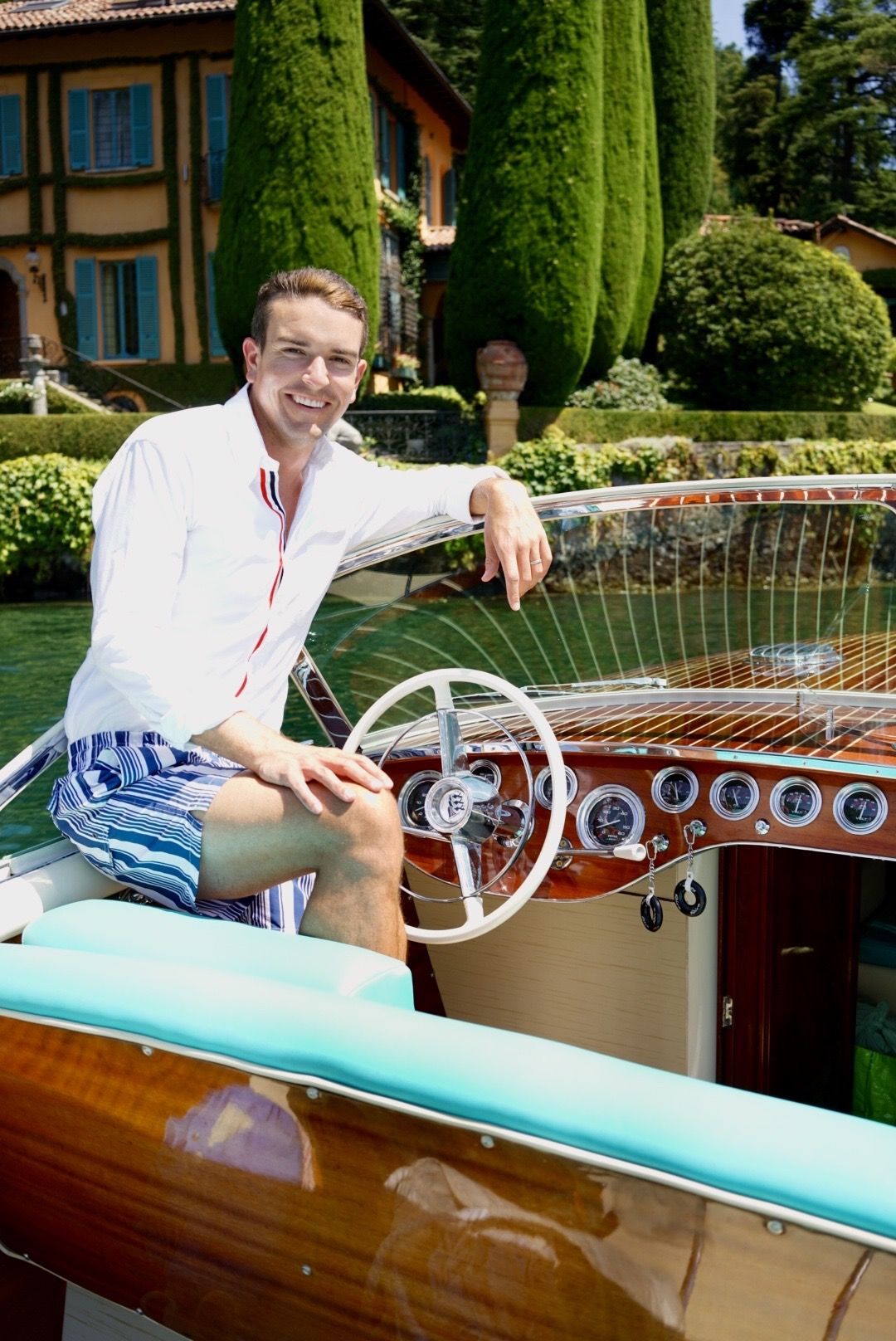 Then, it was off to see Bellagio in person. By this time it was truly teeming with tourists but we luckily got in some shots before a massive ferry came full steam into to the town loaded up with cars and people. The town itself certainly lived up to its name with some of the most eye catching buildings and styled signs and awnings. We drifted over to the nearby Villa Melzi- a beautiful flat white villa with grey-blue shutters and an amazing set of stone steps down to the lake. Its grounds are open to tourists, and again, somehow I got a lucky minute when no one is around to shoot it from the boat bow just before a massive group of tourists (led by their leader with a bright flag) invaded the middle of the shot!

Bellagio is actually a town on the peninsula that separates the two lower eastern and western fingers of Lake Como. We headed around the peninsula and saw the beautiful town Varenna in front of us. With not nearly as many tourists as Bellagio, the town had the most beautiful pink and yellow buildings and a gorgeous clocktower chapel in the middle of the town. We came around the bend of the town and the had a stone covered "beach" that people were wading in enjoying the sun-dappled day. Finally, after the last shot, it was time to drift back to Tremezzo.

Gabriel shared a bottle of prosecco they had saved for us, as well as some fruit to enjoy...
We sprawled out on the back of the boat and cruised home to the hotel, with the Mamma Mia soundtrack playing on the speakers we brought on board. After a hectic five hours of shooting, it was so nice to enjoy the scenery of this extraordinary place in a moment of bliss.
We arrived back at the hotel, and after a much needed cat nap, sought out to explore the hotel some more. Behind the building were actually acres of land and an entire new pool and the spa and clay tennis courts. It was a real wow moment walking up the hillside to see how well designed the grounds were with daybeds in shaded grassy areas with white cushions and orange trim accents. We grabbed two aperol spritz (a favorite of mine in case you didn't know!) and trekked around to see the grounds and ran into the owner, Valentina! We were already going to be having an aperitif with her and the hotel manager later that evening but she was so kind and sweet and told us not to miss the panoramic walk in the gardens. So we made the trek up the not-too-steep hillside and took in a breathtaking view of the lake. From this vantage you could see over the hotel down to nearly the entire finger, over to Bellagio and Varenna. With the sun facing the eastern shore it was beautifully lit up in the afternoon sun.

Not to be missed, we made sure to include quick dip into Tremezzo's floating pool. It was so relaxing but such a strange feeling to be bobbing in a lake from inside a pool! It was a lovely experience and a chance to take a few minutes to relax...
To see more, look no further than our latest Italian Adventure page, as well as get a full Travel Guide on Lake Como, right here. I hope you've enjoyed taking a peek inside my travel journal. It's always a pleasure sharing my memories with you all!
Cheers
xx
GM