Hi Everyone, As we close out the first month of 2017, I'm taking a road trip down memory lane through my many Italian adventures. To mark all of the stops along the way, I'm also releasing brand new images from the archives of each destination and sharing excerpts from my travel journals. Ready? Jump in!
SANREMO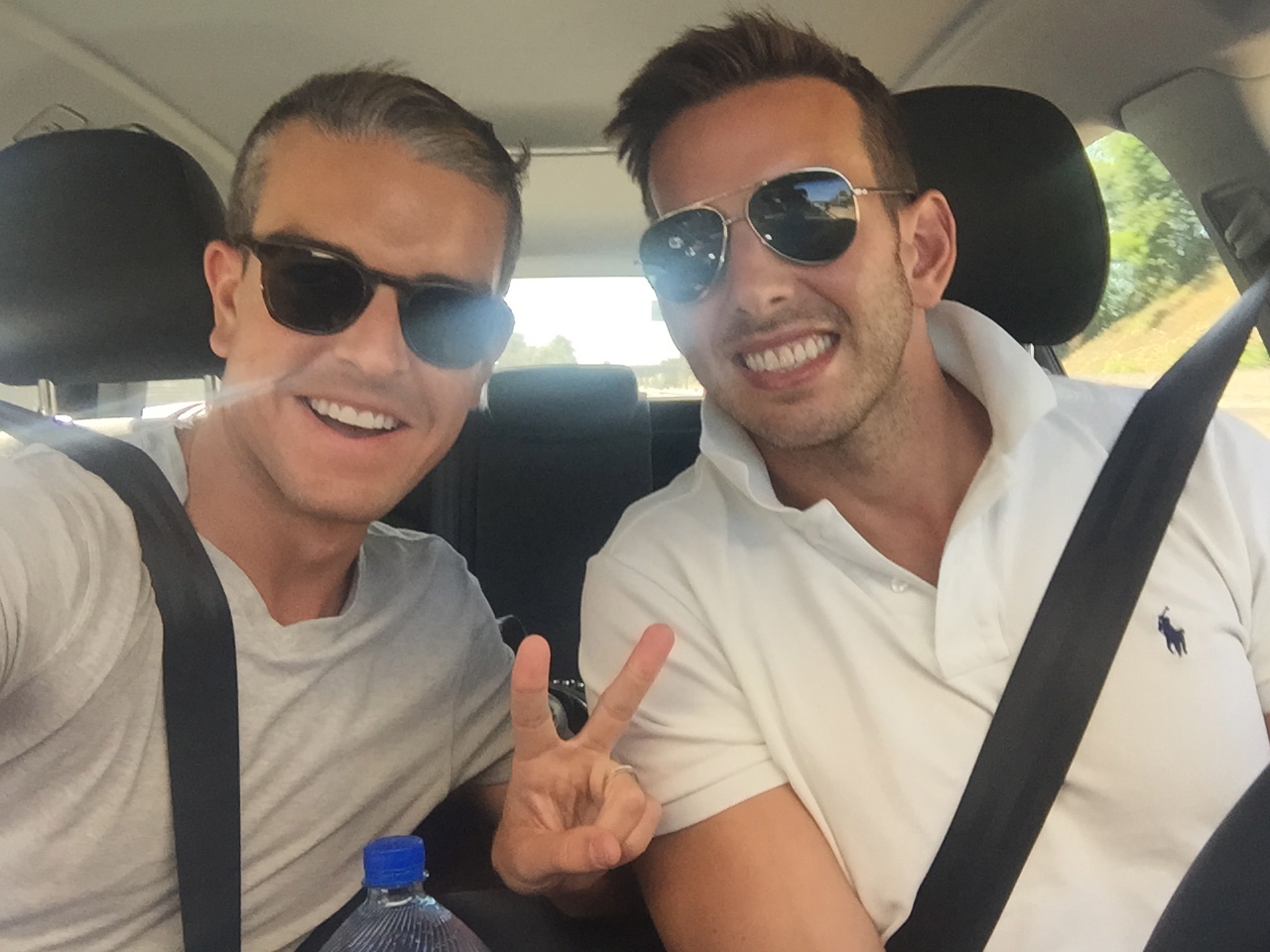 The town of Sanremo truly is the top of the Italian Riviera, right over the border from France. You can start your journey here by flying into Nice and soaking up the South of France before hopping over the short trip to Monte Carlo by heading east. Then in less than an hour, you can easily cross the border into Italy. You'll drive through seaside mountain tunnels with remarkable views of the azure water below. It's the perfect seamless mesh of cultures and languages along a gorgeous stretch of European coastline. As you pull into town, you'll begin to see the first beach clubs, that are quintessentially Italian, speckled along the sea.
Once in Sanremo, watch out of the motorbikes! Though they are ubiquitous throughout Italy, this town is literally jammed with them, so drive carefully. Sanremo features old-world style Italian glamour. I suggest spending a night at the Royal Hotel Sanremo where you'll be greeted by staff in chic red blazers, and handed a skeleton key to your room, with a weighted tassel charm attached. Once in your spacious room, head down to the piano bar for a freshly shaken cocktail or glass of wine and enjoy the view of the Mediterranean perched up on the hillside grounds. You can truly close your eyes and imagine the Italy of yesteryear sipping your Aperol spritz with sounds of the waves and the humming town below.
From 2015 journal entry ~
It felt so good to be back looking out over the strip of colorful beach clubs. I forgot how perfectly charming they are, forever frozen in a 1960's glamour that warms my soul to the perfect degree. As I took my first few images, I couldn't help but smile standing back in one of my favorite places sharing in the moment with my best friend.
PORTOFINO
After Sanremo you'll want to pack up your car and head along the coast as you begin to journey southward and make sure to stop in Portofino. The trick with getting to this tiny, but truly spectacular fishing port is making sure you have the right directions! You'll first come to a coastal town that looks like Portofino, but is actually another darling, but larger, town called Santa Margerita. You'll want to stop here quickly and take in the ambiance of the few beach clubs, and then make your drive into Portofino. You'll need to be careful- the roads here are very windy along a steep drop off. But the thrill of coming around the last bend into Portofino is well worth it. You can park your car in the tight parking garages, and hop out to explore.
The port is chock-full of small shops, including superb Gelato that you cannot afford to miss. After picking up a sweet treat, take a stroll up the windy streets to the old castle that sits up on the hill and overlooks the port. You can see some of my vantage point photos taken from here- with the port jammed packed with luxury boats and modest fishing vessels, sparkling against the colorful town homes that dot the cobblestoned streets. There are not many places here to stay but luckily, it's only a short drive from our next destination, Cinque Terre, where you can find numerous hotels. I'm heading there next..won't you join me?
xx GM
{"slides":[{"label":"Gray's Guide to Northern Michigan","url":"/lifestyle/gray-s-guide-to-northern-michigan","image":"https://res.cloudinary.com/gray-malin/image/upload/c_scale,w_1000,q_50,f_auto/gray-malin/blog_posts/hero_images/000/001/932/original/0.jpg?updated=1624311160"},{"label":"Our Favorite Wintery Destinations","url":"/lifestyle/our-favorite-wintery-destinations","image":"https://res.cloudinary.com/gray-malin/image/upload/c_scale,w_1000,q_50,f_auto/gray-malin/blog_posts/hero_images/000/001/814/original/0-the-field_copy.jpg?updated=1608319096"},{"label":"Our 10 Destinations We Can't Wait to Get Back to","url":"/lifestyle/our-10-destinations-we-can-t-wait-to-get-back-to","image":"https://res.cloudinary.com/gray-malin/image/upload/c_scale,w_1000,q_50,f_auto/gray-malin/blog_posts/hero_images/000/001/802/original/0-Lake_Como_by_Boat.jpg?updated=1606505257"},{"label":"Gray's Guide to Maine","url":"/lifestyle/gray-s-guide-to-maine","image":"https://res.cloudinary.com/gray-malin/image/upload/c_scale,w_1000,q_50,f_auto/gray-malin/blog_posts/hero_images/000/001/692/original/0-Old_Orchard_Beach_Pier__Maine.jpg?updated=1596571592"},{"label":"Gray's Favorite Beaches in the USA","url":"/lifestyle/gray-s-favorite-beaches-in-the-usa","image":"https://res.cloudinary.com/gray-malin/image/upload/c_scale,w_1000,q_50,f_auto/gray-malin/blog_posts/hero_images/000/001/680/original/9-surfside-beach-nantucket.jpg?updated=1593559394"},{"label":"Gray's Favorite Beaches Around the World","url":"/lifestyle/gray-s-favorite-beaches-around-the-world","image":"https://res.cloudinary.com/gray-malin/image/upload/c_scale,w_1000,q_50,f_auto/gray-malin/blog_posts/hero_images/000/001/645/original/16-Second_Beach_Sunbathers__Newport.jpg?updated=1593041015"},{"label":"Gray's Guide to New Zealand","url":"/lifestyle/gray-s-guide-to-new-zealand","image":"https://res.cloudinary.com/gray-malin/image/upload/c_scale,w_1000,q_50,f_auto/gray-malin/blog_posts/hero_images/000/001/633/original/0-IMG_0991_copy_2.jpg?updated=1591833993"},{"label":"Gray's Guide to Capri","url":"/lifestyle/city-guide-capri","image":"https://res.cloudinary.com/gray-malin/image/upload/c_scale,w_1000,q_50,f_auto/gray-malin/blog_posts/hero_images/000/000/109/original/two-umbrellas-laa-fontalina-capri.jpg?updated=1493143453"}],"label":"Have You Seen?"}
{"id":null,"number":null,"item_total":"0.0","total":"0.0","ship_total":"0.0","state":"cart","adjustment_total":"0.0","user_id":null,"created_at":null,"updated_at":null,"completed_at":null,"payment_total":"0.0","shipment_state":null,"payment_state":null,"email":null,"special_instructions":null,"channel":"spree","included_tax_total":"0.0","additional_tax_total":"0.0","display_included_tax_total":"$0.00","display_additional_tax_total":"$0.00","tax_total":"0.0","currency":"USD","considered_risky":false,"canceler_id":null,"display_item_total":"$0.00","total_quantity":0,"display_total":"$0.00","display_ship_total":"$0.00","display_tax_total":"$0.00","display_adjustment_total":"$0.00","token":null,"checkout_steps":["address","delivery","complete"],"bill_address":null,"ship_address":null,"line_items":[],"payments":[],"shipments":[],"adjustments":[],"credit_cards":[],"promotions":[],"total_shipment_cost":"$0.00","permissions":{"can_update":false},"use_shipping_for_billing":true,"use_new_ship_address":true,"use_new_bill_address":false,"selected_ship_address":null,"selected_bill_address":null,"display_completed_at":null,"item_count":0,"subtotal_minus_promos":"$0.00","coupon_codes":[],"includes_framed_items":false,"contains_subscription":false}
This site uses cookies to allow better navigation. By closing this banner, scrolling this page or clicking any of its elements, you are giving consent to all cookies. To learn more and to change your preferences please see our Cookies Policy.