To highlight the beauty of Lake Como, which is part of our Italy sale event, happening now...I am taking us back two years ago, when I was crusing along the beautiful waters of Lake Como. For a limited time we are offering 25% off ALL of my artwork from Italy and a complimentary Nest candle when you spend $300 or more, while supplies last. Don't miss out!
Hi Everyone,
TodayI amsharing my Travel Guide with all of my best input on how to enjoy Lake Como to the fullest. Lake Como is one of the most gorgeous destinations in Italy in my opinion - the lush greenery, the exquisite and colorful architecture, and the waterfront make for a perfect vacation destination. I've had the pleasure of visiting Lake Como a few times now and I wanted to share my favorite recommendations!Lets dive in, shall we?
THE GEOGRAPHY
Driving to Lake Como, located in North Italy, just outside of Milan, you will quite literally exclaim_"It's gorgeous!"_ as it begins to come into view. I know, I did. The lake is shaped like an inverted Y. If you need a bit more clarity on that,the way it was explainedto me is the lake has two "legs," Como in the South-West and Lecco in the South-East, which join together at Colicoin the North. It makes sense when you see it, trust me.
ACCOMODATIONS
I admit it. I was spoiled by my experience at theGrand Hotel Tremezzoand therefore must focus my full attention onelaborating on its behalf.It is my one and only recommendation ofplacesto stay while visiting Lake Como. After a dazzling drive through the various villages surrounding the lake, we arrived to this stunning hotel and were not at all disappointed.
Though we had studied their beautiful website quite thoroughly, I don't think either of us were prepared for the grandiosity of the place. Soaring up 6 stories, the grand hotel looked fresh (we learned it was renovated just a few years prior) and had vibrant orange awnings and meticulously maintained purple and white flowers all along the staircase up to the lobby.Thebellman took our luggage except for our handbags, which I passed off to Jeff right away, so I could start photographing everything I saw, giddily.
We arrived at the lobby and were greeted by the hotel manager, as well as our private concierge for the stay.I mean, you literally cannot find better hospitality anywhere! Apparently the owner of the hotel, Valentina, had gotten wind of our arrival and kindly wanted to make sure we had a superb stay. Upon entering our suite, we learned that it was the Bellagio Corner Suite and that it provided an exclusive view of the "pearl of the lake," also known as the town of Bellagio.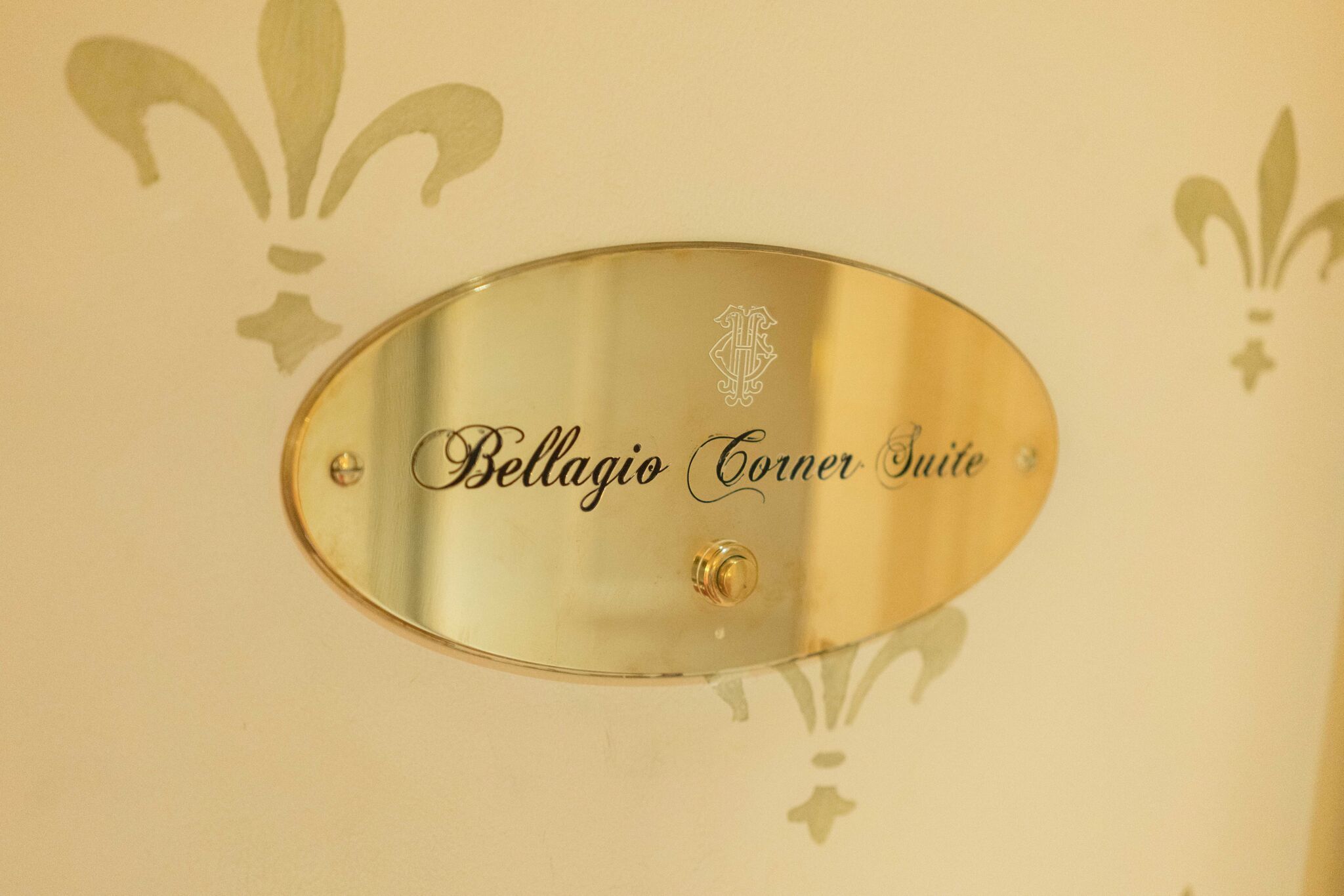 Needless to say, the room was stunningwith plush couches and a large wooden built-in table stacked with classic books. Right outside the room was a large corner terrace with a table, private jacuzzi, and glass walls that gave an unobstructed view of the lake below, and as promised, the town of Bellagio in the distance, lit up in the evening sun with its pink, yellow and orange buildings.
After recovering from the beauty that was our suite, we did a quick change into our suits to head down to Tremezzo's famous _floating pool,_which quite literally rests on the lake's surface. To learn more about the pool, click here and learn more about the hotel itself, look no further than right here.
WHAT TO SEE & DO
Bellagio:Anyone you know who has been toLake Como will tell you, Bellagio isa must see.Located exactly halfway between the two southernmost branches of the lake,Bellagio is a picturesque stone village perched on the strip of land where the lake becomes a "Y." Lined along the lake with some of the world's mostbeautiful villas, everywhere you turned in this historic village is eye-candy.
Tour the Lake Como by Boat:The best way to take it all in isby boat, and I recommend Como Classic Boats to do it in the upmost style. A captain will be at your service to shuttle you around the lake and share all of the most important facts and yes...they'll also point out George and Amal's place.
All the Villas: Villas are everywhere and they are ripe for your viewing pleasure, especially from the vantage point of the boat.
One of my favorite's wasVilla del Balbianello, which fun fact (for some) was featured in_Star Wars: Episode IIAttack of the Clones_.I haven't seen it but thought I'd share, in case anyone thought it looked familiar.
Another stunner, Villa la Cassinella, is available for weddings and private events. Just anFYIto anyone inthe midst of nuptial planning, and please don't hesitate to invite me.I'd be happy to stepashore for the celebration.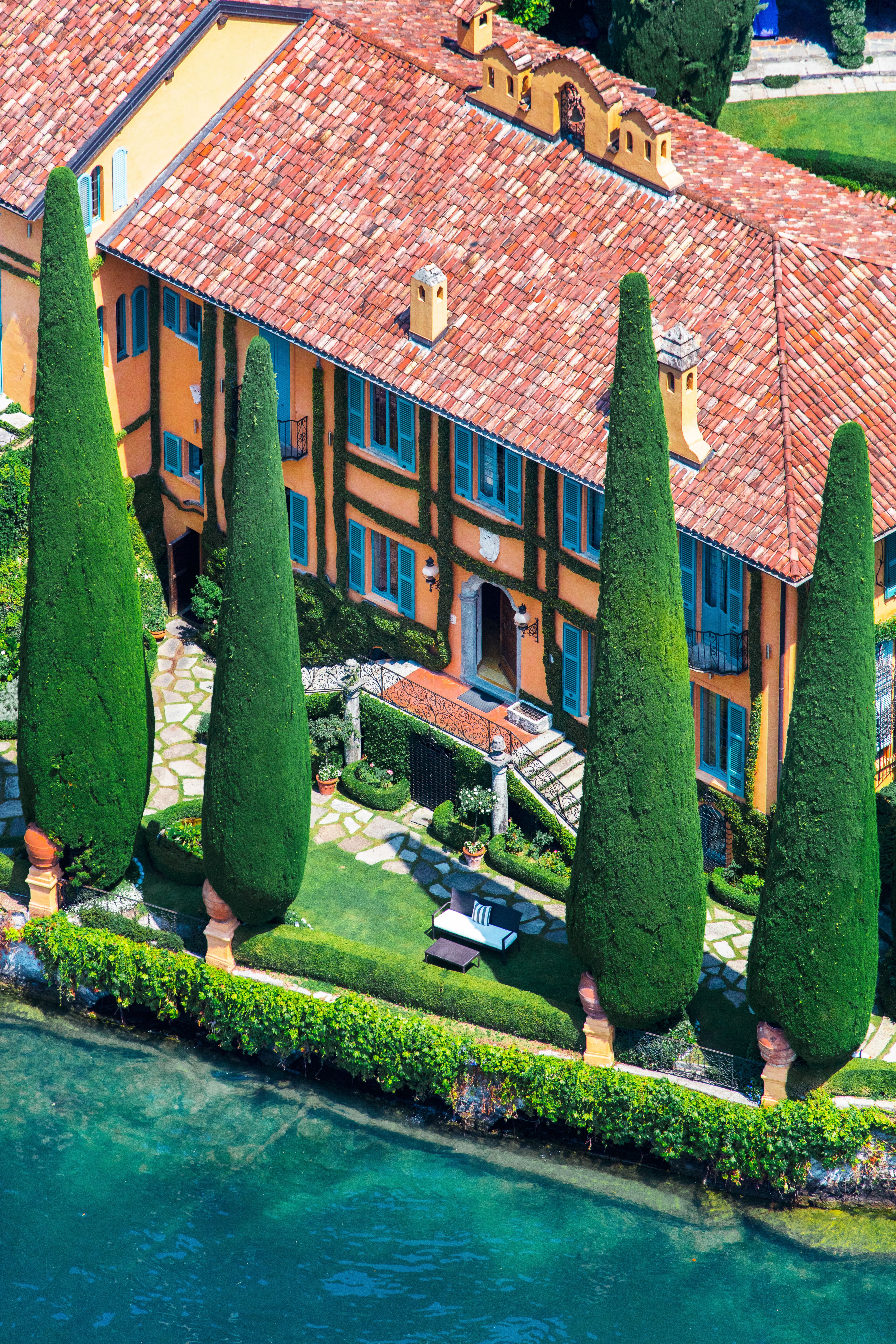 WHERE TO DINE
Okay, you'll have to forgive the lack of pictures here, I guess I was too busy enjoying every bite asthe food truly was divine everywhere we went.
Dimmidisì _- "_Just say yes"to a truly indulgent private dinner for two at Grand Hotel Tremezzo, who offers a collection of enchanting, private spots to dine andtake in the romantic atmosphere of Lake Como all the while indulging in a truly gourmet experience.
La Vita e' Bella - For something a little lessfancy but still delicious, we found this gem of a restaurant on Piazza Domenico Croggi. Although the menu was traditional Italian, there was also plenty of healthy items like salads and vegetarian options.
La Fabbrica del Gelato - There is an unsaid but completely understood rule when visiting Italy, and I mean anywhere in Italy. You must eat gelato. After many insisting recommendations of itbeing "The Best!"on the lake, we stopped into this small but super cute gelato shop in Lenno. It did not disappoint.
Last but certainly not least...
WHERE TO CHEERS
Literally anywhere and everywhere...you're in Lake Como!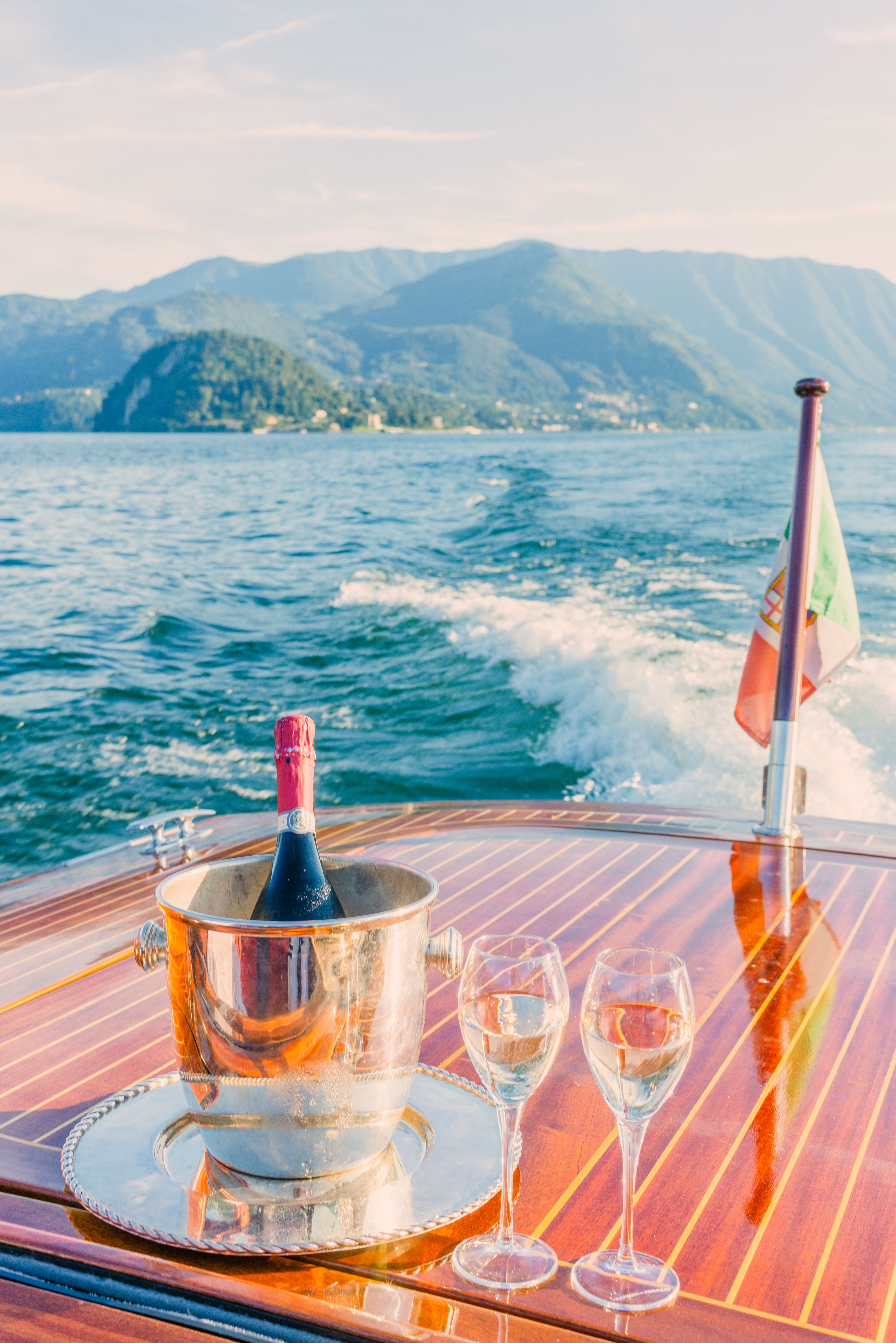 Thank you so much for joining me on my Lake Como Travel Guide and I invite you all to take in all of my imagesfrom this glamourous destination. I can't wait to hear what everyone's favorites are!
xx
GM