Interiors
Design Direction: Where to Spend Your Money in a Bathroom Remodel
We're always down for some sage advice from our fab interior design contributors, and lucky for us, they're always willing to share their wisdom. With so many redesigns happening in Gray's home this year, it feels like we've turned our attention to nearly every room in the house. And today, one of the more practical spaces in the home is stealing the spotlight—the bathroom. While bathroom design generally focuses more on function than fashion, it's no secret that, with a little attention to detail, the bathroom can become one of THE chicest and most awe-inspiring spaces in the home. However, style means money (in one way or another), so pro designer Daniela Benloulou is giving us the low-down on where exactly you should allocate your budget in a bathroom remodel. Keep scrolling for her advice on where to spend and where to save when it comes to the bathroom…
A common predicament in bathroom design, especially when there isn't a large budget, is how to stretch your dollar in order to achieve a high-end look. But lucky for you, I'm going to let you in on my strategy for this. Saving on some items, but not all, can help you achieve a high-end look that is elevated and cohesive, without breaking the bank.
SAVE:
The majority of your tile. While fancy tile is seriously stunning, it is hardly ever the affordable option, especially because you need to buy so much square footage to fill a bathroom. I choose to go with a mid-range tile, and perhaps only use the fancy stuff in a small space, like a niche or a shower floor. ( Target price range: ~$5/sqft)
SPEND:
The bathtub. Especially in a master bathroom, a standard built-in tub is anything but spectacular. Instead, opt for dropping at least a couple thousand on a large, freestanding tub. It can be modern or traditional, but it should be a showpiece.( Target price range: Minimum$2k)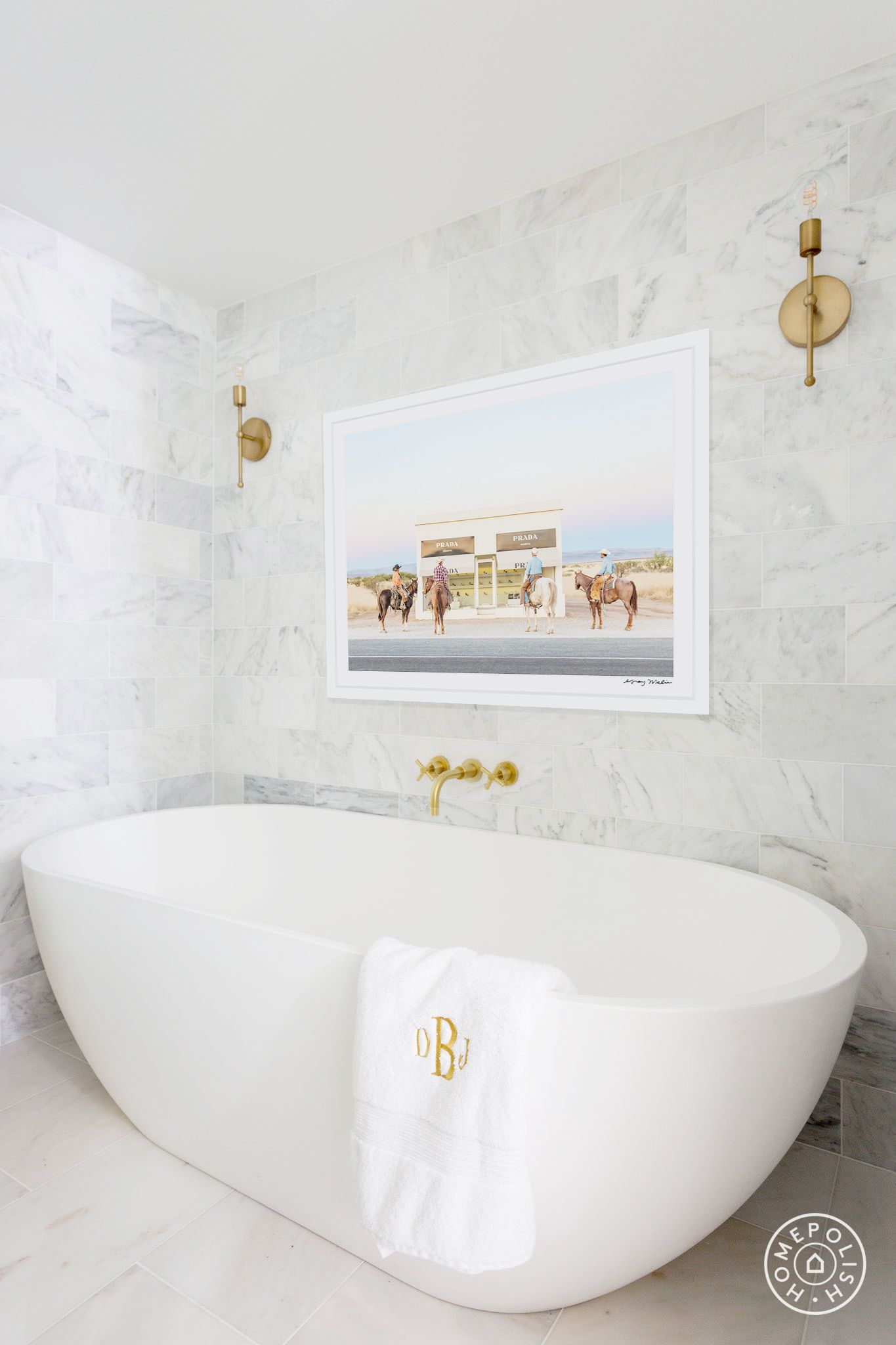 SAVE:
Lighting. While I firmly believe decorative lighting is important, it doesn't need to be the most expensive part of your space. There are plenty of wonderful sconces, pendants, and chandeliers on the market that have style without breaking the bank.( Target price range: ~$150 per sconce)
SPEND:
Accessories. Don't skimp here. Towel bars, hooks, mirrors, and decorative accessories should all elevate the space. A cheap toilet paper holder will look like just that—cheap.( Target price range: Minimum $50 for towel bar)
SAVE:
Sinks. Especially standard undermount sinks. You don't need to have the brand name stuff, it's just porcelain. In most cases, no one will know the difference. ( Target price range : ~$150)
SPEND:
Plumbing fixtures. These can get very expensive, but it's really worth not doing builder-grade, boring Home Depot fixtures. Generally, satin brass, copper, polished nickel, and matte black will cost more than chrome and brushed nickel. Please, just don't choose brushed nickel. ( Target price range: ~$500 per sink faucet)
SAVE (IF YOU HAVE TO):
Vanity. It can be argued that a vanity is the focal point in a bathroom, and to be honest, that is usually true. If you have the budget to get something special, please do! Going custom is really wonderful, but definitely not frugal. So, if you need to save money here, consider taking prefabricated cabinets and jazzing them up with fun legs and hardware. Or go the IKEA route, and perhaps cover it with Semihandmade doors (which are specifically made to upgrade basic IKEA installations!). ( Target price range : ~$1500)
SPEND:
Knobs and pulls. Please budget at least $15 per knob. Inexpensive hardware—especially the basic stainless steel pulls in every flip home—can take a great overall bathroom design and make everything feel cheap.( Target price range: Minimum $15 per knob)
TOSS UP, DEPENDING ON LIFESTYLE:
The toilet! Ah yes, the toilet. The reason we have bathrooms in the first place. This is ultimately a matter of lifestyle. I like to stay around the $400-$500 range, which isn't low-end, nor super luxury. I recommend staying consistent with style though. Don't put a super modern toilet in a traditional bathroom, and vice versa.
Are you going to use these tips for your next bathroom remodel?
We learned a lot from Daniela, to say the least. Sounds like it's time for us to get some remodeling plans underway, now that we have these tips and tricks in our back pocket…
P.S. Make sure to follow along with the rest of Daniela's work on her website and on Instagram!
Until next time,
Xx Team GM
Photos: Daniela Benloulou Interiors& Homepolish