Jetting off to Italy is always on our minds, and for good reason. From the endless supply of pizza, pasta, and gelato, to the miles of pristine blue waters, to the romance of the rolling Tuscan countryside, we can't seem to shake the Boot. That being said, we rounded up five can't-miss, bucket list ideas to test out on your next Italian adventure… because if we're going to have the experience of a lifetime anywhere, we'd prefer it to be somewhere we can end the day with a bowl of fresh pasta and a limoncello.
Keep reading to see our recommendations for an unforgettable trip… and if you want to bing the Italian adventure home, then there's no time like the present to pick up one of our La Dolce Vita prints! We're currently offering 25% off all Italy prints for a limited time, so don't wait! The clear blue waters of the Italian coast will inspire your next adventure every time you see them.
And now, as the Italians would say, andiamo!
[SHOP PRODUCT - Cinque TerreCinque TerreCinque TerreCinque Terre]
[SHOP PRODUCT - Bagni Eden, MonterossoBagni Eden, MonterossoBagni Eden, MonterossoBagni Eden, Monterosso]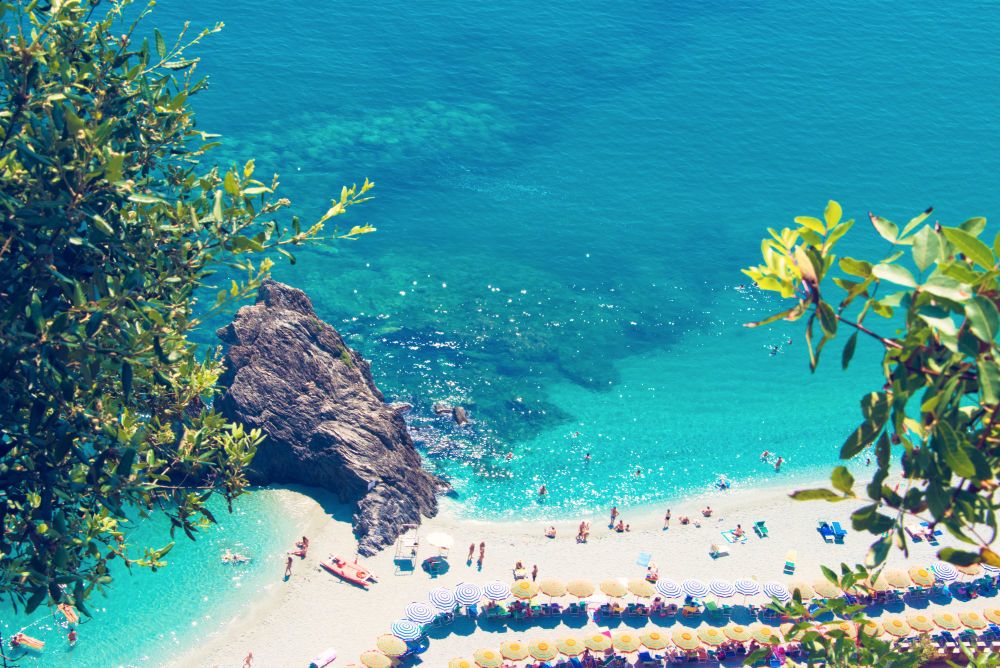 [SHOP PRODUCT - Cinque Terre HorizontalCinque Terre HorizontalCinque Terre HorizontalCinque Terre Horizontal]
1. Explore Cinque Terre
This picture-perfect collection of pastel seaside towns is almost too pretty to be real. With serene blue waters below, and rugged hiking trails above, this destination is one of our favorite spots in Italy for good reason. Watch fishing boats bob in the harbor over an al fresco dinner, or spend the day diving into the clear blue water before relaxing with a drink in the town square. Our personal pick of the towns in the Cinque Terre? Monterosso. With miles of perfect beaches and unbeatable views, this spot will always top our list.
[SHOP PRODUCT - Lake ComoLake ComoLake ComoLake Como]
[SHOP PRODUCT - Morning Cruise, Lake ComoMorning Cruise, Lake ComoMorning Cruise, Lake ComoMorning Cruise, Lake Como]
2. Cruise Around Lake Como at Dawn
With snow covered mountains on one side and densely wooded hills on the other, Lake Como makes a pretty spectacular view at any time of day. If you have the chance, though, we recommend taking a cruise around the lake as the sun is coming up and the mist is rising. You can rent small boats at a number of local shops along the shore, and with 56 square miles to explore, starting early will allow you to fully enjoy the journey and miss the rush of tourists. Be sure to keep an eye out for luxurious villas and private estates, as this region is home to many old and important Italian families.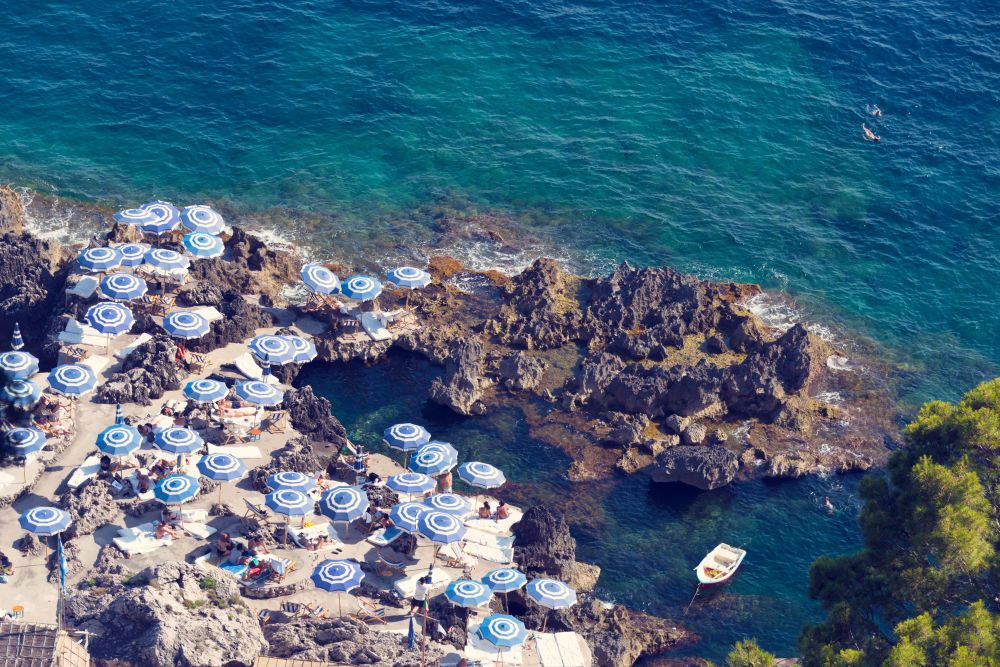 [SHOP PRODUCT - La Fontelina Umbrellas, CapriLa Fontelina Umbrellas, CapriLa Fontelina Umbrellas, CapriLa Fontelina Umbrellas, Capri]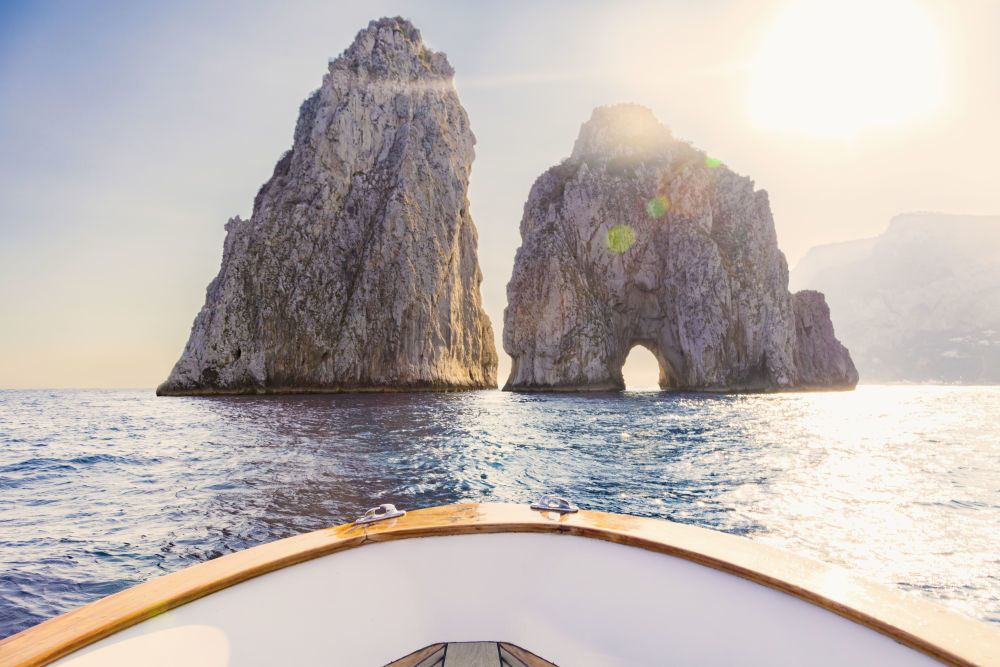 [SHOP PRODUCT - Capri SunsetCapri SunsetCapri SunsetCapri Sunset]
[SHOP PRODUCT - Lido Faro, Capri]
3. Uncover the Hidden Blue Grotto in Capri
Capri is a must-see when in Italy for many reasons. From leisurely afternoon boat rides around craggy rock formations to ancient ruins to wander through, the island is full of picturesque sites. At the top of our list, however, would have to be the Blue Grotto. This secret cave is accessible only by row boat, and its low ceilings and dim lighting make you feel as if you are in another world. The best part? Thanks to sunlight streaming in, the water inside the grotto is a clear, electric blue… and it's all natural.
[SHOP PRODUCT - Scala dei Turchi, Sicily]
[SHOP PRODUCT - Sicily Sunbathers]
4. Hike an Active Volcano in Sicily
Adrenaline seekers and hikers will enjoy the walk to the top of Mount Etna, one of Sicily's three active volcanos. For those who prefer a less strenuous tour of the ancient mountain, many tour services offer scenic drives to the viewpoints. Either way, you're guaranteed to pass a wide variety of landscapes, from the lunar craters left behind by flowing lava, to the rolling hills and forests that remain untouched by explosions of the past. And at the end of a long day of volcano-hiking, relax on one of Sicily's many beautiful beaches, limoncello in hand.
[SHOP PRODUCT - Portofino Vista]
[SHOP PRODUCT - Portofino Vista Triptych]
5. Go Diving in Portofino
The azure waters in the famous Portofino harbor will give you a good idea of why this area is a diver's paradise. With dozens of wrecks to explore, as well as the Portofino National Marine Reserve, this area is an ideal spot to explore underwater. If you've never donned flippers before, you can become certified at one of the many local agencies, and confidently say you've seen Portofino from land and (under the) sea.
Which idea are you adding to your Italian bucket list?
We might need to try them all… and we'll definitely be using the 25% off promotion to add these stunning prints to our collection for inspiration! Shop all Italy prints here.
Cheers!
Team GM