We're no strangers to coffee table styling inspiration—just refer to these coffee table trays styled four ways, these recommendations on coffee table books by color (and the best prints to pair with them), or this killer contributor post from Kate Lester Interiors for general tips and tricks to see what we mean. And today, we're back for more! Because if you ask us, there's no such thing as too much inspiration when it comes to coffee table décor. That said, brand new acrylic trays for spring were just added to the GM shop today, and we couldn't help but get inspired by these chic new pieces. To give you a head start on styling these hot-off-the-press pieces, we're sharing five different trays, with five different coffee tables and the accessories we would pair with them below. Let's get shopping now, why don't we?
Inspired by… The Porter Tray
Gray Malin at the Parker is undoubtedly desert-inspired and eclectic in nature, so we couldn't help but pair the new Porter Tray with some fun, yet down-to-earth décor pieces. We chose this polka dot magnifying glass, set atop this teak coffee table for a look that is equally interesting and organic.
Tray | Magnifying Glass | Coffee Table
Inspired by… The Aspen Trees Tray
This tray feels extremely winter-lodge-chic to us, so we paired it with a neutral color scheme and a pop of luxe brass. But we'll admit, the clean white background of this tray and those natural evergreen trees would go with just about anything!
Tray | Decorative Box | Coffee Table
Inspired by… The I Am Busy Tray
If you want to convey a "Do Not Disturb" vibe with this tray in your living room, we suggest pairing it with an island-inspired coffee table and, of course, a dreamy candle that reminds you of the beach. Gray's sand candle fits the bill perfectly, and pairs seamlessly with this I Am Busy tray and rattan coffee table.
Tray | Candle | Coffee Table
Inspired by… The Waikiki Tray
Naturally, we couldn't say no to a tropical vibe when styling this Waikiki Tray. Need a tip? Pair with a natural woven table and casually throw a string of sea glass beads over the top for a laidback feel.
Tray | Glass Beads | Coffee Table
Inspired by… The Elephant Tray
Last, but certainly not least, we went for a fun and whimsical look with this Elephant Tray from Gray Malin at the Parker. Can you blame us? After all, it's always a Party at the Parker (and in your living room with these chic pieces). P.S. This print is sold out in medium and large sizes, so what better way to get your hands on this print than in tray form?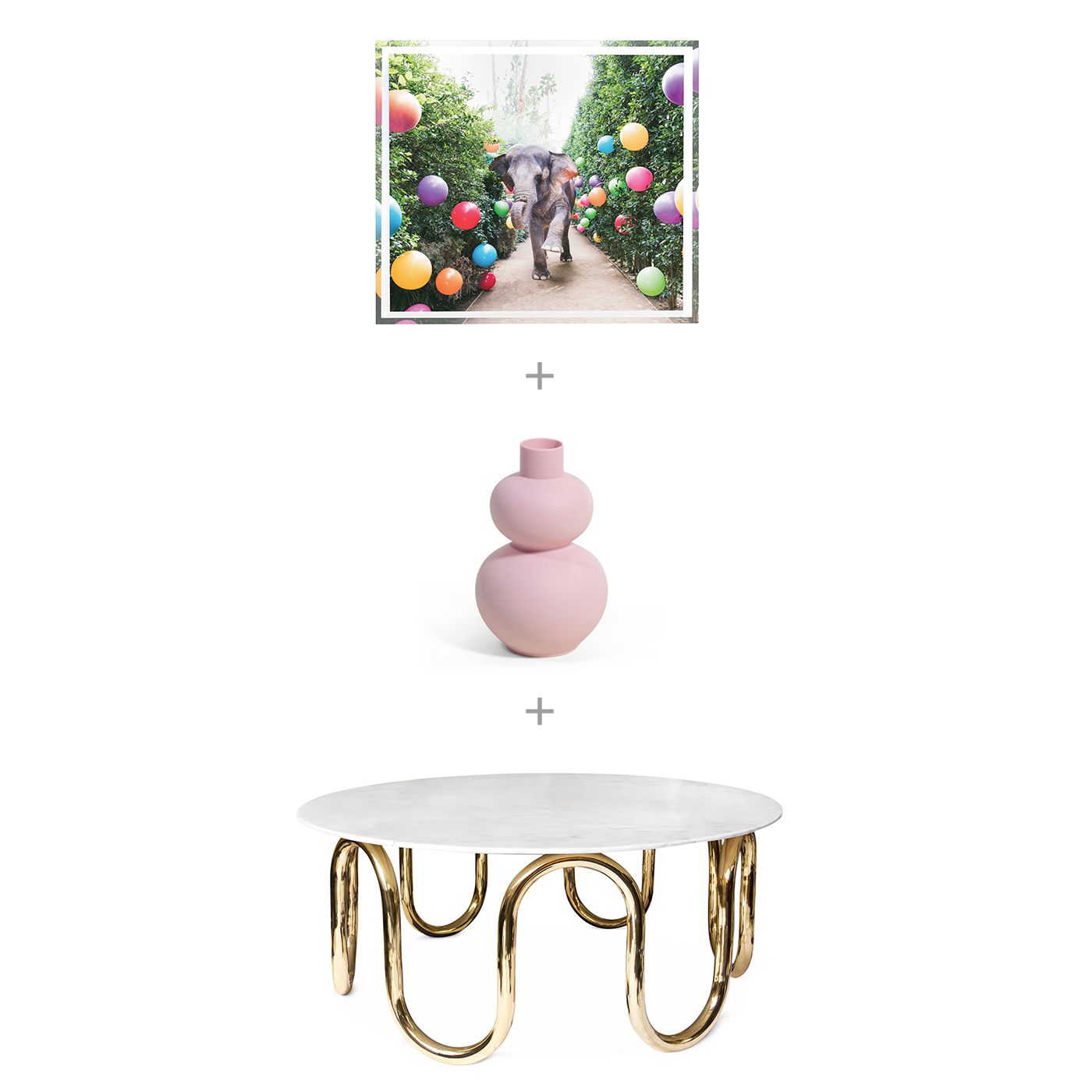 Tray | Bud Vase | Coffee Table
Which of these set-ups is your favorite?
We can't choose just one! Maybe we'll have to make room for a few more coffee tables in our homes… Shop all acrylic trays here, and show us how you style your own by tagging @GrayMalin on social!
Xx Team GM
Photos: Jessi Burrone for GrayMalin.com
{"slides":[{"label":"Gray's Favorite Inrooms Vol. 6","url":"/lifestyle/gray-s-favorite-inrooms-vol-6","image":"https://res.cloudinary.com/gray-malin/image/upload/c_scale,w_1000,q_50,f_auto/gray-malin/blog_posts/hero_images/000/001/885/original/2-Austin_Bean_OKC7635.jpg?updated=1617402512"},{"label":"Michelle Berdan's Laid Back Home by the Beach","url":"/lifestyle/michelle-berdan","image":"https://res.cloudinary.com/gray-malin/image/upload/c_scale,w_1000,q_50,f_auto/gray-malin/blog_posts/hero_images/000/001/884/original/0-Michelle_Madsen-10_copy.jpg?updated=1617066488"},{"label":"LoveShackFancy Founder Rebecca Cohen's Palm Beach Escape","url":"/lifestyle/loveshackfancy-founder-rebecca-cohen-s-palm-beach-escape","image":"https://res.cloudinary.com/gray-malin/image/upload/c_scale,w_1000,q_50,f_auto/gray-malin/blog_posts/hero_images/000/001/882/original/0-LoveShack-4.jpg?updated=1616633971"},{"label":"Gray's Favorite Inrooms Vol. 5","url":"/lifestyle/gray-s-favorite-inrooms-vol-5","image":"https://res.cloudinary.com/gray-malin/image/upload/c_scale,w_1000,q_50,f_auto/gray-malin/blog_posts/hero_images/000/001/881/original/3-IMG_0382.JPG?updated=1616175509"},{"label":"Our Favorite Places to Style City Prints at Home","url":"/lifestyle/our-favorite-places-to-style-city-prints-at-home","image":"https://res.cloudinary.com/gray-malin/image/upload/c_scale,w_1000,q_50,f_auto/gray-malin/blog_posts/hero_images/000/001/880/original/0-Boston-In-Room_4.jpg?updated=1616026718"},{"label":"Gray's Favorite Inrooms Vol. 4","url":"/lifestyle/gray-s-favorite-inrooms-vol-4","image":"https://res.cloudinary.com/gray-malin/image/upload/c_scale,w_1000,q_50,f_auto/gray-malin/blog_posts/hero_images/000/001/876/original/4-unnamed_(1)-Edit-Edit-Edit.jpg?updated=1614888819"},{"label":"Our Favorite Ways to Style Bon Voyage Prints","url":"/lifestyle/our-favorite-ways-to-style-bon-voyage-prints","image":"https://res.cloudinary.com/gray-malin/image/upload/c_scale,w_1000,q_50,f_auto/gray-malin/blog_posts/hero_images/000/001/874/original/0-ANTH_Gray_Malin_410_post_PD.jpg?updated=1614208369"},{"label":"Gray's Favorite Inrooms Vol. 3","url":"/lifestyle/gray-s-favorite-inrooms-vol-3","image":"https://res.cloudinary.com/gray-malin/image/upload/c_scale,w_1000,q_50,f_auto/gray-malin/blog_posts/hero_images/000/001/872/original/3-AG-20.JPG?updated=1613776972"}],"label":"Have You Seen?"}
{"id":null,"number":null,"item_total":"0.0","total":"0.0","ship_total":"0.0","state":"cart","adjustment_total":"0.0","user_id":null,"created_at":null,"updated_at":null,"completed_at":null,"payment_total":"0.0","shipment_state":null,"payment_state":null,"email":null,"special_instructions":null,"channel":"spree","included_tax_total":"0.0","additional_tax_total":"0.0","display_included_tax_total":"$0.00","display_additional_tax_total":"$0.00","tax_total":"0.0","currency":"USD","considered_risky":false,"canceler_id":null,"display_item_total":"$0.00","total_quantity":0,"display_total":"$0.00","display_ship_total":"$0.00","display_tax_total":"$0.00","display_adjustment_total":"$0.00","token":null,"checkout_steps":["address","delivery","complete"],"bill_address":null,"ship_address":null,"line_items":[],"payments":[],"shipments":[],"adjustments":[],"credit_cards":[],"promotions":[],"total_shipment_cost":"$0.00","permissions":{"can_update":false},"use_shipping_for_billing":true,"use_new_ship_address":true,"use_new_bill_address":false,"selected_ship_address":null,"selected_bill_address":null,"display_completed_at":null,"item_count":0,"subtotal_minus_promos":"$0.00","coupon_codes":[],"includes_framed_items":false,"contains_subscription":false}
This site uses cookies to allow better navigation. By closing this banner, scrolling this page or clicking any of its elements, you are giving consent to all cookies. To learn more and to change your preferences please see our Cookies Policy.