Coffee table books are quite possibly one of our favorite décor accessories to add to our space. They never fail to add that perfectly curated touch to any coffee table or bookshelf, and with so many beautiful books on the market, they can be flawlessly coordinated to match any décor style or color scheme. As a matter of fact, the latter is exactly what our lovely design maven, Dee Murphy of Murphy Deesign, is addressing today! If you've ever been on the hunt for that ONE coffee table book in the perfect shade, then you're in the right place. Stick with us as Dee dives into her favorite coffee table books by color, plus the GM prints (today's last day to get 20% off on btw) she would pair with them…
When it comes to coffee table books, you can pick by content, style, or size to create your tablescape. You can also arrange your surfaces (tables and shelves) by color… which is, of course, beautiful for the "gram."

Do you want a black and white aesthetic?

Do you want a rainbow colored shelfie?

It sounds easy… but it can actually get complicated to fill in the empty spaces when you're looking for just ONE MORE PINK BOOK. Especially if you're trying to tie the book into other décor pieces in your space, like a really great print hanging on the wall or propped on your shelf.

So, following up on the request of a friend of mine (who actually asked me to create this list quite some time ago), here is a collection of some of my favorite books in five different colors AND the best Gray Malin prints, which are currently 20% off, to pair with them. You'll never need to wander the aisles of Barnes & Noble aimlessly again. Unless you like to do that sort of thing… like I sometimes do. ;)

Think of this as your starter kit—if you like where I'm going, I'll give you a round two!

Note: With some of these books… I take the jacket off for the desired effect! Here we go…
Black Coffee Table Books
1. Tom Ford, $60.75 (Everyone has it… but you can't deny its simple graphics beauty.) | 2. Black: Architecture in Monochrome, $33.96 | 3. Vanity Fair 100 Years: From the Jazz Age to Our Age, $36.56 | 4. Grace: Thirty Years of Fashion at Vogue, $143.37 | 5. The House That Pinterest Built, $36.50
White Coffee Table Books
1. The History of Surfing, $39.58 (LOVE this book, as the surfer that I am… but I love it even more with the jacket off to show its white cover!) | 2. The Kinfolk Home: Interiors for Slow Living, $18.57 | 3. Lee (Icons), $32.53 | 4. The Coveteur: Private Spaces, Personal Style, $30.93 | 5. An Organic Architecture, $20.39
Blue Coffee Table Books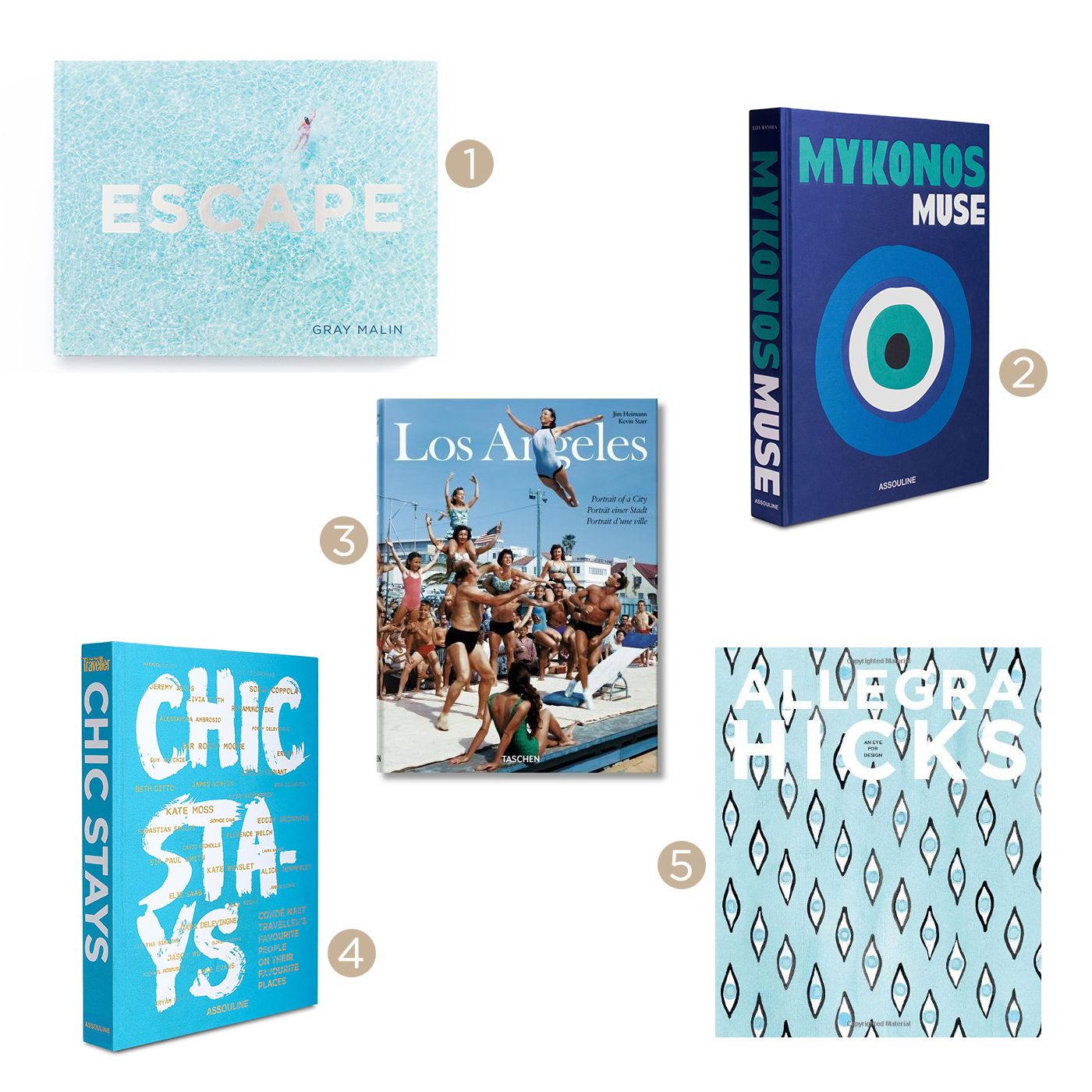 1. ESCAPE, $30.22 (Vacation FOMO? Just leave this on the coffee table and open to escape… at least for a few minutes!) | 2. Mykonos Muse, $69.99 | 3. Los Angeles: Portrait of a City, $53.61 | 4. Chic Stays (Classics), $55.42 | 5. Allegra Hicks: An Eye for Design, $41.80
Pink Coffee Table Books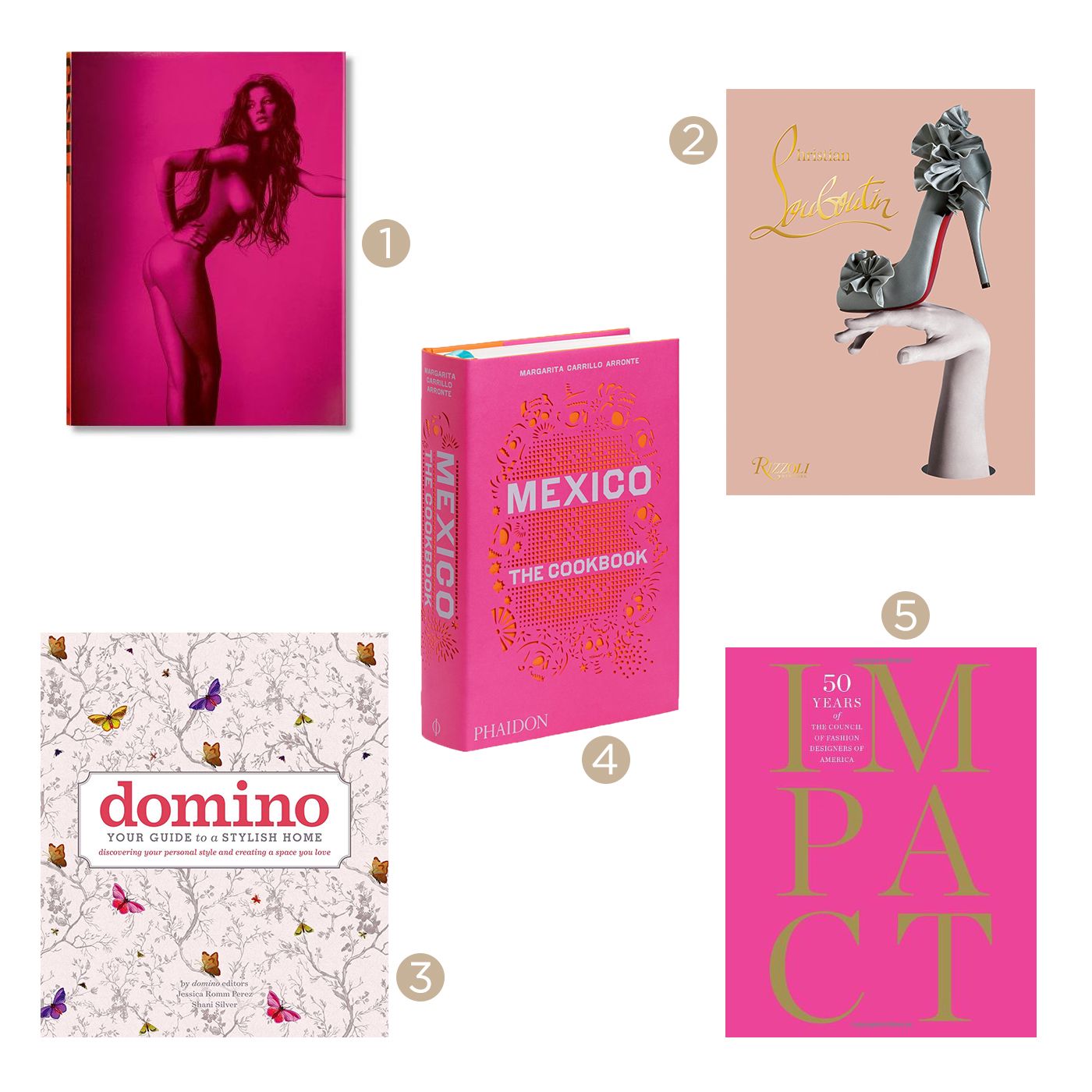 1. Gisel Bündchen, $49.57 (The top is pink… the spine is orange… and it ALL works for me!) | 2. Christian Louboutin, $72.50 | 3. domino: Your Guide to a Stylish Home, $10.97 | 4. Mexico: The Cookbook, $44.11 (For the foodie… and so pretty to look at too!) | 5. IMPACT: 50 Years of the CFDA, $48.74
Neutral Coffee Table Books
1. BEACHES Signed Collectors Edition, $125 | 2. Neutra: Complete Works, $47.41 | 3. Three Travel Sketchbooks: Venice, India, Senegal, $200 | 4. The Finer Things: Timeless Furniture, Textiles, and Details, $24.28 | 5. Habitat: The Field Guide to Decorating, $23.79 (Keep this one close—not the top shelf—for some serious styling lessons!)
What color scheme are you most drawn to? Are you going to snatch up any of these stunning coffee table books?
With all these stunning options, how do we choose just one?! Let's be honest, we're adding several to our shopping carts as we speak… While you're shopping for coffee table books, hop on over to the site and pick up a Gray Malin print that fits your color scheme for 20% off.
To learn more from Dee Murphy, follow her work on Instagram and visit her website. And of course, stay tuned for more design advice right here on the blog!
Xx Team GM
Photos: Dee Murphy, Gray Malin