Shopping for an art lover can be a tricky balance. How do you find a piece that will fit their high standards while showing them that you understand their passion? We like to think we have a pretty good eye when it comes to fine art photography, and we rounded up ten fail-safe prints for the art collector in your life. So whether you'll be wrapping up your new addition in a bow for someone else, or you're the fine art lover in search of a new piece to add to your own collection, we've got you covered. These pieces are stylish, sophisticated, and have that elusive one-of-a-kind quality we love. Keep scrolling below to see our favorite ways to show the fine art collector in your life some love this season…
We love the surreal quality of this dreamy sunset shot, and the neutral hues mean it's a safe choice for pretty much any décor style.
If the art lover in your life gravitates towards all things minimal, this stark desert shot is the perfect gift. Choose a large size and give this a prominent place to shine.
The entire Bon Voyage collection is an art collector's dream, but this print in particular keeps us on our toes. This icon paired with an unexpected backdrop will have art lovers and viewers alike discussing the concept for days.
Symmetry, symmetry, symmetry. Give this skillfully arranged shot to the most organized of your friends and watch them give a sigh of satisfaction as they take in the clean lines.
For all the deep thinkers out there, this elegant diving board in the middle of a sandy plain is a guaranteed winner. Leave it up to them to invent a backstory for this mysterious scene.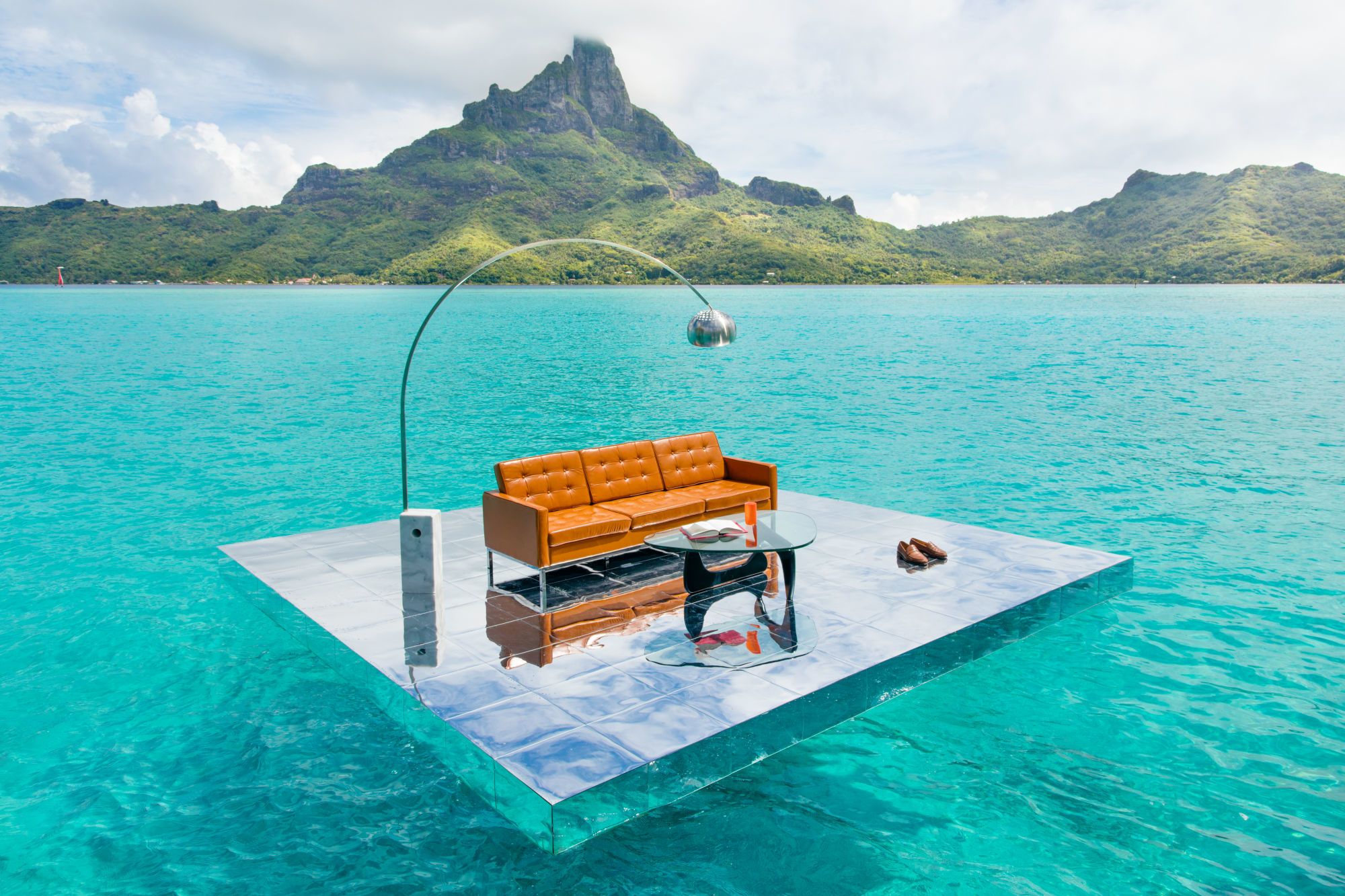 We wouldn't mind a living room view that looked like this! If your art-loving friends are looking for a piece to complete their main room, this bright piece will add an eclectic touch to their collection.
The cheery pops of orange are a sharp contrast to the sandy background… and the perfect way to add life to a drab wall.
Make things a little meta with this art print of an art installation… and the cowboys who admire it.
This print says it all… literally. The irony of this print makes it one that any art collector would love to have in their collection, and the simple composition allows it to fit easily into any room.
Clean white lines, a pop of color, and a quirky subject make this shot every art lovers dream… and will surely pique their interest to head to the desert so they can stay at the Parker Palm Springs.
Who are you shopping for this season?
Find even more of our gift guides right here, and happy gifting!
Xx Team GM
Photos: Gray Malin
{"slides":[{"label":"Free Summer Phone Backgrounds","url":"/lifestyle/free-summer-phone-backgrounds","image":"https://res.cloudinary.com/gray-malin/image/upload/c_scale,w_1000,q_50/gray-malin/blog_posts/hero_images/000/001/642/original/0-summerphonebackgrounds.jpg?updated=1592522339"},{"label":"The Story of Gray Malin, Episode 9","url":"/lifestyle/the-story-of-gray-malin-episode-9","image":"https://res.cloudinary.com/gray-malin/image/upload/c_scale,w_1000,q_50/gray-malin/blog_posts/hero_images/000/001/630/original/Screen_Shot_2020-04-20_at_10.18.59_AM.png?updated=1590858744"},{"label":"The Story of Gray Malin, Episode 8","url":"/lifestyle/the-story-of-gray-malin-episode-8","image":"https://res.cloudinary.com/gray-malin/image/upload/c_scale,w_1000,q_50/gray-malin/blog_posts/hero_images/000/001/625/original/Screen_Shot_2020-04-20_at_10.18.59_AM.png?updated=1590165523"},{"label":"Creating an Italy Inspired Date Night","url":"/lifestyle/creating-an-italy-inspired-date-night","image":"https://res.cloudinary.com/gray-malin/image/upload/c_scale,w_1000,q_50/gray-malin/blog_posts/hero_images/000/001/626/original/0-IMG_0857-Edit.jpg?updated=1590194011"},{"label":"The Story of Gray Malin, Episode 7","url":"/lifestyle/the-story-of-gray-malin-episode-7","image":"https://res.cloudinary.com/gray-malin/image/upload/c_scale,w_1000,q_50/gray-malin/blog_posts/hero_images/000/001/621/original/Screen_Shot_2020-04-20_at_10.18.59_AM.png?updated=1589588854"},{"label":"The Story of Gray Malin, Episode 6","url":"/lifestyle/the-story-of-gray-malin-episode-6","image":"https://res.cloudinary.com/gray-malin/image/upload/c_scale,w_1000,q_50/gray-malin/blog_posts/hero_images/000/001/617/original/2020-04-06.jpg?updated=1588992331"},{"label":"The Story of Gray Malin, Episode 5","url":"/lifestyle/the-story-of-gray-malin-episode-5","image":"https://res.cloudinary.com/gray-malin/image/upload/c_scale,w_1000,q_50/gray-malin/blog_posts/hero_images/000/001/610/original/2020-04-06.jpg?updated=1588447234"},{"label":"The Story of Gray Malin, Episode 4","url":"/lifestyle/the-story-of-gray-malin-episode-4","image":"https://res.cloudinary.com/gray-malin/image/upload/c_scale,w_1000,q_50/gray-malin/blog_posts/hero_images/000/001/607/original/2020-04-06.jpg?updated=1587842186"}],"label":"Have You Seen?"}
{"id":null,"number":null,"item_total":"0.0","total":"0.0","ship_total":"0.0","state":"cart","adjustment_total":"0.0","user_id":null,"created_at":null,"updated_at":null,"completed_at":null,"payment_total":"0.0","shipment_state":null,"payment_state":null,"email":null,"special_instructions":null,"channel":"spree","included_tax_total":"0.0","additional_tax_total":"0.0","display_included_tax_total":"$0.00","display_additional_tax_total":"$0.00","tax_total":"0.0","currency":"USD","considered_risky":false,"canceler_id":null,"display_item_total":"$0.00","total_quantity":0,"display_total":"$0.00","display_ship_total":"$0.00","display_tax_total":"$0.00","display_adjustment_total":"$0.00","token":null,"checkout_steps":["address","delivery","complete"],"bill_address":null,"ship_address":null,"line_items":[],"payments":[],"shipments":[],"adjustments":[],"credit_cards":[],"promotions":[],"total_shipment_cost":"$0.00","permissions":{"can_update":false},"use_shipping_for_billing":true,"use_new_ship_address":true,"use_new_bill_address":false,"selected_ship_address":null,"selected_bill_address":null,"display_completed_at":null,"item_count":0,"subtotal_minus_promos":"$0.00","coupon_codes":[],"includes_framed_items":false}
This site uses cookies to allow better navigation. By closing this banner, scrolling this page or clicking any of its elements, you are giving consent to all cookies. To learn more and to change your preferences please see our Cookies Policy.