Hi Everyone! Exciting event recap for you all today! Perhaps, you already saw my little Bend & Snap action, though? Well for those who missed or if you're wondering what that was all about, don't worry because, I'm about to tell you! A few months ago, I received a message from none other than America's Sweetheart herself, Reese Witherspoon. Once I calmed down, I learned she was opening a flagship store of her lifestyle brand, Draper James, in my hometown of Dallas. I knew that she had been collecting my work for a few years but I did not know she was a fan of my balloon series, Up & Away. For this series, I'm constantly thinking about new words and shapes I want to shoot as well as where I should shoot it. Specifically, I'd been wanting to shoot something that paid homage to Dallas and my southern roots. After a few fun exchanges, we both agreed that HOWDY would be a fun addition to the series and the perfect Gray Malin print to hang in her store! Which leads me to this past Tuesday, I flew out to Dallas to celebrate with Reese and so many amazing Dallas guests for the opening of Draper James on Wednesday. Be sure to read all the way to the end too because I have a CONTEST to announce. ;)
HOWDY Y'ALL
First let me back up REALLY quick to the night before, Reese kindly invited me to a dinner party, so naturally I had to show up with something special for our first official in-person meeting.
Yes. I surprised her with balloons and then we had some fun snapping pics! First meeting was officially a success, now back to Wednesday night's event!
DRAPER JAMES GRAND OPENING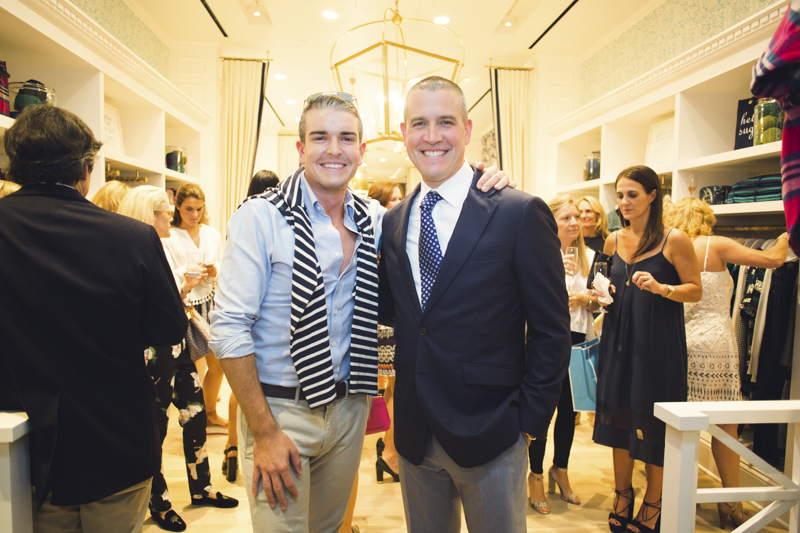 Obviously, I had an amazing time with Reese, but it was also fantastic to meet her husband, Jim. Such a great guy! Then, it was also very cool seeing people like oh...MY PARENTS...
and my beloved high school photography teacher, Janis Hefley..
as well as snapped with Amy Havins of Dallas Wardrobe, who you've seen a couple times now on the blog.
It was also very cool getting to meet the designer of the store, Mark Sikes, and see my friend, Amy Berry, who you saw her new nursery recently, here.
If you're in the Dallas area, I encourage you to go to Draper James! The store is stunning and you can see a large framed print of HOWDY, as well as purchase it or my book BEACHES, too!
Thanks for coming behind the scenes with me!
Cheers! xx GM
{"slides":[{"label":"Introducing Gray Malin x Corkcicle ","url":"/lifestyle/introducing-gray-malin-x-corkcicle","image":"https://res.cloudinary.com/gray-malin/image/upload/c_scale,w_1000,q_50,f_auto/gray-malin/blog_posts/hero_images/000/002/026/original/Key_photo.jpg?updated=1655329994"},{"label":"Introducing Cru Beach","url":"/lifestyle/introducing-cru-beach","image":"https://res.cloudinary.com/gray-malin/image/upload/c_scale,w_1000,q_50,f_auto/gray-malin/blog_posts/hero_images/000/002/027/original/0.jpg?updated=1656526838"},{"label":"Summer's Hottest Accessory is Back: Supergoop! x Gray Malin Everyday Getaway Kit","url":"/lifestyle/summers-hottest-accessory-is-back-supergoop-x-gray-malin-everyday-getaway-kit","image":"https://res.cloudinary.com/gray-malin/image/upload/c_scale,w_1000,q_50,f_auto/gray-malin/blog_posts/hero_images/000/002/025/original/supergoop-may-2022-gray-malin-collaboraton-bag-open_(1).jpg?updated=1651929416"},{"label":"Introducing Gray Malin x illesteva Sunglasses","url":"/lifestyle/introducing-gray-malin-x-illesteva-sunglasses","image":"https://res.cloudinary.com/gray-malin/image/upload/c_scale,w_1000,q_50,f_auto/gray-malin/blog_posts/hero_images/000/002/023/original/blog_number_0.jpeg?updated=1650979072"},{"label":"The Making of Dogs at the Parker","url":"/lifestyle/behind-the-scenes-the-making-of-dogs-at-the-parker","image":"https://res.cloudinary.com/gray-malin/image/upload/c_scale,w_1000,q_50,f_auto/gray-malin/blog_posts/hero_images/000/002/022/original/0.jpg?updated=1650054774"},{"label":"Introducing New Summer Collection NEST New York x Gray Malin","url":"/lifestyle/introducing-new-summer-collection-nest-new-york-x-gray-malin","image":"https://res.cloudinary.com/gray-malin/image/upload/c_scale,w_1000,q_50,f_auto/gray-malin/blog_posts/hero_images/000/002/021/original/0.jpg?updated=1649702723"},{"label":"Gray Malin on Nantucket","url":"/lifestyle/gray-malin-on-nantucket","image":"https://res.cloudinary.com/gray-malin/image/upload/c_scale,w_1000,q_50,f_auto/gray-malin/blog_posts/hero_images/000/002/020/original/0.jpg?updated=1647451777"},{"label":"Introducing Snow Beach AspenX Gray Malin ","url":"/lifestyle/introducing-snow-beach-aspenx-gray-malin","image":"https://res.cloudinary.com/gray-malin/image/upload/c_scale,w_1000,q_50,f_auto/gray-malin/blog_posts/hero_images/000/001/987/original/1.jpg?updated=1645053743"}],"label":"Have You Seen?"}
{"id":null,"number":null,"item_total":"0.0","total":"0.0","ship_total":"0.0","state":"cart","adjustment_total":"0.0","user_id":null,"created_at":null,"updated_at":null,"completed_at":null,"payment_total":"0.0","shipment_state":null,"payment_state":null,"email":null,"special_instructions":null,"channel":"spree","included_tax_total":"0.0","additional_tax_total":"0.0","display_included_tax_total":"$0.00","display_additional_tax_total":"$0.00","tax_total":"0.0","currency":"USD","considered_risky":false,"canceler_id":null,"display_item_total":"$0.00","total_quantity":0,"display_total":"$0.00","display_ship_total":"$0.00","display_tax_total":"$0.00","display_adjustment_total":"$0.00","token":null,"checkout_steps":["address","delivery","complete"],"bill_address":null,"ship_address":null,"line_items":[],"payments":[],"shipments":[],"adjustments":[],"credit_cards":[],"promotions":[],"total_shipment_cost":"$0.00","permissions":{"can_update":false},"use_shipping_for_billing":true,"use_new_ship_address":true,"use_new_bill_address":false,"selected_ship_address":null,"selected_bill_address":null,"display_completed_at":null,"item_count":0,"subtotal_minus_promos":"$0.00","coupon_codes":[],"includes_framed_items":false,"contains_subscription":false}
This site uses cookies to allow better navigation. By closing this banner, scrolling this page or clicking any of its elements, you are giving consent to all cookies. To learn more and to change your preferences please see our Cookies Policy.