Hi Everyone,
Wow! I can't believe it's been a week since celebrating the second installment of Gray Malin at the Parker at the hotel itself, Parker Palm Springs. It was a fantastical affair with so many smiling faces celebrating these magical new images, and I could not be happier to invite you all in to join.
Checking into my favorite bungalow, Remi, with the Gray Malin swan in tow (obvi!). Primped up a bit and then hit the grounds for a stroll before greeting my guests.
Walking into the Palm Court and seeing the BEAUTIFUL set up for the event, I could not stop smiling as it's always such a thrill culminating the creation of a series with such a special event and display.
Grabbing one of my now signature Sprinkled Rim Champagnes, I began to mingle with all that were able to attend...
Like Kaitlynn Carter, who I was so excited to congratulate on her engagement to Brody Jenner, as well as meet her friend Kelsey White.
Then, it's always a blast seeing Marianna Hewitt - I hope you all caught some of the fun on both of our Snapchats! We also enjoyed a cheers along with Kelsey, Rocky Barnes, and Kaitlynn.
Ohhh the pressure of snapping a selfie with these two...but I think we definitely got a good one!
Everyone was enjoying themselves...including, the Swan. I told you it wasn't the last time you'd see her..haha!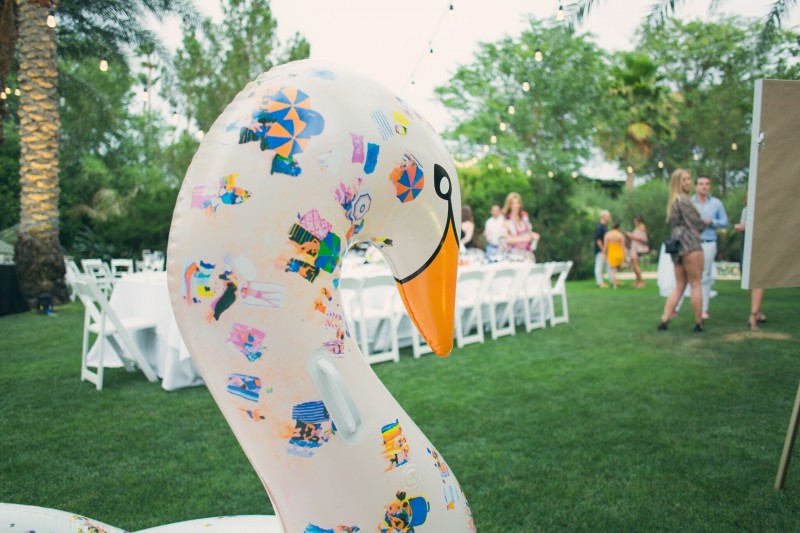 Settling down for our deliciously prepared dinner, it was clear that the evening was off to a great start!
After doing a few preliminary cheers, I seized the moment to officially thank everyone for coming and helping me celebrate this very special series.
It truly was a spectacular night with memories that I'll always treasure. Thank you so much for joining me on this very special night! I hope you enjoyed and be sure to check out Gray Malin at the Parker, the series that ignited this celebration.
xx GM
{"slides":[{"label":"New Beach Totes","url":"/lifestyle/new-beach-totes","image":"https://res.cloudinary.com/gray-malin/image/upload/c_scale,w_1000,q_50,f_auto/gray-malin/blog_posts/hero_images/000/001/926/original/0_-_Tote_Bag.jpg?updated=1620882995"},{"label":"10 Parker Prints You Need Now","url":"/lifestyle/10-parker-prints-you-need-now","image":"https://res.cloudinary.com/gray-malin/image/upload/c_scale,w_1000,q_50,f_auto/gray-malin/blog_posts/hero_images/000/001/923/original/0-Free_Framing2268-parker.jpg?updated=1619483591"},{"label":"Ride in Style with Gray Malin x Alto","url":"/lifestyle/ride-in-style-with-gray-malin-x-alto","image":"/images/missing.jpg"},{"label":"Gray Malin Virtual Book Tour","url":"/lifestyle/read-all-about-it-gray-malin-virtual-book-tour","image":"https://res.cloudinary.com/gray-malin/image/upload/c_scale,w_1000,q_50,f_auto/gray-malin/blog_posts/hero_images/000/001/924/original/Blog_Banner-new_crop.jpg?updated=1619743001"},{"label":"Introducing Gray Malin x Supergoop! ","url":"/lifestyle/introducing-gray-malin-x-supergoop","image":"https://res.cloudinary.com/gray-malin/image/upload/c_scale,w_1000,q_50,f_auto/gray-malin/blog_posts/hero_images/000/001/921/original/0-SUPERGOOP_GRAYMALIN_03_SGKIT_PRINTBACKDROP_FINAL_JENNA_GANG_v4.jpg?updated=1619476149"},{"label":"Introducing the Gray Malin App + How to Use It","url":"/lifestyle/introducing-the-gray-malin-app-how-to-use-it","image":"https://res.cloudinary.com/gray-malin/image/upload/c_scale,w_1000,q_50,f_auto/gray-malin/blog_posts/hero_images/000/001/888/original/0-0App_Launch-11-web_asset.jpg?updated=1618947736"},{"label":"Introducing New Games For Summer","url":"/lifestyle/introducing-new-games-for-summer","image":"https://res.cloudinary.com/gray-malin/image/upload/c_scale,w_1000,q_50,f_auto/gray-malin/blog_posts/hero_images/000/001/887/original/Games_Lifestyle-27.jpg?updated=1618533802"},{"label":"Discover Gray Malin Collector's Edition","url":"/lifestyle/discover-gray-malin-collector-s-edition","image":"https://res.cloudinary.com/gray-malin/image/upload/c_scale,w_1000,q_50,f_auto/gray-malin/blog_posts/hero_images/000/001/886/original/0-Collectors_Edition-23.jpg?updated=1617673131"}],"label":"Have You Seen?"}
{"id":null,"number":null,"item_total":"0.0","total":"0.0","ship_total":"0.0","state":"cart","adjustment_total":"0.0","user_id":null,"created_at":null,"updated_at":null,"completed_at":null,"payment_total":"0.0","shipment_state":null,"payment_state":null,"email":null,"special_instructions":null,"channel":"spree","included_tax_total":"0.0","additional_tax_total":"0.0","display_included_tax_total":"$0.00","display_additional_tax_total":"$0.00","tax_total":"0.0","currency":"USD","considered_risky":false,"canceler_id":null,"display_item_total":"$0.00","total_quantity":0,"display_total":"$0.00","display_ship_total":"$0.00","display_tax_total":"$0.00","display_adjustment_total":"$0.00","token":null,"checkout_steps":["address","delivery","complete"],"bill_address":null,"ship_address":null,"line_items":[],"payments":[],"shipments":[],"adjustments":[],"credit_cards":[],"promotions":[],"total_shipment_cost":"$0.00","permissions":{"can_update":false},"use_shipping_for_billing":true,"use_new_ship_address":true,"use_new_bill_address":false,"selected_ship_address":null,"selected_bill_address":null,"display_completed_at":null,"item_count":0,"subtotal_minus_promos":"$0.00","coupon_codes":[],"includes_framed_items":false,"contains_subscription":false}
This site uses cookies to allow better navigation. By closing this banner, scrolling this page or clicking any of its elements, you are giving consent to all cookies. To learn more and to change your preferences please see our Cookies Policy.