It's that time of year again…we're living for the La Dolce Vita prints and we in Italian heaven. It seems that every time our annual LDV sale rolls around, we're dreaming of an escape to the riviera—complete with sun, sand, and a sparkling orange apéritif in hand. Anyone with us on this?
Let's just say we're already planning our next Italian getaway, and we think you should too… With prints like these hanging on your walls, how can you not? So keep scrolling for our ultimate getaway shopping guide, perfect for a holiday in the sun. And if you want to live La Dolce Vita year round, make sure to snag your favorite LDV prints from the shop before our sale ends tomorrow!
For Him
1. Signature Boat and Tote, $129 | 2. Salvatore Ferragamo Capraia Espadrille, $495 | 3. Oliver Peoples Sunglasses, $318.50 | 4. Two-Tone Shorts, $98 | 5. Solid & Striped Classic Swim Trunks, $158 | 6. Linen Slim Fit Shirt, $60 | 7. Hermes Izmir Sandal, $710 | 8. Tommy Bahama Panama Straw Safari Hat, $185 | 9. Slub Jersey Polo in Tipped Indigo, $49.50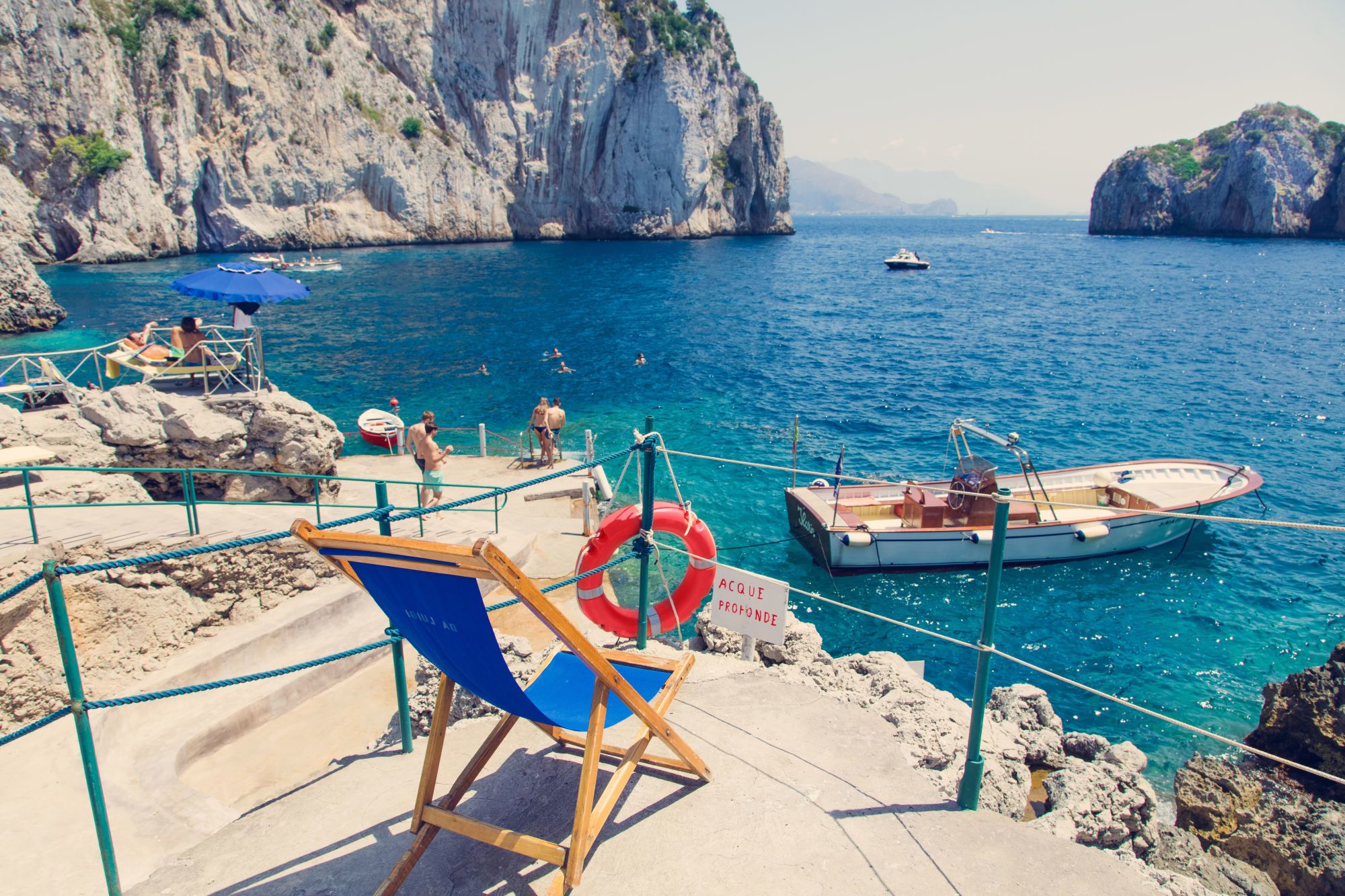 For Her
1. Cult Gaia Mini Ark Handbag, $128 | 2. Solid & Striped Michelle Striped One Piece, $168 | 3. The Boardwalk Lace-Up Sandal, $59.50 | 4. Club Monaco Gaiah Pants, $148 | 5. The Linen Notch Shirt, $58 | 6. Club Monaco Daphins Wrap Dress, $248 | 7. Madewell Silk Bandana, $24.50 | 8. Hat Attack Braided Sunhat, $95 | 9. The Naida Half-Bow Sandal, $98 | 10. Le Specs Fluxus Cat Eye Sunglasses, $69
Who else is booking their plane ticket ASAP?
To bring La Dolce Vita into your own home, get shopping before our sale ends HERE.
Cheers!
Xx Team GM
Photos: Gray Malin
{"slides":[{"label":"Gray's Guide to Northern Michigan","url":"/lifestyle/gray-s-guide-to-northern-michigan","image":"https://res.cloudinary.com/gray-malin/image/upload/c_scale,w_1000,q_50,f_auto/gray-malin/blog_posts/hero_images/000/001/932/original/0.jpg?updated=1624311160"},{"label":"Our Favorite Wintery Destinations","url":"/lifestyle/our-favorite-wintery-destinations","image":"https://res.cloudinary.com/gray-malin/image/upload/c_scale,w_1000,q_50,f_auto/gray-malin/blog_posts/hero_images/000/001/814/original/0-the-field_copy.jpg?updated=1608319096"},{"label":"Our 10 Destinations We Can't Wait to Get Back to","url":"/lifestyle/our-10-destinations-we-can-t-wait-to-get-back-to","image":"https://res.cloudinary.com/gray-malin/image/upload/c_scale,w_1000,q_50,f_auto/gray-malin/blog_posts/hero_images/000/001/802/original/0-Lake_Como_by_Boat.jpg?updated=1606505257"},{"label":"Gray's Guide to Maine","url":"/lifestyle/gray-s-guide-to-maine","image":"https://res.cloudinary.com/gray-malin/image/upload/c_scale,w_1000,q_50,f_auto/gray-malin/blog_posts/hero_images/000/001/692/original/0-Old_Orchard_Beach_Pier__Maine.jpg?updated=1596571592"},{"label":"Gray's Favorite Beaches in the USA","url":"/lifestyle/gray-s-favorite-beaches-in-the-usa","image":"https://res.cloudinary.com/gray-malin/image/upload/c_scale,w_1000,q_50,f_auto/gray-malin/blog_posts/hero_images/000/001/680/original/9-surfside-beach-nantucket.jpg?updated=1593559394"},{"label":"Gray's Favorite Beaches Around the World","url":"/lifestyle/gray-s-favorite-beaches-around-the-world","image":"https://res.cloudinary.com/gray-malin/image/upload/c_scale,w_1000,q_50,f_auto/gray-malin/blog_posts/hero_images/000/001/645/original/16-Second_Beach_Sunbathers__Newport.jpg?updated=1593041015"},{"label":"Gray's Guide to New Zealand","url":"/lifestyle/gray-s-guide-to-new-zealand","image":"https://res.cloudinary.com/gray-malin/image/upload/c_scale,w_1000,q_50,f_auto/gray-malin/blog_posts/hero_images/000/001/633/original/0-IMG_0991_copy_2.jpg?updated=1591833993"},{"label":"Gray's Guide to Capri","url":"/lifestyle/city-guide-capri","image":"https://res.cloudinary.com/gray-malin/image/upload/c_scale,w_1000,q_50,f_auto/gray-malin/blog_posts/hero_images/000/000/109/original/two-umbrellas-laa-fontalina-capri.jpg?updated=1493143453"}],"label":"Have You Seen?"}
{"id":null,"number":null,"item_total":"0.0","total":"0.0","ship_total":"0.0","state":"cart","adjustment_total":"0.0","user_id":null,"created_at":null,"updated_at":null,"completed_at":null,"payment_total":"0.0","shipment_state":null,"payment_state":null,"email":null,"special_instructions":null,"channel":"spree","included_tax_total":"0.0","additional_tax_total":"0.0","display_included_tax_total":"$0.00","display_additional_tax_total":"$0.00","tax_total":"0.0","currency":"USD","considered_risky":false,"canceler_id":null,"display_item_total":"$0.00","total_quantity":0,"display_total":"$0.00","display_ship_total":"$0.00","display_tax_total":"$0.00","display_adjustment_total":"$0.00","token":null,"checkout_steps":["address","delivery","complete"],"bill_address":null,"ship_address":null,"line_items":[],"payments":[],"shipments":[],"adjustments":[],"credit_cards":[],"promotions":[],"total_shipment_cost":"$0.00","permissions":{"can_update":false},"use_shipping_for_billing":true,"use_new_ship_address":true,"use_new_bill_address":false,"selected_ship_address":null,"selected_bill_address":null,"display_completed_at":null,"item_count":0,"subtotal_minus_promos":"$0.00","coupon_codes":[],"includes_framed_items":false,"contains_subscription":false}
This site uses cookies to allow better navigation. By closing this banner, scrolling this page or clicking any of its elements, you are giving consent to all cookies. To learn more and to change your preferences please see our Cookies Policy.