Hi Everyone,
Welcome to the new Gray Malin Studio! I can't believe how quickly six weeks have passed. We've made such a transformation in our office and I'm so excited to finally be sharing all the images with you. When we embarked on this transformation journey last month I still wasn't 100% sure how it would all turn out. I had high hopes, but you never really know until you see it all together, right? You'll notice that it feels more like a home than an office. This was one of my goals when designing the space. Since my team spends so much time here, it was important to me to create a space that feels comfortable and inviting. If you ask me, the results are even better than I could have hoped. Today, I'm sharing all the before and afters of the space. I hope you love it as much as we do!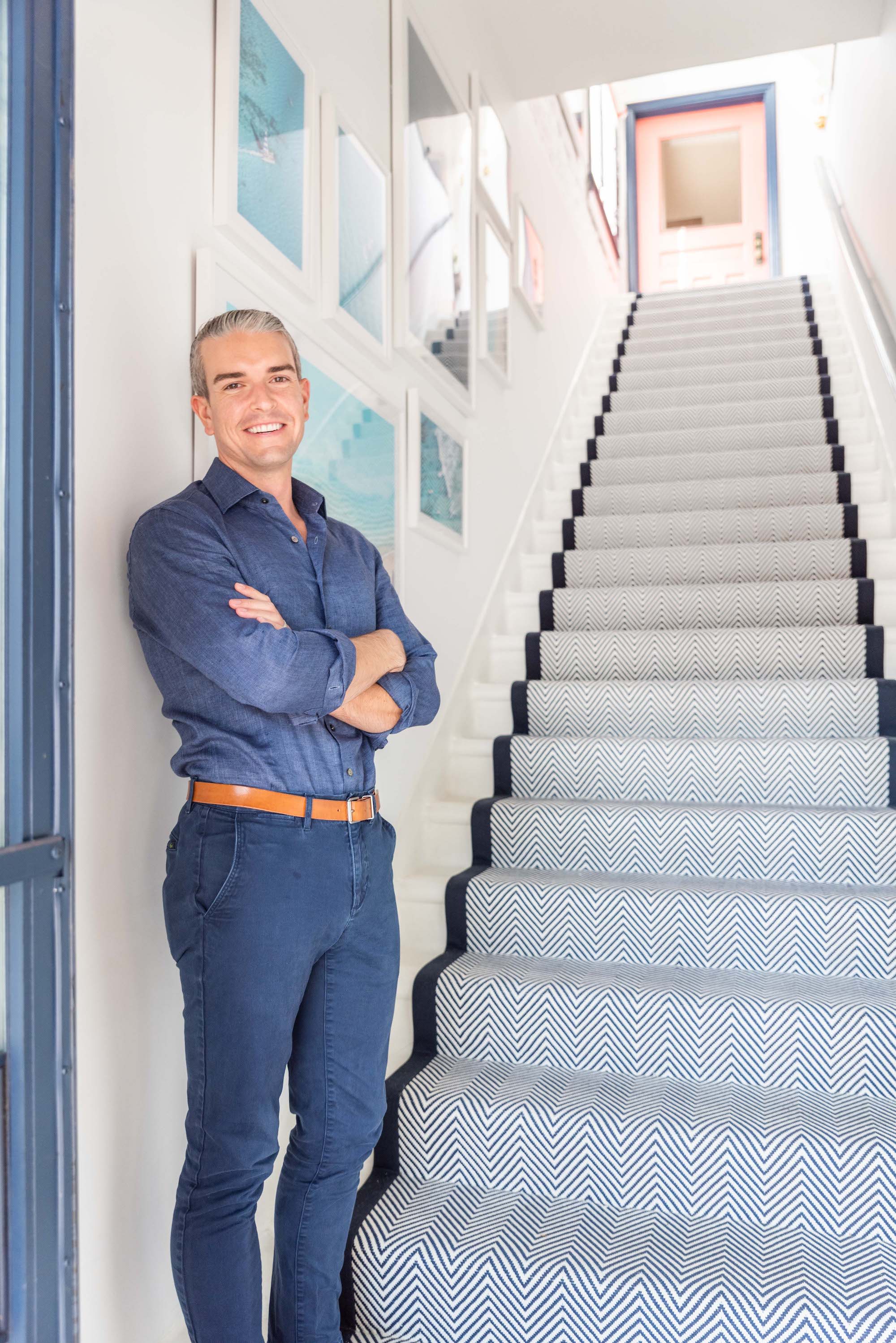 Entryway
The original entryway was welcoming, but it was also starting to look a little tired. Since there is such a strong connection between my brand and the beach, I wanted the new entryway to feel coastal. That way visitors feel an instant brand connection right when they open the door. In the old staircase, there was a gallery wall that featured a variety of art from different series. Although it showcased the breadth of the brand well, this time around I wanted something that felt and looked more cohesive, which is why I went with a selection of aerial beach images for the entryway.
BEFORE:
AFTER:
The stair runner from Couristan created such a dramatic change in our front entryway. I was so excited to work with Couristan on this project because of how high-quality their products are. Considering they specialize in custom rugs, the entire process was seamless. The beautiful navy blue and white herringbone compliments the blue water in my aerial photography hanging along the wall. I love how the runner pops especially well against the white stairs.
We also added a fresh coat of Behr paint, which made the entire office feel bright and fresh. Although we still stuck with white (we chose Marquee Ultra Pure White), it was so nice to give the whole office a nice clean-up. Gone are the scuffs and scratches from our old paint job. Never underestimate what a fresh coat of paint can do for a room.
Foyer
Before: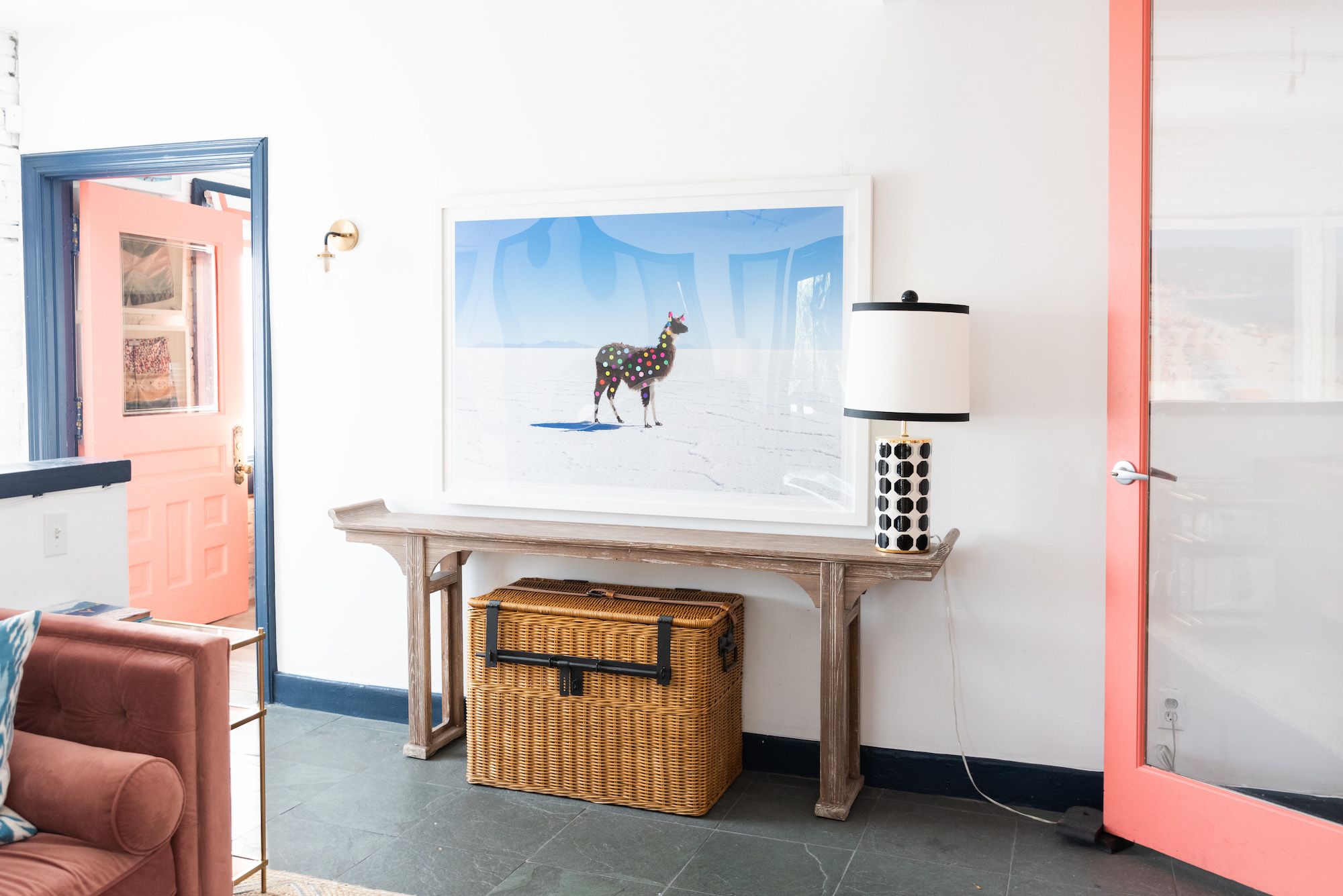 AFTER:
Our new foyer is where you start to get a glimpse into the breadth of the brand. Right when you approach the top of the stairs you're greeted by two large prints from my Gray Malin at the Coral Casino and Gray Malin at the Beverly Hills Hotel series. I love these prints because the vintage theme provides a little bit of nostalgia. As my brand moves more in this style of photography, I wanted to make sure that the theme was a focal point.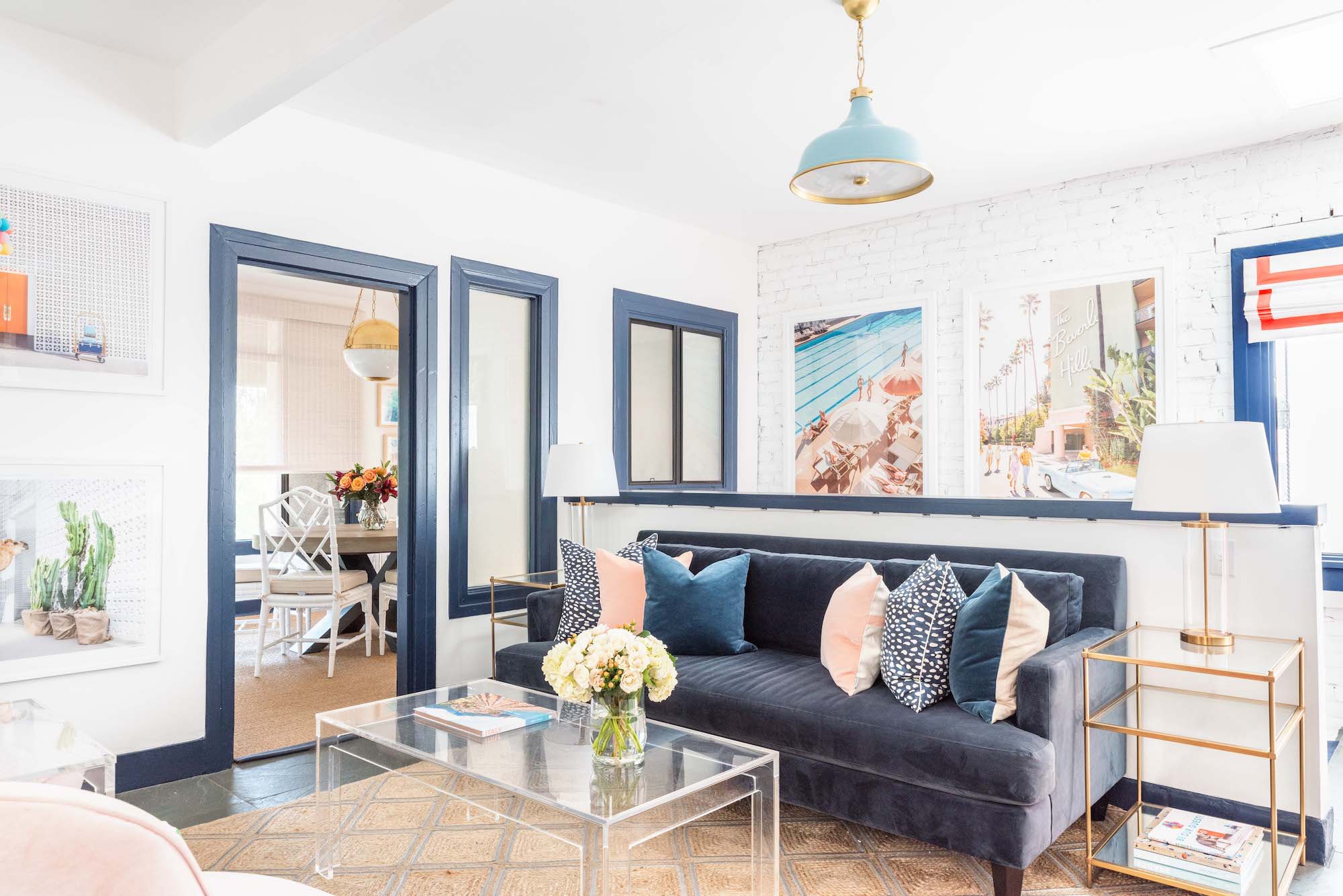 When we chose to work with Hudson Valley Lighting, I was immediately drawn to these blue pendant lights from Mark D. Sikes's line. They were the perfect replacement for our old track lighting because I knew the wide shape would be able to spread enough light and the color was such a fun contrast. We used these pendants as well as other sconces from Hudson Valley Lighting throughout the office, but I just can't get over how good it looks in this room. The blue of the light fixture really brings out the blue of the pool in Coral Casino Beach and Cabana Club.
Another detail I love about the foyer? How the beautiful blush velvet pillows from SWD Studios perfectly matches with the blush pink in the two prints hanging above it. I love using velvet pillows because there's something about it that feels so luxurious. I feel like velvet accents always elevate a space. These SWD Studios pillows delivered the perfect bit of luxury to the room. The palm print pillows in the image below were also from SWD Studios and I think they add such a nice pop of color. Similarly to the blush, the bright green really ties in the green in The Camel Porter I hanging above it.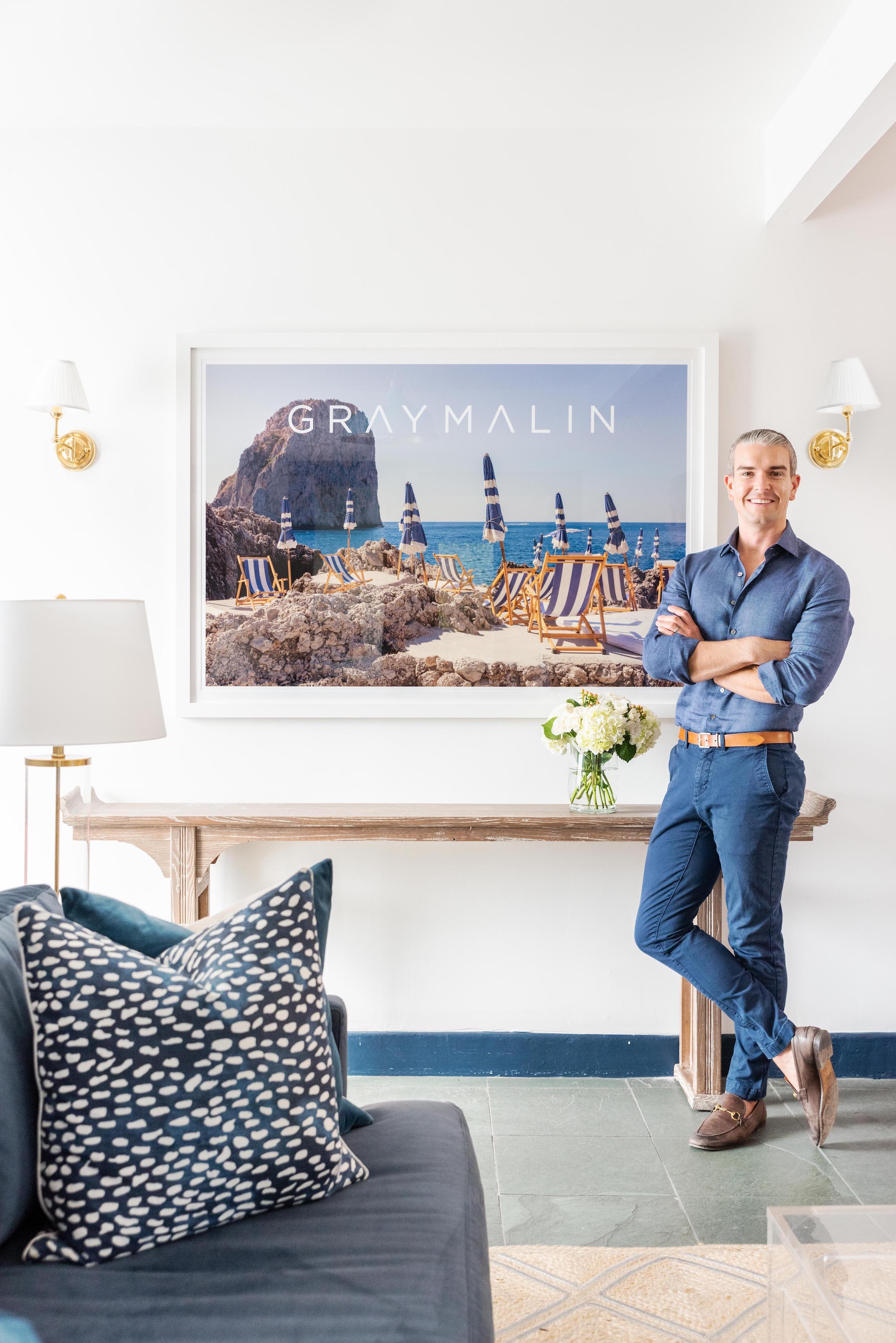 Since my La Dolce Vita series has grown to become one of my signatures, I was so excited to use one of the images for our sign. We didn't use to have a sign in our foyer, but I think it's a really nice touch and makes your entrance a little more official.
Conference Room
In my opinion, our conference room was one of the biggest transformations of all. This room had grown to be neglected and a hodgepodge of whatever we could find to make it functional. But, it wasn't even functioning well for us! Our new conference room is beautiful and functional and the team couldn't be happier.
BEFORE:
AFTER:
You'll notice immediately that we replaced the square table with a round table. The round table used to be in our dining room at home, but since we didn't need it anymore we decided to bring it to the office. Since the room is relatively small having a round table makes it a lot easier to maneuver around and maximizes the limited space in the room.
Theoverhead light from Hudson Valley Lighting was the perfect statement-making piece for the room.
I decided to hang a triptych on this wall instead of a large print because I felt like it would be a little bit more interesting and add another dimension to the space. Whenever I look at a triptych I feel like I'm looking through a window somewhere else and it's so beautiful.
Main Office
Remember the old main office? When I look at these before images I hardly even recognize the room. The old layout was widespread and took up the entire room. The new layout makes the room feel so much bigger.
BEFORE:
AFTER:
By moving all the desks to one area of the room, we opened up so much space. We were able to add in a large communal table right in the middle which has been an amazing asset for our team. I love it because I can host collaborative meetings, my team can enjoy their lunch, and we have an extra area to spread out product and print samples. I never realized how much we would benefit from a universal space like this, but the difference has been night and day.
We do all of our printing in house, which is part of what makes our brand so special. As a result, it was important that our printing department had its own dedicated area in the office. This corner used to be our "living room" but now it's a dedicated corner for printing all of the beautiful artwork. Making this change has increased efficiency and made our office processes run a lot more smoothly.
This Waikiki Triptych above the printing desk turns this portion of the room into a tropical oasis. Similarly to the Positano Triptych in the conference room, this one makes it feel as though your looking out the window to the beach. Although you could just as easily fill a large wall like this with a large print, there's something so much more special about featuring a triptych that feels unique.
Since we got rid of the track-lighting we needed to make sure we had ample lighting all around the office. These desk lamps from Lamps Plus were the perfect addition. Now that it's winter, it gets dark in our office a lot earlier. In our old office, we had some desk lamps randomly scattered around, but now we have consistent lighting throughout. I love how the gold tone of the lamps warms up the space and ties in with the other gold accents in the office.
I dedicated an entire corner of our office to showcase my latest series, Gray Malin in Palm Beach. I love how the vibrant colors in these images brighten up the room and pop against the white walls. Showcasing this series is a nice nod to the evolution of my brand.
Our new "living room" turned out so beautiful. When we initially chose this leather couch I wasn't 100% sure how it would look, but I love how unique it is. It really makes the area feel completely different from the old one. I knew I wanted to have a gallery wall that showcased the wide variety of art that we sell, but it took time to figure out the right way to do it where we wouldn't feel stuck. These floating shelves from Minted were the perfect solution. They look seamless against the white walls and make it easy for us to change out the art whenever we want.
Thank you so much for joining me on this tour of our brand new studio. This has been such a rewarding process and I'm so excited to get to enjoy this new space with my team. I wanted to also take a moment to thank One Room Challenge for facilitating this process and allowing me to be a part of such an amazing community of brands and designers.
Thank you to our brand partners for their generous gifts for our office:
Hudson Valley Lighting: Blue Pendant Lights | Sconces | Conference Room Light
Lamps Plus: Foyer Lamps | Desk Lamps | Living Room Lamps
SWD Studio: Blush Pillows | Green Pillows | Palm Print Pillows (small) | Striped Pillows
Behr: Marquee Ultra Pure White - Flat Sheen
Cheers!
Xx
Gray
Check out the other exciting One Room Challenge Projects:
At Charlotte's House|Design Addict Mom|Erika Ward Interiors|Erin Kestenbaum|Girl & Grey
Gray Malin|Hommeboys|I Spy DIY|Jewel Marlowe|The Learner Observer|Making it Lovely
Nicole White Designs|Old Brand New|Oscar Bravo Home|Place of My Taste|The Rath Project
Room for Tuesday|SG Style|Undecorated Home|Veronica Solomon|MediaBH&G| TM byORC
Have you seen?
Start with Art - Mary Beth Wagner Interiors
Valentine's Day Drink Stirrers
Valentine's Day Drink Stirrers