Hi Everyone,
I'm back this week with our second installment of updates on the One Room Challenge. In case you missed my post last week, we are redecorating our office and I shared all of the before images in this post. For this week's update, I wanted to go into a little more detail about the inspiration behind some of the spaces in our office and show you how we're changing our floorplan.
Floor Plan
One of the biggest changes you'll notice in our office is the brand new floorplan. You may be wondering why we decided to change it. Our original floorplan was great. As you can see in the image below, we have a very open main office where everyone works. Our original floorplan spread us out throughout the entire space., but the new one condenses all the desks into one side of the office and lets us add a communal table in the middle, which we had never been able to do before. In terms of productivity, I hope that having our desks closer together will help increase efficiency and collaboration between teams.
Now, let's get into the fun stuff… the vision boards! Keep in mind that the boards I'm sharing are not identical to what will be the end-result of the spaces. I mean, if I showed you everything now, that would make for a very anti-climactic reveal!
Foyer
In order to keep this project in line with our budget, we will be using some of the same furniture we already owned, but changing it up a bit. For example, we will be moving our navy blue couch, which was initially in our living area, into our foyer. This doesn't cost us anything at all and will give the room a completely different look than before. This room is going to be inspired by my La Dolce Vita series and incorporate shades of blue, pastels, and gold for a polished look.
Conference Room
You'll probably recognize the red chairs in this vision board from the before images of our office. Yep, we're reusing those too! Our initial plan for this space was to go a little bit more nautical and incorporate some of our wallpaper. Although some of our ideas have changed since, the overall look will be reminiscent of what's shown below..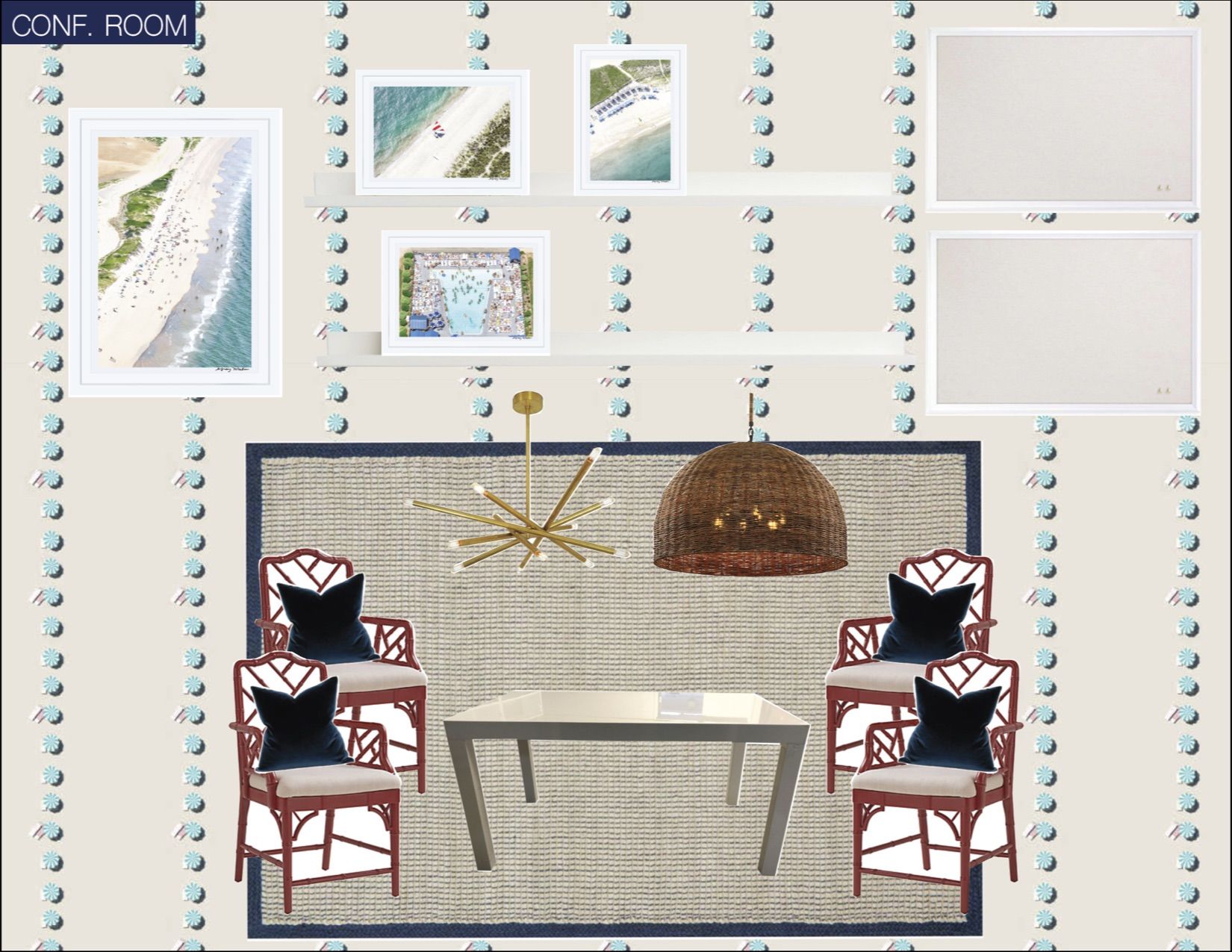 Living Room
For our living room in the main office, we decided to purchase a new couch to really give the space a refresh. We wanted this area to feature the perfect balance of warm and cool tones, so as not to be too distracting from the other parts of the room. Having a living room in our office makes it seem more inviting to guests and also provides an additional space to hold quick meetings, or for members of the team to work on their laptops.
Main Office
The biggest thing changing in our main office is the floorplan that I discussed at the beginning of this post. We will also be making major changes to the lighting in the office, which I think will make a huge impact. Overall, we will be sticking with a similar color palette for our work area and keeping the clean look.
So, what do you think? We're pretty excited to see all these changes unfold over the next few weeks and even more excited to share all the updates with you! Stay tuned for next week's update.
Cheers!
Xx,
Gray
Check out the other exciting One Room Challenge Projects:
At Charlotte's House | Design Addict Mom | Erika Ward Interiors | Erin Kestenbaum | Girl & Grey
Gray Malin | Hommeboys | I Spy DIY | Jewel Marlowe | The Learner Observer | Making it Lovely
Nicole White Designs | Old Brand New | Oscar Bravo Home | Place of My Taste | The Rath Project
Room for Tuesday | SG Style | Undecorated Home | Veronica Solomon | Media BH&G | TM by ORC