Interiors
Design Direction: Start with Art - Creating a Coastal Retreat with Ann Ueno
Ready to be inspired? For this week's Start with Art feature, Miami-based interior designer Ann Ueno is showing us how she created a coastal retreat using The Breakers, Palm Beach from Gray Malin in Palm Beach. The space is light, bright, and playful and we love how she mixed warm and cool tones to create a space that feels inviting. Our favorite part? Custom monogrammed wallpaper with "GM" hidden all over the pattern. Keep reading for all of Ann's tips.
Hi everyone, I'm Ann! Originally from a farm town in Illinois, I spent 10 years in Chicago and NYC and 6 years ago, I started my life in Miami with my husband and daughter, Zoey. Thanks to my grandmother and mom, who both had a humble passion and execution for interiors, I fell in love with the environment of spaces at a young age. I would spend hours paging through my mom's Better Homes and Garden magazine dreaming up what my home would look like one day, meanwhile painting the blades of my bedroom ceiling fan because anything to enhance my bedroom I was all in for! This passion stuck with me as I climbed the corporate America ladder as an executive with Starwood Hotels & Resorts. By day I was overseeing a team of 10 people, leading digital marketing and web merchandising for North America and by night, I was hustling as an interior designer, taking any and all jobs I could, often working for free to build my portfolio. After 16 years working in the hotel industry and 8 years having my side hustle, I closed my corporate chapter and fully launched Ann Ueno Interior Design, starting my life as a creative entrepreneur. While I have worked on several commercial projects, my specialty is residential, full-service interior design and I couldn't be happier having stepped fully into what I believed I was designed to do (no pun intended)!
How would you define your interior design style?
Given my experience in hotels and brand marketing, my brand is all about approachable luxury. I design for everyday life that feels elevated yet very much comfortable and beautiful. The timelessness of St. Regis with the personality of Le Meridien…that's the goal! Pairing high budget and affordable finds, new and vintage, bold with subdued – these juxtapositions are part of my design DNA. I welcome – and advocate for - color and risk in my projects, capitalizing on textiles, materials and layers to really tell a story. I combine my urban background, global travel and Midwest farm town roots to bring my clients a customized, heartfelt design with every project. And now living in South Florida, my focus on exteriors has increased tremendously given my everyday surroundings.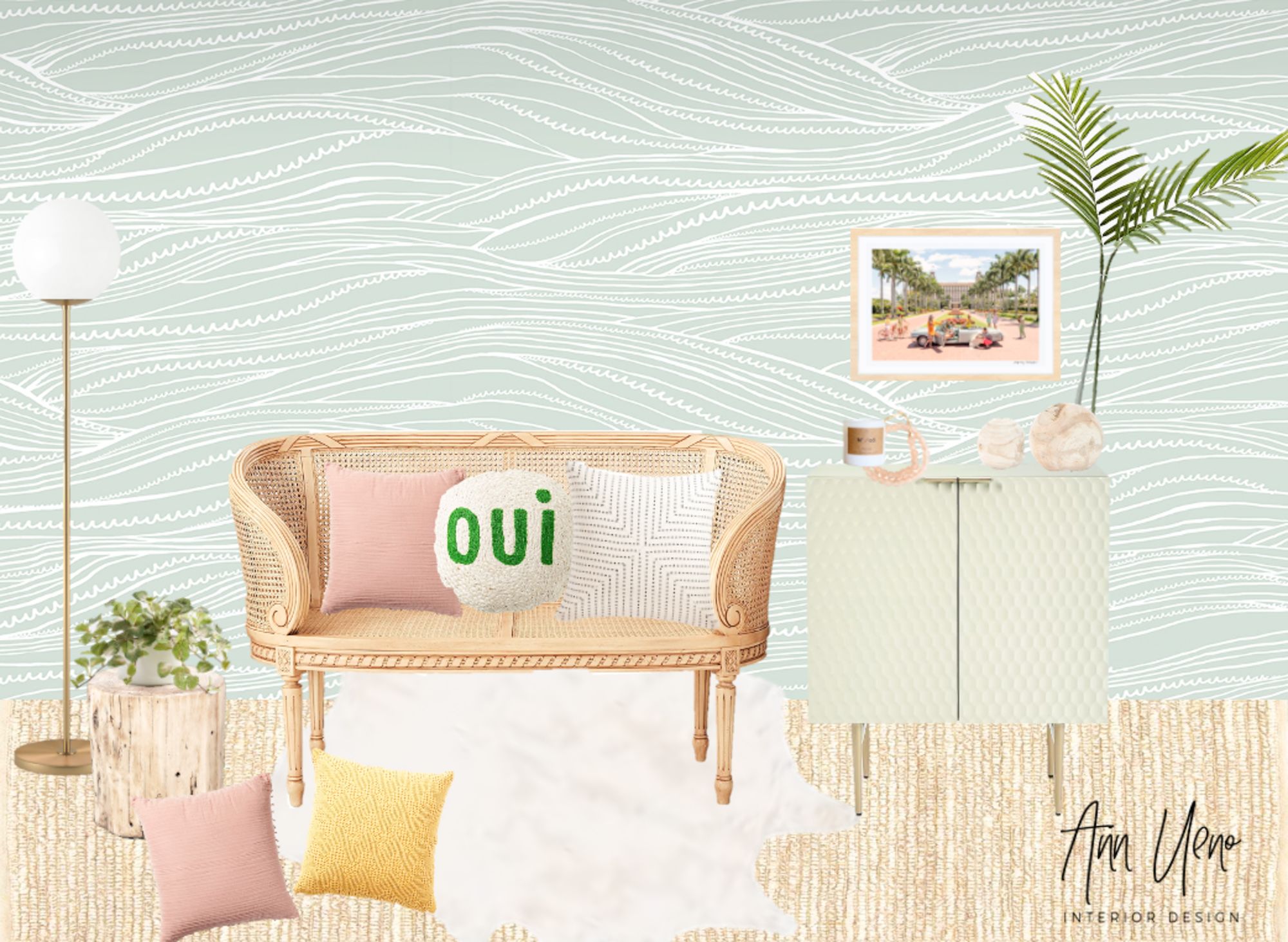 Cabinet | Rattan Settee | Cowhide Rug | Salmon Pillow | "Oui" Pillow | White and Black Throw Pillow | Yellow Pillow | Tree Stump Side Table | Faux Palm Leaves | Accent Book | Accent Book | Candle | Pink Beads | Wooden Ball Accent | Floor Lamp | Custom Wallpaper
First, I am loving some of the new series Gray has shot and I remember when this collection launched, I was instantly connected. Having spent so many years in the hotel industry and having lived in a hotel for a short season of my life, hotels, and travel speak to my soul. And The Breakers is an iconic, historic hotel here in South Florida, recognized for its rich history (well over a century old!), unique architecture, and lush landscape. The old charm and historic glam this series represent give off an energy and a nod to a luxury lifestyle which I love. Tactically, I love the symmetry in this piece, the color story with the greens and terracotta tones, and the anticipation of the arrival. There is nothing better than arriving at a beautiful resort, knowing you are moments away from hitting pause on life, stepping into a vacation. This piece gives me that exact feeling. And right about now, I think we all are craving travel and hotels more than ever!
What did you pick out as the most important elements of the print to incorporate into the space?
While there were so many elements, the driving factor was color. I had a vision that started with terracotta color, knowing it pairs so well with so many other colors and textures. From green to black, to rattan and natural elements, the versatility of this color is perfect. And terracotta is so symbolic in South Florida. It is woven into our sunsets, it's plastered on our buildings, walkways, and roofs and it shows up in our yards, thanks to the organic nature that often surprises us down here. Moreover, I love the juxtaposition of this color as it brings me back to my travels to Jaipur nearly a decade ago where I fell in love with this hue of pink that Rajasthan is known for. The global and local nature of this piece, from how I have interpreted it, blended with the historic symbolism was something I knew I would love designing around.
What's one piece of advice you'd give to someone who wants to design a space and start with art?
Ensure that the art evokes a positive emotion and brings you back to a story or moment in your life. Art should be more than just beautiful as it will occupy real estate in your home, the place where so much of life happens. You will see and walk by it perhaps more than a dozen times a day. The intentionality of curating art is something to spend time on. I remember years ago I gave myself a goal: I was going to save up to buy a Gray Malin print. I would use the extra income I was getting as an interior designer and make it a moment, almost an achievement, to purchase my first GM. My husband had a bad accident and he was over two years into his recovery and it was a hard season to say the least. Our master bedroom hadn't really been "designed" since we moved to Miami and I knew that room would house my first Gray Malin print. I chose the print – Ipanema Beach – where my husband and I had honeymooned nearly a decade prior. The room went from moody, dark hues with a busy gallery wall, to a breathable, calm space with a single gorgeous print as a focal point. I anchored the space on a beautiful memory by way of art and it has made all the difference in our bedroom. That is my advice. Anchor your space with art that has a purpose, that brings you joy and that has the possibility of changing the tone and culture in your home.
So, what do you think? Ready to choose some art to give your space a refresh? You can shop all our photography, including our newest images from New Zealand, here. Make sure to stay up to date with Ann on her Instagram and website.
Cheers!
Team GM