Bonjour Everyone!
First off, just let me say...WOW. The last couple weeks have been amazing and very surreal celebrating the launch of the #SperryXGrayMalin collaboration with events in Los Angeles, New York, and commencing last night in Paris at the iconic French boutique, Colette. What made this one especially SPECIAL was that not only were we celebrating the Gray Malin for Sperry collection, which is available in Colette but the store extended an invitation to exhibit my photography.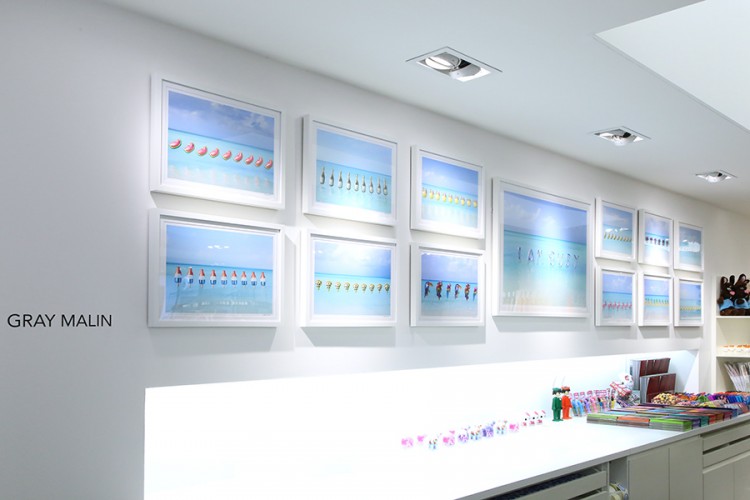 If you've never heard of or visited Colette before, please allow me to introduce you...this store is spectacular in all senses of the word. It's a beautifully curated three story boutique, unique in it's variety of brands and products carried as well as with its overall in-store design and aesthetic. It truly has accomplished a longstanding and palpable vibe that is completely Colette's own...oui oui, it's true!
Now with that being said, I was completely thrilled for them to host an exhibition of my work, and I knew that it had to be something really special. Without much hesitation, I decided on the new Balloon images I shot in the Caribbean for my ongoing Up and Away series. This particular series is so joyful; I knew when I was shooting these new additions that they'd warrant something extra special for their release. Little did I know at the time, how special it really would be!
I could not think of anything better or more perfectly suited for Colette's walls and much to my delight, they agreed. Then they went one step further and asked to display some of my favorites from the Gray Malin À la Plage photography series.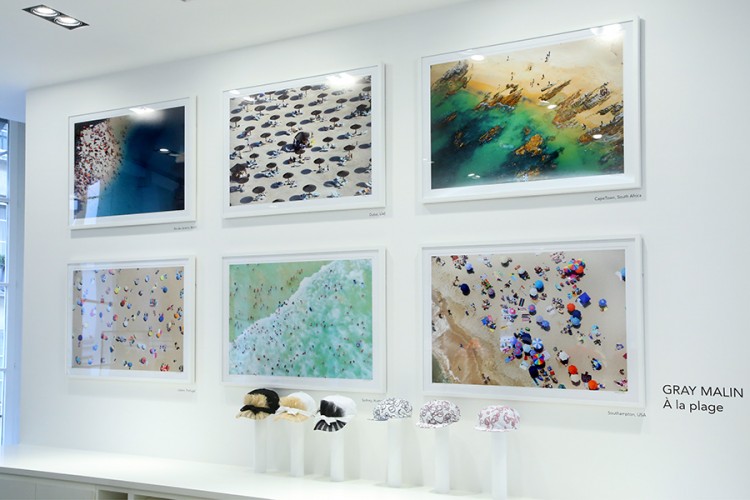 Working with the Colette team was fantastic and I am so proud of how the whole exhibit came together. The #SperryXGrayMalin collection looked completely fab on display in Colette and then before I knew it...it was time to celebrate!
The guests started arriving and I had the opportunity to meet so many interesting new friends, like James Sleaford of GQ France
as well as Bruno of Wad Magazine, and so many lovely and fashionable people
Loved meeting Adam of I AM GALLA...clearly, we were very very busy for this photograph...
and twinning in this one!
I always enjoy getting a chance to meet people when they're first experiencing my work. Yes, it can be extremely nerve wracking, too but overall it's almost always super fun!
Merci beaucoup to Sperry, to Colette, to all who attending any of the past three events and most especially to you all for following along!
Au revoir!
xx
GM
{"slides":[{"label":"What We're Carrying in Our New Spring Pouches","url":"/lifestyle/what-we-re-carrying-in-our-new-spring-pouches","image":"https://res.cloudinary.com/gray-malin/image/upload/c_scale,w_1000,q_50/gray-malin/blog_posts/hero_images/000/001/226/original/spring_2019_leather_pouch.jpg?updated=1553617022"},{"label":"Splendid x Gray Malin Launch Event","url":"/lifestyle/splendid-x-gray-malin-launch-event","image":"https://res.cloudinary.com/gray-malin/image/upload/c_scale,w_1000,q_50/gray-malin/blog_posts/hero_images/000/001/224/original/Spendid_x_Gray_Malin_Launch_Event.jpg?updated=1553216911"},{"label":"Splendid x Gray Malin Spring Collection","url":"/lifestyle/splendid-x-gray-malin-spring-collection","image":"https://res.cloudinary.com/gray-malin/image/upload/c_scale,w_1000,q_50/gray-malin/blog_posts/hero_images/000/001/186/original/Splendid_Spring_Select-10.jpg?updated=1552331916"},{"label":"5 Inspiring Women Entrepreneurs ","url":"/lifestyle/5-entrepreneur-women-who-inspire-us","image":"https://res.cloudinary.com/gray-malin/image/upload/c_scale,w_1000,q_50/gray-malin/blog_posts/hero_images/000/001/184/original/Beach_Ball_Splash__Coral_Casino.jpg?updated=1552073678"},{"label":"The "Best Of" Prada Marfa Over the Years","url":"/lifestyle/the-best-of-prada-marfa-over-the-years","image":"https://res.cloudinary.com/gray-malin/image/upload/c_scale,w_1000,q_50/gray-malin/blog_posts/hero_images/000/001/181/original/1-_The_Onlookers-updated.jpg?updated=1551308515"},{"label":"Beach Aerials from Bahamas and St. Barth's","url":"/lifestyle/beach-aerials-from-bahamas-and-st-barth-s","image":"https://res.cloudinary.com/gray-malin/image/upload/c_scale,w_1000,q_50/gray-malin/blog_posts/hero_images/000/001/179/original/White_Umbrellas__Eleuthera.jpg?updated=1551142035"},{"label":"All Aboard, Bon Voyage III","url":"/lifestyle/all-aboard-bon-voyage-iii","image":"https://res.cloudinary.com/gray-malin/image/upload/c_scale,w_1000,q_50/gray-malin/blog_posts/hero_images/000/001/168/original/BV_3_Lifestyle-4.jpg?updated=1549930998"},{"label":"10 Prints That Make the Perfect Valentine's Day Gift","url":"/lifestyle/10-prints-that-make-the-perfect-valentine-s-day-gift","image":"https://res.cloudinary.com/gray-malin/image/upload/c_scale,w_1000,q_50/gray-malin/blog_posts/hero_images/000/001/154/original/0-_maui-nude-beach.jpg?updated=1548462308"}],"label":"Have You Seen?"}
{"id":null,"number":null,"item_total":"0.0","total":"0.0","ship_total":"0.0","state":"cart","adjustment_total":"0.0","user_id":null,"created_at":null,"updated_at":null,"completed_at":null,"payment_total":"0.0","shipment_state":null,"payment_state":null,"email":null,"special_instructions":null,"channel":"spree","included_tax_total":"0.0","additional_tax_total":"0.0","display_included_tax_total":"$0.00","display_additional_tax_total":"$0.00","tax_total":"0.0","currency":"USD","considered_risky":false,"canceler_id":null,"display_item_total":"$0.00","total_quantity":0,"display_total":"$0.00","display_ship_total":"$0.00","display_tax_total":"$0.00","display_adjustment_total":"$0.00","token":null,"checkout_steps":["address","delivery","complete"],"bill_address":null,"ship_address":null,"line_items":[],"payments":[],"shipments":[],"adjustments":[],"credit_cards":[],"promotions":[],"total_shipment_cost":"$0.00","permissions":{"can_update":false},"use_shipping_for_billing":true,"use_new_ship_address":true,"use_new_bill_address":false,"selected_ship_address":null,"selected_bill_address":null,"display_completed_at":null,"item_count":0,"subtotal_minus_promos":"$0.00","coupon_codes":[]}
This site uses cookies to allow better navigation. By closing this banner, scrolling this page or clicking any of its elements, you are giving consent to all cookies. To learn more and to change your preferences please see our Cookies Policy.