Hi Everyone,
Who else is obsessed with our latest release of Gray Malin Minis? If you haven't had a chance to explore the collection yet, you absolutely must check them out. I selected an assortment of 20 photographs that include sold out favorites, best-sellers, and a few that are available exclusively this week as minis. My favorite thing about minis is how many ways they can be styled and I think it's always fun to see how others style them. Today we're joined by Samantha Sohl, blogger at Preptista and also Digital Content Coordinator for Gray Malin. Sam styled these prints in her bedroom and I just love how they added an extra pop to the space. Keep reading to see how she styled them and to get inspired to do it yourself!
Hi, Sam! Thank you so much for welcoming us into your room. Will you please tell everyone a little bit about yourself? When were you first introduced to the Gray Malin brand?
Hi, I'm Samantha and I'm so excited to be sharing this space with you all! I'm a LA/OC based blogger over on my site Preptista and I've worked for Gray Malin, first as an intern and then as Digital Content Coordinator, for over two years. I started my blog back in 2013 when I was in high school as a creative outlet, which I'm proud to say I still pursue today! I was first introduced to the GM brand when I was in high school and was a total brand fan. I actually met Gray for the first time at a party for Ban.do when I was 17. When I was a freshman in college, I met Gray for a second time at the Parker in Palm Springs while on a girls' trip with my mom and tried to keep in touch after that. We reconnected right before my senior year at USC when I was looking for an internship, and I've been working with him ever since! This was my total dream job in high school and college and I still pinch myself when I think about it.
I love your bedroom decor! What was your inspiration when decorating? How would you describe your interior decor style?
I'm so obsessed with this bedroom! My family actually moved to Newport Beach the week after I took these photos, and looking at them makes me miss it so much, especially while I'm trying to make a new space feel like home. When I was decorating this bedroom, I wanted to create a room that felt peaceful—a space that would feel like an oasis when coming home after a long day. It's no wonder I was drawn to Gray's art. I really love color, so although I stuck to a lot of white, I tried to add pops of color where I could to make the room happy. Overall, I think I'd describe my interior style as calm, classic, and colorful.
My mini prints look so great styled in your room! What's your favorite thing about them?
My favorite thing about the minis is that they can work virtually anywhere. I styled them in my bathroom, my bookcase, my nightstand, and on the wall. It's been fun bringing them to our new house and repurposing them in new places as well! I think they're also such a great price point ($199) for anyone who is interested in investing in art but has a smaller budget. I love that they're something I can keep with me forever and continue to style in new places over the course of my life.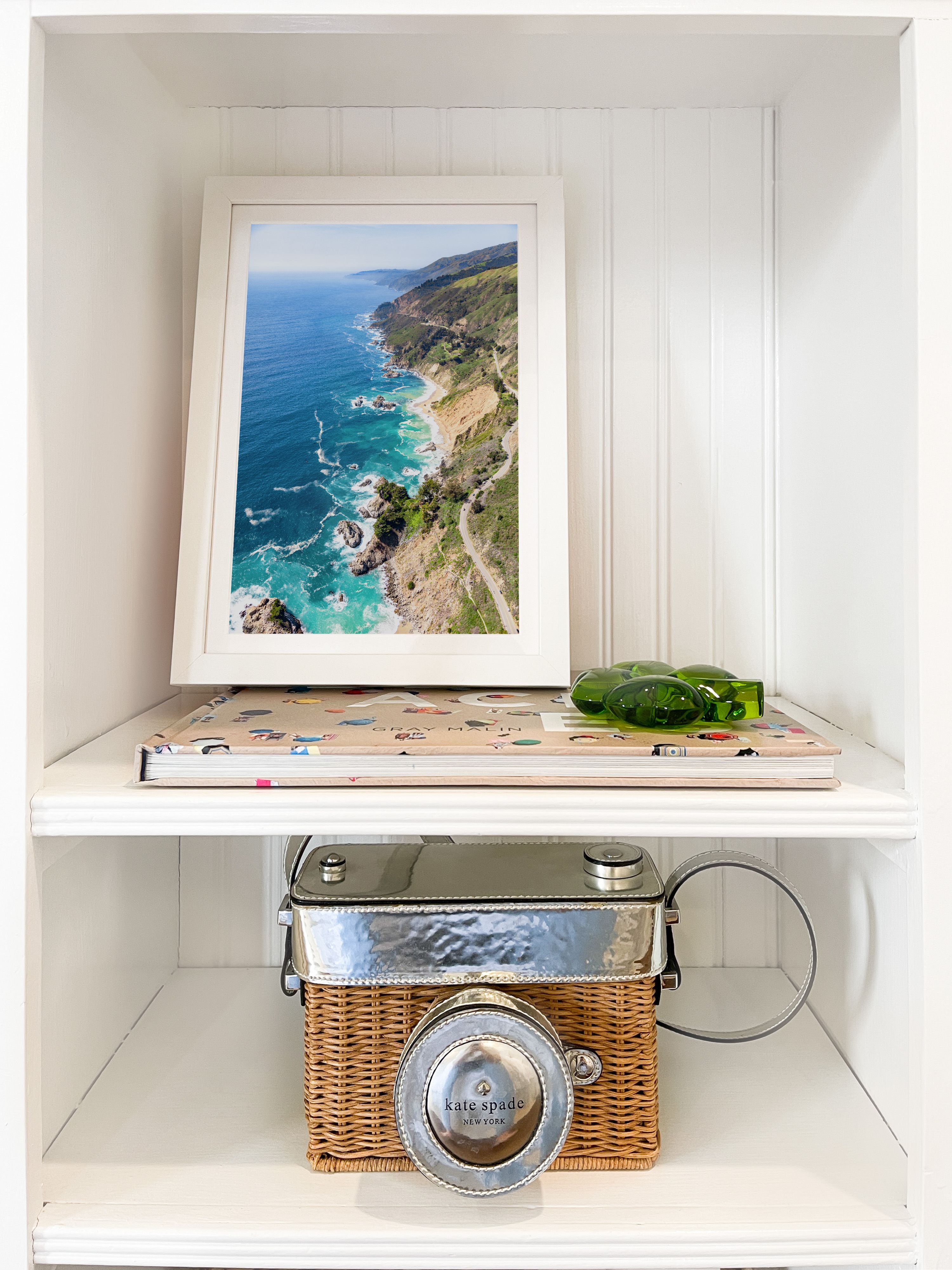 I noticed you also have a print from my À la Plage series. Can you tell us a bit about that print?
Yes, I do! Bondi Wave was the first Gray Malin piece I purchased for myself not too long after I began working here. I've never even been to Australia before, so it may seem strange that I chose a print from there, but I'm absolutely mesmerized by the colors in this photograph. When I look at it, for a moment it truly feels like I'm on vacation.
Do you have a favorite print from your collection of Gray Malin Minis?
It's hard to pick a favorite because I love them all so much, but if I had to it would be between Fredrico Cheers Vertical and Pool Day, The Beverly Hills Hotel. I love Pool Day because it's a shot from the first big shoot I ever worked on with Gray, plus it's just so darn cute! To have something tangible from such an amazing project that I will be able to look back on over the years is really special. I love Fredrico Cheers Vertical because it's so sentimental to me. Growing up, my family went to the Mauna Kea every summer, so seeing this print, especially right now in a time where we can't travel, brings back such fond memories with my friends and family. I also got to work with Gray on the Gray Malin at the Mauna Kea shoot, so this photograph will always take me back to that project.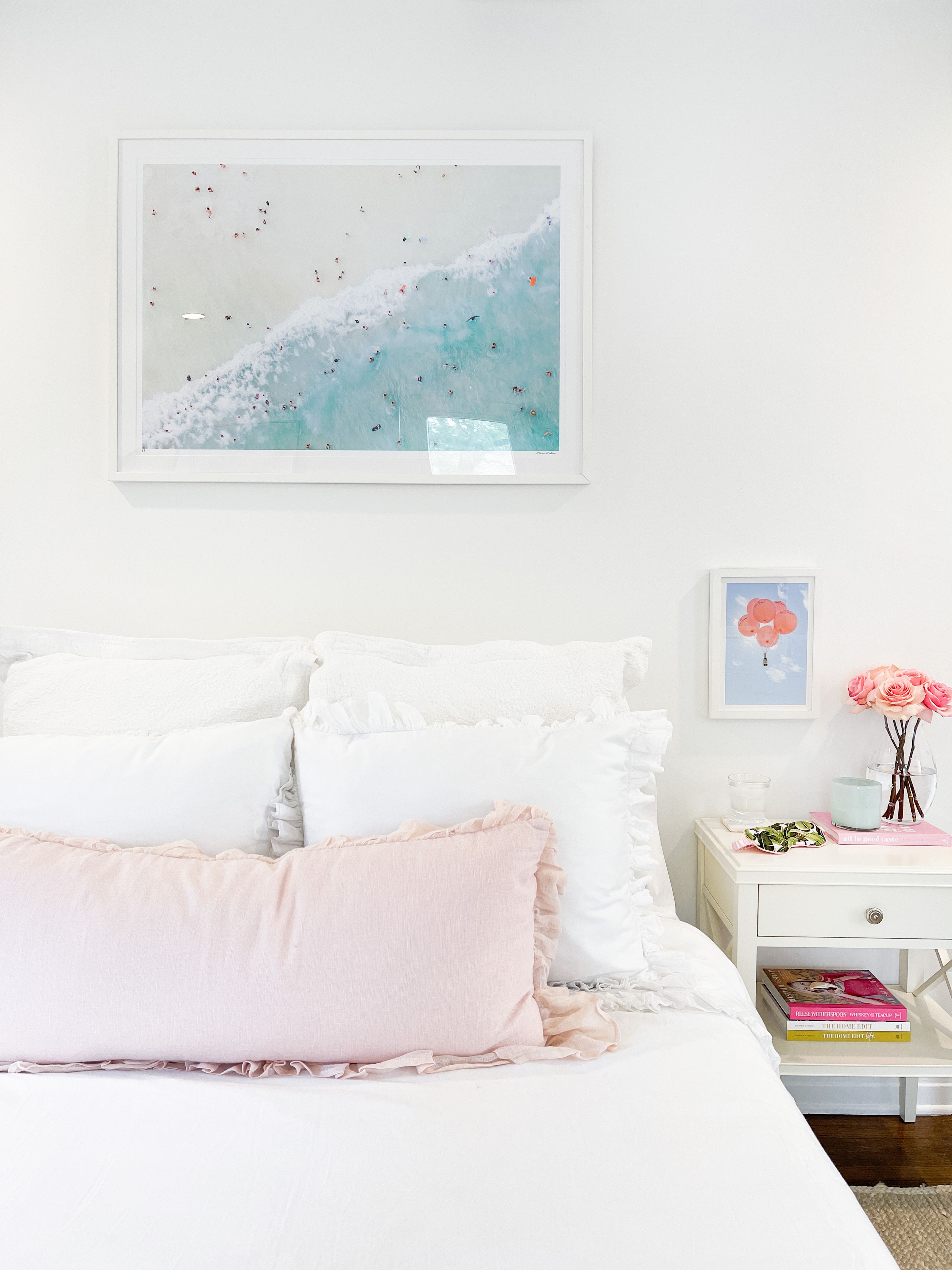 What about the Gray Malin brand do you connect with the most?
I think I most connect with the underlying cheerfulness throughout the brand. Gray's art makes me smile and brightens up even the rainiest of days. Whether it's home decor products or prints, each thing he creates inspires me and brings cheer to any space!
Sam, thank you so much for welcoming us into your room and sharing your story with us! It's so fun to think back on when we met all those years ago and to then see where we are now. The minis look so wonderful in your room and can't wait to see how you style more of my art in your home for years to come. To all of you, be sure to stay up to date with Sam on her Instagram and blog.
If you're feeling inspired and haven't picked up a mini yet, they're available through Friday night on graymalin.com. These only come a few times a year, so don't miss out!
Cheers!
Xx,
Gray
{"slides":[{"label":"Gray's Favorite Inrooms Vol. 6","url":"/lifestyle/gray-s-favorite-inrooms-vol-6","image":"https://res.cloudinary.com/gray-malin/image/upload/c_scale,w_1000,q_50,f_auto/gray-malin/blog_posts/hero_images/000/001/885/original/2-Austin_Bean_OKC7635.jpg?updated=1617402512"},{"label":"Michelle Berdan's Laid Back Home by the Beach","url":"/lifestyle/michelle-berdan","image":"https://res.cloudinary.com/gray-malin/image/upload/c_scale,w_1000,q_50,f_auto/gray-malin/blog_posts/hero_images/000/001/884/original/0-Michelle_Madsen-10_copy.jpg?updated=1617066488"},{"label":"LoveShackFancy Founder Rebecca Cohen's Palm Beach Escape","url":"/lifestyle/loveshackfancy-founder-rebecca-cohen-s-palm-beach-escape","image":"https://res.cloudinary.com/gray-malin/image/upload/c_scale,w_1000,q_50,f_auto/gray-malin/blog_posts/hero_images/000/001/882/original/0-LoveShack-4.jpg?updated=1616633971"},{"label":"Gray's Favorite Inrooms Vol. 5","url":"/lifestyle/gray-s-favorite-inrooms-vol-5","image":"https://res.cloudinary.com/gray-malin/image/upload/c_scale,w_1000,q_50,f_auto/gray-malin/blog_posts/hero_images/000/001/881/original/3-IMG_0382.JPG?updated=1616175509"},{"label":"Our Favorite Places to Style City Prints at Home","url":"/lifestyle/our-favorite-places-to-style-city-prints-at-home","image":"https://res.cloudinary.com/gray-malin/image/upload/c_scale,w_1000,q_50,f_auto/gray-malin/blog_posts/hero_images/000/001/880/original/0-Boston-In-Room_4.jpg?updated=1616026718"},{"label":"Gray's Favorite Inrooms Vol. 4","url":"/lifestyle/gray-s-favorite-inrooms-vol-4","image":"https://res.cloudinary.com/gray-malin/image/upload/c_scale,w_1000,q_50,f_auto/gray-malin/blog_posts/hero_images/000/001/876/original/4-unnamed_(1)-Edit-Edit-Edit.jpg?updated=1614888819"},{"label":"Our Favorite Ways to Style Bon Voyage Prints","url":"/lifestyle/our-favorite-ways-to-style-bon-voyage-prints","image":"https://res.cloudinary.com/gray-malin/image/upload/c_scale,w_1000,q_50,f_auto/gray-malin/blog_posts/hero_images/000/001/874/original/0-ANTH_Gray_Malin_410_post_PD.jpg?updated=1614208369"},{"label":"Gray's Favorite Inrooms Vol. 3","url":"/lifestyle/gray-s-favorite-inrooms-vol-3","image":"https://res.cloudinary.com/gray-malin/image/upload/c_scale,w_1000,q_50,f_auto/gray-malin/blog_posts/hero_images/000/001/872/original/3-AG-20.JPG?updated=1613776972"}],"label":"Have You Seen?"}
{"id":null,"number":null,"item_total":"0.0","total":"0.0","ship_total":"0.0","state":"cart","adjustment_total":"0.0","user_id":null,"created_at":null,"updated_at":null,"completed_at":null,"payment_total":"0.0","shipment_state":null,"payment_state":null,"email":null,"special_instructions":null,"channel":"spree","included_tax_total":"0.0","additional_tax_total":"0.0","display_included_tax_total":"$0.00","display_additional_tax_total":"$0.00","tax_total":"0.0","currency":"USD","considered_risky":false,"canceler_id":null,"display_item_total":"$0.00","total_quantity":0,"display_total":"$0.00","display_ship_total":"$0.00","display_tax_total":"$0.00","display_adjustment_total":"$0.00","token":null,"checkout_steps":["address","delivery","complete"],"bill_address":null,"ship_address":null,"line_items":[],"payments":[],"shipments":[],"adjustments":[],"credit_cards":[],"promotions":[],"total_shipment_cost":"$0.00","permissions":{"can_update":false},"use_shipping_for_billing":true,"use_new_ship_address":true,"use_new_bill_address":false,"selected_ship_address":null,"selected_bill_address":null,"display_completed_at":null,"item_count":0,"subtotal_minus_promos":"$0.00","coupon_codes":[],"includes_framed_items":false,"contains_subscription":false}
This site uses cookies to allow better navigation. By closing this banner, scrolling this page or clicking any of its elements, you are giving consent to all cookies. To learn more and to change your preferences please see our Cookies Policy.