Hi Everyone,
Have you seen the latest aerial beach photos of San Diego, yet? I sure hope so! So far, the response has been incredible and today I'm back with all the details on what to do from the ground! That's right, it's San Diego travel guide time. Let's start with some sips on the sand at the famous Hotel del Coronado and talk all things San Diego.
First, let's start off with a quick little known fact. If you're a fan of my series, À la Plage, then you already know it includes coastlines near and far capturing all the beachy characteristics that make each stretch of sand unique. What you may not know, though is that I live in California, home to 840 miles of coastline, and I've yet to photograph nearly enough of its beautiful beaches. I'm making strides in changing that, though! I've grown the selection to now include an amazing collection from Orange County, but today It's all about San Diego.
THE BASICS:
Beaches: San Diego's coastline is 70 miles and consists of 31 beaches.
Best Time to Go: It is always beautiful. Summertime, expect it to be more crowded, so to avoid ideally go between March to May OR September to November.
Best Things to Eat & Drink: San Diego is home to some of the best Mexican restaurants north of the border. They're also all about their craft brews, so be sure to visit one of the 130 local breweries.
SPECIFICS:
ENCINITAS
Moonlight Beach in Encinitas is known for its down to earth surf vibe and easygoing beach culture. Looking for something off the sand? Hit up Better Buzz for some coffee, then stroll shops like Salt Culture for some fun beachwear.
SOLANA BEACH
Catch some rays with the Solana Beach Sunbathers, then check out this cute beach city's main drag, Cedros Avenue. Here, you'll find countless snapworthy moments along with great shopping, coffee and just some pretty gorgeous surroundings, overall. If you're there in the evening, be sure to check out some music at The Belly Up. If the name sounds familiar, it's because they have a second location in Aspen, CO.
DEL MAR
Looking for some action? Del Mar just might be where you want to be, as it's home to the Del Mar Fairgrounds, where you can catch lots of excitement of the horse races, but it's also where a dog lover's paradise is...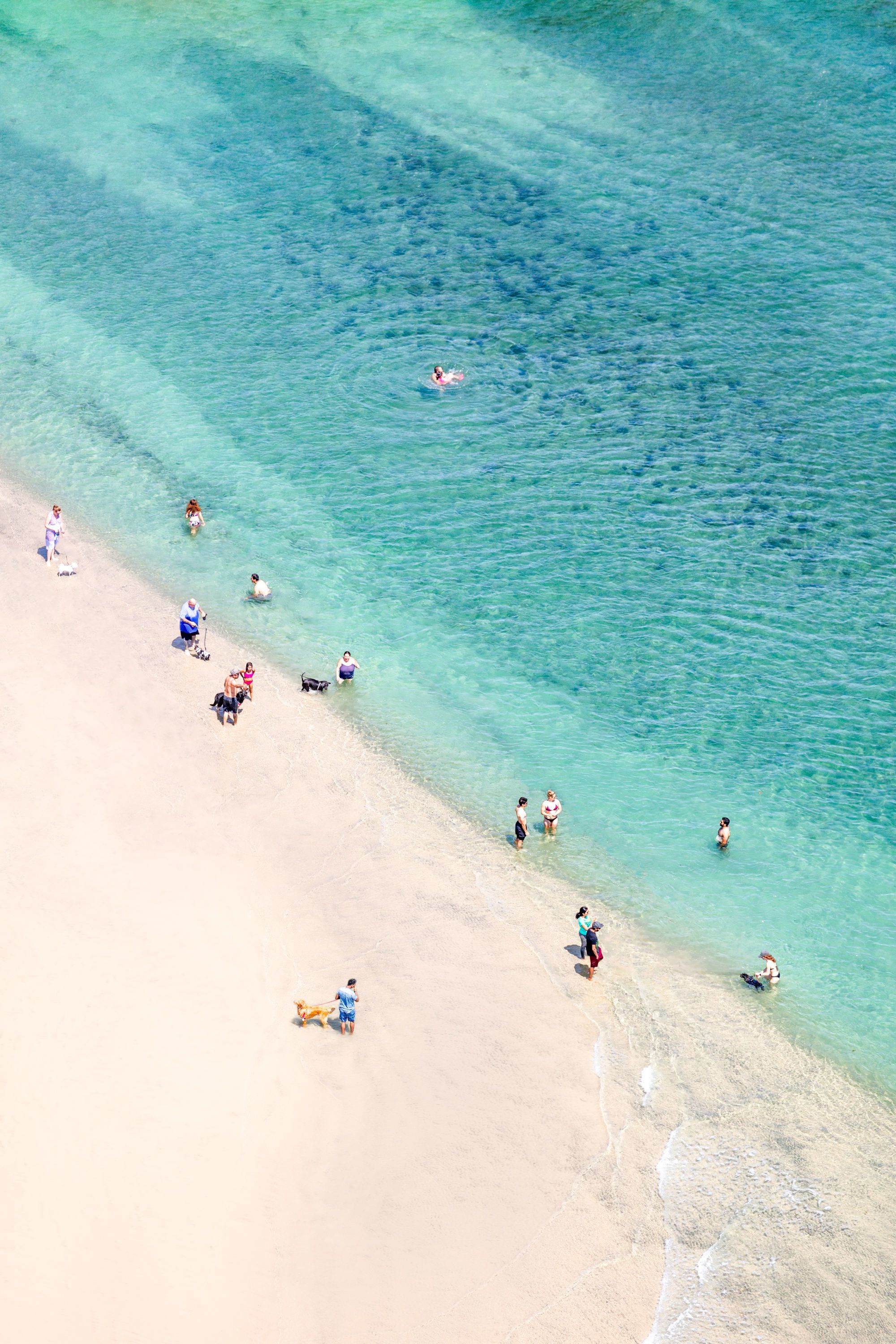 LA JOLLA
La Jolla is one of the most beautiful parts of San Diego and is often awarded top spots on "Best of" type lists on a global scale. With that said, there is still plenty to La Jolla than just its beaches, but one can not talk about one without covering the other. So, with that in mind, I'm going to start with the beach then narrow in on my best tip for that specific spot.
Is having a 'clothing optional' type of beach, the one you'd want to explore? Located below the bluffs of Torrey Pines, Black's Beach is the unofficial nude beach, so that's where you'll want to head, if you'd prefer beaching in your birthday suit. Looking for a different kind of adventure? The cliffs of Torrey Pines are also popular for paragliding and hang gliding departures as well as home to the Torrey Pines State Natural Reserve for epic hiking trails and moments in nature.
When it comes to surfing, La Jolla is PLENTIFUL in its variety. La Jolla Shores and Windansea are both local favorites, as well as ones that surfers travel from near and far to surf.
Prefer to do something else besides surfing in the ocean? Then, I'd recommend La Jolla Cove for swimming, kayaking, snorkeling and scuba.
Hungry? Thirsty? I recommend: The Shore Restaurant (top left), Prep Kitchen (top right), Herringbone (bottom left) and Birdrock Coffee (bottom right)...which is technically, La Jolla adjacent but who's getting technical?
MISSION BEACH & PACIFIC BEACH
Ready for eternal Spring Break? Pacific Beach and Mission Beach are a combined 3-mile stretch of San Diego where post-college graduates head to begin their official adulting lives. Expect to find lots of surf culture, a great boardwalk to ride bikes along and a fun bar scene to people watch. Want to learn to suf? Tourmaline is a great spot for it; aftterwards, eat delicious fish tacos at the casual, yet VERY popular Oscars Mexican Seafood.
OCEAN BEACH
Last but certainly not least on this San Diego travel guide is Ocean Beach. Complete with volleyball courts and sunset BBQs, this popular beach spot has a funky vibe all to it's own. The Sunset Cliffs trail is not to be missed!
OCEAN BEACH SURFERS
And, there YOU have IT! To be honest, San Diego is massive and tremendous. I really am just scratching the surface but it's a great start. I hope you enjoy, if you go and love it as much as I did!
Cheers,
xx
Gray
Photos: Header, Tacos, OscarsMex, Drinks & Sips - La Jolla, & Sunset Cliffs