Hi Everyone,
Have I got a beautiful home to share with you today?! This dreamy space is home to event planner and Martha Stewart contributor, Royale Ziegler. With her company But First Party keeping her busy, she likes to slow it down when she's at home, which is reflected in her decorating style. I can certainly appreciate that approach! To take us inside, please allow me to introduce you all to Royale as well as give her the floor to tellus more about herself, But First Party and her swoonworthy abode..
My name is Royale Ziegler and I live (and party) in sunny Los Angeles, CA! When I am not blowing up balloons or tossing around confetti, you can usually find me doing all of the things a four-year-old boy likes doing. Any free time I have is spent with my family, whether we are traveling for work or quenching our wanderlust, the three of us always seem to be on the go. My son Stellan has a pretty sizable airline wing collection, and as my husband loves to jokingly point out, is a better traveler than I am! Family, creating and new adventures are what make me tick. I also love a good book, a glass of pale pink rosé, and a girlfriend to live-text with during Housewives!
Could you give us an overview about what your business is all about?
But First, Party! is my full service event design and production company. I also produce styled shoots for editorial, I am a regular contributor for Martha Stewart and Lauren Conrad, as well as content for various lifestyle brands. I recently launched an entertaining-centric blog, Oui Party, with my oft-collaborator Rachel Huntington, owner of party shoppe Bonjour Fete, that focuses on where our world's insterect; I'm the party perfector and she's the purveyor of party!
Very cool! And, when didyou launch it?
I started But First, Party in September of 2016, nearly two years ago when my son started preschool. After he was born, I made the tough decision not to return to my position at the Sundance Film Institute, as the Festival was quickly approaching and my husband, a cinematographer, was set to shoot a film abroad. It was in those first years as a stay-at-home-parent, who was celebrating all of my child's big milestones, that I was inspired to start my own business—one centered on celebrating life's big occasions.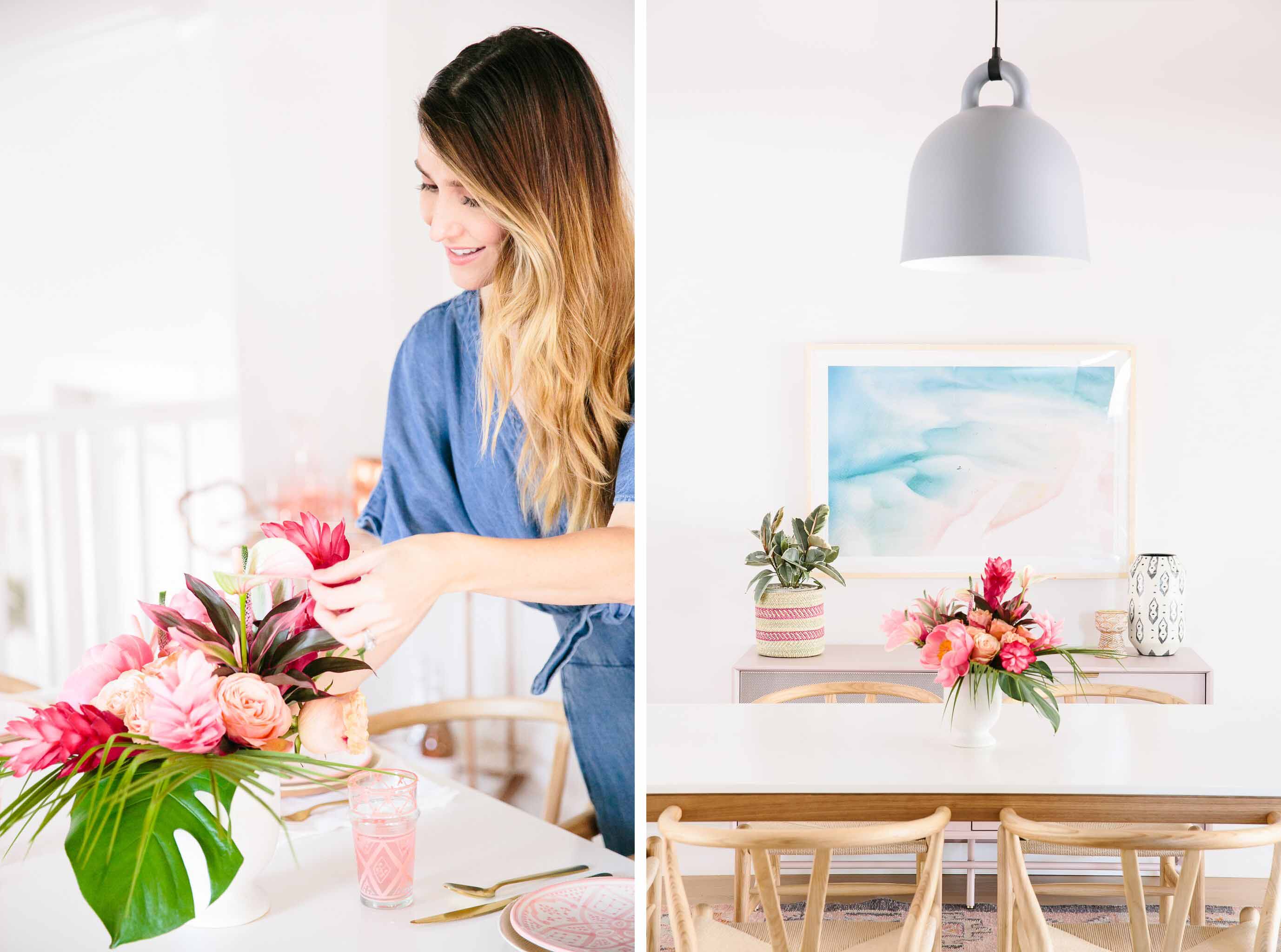 I love how nicely this print flows in your dining room. What drew you to this particular one?
The Templeton Gray color from Benjamin Moore that we used on the cabinets in the kitchen is a really fun bluish-green color that changes hue in different light. In the dining room I used a rug that has some of that same blue but is primarily pink, to compliment the pink buffet. I knew whatever piece I chose for that space would need to reflect both the blue and the pink tones in the kitchen and dining room, and Gray Malin's Whitehaven Beach print was absolutely perfect for that! I also have Australian citizenship, as my father is from there, so I loved the personal connection this photograph has to a place that is part of my history.
Having a personal connection always makes it that much better, in my opinion. Overall, what would you say is your approach to decorating at home?
My sense of design, as far as But First, Party!, is more is more. Because I'm constantly trying to be innovative and over-the-top in my work, I sort of prefer a more clean and minimal aesthetic at home. Less than a year ago we redid our kitchen, which was a huge undertaking and of course, something I obsessed over endlessly. My main point of inspiration for the kitchen was the gorgeous marble used for the countertops, everything else was sort of designed around it. I may have visited eight different slab yards to find it—which is how I am about my work, details are everything!
And, last but certainly not least, what are the challenges as well as the joys of being an entrepreneur?
I'd say that the flexibility of being an entrepreneur, working as little or as much as life allows, is both the rose and the thorn of it all. When I first started my business, my son had a very part time schedule, so the main challenge was getting enough work done in the limited window of child-free time I had. Now that he is in school for more hours in a week, I'm able to accomplish much more, though I still never seem to have enough time! (I have a habit of saying yes to a lot of projects, it seems the more time I have, the more likely I am to say yes to more work!) Luckily for me, a lot of the time my family life and work life find a way to overlap—my son loves being in styled shoots because it's always his birthday and there's always leftover cake!
Thanks so much Royale for sharing your home with us, including an adorable peak inside your son's room! I am in love with how you styled it all! For those of you who do, too...be sure to take advantage of the 25% off sale on all Austalia Beach Aerials, which includesRoyale's Whitehaven Beach aerial. To keep up with Royale be sure to follow along @butfirstparty and as always, thank you all for following along with me!
Cheers,
xx
Gray
Interior Photography by @billyedonyaphotography