Hi Everyone,
Happy Friday! It's been a busy yet incredibly fulfilling week for me, as not only did I release the second installment to my series Far Far Away, but I've also continued of my book tour for ESCAPE. I loved celebrating the release with a one night exhibition of Tuesday, then fast forward 24 hours, I was in Washington D.C. meeting so many smiling faces with their brand new copies of the book, then 24 more later, Atlanta. Needless to say, it's been a whirlwind, but I wouldn't have had it any other way! To kick off the weekend, I'm going to take you all behind the lens with me on set of Far Far Away II. Ready? Let's go!
The Backstory
In April of 2013, I traveled to the world's largest salt flat, Salar de Uyuni, Bolivia to shoot the first installment of Far Far Away. Spanning 5,000 square miles, the salt flat is located 12,000 feet in elevation. The color temperature nears 7,000 kelvins, making objects appear brighter and whiter than the naked eye can see. This original collection was about capturing the whimsical happiness of a place unknown and produced the sold out image, Llamas Black & White Balloons. Three years later, I reconnected with the beloved Bolivian artist, Gastón Ugalde, who was my mentor for the first installment. We got to chatting via What's App, which turned into late night phone calls with his son and manager, Mariano, and many explanative emails with his team of production assistants in La Paz, a continuation of the series began to unfold.
Fast forward to April of this year, I returned to the Salar along with three team GM members to meet Gaston, Mariano, two engineers, a painter and three strong bodied assistants to aid in production. This time around, I sought to execute larger ideas to challenge the viewer to think more broadly about color theory and how unexpected items are perceived in this geographically unique environment. Just like the first installment, the challenge was creating images that are not retouched—what you see is quite literally what appeared in front of my lens.
Day 1
The first day was B-A-N-A-N-A-S!
For Bananas I, II and III over 500 bananas were sourced from the Amazon region that borders Bolivia and driven across the country over two days before they turned brown. In order to create Bananas I, the production assistants created a mound out of the salt, then we stacked away with the bananas. For the final step to complete the concept, two crew members went behind the pile (yes, it was that tall) and on my count of 1-2-3-4, they began to throw a cluster of bananas in the air and I clicked away. I must say, I'm pretty darn happy with the resulting image as well as Bananas II & III.
Up next, it was all about bouncing those Beach Balls..but first, let's take them out of the truck and break out the ever trusting fishing line. It gets windy out there, so we had to ensure that when they bounced...they didn't blow away!
To close out the day, we broke out the mylar balloons, that I've used in my Up & Away series, to create I AM A PHOTOGRAPH. I feel that this phrase is so poignant yet also very open for interpretation, which I love.
Day 2
First and foremost, the thing to know about Day 2 was that it was cold and very windy! Everyone was all bundled up and persevered to get the shots for the day, which included a variety of acrylic circles and squares in bright colors as well as white ladders going anywhere (nowhere?) and last but not least, a very special diving board..more on it a bit later.
Items like the 3ftx3ft acrylic circles were flown in from the United States, whereas the 'The Diving Board,' an actual 7 foot diving board, was engineered by Gastón's team and driven to the salt flats for the shoot. Towards the end of the day, we hopped in our trucks and ventured to a part of the salt flats that water still remained. Locals referred to this wet area as flooded, which upon seeing it, I realized it was more like where previous rains hadn't completely dried yet, as it was at a slightly lower elevation. Simply put, it was the perfect setting for this shot.
Another shot, we succeeded in achieving was Red and White Striped Umbrella, which was really quite majestic atop the thin layer of water and salt. It was a fantastic end to Day 2.
Day 3
In a nod towards my first installment, two Bolivian llamas were welcomed back from a local farm to take center stage once again. Mixing up this time, I opted for pastel pink balloons as well as went a bit smaller with multicolored dots, too.
After calling it a wrap with the models aka the llamas, we set up for 'Dots.' These circular discs were hand painted by an artist in Bolivia's capital, La Paz. I was thrilled to see how they turned out and even happier once I began photographing them with this mesmerizing cloud formation in the background.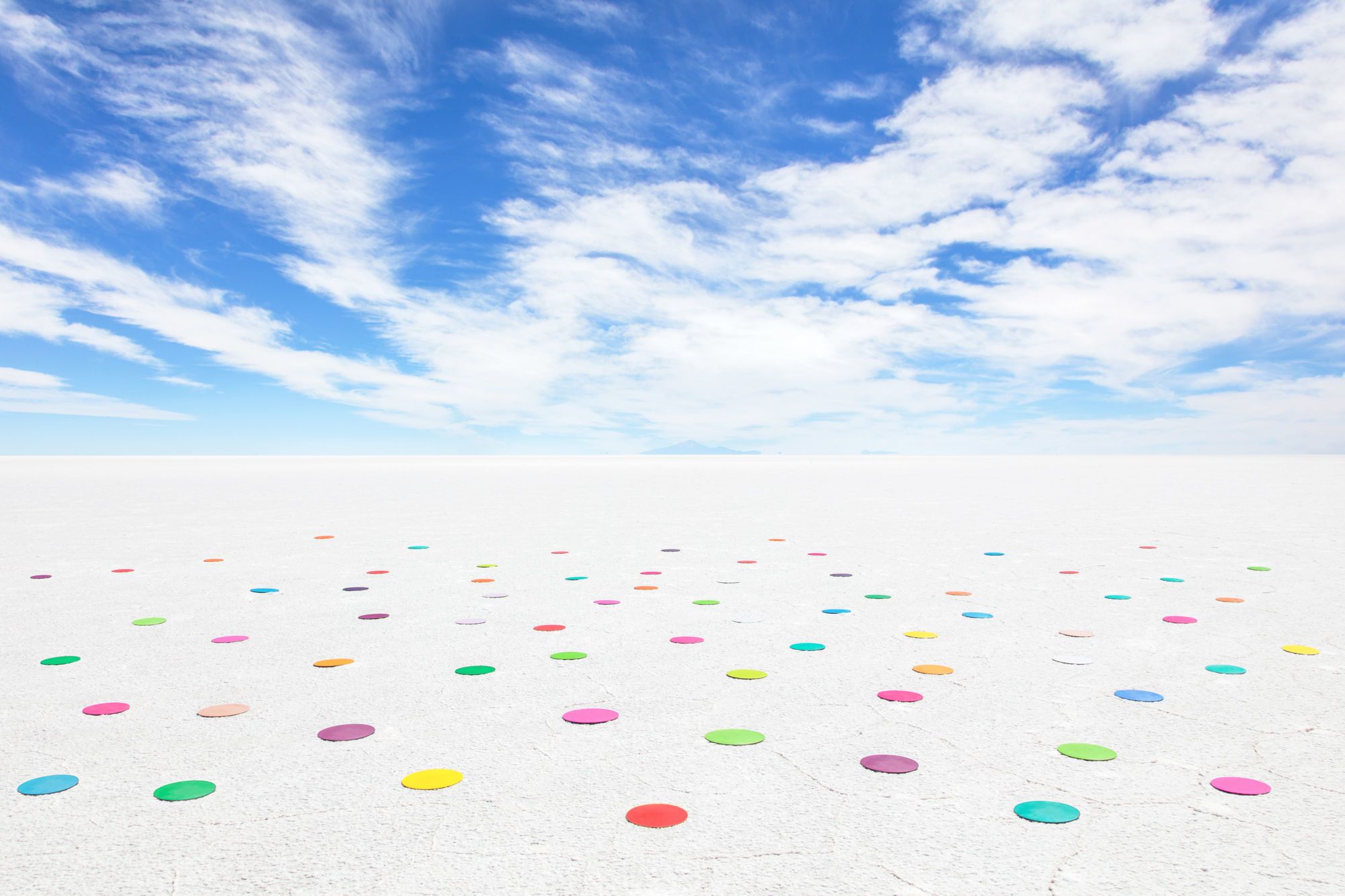 Day 4
One of the first concepts to really resonate in my mind was the one for butterflies to be actualized in the salt flats of Bolivia. The butterflies seen in 'Butterflies Frontside' and 'Butterflies Backside' are indigenous to Bolivia and were hand glued to clear glass in order to achieve the floating effect.
Up next, it was time for many (many) colorful balloons and maybe an umbrella or three.
And then, we were done! Thank you so much for coming Behind the Scenes with me on this magical photo shoot. I could not have done it without the help of Gastón and his team, as well as Team GM. I hope you all enjoyed learning more about how the Far Far Away series comes to life.
Cheers
xx
GM