Say hello to fireplace season! Okay we'll admit, every season is kind of fireplace season in our eyes, considering the fact that we're always focused on the artwork above it… but now that it's fall, we're finally cozying up and adding a few extras under our fine art photography prints. This summer we gave you the skinny on three ways to decorate your mantel (including a few tips on what size print to hang over it, how high to hang it, and what colors to pair with your space). But today we're focusing strictly on must-have fall mantel décor, and we're pretty confident you'll find something you like below. (Think earthy tones, natural materials, handcrafted accents, and the like.) So skip right this way for a few fall mantel decorating ideas and let the PSLs flow…
1. Leather Wrapped Vase in Natural, $75-$330
A surefire way to add that cozy fall feeling to your mantel this season is with natural textures and materials. These leather-wrapped vases come in four different sizes to fit every fireplace mantel, and if you're partial to a moodier look, they come in black too.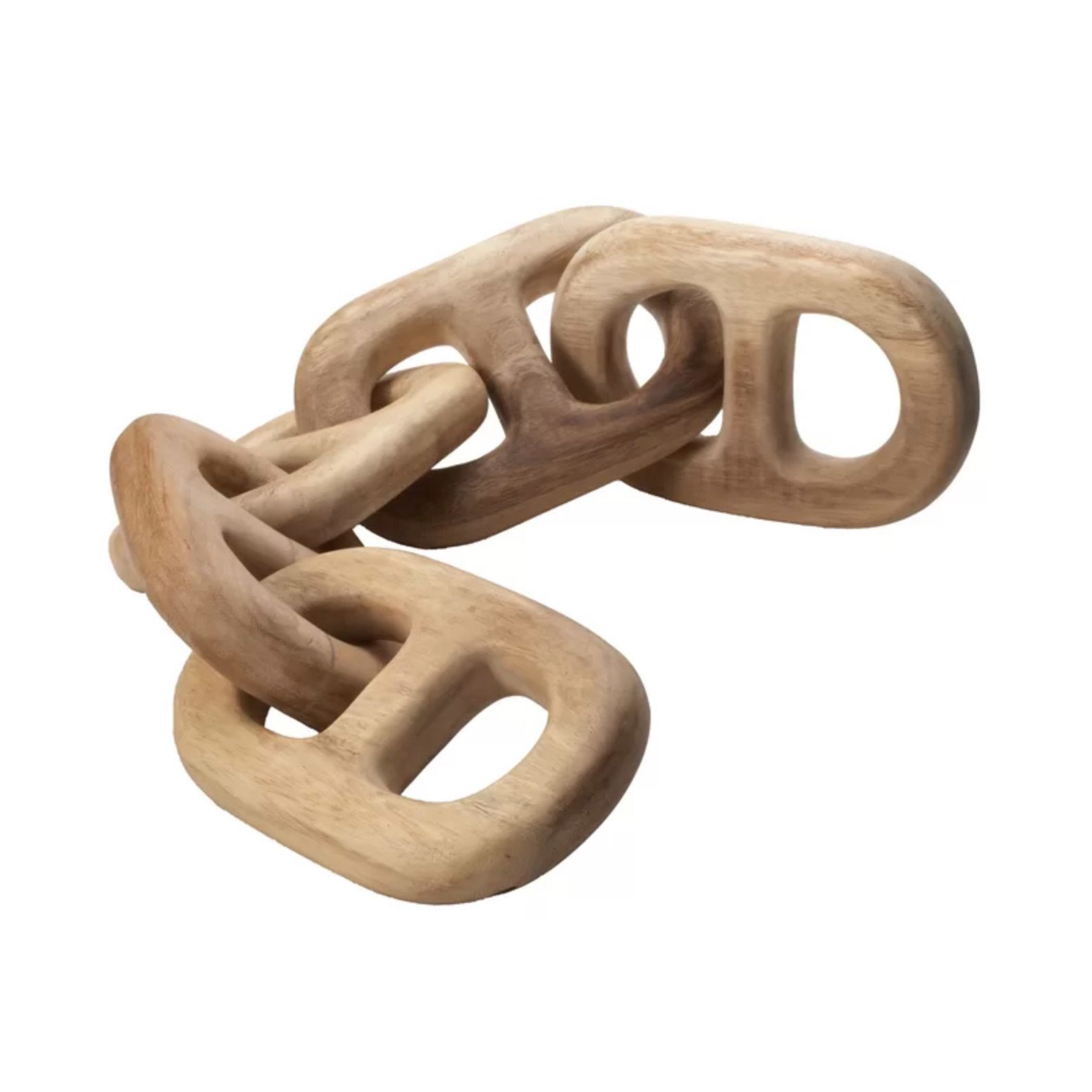 2. Cottrell Hand-Carved Chain Link Sculpture, $70.99
Natural wood was made for fall décor—especially when hand-carved into an eye-catching shape. This object will perfectly blend into modern and traditional spaces alike, and will add instant interest to any living room or bedroom mantel.
3. The Snow Candle, $49
You know we couldn't leave one of our favorite aromas off this list… When the season turns from summer to fall we like to swap out our favorite sand and sea candles for the fuller, cozier scent of Wintergreen, Pine, and Frazier in the snow candle. Plus, it doubles as a pretty great accent on top of a stack of books or a decorative box on the mantel. (And no need to change scents when winter rolls around!)
4. Brass Desk Clock, $75
Okay, so you probably won't actually be checking the time by walking up to your fireplace mantel… but with a clock this pretty, how can you resist? The warm brass tone is quintessentially "fall," and will look right at home over a crackling fire.
5. Cutty Sark Sea Glass Beads, $98
Regardless of the season, we can't help but be drawn to a few sea-inspired accents. These glass beads are the best of both worlds, with a fall-approved deep green hue and a coastal feel that works year-round.
6. Marble Horns, $89.95-$99.95
If you're looking to add a bit of an eclectic touch to your fireplace mantel décor, then these marble horn objects will do just the trick. In contrasting colors and heights, they're sure to add depth to your mantel setup.
7. Sutton Box, $108
Stacking boxes are a must for any fall fireplace, and double as the perfect foundation for other decorative objects like clocks, beads, or small sculptures. Not to mention, plaid is an innately cozy pattern, and we love this stark contrast of neutral black and white.
8. Potted Faux Succulent White Pot, $39.95
No matter the season, no mantel is complete without a little greenery. This oversized succulent is just right for adding a pop of natural color to your space, and the best part is that greenery goes with anything and everything—no color matching required.
9. Antler Bookends, $150
Nature-inspired accessories always seem to bring the season indoors, and we love this modern interpretation of faux deer antlers. They'll make a rustic, yet contemporary statement on any fireplace mantel, that's for sure!
10. Palm Frond Table Lamp, $198
If you happen to have an outlet close to your fireplace, don't rule out the idea of using a small table lamp as mantel décor. Not only will it add more light and warmth to your space, but this particular piece keeps our favorite palm leaf motif going in a modern style that works year-round.
Obsessed yet? We are…
Yes, we have a thing for summer, but at the moment fall really has our hearts. P.S. in addition to our fall mantel décor, make sure to visit our curated fall shop for a few fine art photography prints that make a great focal point over the fireplace.
Xx Team GM
Photos: GrayMalin.com