Hi Everyone,
As much as I love sharing beautiful homes, there's something even more exciting about beautiful offices. If you think about it, most people spend more time in their offices than they do at home, so why shouldn't your work space feel special? Today we're featuring the office of Christen Anderson, Interior Designer and founder of Christen Joy. Her office feels like a chic beach day and I'm so in love with each and every photo. Without further ado, I'm going to let Christen take it away!
Hi Christen, thanks for welcoming us into your office. Would you mind telling us a little about yourself?
I'm Christen Anderson and I'm energized by travel. It's where I find unique beauty and inspiration in nature, art, food and life outside of everyday surroundings. A desire to see the world moved me away from my Moorhead, Minnesota hometown after college, to live, and work, on the West Coast for several years. In 2014, I moved back to be close to family and friends. Moorhead (and its iconic sister city Fargo, N.D.) was enjoying a strong housing market – and it was the perfect time to launch my interior design business.

Today, you can find me scouring a farmer's market for fresh ingredients for my latest menu because I'm addicted to planning events and entertaining friends. Or, you may see me in a window seat on your next flight. I have traveled to 23 countries, with many more on my bucket list. Did someone say shopping trip? Yes, please! Tasting menu? Of course. Wine list? I'll have a look. I want to experience everything life has to offer! Most recently that includes nesting for a new addition in my home and in my heart, a Bullmastiff puppy named London.
How did you get your start as an Interior Designer? Give us all the details!
Growing up, I asked my parents for a budget to 're-do' my room. I'd spend hours stenciling, sketching, designing furniture and figuring out the perfect way to make my bed.

Following my degree, I took a job in marketing for Microsoft, and interior design projects on the side. Design was my creative outlet where I'd spend hours working and not even realize time had passed.

I started my business, Christen Joy, after building my home. I kept getting referrals from happy clients. However, I kept my full-time side job as a cushion to get my business off the ground. Three years later, I finally quit the side job and dedicated myself to growing my Christen Joy brand in residential and commercial design. Today, I work for me and it feels incredible. It takes risk, focus and dedication to build your own business. I've learned that I build joy for clients and that's why projects and opportunities appear for me and my team.
What would you say are the challenges and joys of being an entrepreneur?
We all know entrepreneurs face many challenges. Luckily, there are trusted resources such as mentors and coaches to help navigate the pitfalls. I work with career coaches that have guided me on two important issues; The first was realizing I don't have to be an expert in every aspect of my business. I simply don't like accounting. My coach taught me that what drains me, brings other people joy (accounting), so I now outsource it. It saves me time and stress, and someone who enjoys it does it more efficiently. My second challenge is trusting sales projections. I don't know how much business will be coming in, when, or the size the project…and that's okay. Finding peace with this, and realizing it's part of the fun and excitement of being an entrepreneur was enlightening. This brings me to JOY! Being an entrepreneur is a state of mind – you can thrive in the excitement, unpredictability and opportunity or live in a state of challenge. I choose joy in structuring my days. I have endless opportunities to meet people who share my excitement and passion for design. I can push the envelope on creativity. I wake up every day, pour coffee in my 'boss' mug and create the success I want to have! You can too!
Tell us more about what it's like to be an Interior Designer. What does a typical day look like for you?
A productive day starts with organization. I review email, respond to urgent messages and block out client time. Then, if it's an office day I work on floor plans, layer samples, view favorite online brands to see what works best for my client's projects or pull final details for a presentation. When not in the office I'm likely meeting clients, visiting job sites or viewing local samples. If out of town, I'm at market for the latest trends, finding new companies to fit my brand and client's aesthetic, or with a client (I currently have many across the Midwest), or I'm traveling for inspiration or to shop for unique treasures. The joy is there's no typical day – it's creative, colorful and surprising.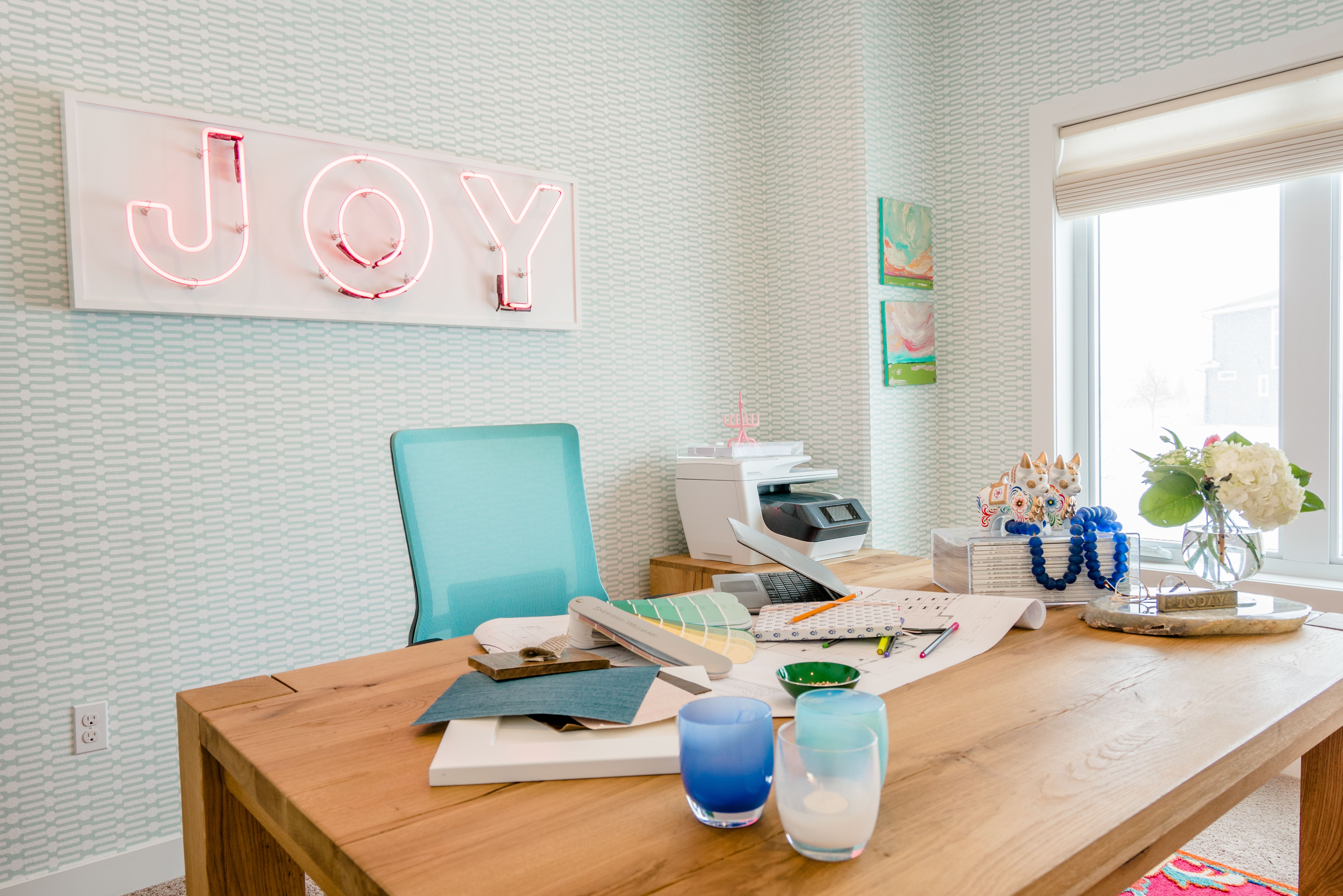 Ok, now for the fun stuff! Will you tell us a little bit about the space we're touring?
Welcome to Christen Joy Headquarters! I grew out of my small desk in my spare bedroom and decided to become my own client for a proper redesign for function and to fit the Christen Joy brand. I wanted it to make me happy, inspire creativity and be sprinkled with memories. First, I needed to choose the larger furniture pieces for functionality. A large desk wasn't an option, so I chose a dining room table with matching console and nightstand for storage. The natural wood keeps the room feeling spacious. The decisions were wall treatments, accent rug and lighting. Before the makeover, the room was navy blue. I love the wallpaper trend and opted for a link wallpaper in the color sky and white – a perfect balance of lightness and interest. Next, I added in the flavor. I fell in love with this fresh-hot pink rug. It was the perfect personality for the room and a nice complement to the neutral selections. Light is a necessity for me – after adding four recessed cans, the beach chic chandelier with off-white coconut shells brings my love of travel to life. It's a soft look that commands presence with size and structure. Speaking of lights – behind my desk a neon "JOY" sign that graces the wall and brings in sass. Across from my chair I wanted a piece that I would enjoy every day. Art that would always entertain me and represented joy, spontaneity and the delight of my brand. After eyeing Gray's work for some time, I knew this was the one that spoke to me. I buy art not only because I have a knee-jerk love reaction, but also to represent important times in my life. This piece represents the start of Christen Joy and sparks my golden moment of JOY. After 'favoriting' multiple images I locked on East Hampton from the A La Plage series and purchased the largest size the room could support. Surrounded by other travel mementos such as, ceramic popcorn from Iceland, to colorful bulls from Peru – it's right at home.
Do you have a particular trademark or style that you try to infuse into all of your projects?
The star of every Christen Joy project is the client, I'm simply the orchestrator. So, when I hear someone say, "this is so you," to our client, I know we've done our job and created their perfect space.
Do you approach styling your own home differently or similar to your clients?
I urge clients to invest in 'classic pieces,' then, mix in cost effective playful options for personality. A classic piece is something to invest a little more in to last for quality or lovability. From a well-constructed sofa, to an original piece of artwork, clients appreciate items that stand the test of time. By educating them on the value of original artwork, or foundational elements and accessories, many people will take risks in their home within their comfort zone. Whether it's wallpaper, a statement lamp a patterned throw pillow – they can see their personality in the details.

Throughout my home, you will see the playfulness and classic piece theme. Most prominently I see it outside my office where I have original local artwork on the walls mixed with art from my travels to St. Maarten and Rome, a pink bathroom and classic statement lighting that gives the room a real wow factor.
How did you discover Gray's photography? Anything in particular that gravitated you towards A la Plage series?
While traveling in Portugal I took a photo of umbrellas on a beach in a small beach town named Cascais. The variety of colors popped off the neutral sand, and the movement of the cool blue waves brought the photo to life. While online, I came across Gray Malin's work and it immediately transported me back to that clear day – the warm sand, salty mist and sounds of Portugal. Of course after seeing just a few pieces I was hooked. I had to have one – but which one? The A La Plage series? Something more playful like the Far Far Away Series? Gray Malin at the Parker or Bon Voyage, which remind me of my fun travel adventures? His work shows there's always another perspective, an alternate vantage point. Life is always moving and changing. Each time I look, I see something different. I love how he captures moments with such personality – it's just incredible.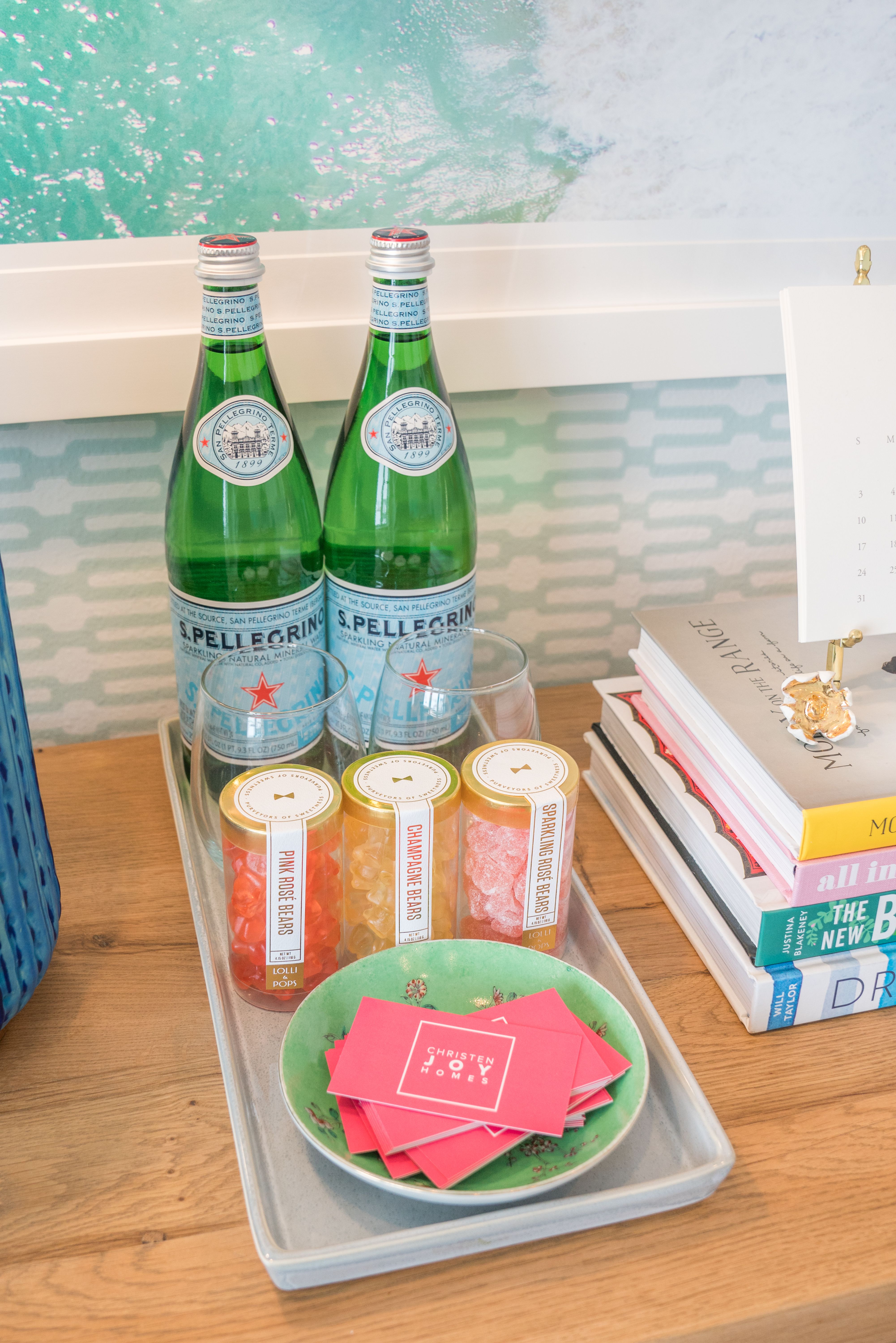 Anything exciting you've worked on recently you can tell us about? Anything you want to share?
This spring, I'm finished selections for a two story, traditional 5,300 square foot home in Wisconsin, ten bathroom remodels, a handful of bedroom refreshes and a flip that hits the market in May.

In August Christen Joy put the finishing touches on an $11 million apartment project. U32 Apartments, near the campus of North Dakota State University is a partnership with Roers Construction, one of the largest commercial builders in the upper Midwest. The upscale living community features a vintage cigar room lounge, fitness spa, hot yoga studio, five study rooms and the Christen Joy touch in each residence. The décor empowers residents to let their personalities shine on a warm palette of tones and textures that feels like home the minute they walk through the door.

Lastly, we're excited to now offer Special Event Design. Christen Joy will design the look and prepare your home for special event gatherings such as a girls night in, baby showers and holiday gatherings. Services include invitations, catering, floral arrangements, ensuring your space is ready to host, and thank-you's. Every event is a joy with Christen Joy.
Isn't her office great? Christen, thank you so much for welcoming us into your office today. What a perfect tour to celebrate Design Week on our site. If you're interested in seeing more of Christen's amazing projects, you can check out her website for all the inspiration.
Cheers!
Xx
Gray