Hi Everyone,
Today's Inspiration Spotlight is the beautiful inside & out, Sophie Elkus of Angel Food Style. We met at the celebration dinner for the launch of Gray Malin at the Parker back in June. Sophie was so sweet as we chatted about my work. She expressed that it felt approachable to her whereas sometimes art can be intimidating. This is exactly what I love to hear as I want to create art that makes people feel welcome, not like they're left out!
A few months afterthe event at the Parker, Sophie cameto the studioto chat about all things Italy.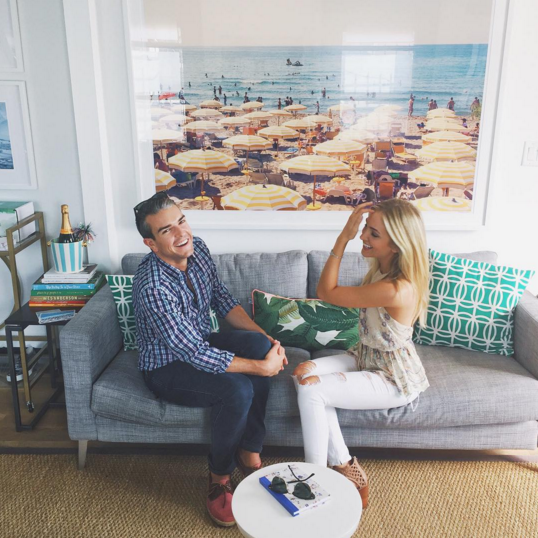 We had ironicallyboth just returned from separate road trips to the land of La Dolce Vita, so it made her selection easy by focusing on my ItalainLa Dolce Vita series. After some deliberation, she landed on Monterosso Beach, Cinque Terre, which is one of the latest additions to the series.
"This print was the perfect choice because I walked the exact same Monterosso Beach in Italy during a summer trip with my boyfriend. We coincidentally had the exact same travel schedule as Gray! Looking at the print takes me back to that moment, walking down the beach with nowhere to be and nothing to do except enjoy and explore. We had just hiked from Monterosso to Vernazza in the rain and the day had cleared up into a beautiful afternoon."
Once she had it up, Sophie invited me over to her lovely home in Los Angeles, to see it for myself.
Beautiful!
Sophie chose to hang it in her bedroom, which is such a compliment considering this will be what she wakes up to. I love how the blue water pops against the yellow. Talking a bit more about how she came to choose this print and traveling, Sophie had this to say...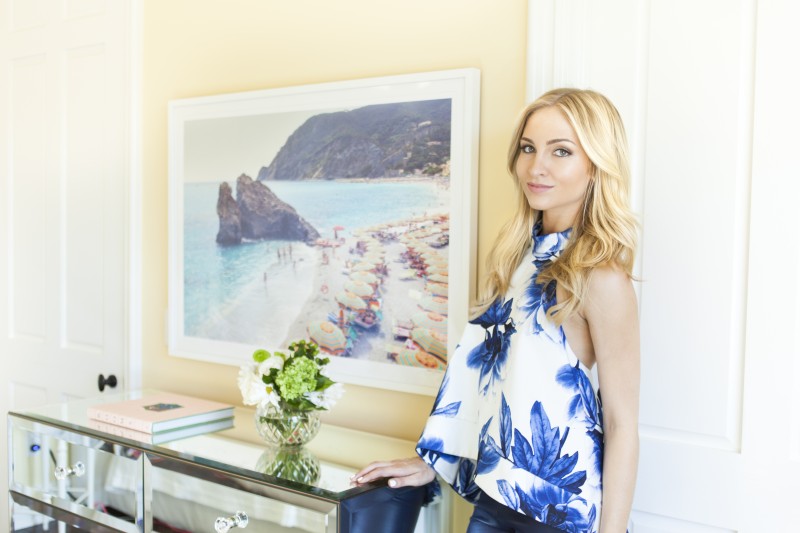 "I have many sweet memories of summers in Europe... but my favorite most recent vacation was Italy thissummer, and I can't wait to return next summer."
Here we are making the ever so important decision about what to post on Instagram fromher The Cinque Terre case, and then it was into her office which alsodoubles as her incredible closet. I first had a glimpse of this room when she posted this, and I knew immediatelywhat I needed to bring along for my visit...
Two Cowboys from the Prada Marfa collection, of course! Doesn't it go perfectly with these stilettos? But seriously, how amazing is this closet? It's like Cher from Clueless status! And, Sophie was such a good sportby letting me indulge in playing around a bit.
It was veryorganized and neat, which Sophie explained the reasoning behind this...

"I try to strike a balance between a feminine, glamorous space with lots of polished accents and a more minimal space. I think it's important to detach from "things" so I'm always trying to de-clutter. Living in a clean space makes a huge impact on my productivity and clarity of mind."
"...I was reminded of how a personal touch can transform a room while watching Gray rearrange my neatly displayed shoe shelves around his Prada Marfa print - leaning the print against the wall, stacking some books under it, turning my shoes to face backward to show off the gold detail on the heels."
Considering this room would be a lot of women (& men's) happy place, I asked Sophie where hers was and I really loved her answer..
"I think I have happy people rather than happy places. If you're with a friend you love that makes you laugh and enjoy any adventure, your happy place doesn't have be one location!"
She went on about what she connects to in the Gray Malin brand and what she hopes to do with her own...
"The Gray Malin lifestyle is all about making a dream or fantasy a reality, and that's what I hope to inspire women to do with the content on my blog. I want it to be an escape and an outlet for their love of fashion and beauty, and offer ways to incorporate creative ideas into their lifestyle the same way Gray encourages people to incorporate an attainable getaway into their daily lives through his prints. He's always on the go (I want to steal his monogrammed weekender bag) and always down for an adventure."
Haha! You can borrow it anytime!
Thank you, Sophie, for inviting me over to see your gorgeous home. It was so fun seeing how you decorated your La Dolce Vita piece and to style up your amazing closet with Prada Marfa. And, thank all of you for following along on this Inspiration Spotlight...OH! Also, be sure to follow Sophie too, as you just might see more pop up with her soon ;-)
xx
GM
Have you seen?
Start with Art - Mary Beth Wagner Interiors
Valentine's Day Drink Stirrers
Valentine's Day Drink Stirrers