Hi Everyone,
For this week's Inspiration Spotlight, I am SO excited to share with you not one but two living space'sof my dear friend, Kelly Golightly. Kelly isthe founder and creative director of Kelly Golightly -- a fashion, lifestyle and travel blog for the modern-day Audrey Hepburns of the world.
Alongside herhusband, photographer Fred Moser (aka Fred Baby), theywork on editorial and commercial projects that get theminto a lot of fun, unexpected situations, likegetting to photograph the Poolside Gossip reunion of the original two ladies from the iconic Slim Aarons photo back at the Kaufmann House in Palm Springs 45 years later. Needless to say, their tendency to chase adventure is something we have in common!
Kelly and Fred have moved around quite a bit as a couple, living in such cities as:Austin, Detroit, Hoboken, Stamford, New York, and San Francisco. Ultimately landing in Los Angeles, they split their time between their homes in Beverly Hills and Palm Springs.
Lets start off with their Beverly Hills home, shall we? Throughout their travels and various homes, Kelly has found that natural light is the most important ingredient for a happy home.
"It really lifts your mood. I also swear by a white backdrop (white walls, white couch, white bedding) and then adding in bright pops of color through accessories and art."
In making her selections for art, she applies a similar colorandmood enhancement approach. Kelly elaborates,
"I like to surround myself with things that make me happy, a combination of photos from our travels, cheeky art that makes makes me laugh, Gray Malin photos of favorite places we've been to like Marfa and Miami Beach, and places we dream of going to someday like the Bolivian salt flats."
The latter, Construction Paper I is showcased in it's white frame uponthe stark white wall inher dining room. I really like the placement and focus of which she gives this piece.
"I love the color pink, so Miami PinkUmbrellas was a must."
Kelly hangs this Gray Malin print near her collection of Gray Malin wrapping paper, as you never know when you'll be in need of wrapping the perfect gift.
Much like myself, Kelly is also a huge fan of flamingos! In fact, she visited me on set while I was in Palm Springs shooting a very special series at the Parker Palm Springs, so keep a look out for that, but in the meantime can we please just take a moment to enjoy her many flamingo opps?
A girl after my own heart that's for sure! Another thing we have in common is that we're both from Texas, so it's no surprise that Kelly also gravitated towards my Prada Marfaseries.
Kelly explains,
"Marfa means so much to me and my husband... my family lives in San Antonio and on a roadtrip from California to visit them, we stumbled into Marfa. There's nothing like driving down that barren highway, with no other cars or people and only a few cattle and mountains around you, and then seeing the Prada Marfa standing in the middle of nowhere."
I couldn't agree more about the mysticism around this series so it makes me happy to know her Prada Marfa print has found a beautiful home.
And now, it's time for Palm Springs! Kelly and Fred's love affair of Palm Springs is really a great story as they first visited it on one of their many trips, as Kelly elaborates
"I love nothing more than a great roadtrip. It was on a cross-country roadtrip that my husband and I first visited Palm Springs and fell in love. What was supposed to be one night turned into three months…every time we got in the car to leave I couldn't bring myself to do it.That's how we eventually ended up living in Southern California. It was a dream come true when we bought a house in Palm Springs two years ago."
When it came to choosing her next Gray Malin framed photograph, Kelly's choice was easy this time.
"I love things that are bright and happy and vintage inspired, particularly from the 60s. So when I found out Gray was doing his series with the Aqualillies I knew I had to have a piece. And this piece seemed so perfect in Palm Springs, where vintage glamour and the poolside lifestyle go hand in hand. Plus, it's a nice reminder when I have been stuck at my laptop all day to go take a dip in the pool!"
Thank you so much to Kelly for sharing her home (s) with me, and I amthrilled to see her Gray Malin framed artwork hanging in such inspiredhomes!
Cheers to this lovely lady!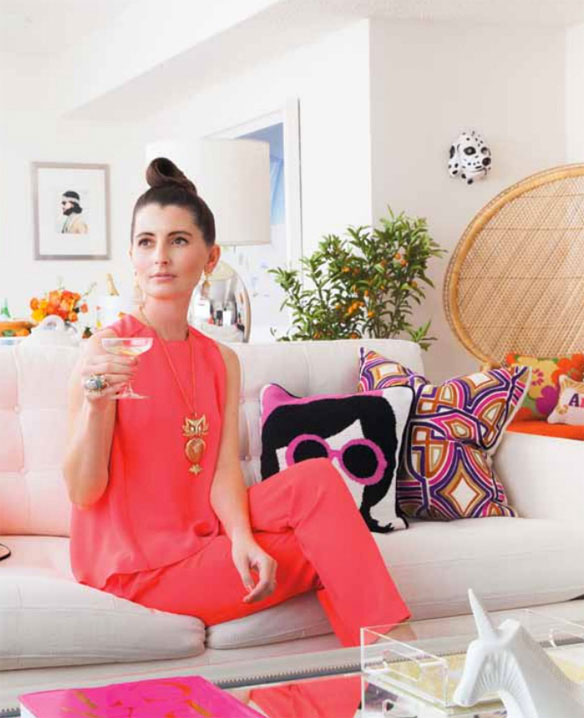 xx
GM
*All photos courtesy ofFred Moser,except first and last of Kelly are byDaniel Collopy for Darling Magazine
Have you seen?
Start with Art - Mary Beth Wagner Interiors
Valentine's Day Drink Stirrers
Valentine's Day Drink Stirrers