Interiors
Tips & Tricks: How to Use Minimalist Wall Art to Make Any Room Look Bigger
While we wish that every room in our house could be open and airy (and we're sure you do too), it's just a fact of life that, at some point, we all have to deal with that one space that's just a little bit too small—and a pain to decorate because of it. Especially when living in a packed city like L.A., small living spaces are seemingly unavoidable. Luckily, all hope is NOT lost when it comes to creating the illusion of a larger room (even without the actual square footage).
One of our favorite ways to open up a space is with—you guessed it—artwork! We could stare at prints of crowded, colorful beaches all day, but when it comes to a space that's on the smaller side, we like to employ some minimalist wall art to open things up and trick the eye. Lucky for us (and you!), Gray's collections are chock full of minimalist art prints from Bora Bora to Bolivia and beyond, and they're guaranteed to transform your space, no matter the size. Not to mention, all Prada Marfa prints are currently on sale, and nothing says "minimal" like a Prada store plopped in the middle of the Texan desert, right? So with that in mind, keep scrolling for our tips on how to make a small room look bigger using nothing but negative space…
Choose a Color Palette that Breathes
When it comes to enlarging a room with minimalist wall art, the last thing you want to do is choose a color palette that overpowers the space. For instance, if your walls are a crisp white, choose a print with colors that flow seamlessly into the backdrop behind it, seemingly extending the scene in all directions. Think of it this way—if you can look at a print and imagine the image continuing on well past the frame, then chances are it will open up your walls and make your room look bigger than it actually is. Take some these prints for example…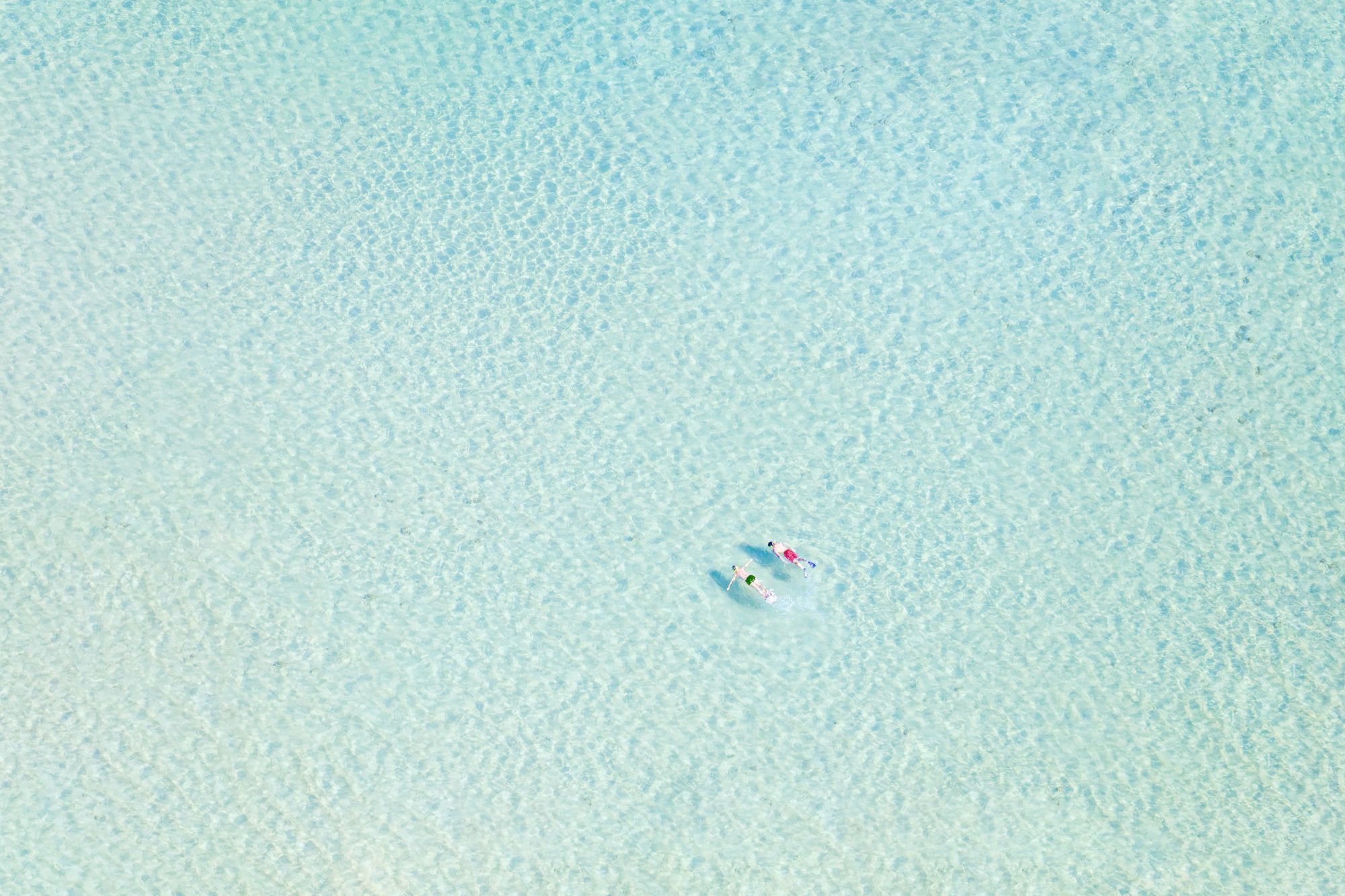 Choose Your Frame Color Wisely
Once you've chosen a color palette that speaks to you, make sure to take into account the effect your frame will have in your space. Again, think of the color of your walls and the print you'll be pairing it with. When aiming to open up a small space, we recommend steering clear of frames that are too dark. For instance, we love our classic black gallery frame, but the stark contrast of a black frame on a white wall can "cut off" the image prematurely, instead of allowing it to seamlessly blend into the rest of the space. However, this doesn't mean you must be limited to white! We love our natural wood frame as well, and the warm tone pairs perfectly with sandy beach prints you wish to appear larger.
Limit Your Print to One Subject
Another trick we like to use to make a small room feel bigger is to choose minimalist prints with a sole subject. By simply focusing on one focal point, the rest of the space around it will feel wide open, and the elements in the print won't have to compete for the viewer's attention. We're forever in love with the Prada Marfa art installation for this reason exactly, and it makes a pretty great focal point if you ask us…
Don't Go Dinky With Your Print Size
We can absolutely attest that small prints have their place in the home and are endlessly versatile, but for the purposes of opening up a small room, we prefer to stick with medium and large sized prints. It's an age-old myth that only small furniture and small art can fit in a small room (just ask our expert interior design contributors…). In fact, furniture and artwork that is too small will only make you feel like you're living in a poorly designed miniature world, and instead of feeling grounded, your space will feel like it is full of random, floating accessories. Instead, select a minimalist print that fills up at least 30% of your empty wall. The larger size will draw the viewer into the image and the negative space in your print will feel larger than life—like it is continuing on indefinitely, expanding the room. These are some of our current favorites to frame in oversized dimensions…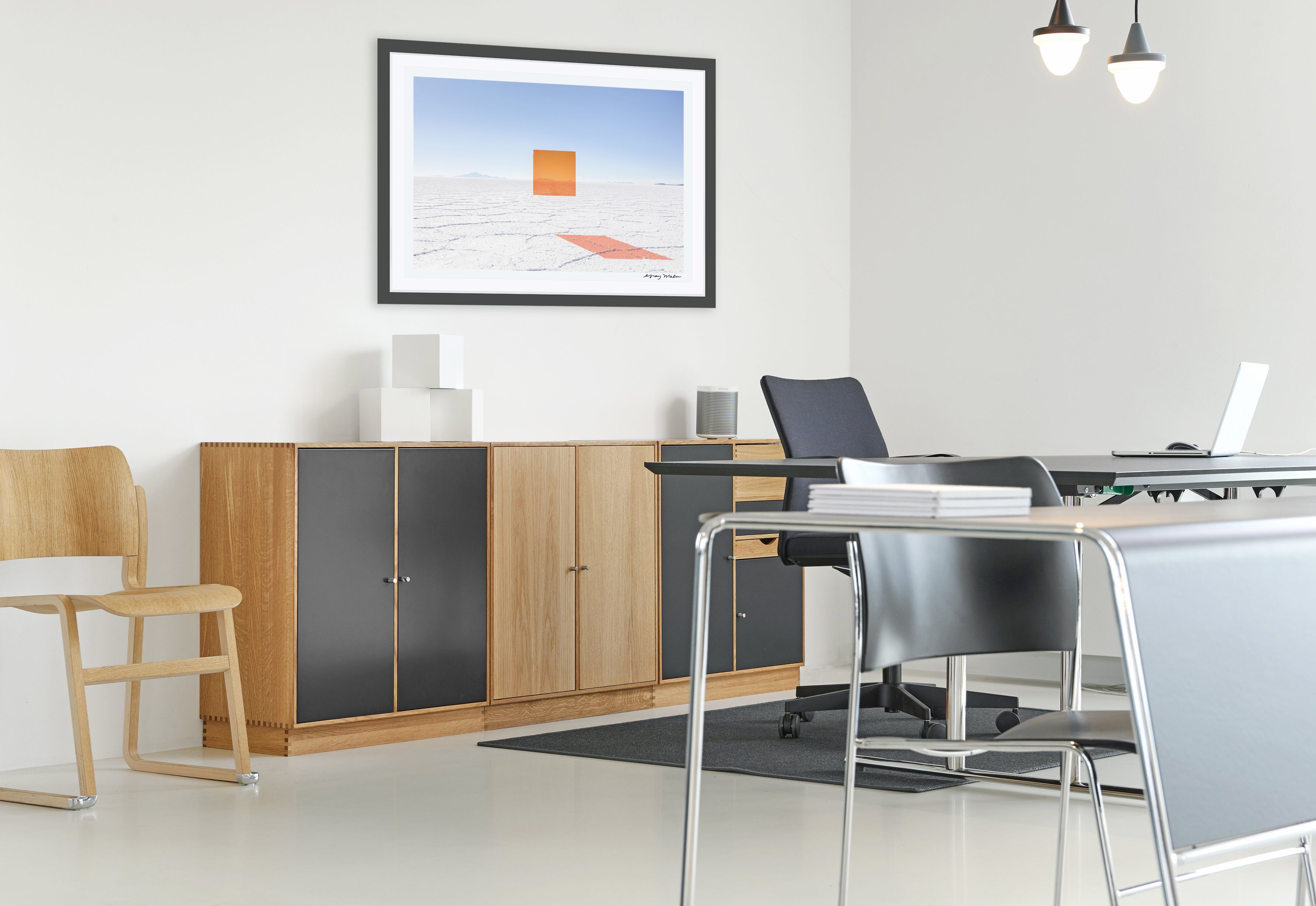 What are your tips on how to get the most out of your minimalist artwork? If there's one thing we know, it is to never underestimate the power of a little negative space in a print…
To shop more minimalist wall art, head to the GM shop and don't forget to pick up any Prada Marfa prints you have your eye on before the sale ends in just a few short days!
Xx Team GM
Photos: Gray Malin