Hi Everyone,
Have you had the chance to explore my latest release from Northern Michigan yet? I'm so excited to finally be sharing all of these gorgeous images with you, from somewhere that is very close to my heart. I shot this collection last summer after many requests to capture all the beauty Michigan has to offer, and I hope you will all love these images as much as I do. To celebrate the launch of this collection, I've put together a travel guide of all the can't-miss spots in Northern Michigan. I hope this guide helps you create the perfect trip and make happy memories just like me and my family have been doing there for years.
Enjoy!
Harbor Springs
Harbor Springs is on the north shore of Traverse Bay on Lake Michigan. It is a stunning place where time seems to slow down, beauty shines through in all four seasons, and the community is warm and welcoming.
Where To Eat:
Paper Station Bistro is the answer to your Lobster Roll dreams. Gurneys Harbor Bottle Shop is a famous local sandwich joint, perfect for picking up a delicious sandwich to take to the beach or out on the water. Try the famous train wreck sandwich, if you dare. Another great option is Small Batch, which offers delicious bakery goods, breakfast, lunch and dinner. I highly recommend the lemon blueberry pancakes, they are super thin with lots of fresh blueberries, a true treat. Turkey's Pizzeria offers a wide variety of food from burgers to pizza, perfect for any appetite.
Things to Do:
There's plenty to explore around this quaint town. Start on Main Street and check out one of my favorite stores, Huzza, which offers a wide variety of lifestyle products. American Spoon Foods is full of all things Michigan to stock up your pantry and take home to family and friends. Take the Little Traverse WheelWay Bike trail from Harbor Springs to Charlevoix. The Little Traverse lighthouse is also a popular destination to check out (as seen from above in my shot below). A great family friendly beach option is Zorn Park. The grassy knoll is perfect to roll out a blanket, and enjoy a picnic from one of the eateries just a block away.
Traverse City
Also known as the "Cherry Capital of the World," for it's long stretched fruit orchids, this beautiful destination offers endless lakes and rivers, charming downtown areas, historic lighthouses, and gorgeous rolling vineyards producing some of the best wines in the country.
Where to Stay:
Traverse City offers a variety of lodging options. One of the latest options is the 539 Bay Street luxury condo weekly rentals, opening in July with stunning patio views of West Grand Traverse Bay. For a more traditional Michigan experience, try the Grand Traverse Resort in the midst of Northern Michigan's freshwater bounty, winding wooded trails, and sugar-sand beaches, with three championship golf courses. Another great option is the Hotel Indigo, located right by west beach marina.
Where to Eat and Drink:
As one of Bon Appetit Magazine's "Five Top Foodie" towns, Traverse City offers a variety of unique restaurants, wineries, and breweries to choose from. A local favorite is Art Tavern, most known for their delicious burgers. Farm Club is another great option for its unique modern Scandinavian-inspired barn and beer garden vibe. Trattoria Stella offers a variety of delicious foods such as their housemade burrata and octopus. Grab a drink at the stunning Bry's Estate, just 20 minutes from downtown Traverse City. Enjoy a gorgeous deck, seasonal wine drinks, a lavender farm, cornhole, award-winning wine, and of course, a delicious charcuterie board.
What To Do:
Swing by the Grocer's Daughter Chocolate Store in Empire to get your sugar fix on. You can also take in a sunset boat ride on Grand Traverse Bay. The Tall Traverse Ship Co offers a classic sailing yacht, perfect for your sunset toast.
Bay Harbor/Petroskey/Charlevoix
The stunningly beautiful Lake Michigan shoreline stretches five miles between Petoskey and Charlevoix, Bay Harbor is a spectacular destination for a romantic retreat or family getaway.
Where to Stay:
Across Little Traverse Bay, you will find the Inn at Bay Harbor & Cottages with its waterfront location and grand amenities. This resort blends modern luxury with classic architecture and history. Hotel Earl in Charlevoix is another option with a cool midcentury vibe, and was recently redone. It pays homage to Earl Young, the local architect of the Mushroom Houses. Hotel Walloon Lake Inn retains the charm of the early 20th century with it's firepits, adirondack chairs on the beach, wainscoting and green roof. You will feel as if you have been transported back in time.
Where to Eat:
In Petoskey's historic gaslight district Chandler's offers a variety of options from sushi, farm fresh produce, pasta, fish and stakes. Try the Farmboard, it is the perfect starter! A relaxed atmosphere and detailed wine list make this restaurant a must when you are at the lake. The landing waterfront restaurant in Charlevoix is a casual spot inspired by coastal cuisine. The lake charlevoix caesar salad is a classic choice, as well as the new england lobster roll. Barrel Back Restaurant on Walloon Lake is the perfect place for a medeterain pizza, or a local beer or cider, where you can enjoy a sunset on the lake where Ernst Hemmingway grew up. Also open for dinner, you can dock your boat right next to the restaurant. For a more upscale dining experience, Walloon Lake Inn is a great choice with over 100 years of history.
Things to Do:
One of the most popular things to do in Charlevoix is a tour of Earl Young's Mushroom Houses. You will experience a true fairytale land experience where you will see 28 houses, in an open air car. You can also visit the Walloon Lake Village where you will find delightful eateries and plenty of stores to explore.
Mackinac Island
Mackinac Island is only 4 miles long, and is a National Historic Landmark. Horse-drawn carriages and bicycles replace cars and the day is not complete without a bite or two of famous local fudge, and taking a seat on one of the rocking chairs at the Grand Hotel to soak in the breathtaking view.
Where to Stay:
Since 1887, the Grand Hotel has been welcoming guests to its historic building. The hotel boasts the longest front porch, original architecture, a swimming pool once used by Esther Williams, a lovely tea garden and croquet field. No two rooms are alike, while it is a bit dated, the charm lives on. The Mackinac House is an updated boutique inn that feels as though you have stepped into a designed private home. Perfectly located off of the main street, it's quiet but still central to all the island's activities. The bright pastel rooms of Hotel Iroquois are extremely welcoming. Many rooms have panoramic views of the water, while other rooms look on to the beautiful hydrangea garden. From the amazing views, to the ventral location this is a perfect choice, but it is hard to go wrong in this stunning area.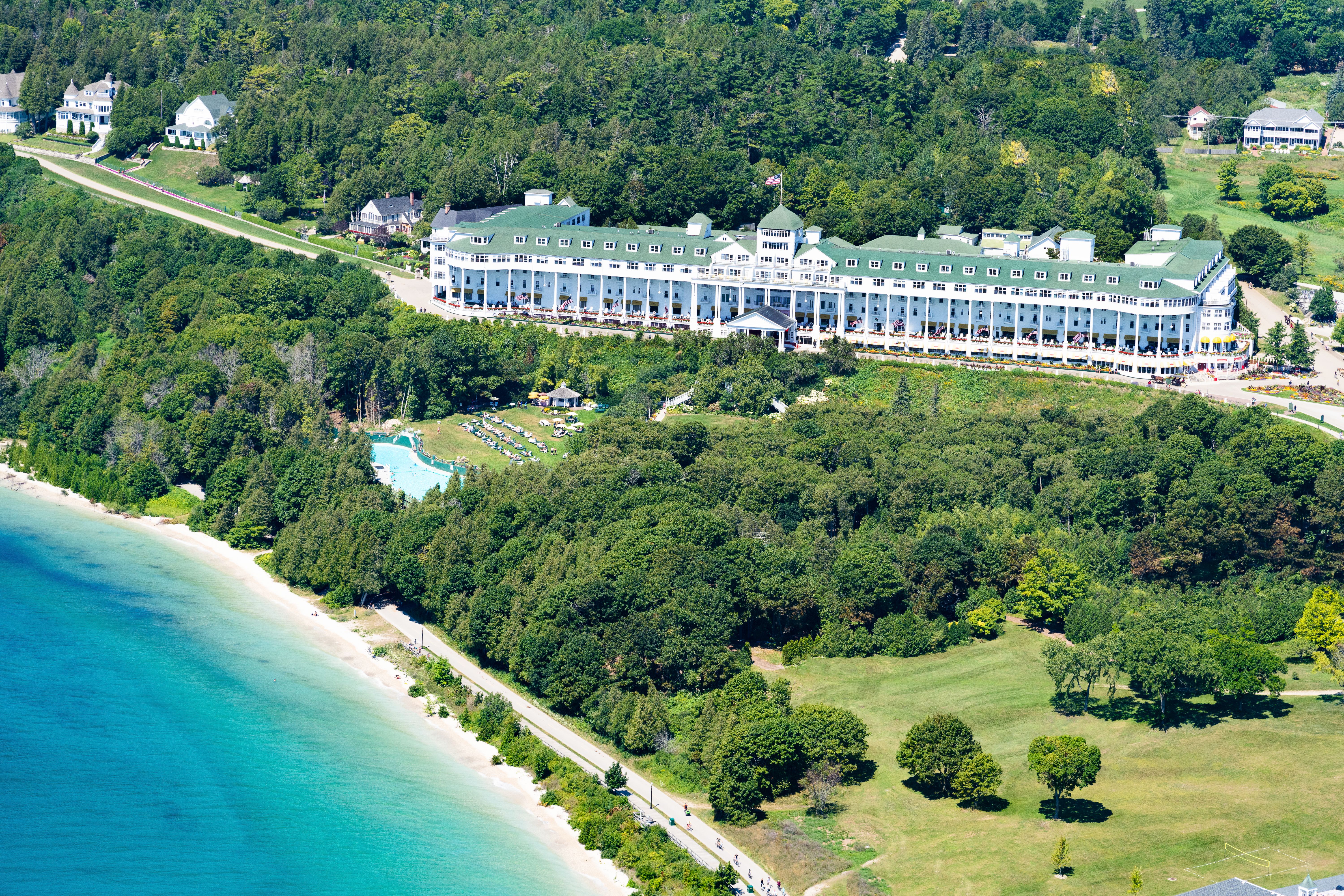 Where to Eat:
WIth views of the Straits of Mackinac and the Round Island LIghthouse the Carriage House Restaurant is the perfect dinner spot. Enjoy smoked whitefish cakes and homemade ice cream puff pastries with hot fudge sauce on the outdoor patio surrounded by a victorian flower garden. 1852 Grill Room at the Island House Hotel is exactly what you would expect on this island: pink and green interiors with traditional foods and the famous Ryba Fudge Martini, an absolute must on the island famous for fudge. Mission Point has the perfect place for a morning coffee, breakfast or a picnic on the Great Lawn called Boxwood Coffeeshop & Cafe for a morning stop on the Great Lawn.
Things to Do:
Arch Rock is a must see for its incredible geologic formation and stunning views, making for the perfect photo backdrop. It is very popular to rent a bike and enjoy the ride on an 8 mile flat bike route around the island. Visit Fort Holms within Mackinac Island State Park, a reconstructed fort and the highest point on the island. You can also enjoy a horseback ride through this park from Cindy's Riding Stable or take on the street's of Mackinac Island with Mackinac Island Carriage Tours. Stop by the Mackinac Island Movie Theater on Sunday afternoon to watch "Somewhere in Time" a 1981 film made on the island. And of course, bring your fudge!
Leland/Glen Arbor/Sutton Bay
Glen Arbor is a magical place that has sun-washed beaches by day, and stunning star-studded skies at night. Leland is just a short drive to Glen Arbor, Northport, Lake Leelanau, Suttons bay, Cedar, Empire and Traverse City.
Where to Stay:
The Homestead Resort in Glen Arbor rents rooms, condos and houses. Many have stunning views of Lake Michigan. The resort has multiple pools and a beach club. Falling Water Lodge in Leland is a unique hotel that was built over the Leland dam in the 1960s. It has been recently updated for a crisp clean look with room and apartment options overlooking the dam.
What to Eat:
In Glen Harbor, head over to Blu, a farm to table restaurant with incredible views of Lake MIchigan Sleeping Bear Bay. Cheery Public House is another must try, this spot has a casual eatery with all things cherry included. In Sutton Bay, head over to 9 Bean Row for a pizza, and take home a fresh baked goodie from the bakery for later. Mawby Bubbly is the spot for sparkling wine and ciders grown fresh in Sutton Bay. Another great open for the beer drinkers in your life, is Hot Lot Brewery with a great variety of foods that pair perfectly with all the brews.
Things to Do:
The whole family will love climbing the dunes at Sleeping Bear Dunes National LakeShore. Climb up the windblown sand dune to take in the lovely view of Glen Lake. The Glen Lake Picnic area at Dune Climb is a great spot for a picnic lunch. Hike the pyramid Point Trail and Empire Bluff Trail for both fairly easy and short hikes. Rent a pontoon boat from Glen Craft Marina and enjoy touring on Glen Lakes crystal clear water. You can also explore Fishtown in Leland with its repurposed fishing shanties turned into shops and restaurants, you and your family will certainly be entertained.
No matter where in Northern Michigan you decide to visit, you're sure to create a memorable getaway. Bring home the beauty of Northern Michigan with a photograph from my new collection of aerial photographs.
Cheers!
Xx
Gray