Hi Everyone,
I hope you are enjoying my brand new series, Gray Malin at The Beverly Hills Hotel. This series is special in so many ways. It began with my inspiration, the hotel itself and the idea to create a series that would transport the viewer into my personal interpretation of the 'Golden Era'-– filled with an attractive jet set crowd decked out in vintage wardrobe and props from the 1950s and 1960s enjoying everything The Beverly Hills Hotel has to offer. After a year in the making and shot over the course of a 3-day shoot, I am thrilled to take you all behind the scenes with me...
I am incredibly honored to be the first professional fine art photographer to be permitted to shoot a collection at the property. The resulting series is not only a celebration of this iconic hotel, but it also marks a first for me in my career. In order to achieve my vision, I challenged myself beyond my comfort zone and consequently, this series became my biggest production to date.
From conceptualizing individual shots to location scouting within the hotel's grounds to working with a professional production design crew of a costume designer, prop stylist, lighting and hair & make-up artists and lastly, casting the talent - my team and I meticulously planned every component of this shoot.
At any given moment, there was about 25 people on set. To put this production into perspective, here is a quick overview of the various moving parts working together behind the scenes of my largest shoot to date:
Myself + 3 Team GM Production members
Production Design Crew: Costume Designer, Costume Assistants, Prop Specialist, Lighting Specialist, Hair Stylist and Make-Up Stylist
12 Models: 5 Men and 7 Women
12 Hotel Locations photographed
45 Costumes photographed, paired with era specific accessories such as sunglasses, shoes and purses.
4 Classic Cars photographed
Curated props including: luggage, glassware, portable radio, newspapers and vintage copies of Vogue magazine
For most of the locations it would take our team, along with help from the prop stylist and the lighting specialist, about a half hour of set up and then I would spend around an hour shooting each vignette to ensure I got the perfect shot. I especially loved shooting along the hotel's driveway and in front of its famous red carpet with a collection of classic cars including a Pink Cadillac Coupe Deville, Powder Blue Ford Thunderbird Convertible, and White Cadillac Deville Convertible.
A fun note about the cars - the colors of each classic ride played into the costume designer's direction for the wardrobe's color palette, as well as clothing pairings for each shot.
One would probably guess that the red carpet location shots were accomplished during the afternoon. Whereas in fact, they were shot very early in the morning and were lit to perfection by our lighting specialist. Typically, I work with only natural light, so this was an exciting new experience as a photographer and the results couldn't be better.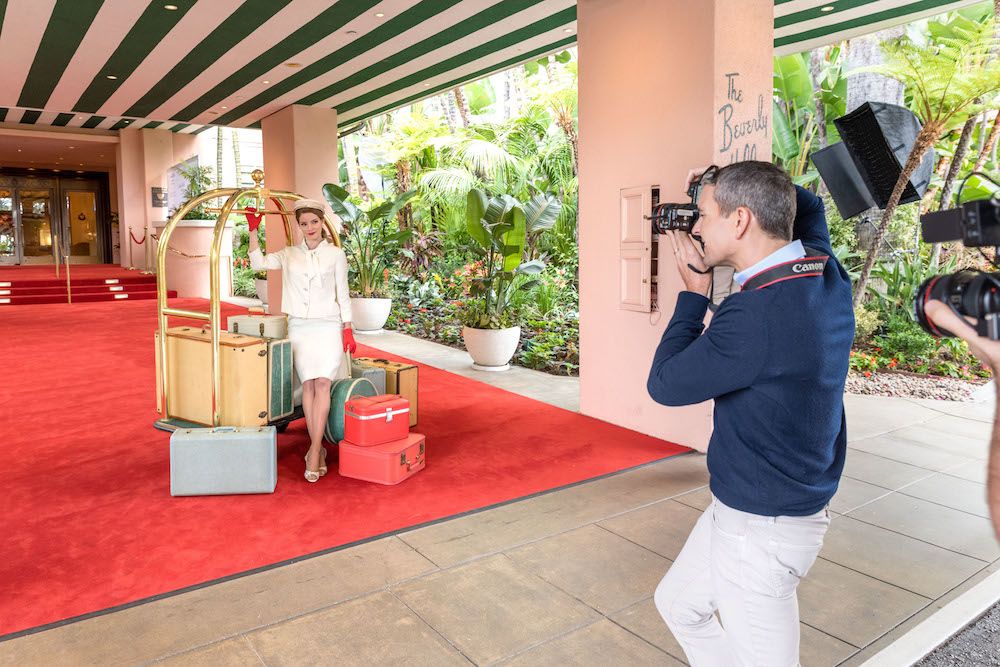 Notice anything different about this one versus the one I released? Take a long look, I'll wait...
Yes, I managed to become one with my work...at least for a moment.
Heading inside, I was sure to create glamourous moments at the Polo Lounge as well as highlighting the hotel's iconic banana leaf wallpaper inside the Fountain Coffee Room and Hallways.
Let's not forget about everyone's favorite hotel past time, lounging by the pool and enjoying the inevitable sunny weather. For the pool shots, we spent quite a lot of time arranging the models in a variety of poses. I wanted to capture the essence of a carefree day at the pool, enjoying time in sun doing exactly what you want in that moment. From the costume design to specially placed props such as the era specific glassware and portable radio to vintage copies of Vogue, I was ecstatic when I began reviewing the images of the shots taken in and around the pool.
As you can see from the behind the scene shot below, the Poolside at The Beverly Hills Hotel photos were quite tricky to achieve, as I had to set up an actual ladder inside the pool to get this particular point of view behind the lens.
The Spa, Beverly Hills Hotel would be the last stop before retiring to one's room to freshen up before afternoon tea. Not one to miss out, I joined the glamorous ladies for a spot of tea, myself...because as they say, "It's a wrap!"
Thank you so much for joining me Behind the Scenes of my shoot at The Beverly Hills Hotel. I hope you enjoyed it as much as I enjoyed creating this series! To see it in its entirety, please click over to Gray Malin at The Beverly Hills Hotel.
Cheers,
xx
Gray
**Special Announcement**
If you'd like to see a special installation of the series and are in Los Angeles, I would love to invite you to the hotel, where you will find a selection of framed photographs from this series sprinkled along the red carpet entrance of the hotel. Be sure to hashtag your pictures with #GrayMalinAtTheBHH and @graymalin @bevhillshotel