Travel
Travel Guide: Everything You Need to Know for Hiking Cinque Terre, Italy
In case you haven't heard, our 25% OFF sale on La Dolce Vita prints is back (!!!) and we've been in a seaside state of mind for days. While the sale includes prints of every Italian location you can think of, from the Amalfi Coast to Sicily, today we're focusing on one of the most charming parts of Italy—Cinque Terre. While Gray has elaborated on his travels to this little piece of heaven before, we have a guest joining us here on the blog today to introduce us to the more adventurous side of this location… (Looking at you, hikers!) Justin Walter of Around the World with Justin is specifically breaking down everything we need to know about hiking Cinque Terre, and we can't wait to share his expertise with you. We'll cut to the chase and let Justin do the talking…
When we think of traveling to Italy, we commonly associate it with delicious pastas and wine, rich history, welcoming (and expressive) Italians, old cities, ancient architecture and beautiful art. What probably doesn't come to mind is hiking. What if you could combine the best of Italian culture and spice it up with an outdoor adventure? That, mi amor, is exactly what get when you visit Cinque Terre, a destination in Italy comprised of five towns connected through hiking trails along its breathtaking Mediterranean coastline. Here are 7 things to know when hiking Cinque Terre.
Cornigla to Vernazza via Justin Walter
1. FIVE LANDS
The name Cinque Terre itself translates to "Five Lands" which makes perfect sense considering it's a collection of five small towns in the Liguria region along the Italian Riviera. From the south to north, the towns include Riomaggiore, Manarola, Corniglia, Vernazza and Monterosso in the northeastern region of Italy. Although these towns can be accessed by train and boat, they are most well known and popular for their system of hiking paths.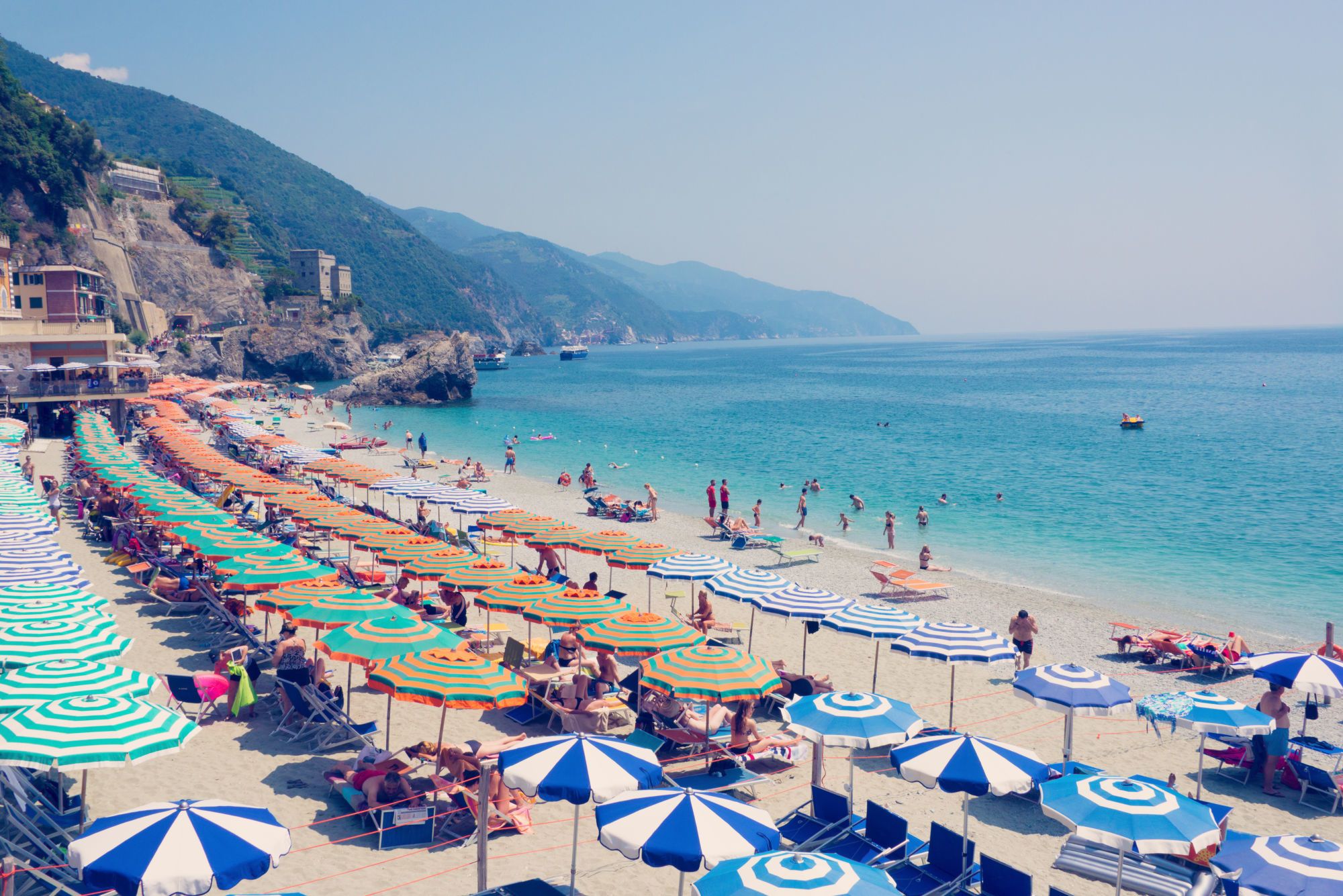 Vernazza via Justin Walter
2. HIKING TRAILS
Cinque Terre's hiking can be divided into two main trails—Trail #1 and Trail #2. Trail #1, also known as "Sentiero Rosso" or the Red Trail, is the more strenuous, longer route in the north. This ridge-top route takes roughly 9 to 12 hours to complete from Portovenere to Levanto. Along the way there are paths that head south to each of the five main towns, connecting it to the Blue Trail.
Trail #2, also known as "Sentiero Azzurro" or The Blue Trail, is the easier, more popular route that hugs the coastline and directly connects the five towns. The path is about 11 kilometers in length, has an elevation gain of 500 meters and takes hikers roughly 6 to 8 hours to complete. Click here for a hiking map provided by the Cinque Terre National Park.
3. CINQUE TERRE CARD
The hiking trails are year-round and most are free, except Sentiero Azzurro. The National Park of Cinque Terre requires the purchase of the Cinque Terre Card—the cost of which is used for maintaining the region and transportation services. You can purchase the card at any train station and choose between various bundles that include hiking, trains and multi-day access.
Riomaggiore via Justin Walter
Manarola via Justin Walter
4. SENTIERO AZZURRO
During my three days visiting Cinque Terre I chose to hike Sentiero Azzuro and it is hands down one of my favorite memories in Europe. The five towns themselves are charming and stunningly beautiful with their colorful buildings perched on gorgeous coastline cliffs. As an outdoor adventurer it was a treat to travel on foot, enjoying nonstop breathtaking views along the way. If you also choose to hike Sentiero Azzuro, your biggest decisions are which direction you want to hike and over how many days. I chose to split the hike up over two days and to hike south to north. I recommend hiking from Riomaggiore to Monterosso to start off on easier paths before hitting the harder trails. Here's a quick breakdown of the trails hiking north.
Riomaggiore to Manarola (1.1km): Easiest path along the trail and also known as "Via dell'Amore" (Way of Love). It's a paved path along the coast offering panoramic views.
Manarola to Corniglia (2.2km): The beginning is a difficult stretch that includes a very steep stretch of stone stairs, but once you reach the top you'll be treated to stunning birds-eye views and easier paths through olive groves.
Corniglia to Vernazza (4.1km): This is where things start getting more difficult. There is a good amount of climbing and descending.
Vernazza to Monterosso (3.7km): Get ready for a difficult stretch of steep stairs followed by picturesque garden, sea and beach views. The best part is ending at the beach!
Manarola to Corniglia via Justin Walter
5. TRAIL CLOSURES
It's important to be aware that there are often closures in Cinque Terre National Park due to landslides and trail maintenance. During my visit the trails from Riomaggiore to Manarola and Manarola to Corniglia were closed. You can check the National Park's website for updates (below) and you'll be able to get the most updated information when you're actually in Cinque Terre.
Riomaggiore to Manarola
Manarola to Corniglia
Corniglia to Vernazza
Vernazza to Monterosso
6. WHEN TO GO
The best times to go are during shoulder months of April/May and September/October. These months offer mild temperatures and fewer tourists. June through August is high season with the largest number of visitors and hotter temperatures. If you go during the summer, try to start hiking early in the day.
Cinque Terre Streets via Justin Walter
7. WHAT TO WEAR
What you wear will depend mostly on what time of year you go and the weather. At the very least make sure to wear appropriate hiking shoes that offer traction and ankle support. Do not wear flip-flops or open-toed shoes. Make sure you also pack a water bottle to stay hydrated. (You'll be able to refill it up along the way.) Each town has plenty of options to stop and purchase food and drinks from local shops and restaurants. Also remember sunscreen and layers if the weather calls for it.
Are you going to make the trek through Cinque Terre?
We can't think of a better way to see every inch of this breathtaking location… Thanks again to Justin for sharing his expert tips with us! You can follow along with his travels on his website Around the World with Justin, as well as finding him on Twitter, Facebook, and Instagram.
And don't forget to bring a little piece of Italy home with you, by shopping our 25% OFF La Dolce Vita sale HERE.
Xx Team GM
Photos: Gray Malin, Justin Walter