Hi Everyone,
Happy Thursday! We're almost to the weekend and today, I'm sharing news that is sure to make you want to getaway! Speaking of Away, I am beyond excited to officially announce the Away x Gray Malin Luggage Collection. I've been a big fan of Away, since first learning about it in 2016. I felt a lot of synergy between our brands as it was created by young entrepreneurs with a great idea, not to mention the obvious connection to travel. I had been wanting to partner with a luggage brand for quite some time, so when the opportunity presented itself to join forces with Away, I was thrilled.
To bring you all into how it cameto life, I thought it'd be fun to share insights from both myself and Jen, the Co-Founder and Creative Director, of Away. Oh...and of course, pictures of the Away x Gray Malin Collection! Ready?
THE INSPIRATION TO PARTNER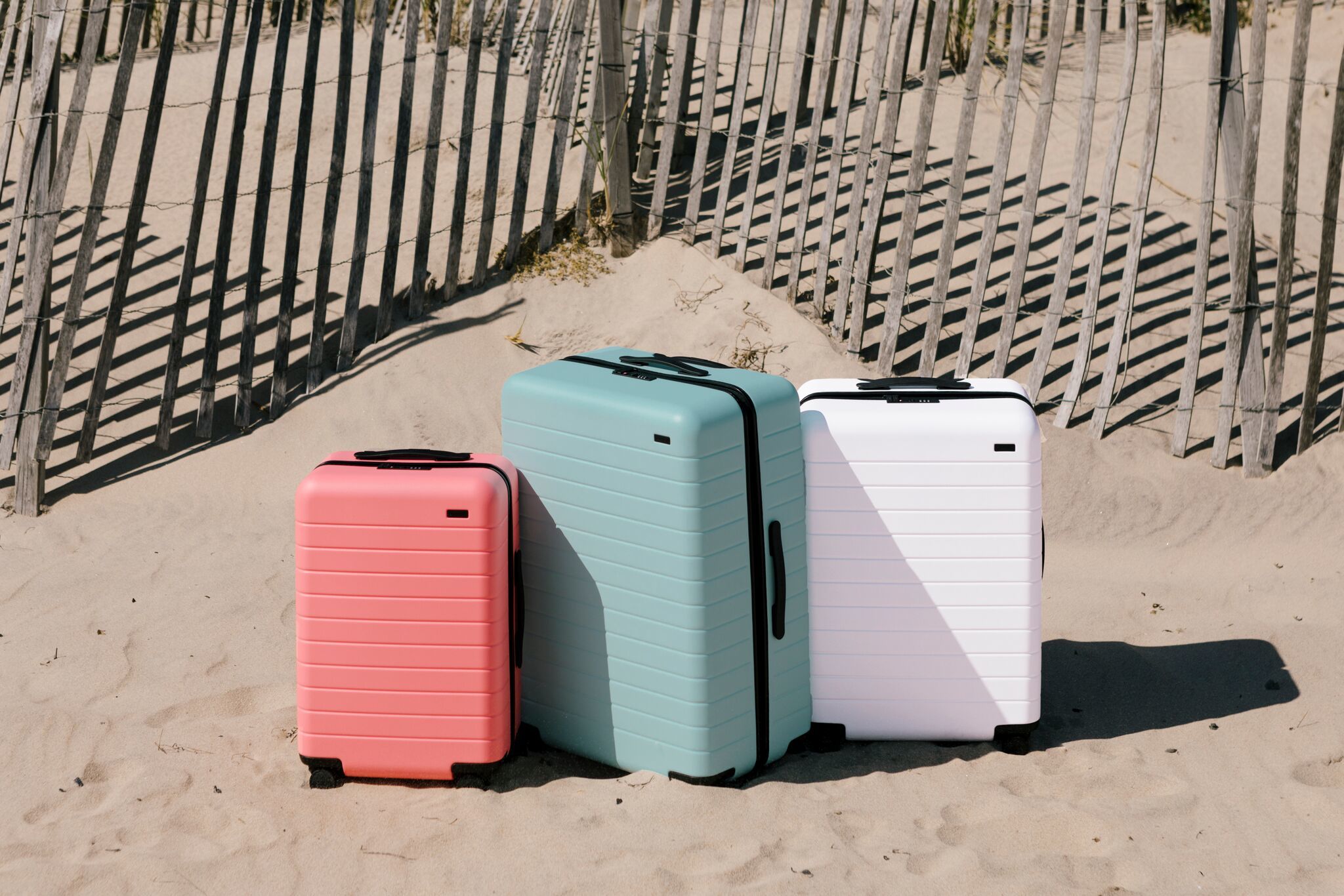 We've always been fans of Gray Malin at Away. His photographs capture some of our favorite locations in a way that gets us even more excited to travel. Aside from having a great eye for design, travel is inherently part of Gray's work so this collaboration felt like a natural partnership. - Jen, Away.
And, I obviously couldn't have agreed more!Traveling is synonymous with my own lifestyle as well as the Gray Malin brand. In-fact, our brand motto is Make Every Day a Getaway. Therefore to be able to create a collection of suitcases that are both expertly designed and easy on the eyes with Away was a no brainer, not to mention a very fun and collaborative process. The starting idea was to incorporateimages from my aerial photography collection. In particular, I wanted to find three colorful images shot in very different locations, yet shot from a similar perspective. Away helped narrow down the selects to the three they felt would pair nicely with their luggage. With the image selection finalized,the collection quickly evolved into luggage with high quality design and an elevated point of view.
The collection's special colors are whatinitially grabone's attention but the real show happens when the suitcase opens. Inside each corresponding color, the user will be transported to unique destinations of sand, sea, and snow. Through these uniqueaerial perspectives, we hope to inspire the user to keep their favorite getaway with them wherever they may travel.
It was definitely hard to narrow it down to just three since Gray has so many beautiful prints. Every color suitcase is lined with a different Gray Malin aerial photograph, each shot in a destination inspired by one of the three colors— Alpine, Coral, and Ocean - we think there's an option there for everyone, no matter what kind of getaway they are trying to have. - Jen, Away.
Available in Away's 4 travel sizes: The Carry-On, The Bigger Carry-On, The Medium and The Large...lets get to know the Away x Gray Malin styles and their perfectly paired lining prints...
CORAL + BONDI BEACH
Inside Coral, you'll find the warm sands of Bondi Beach.Bondi is one of the most famous beaches in the world—and for good reason! Not only does it offer stunning views and refreshing waters for vacationers and locals to lounge, but also it is even more impressive looking from above! I'll always remember capturing this shot, as it was one of my first shoots in Australia. Many more have followed, but I'll always love Bondi Beach Close for being part of my first timesoaring above Sydney.
My favorite thing to do when I'm in Sydney is the Bondi to Bronte walk along the coastline, starting at the famous Bondi Icebergs pool and ending up at the Bronte Road Bistro. - Jen, Away.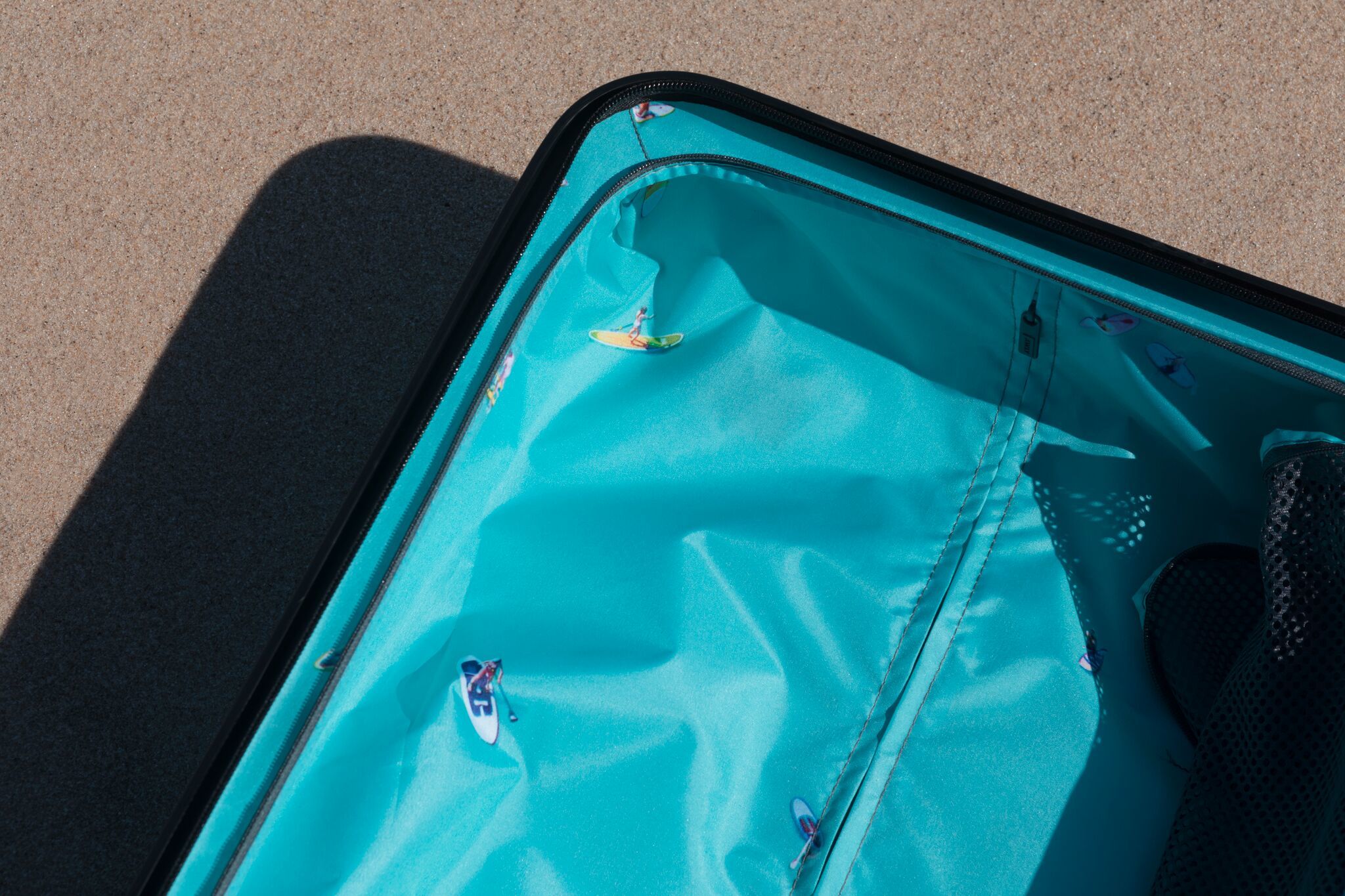 I captured Rio Paddle Boarders Vertical in 2016, right before the Olympics. One of myfavorite beaches in Rio de Janiero is Ipanema, as it has excellent people watching! The beach is a cultural experience and is packed with energy and beauty from sunrise to sunset. I love the idea of how the Ocean suitcase will be traveling with that fun energy inside.
I'm not sure if it's because it's finally ski season, but I love the Alpine paired with Blackcomb Vertical from Whistler, Canada. Known for it's (seemingly) constant supply of fresh powder, Whistler is a skier's paradise. I can't wait to get back there for a few runs as well as check out Jen's recommendations...
Scandinave Spa in Whistler is one of my favorite places to escape to. It's an outdoor spa nestled in the woods with fire pits, hot and cold baths, and spectacular views of the mountains. - Jen, Away.
HOW LONG WILL THEY BE AVAILABLE...
This collaboration will be available until it sells out. Past collabs have sold out within a few weeks, so make sure you jump on your favorite color quickly! - Jen, Away.
You heard it here! If yourwanderlust is strong and you're in need of the kind of luggage that inspires you every step of the way...then I think you know what to do - Away x Gray Malin luggage.
Cheers,
xx
GM