Interiors
Design Direction: A Hospitality Designer's Guide to Bringing the Hotel Home
If you're anything like us, then you no doubt have wished that you could bring just a little bit of the hotel home with you after a long and luxurious vacay. And we don't blame you—there's something about that cozy and welcoming, yet high-end look that we love. Lucky for us… our newest contributors, the ladies of Avenue Interior Design, are showing us how to get the look of one of their very own hospitality designs. (And let us tell you, it is dreamy!) Keep reading for all the details…
The mission of every hotel is to make a lasting impression on each and every guest. At Avenue Interior Design, we love a hotel that feels like a home away from home. But let's be honest, most of our favorite hotels are nothing like our homes! A successfully designed hospitality interior is one that is hard to define aesthetically—it should feel like it's been curated, that the design evolved effortlessly, and over time.
Looking to recreate the look from your favorite hotel to your own personal abode? We've taken one of our favorite hotel projects, the SLS Baha Mar, a highly-sought after Bahamian resort, and sourced pieces you can purchase for your own home below. Happy shopping!
GET THE LOOK: The SLS Baha Mar
Very few beaches are as beautiful and colorful as those surrounding the islands of the Caribbean. When designing this resort, we let the natural beauty shine by creating a neutral interior big on architectural elements and texture. For the FF&E (a.k.a furniture, fixtures, and equipment), we purposefully selected mismatched pieces that played up different pattern, finishes and even scale, to create a one-of-a-kind look that is not easily imitated. Subtle washes of color were applied in small doses (mostly accessories and pillows)—a look we highly recommend when sourcing such dramatic furnishings!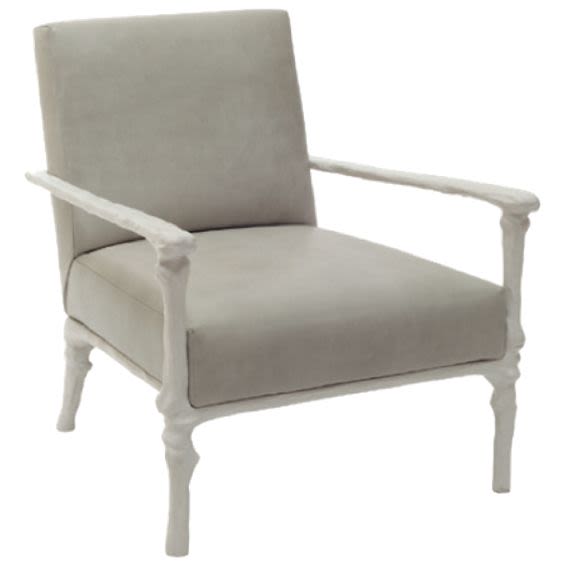 _**Actually used at the SLS Baha Mar._It's not often you find a chair that has just the right amount of personality, but we think we've found it in the Fossil Chair by Oly Studio. The practical, upholstered seat and back also make this a comfortable addition to any interior.
Look for Less: Spindle Chair , $599
The organic nature of this lamp, along with the monochromatic, white body and shade, make it a perfect addition to almost any interior.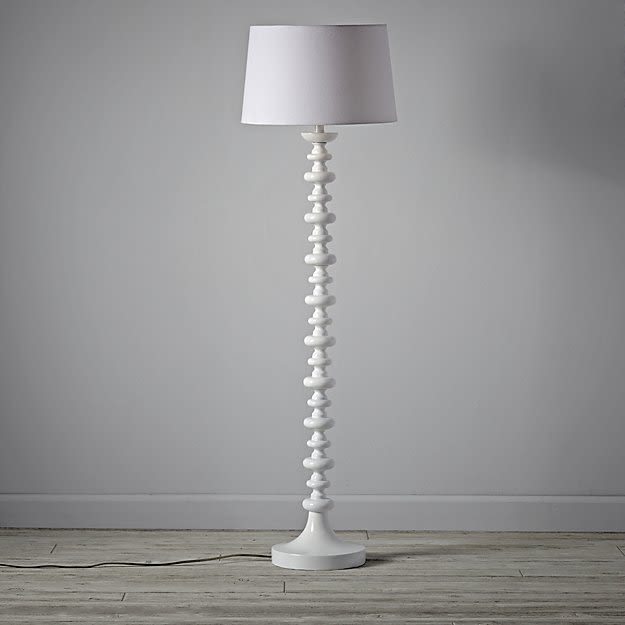 Look for Less: Jenny Lind White Floor Lamp , $149
We adore a great accessory and this small monkey sculpture can't help but make you smile! The scale and proportion of this piece keeps it more 'cute' than 'kitschy.'
One of our favorite companies at the moment is Made Goods. They have so many statement pieces to round out anything you might be missing from your interior. This stool embodies our inspiration image above—natural and simple in its execution, but still with a sophisticated touch.
Every interior needs just a little contrast—even if it's just as straightforward as using a throw pillow with some punch.
Adding a little 'imperfection' into the mix really helps set the tone for any interior. It says so much about the attitude of the home or hotel—sometimes we need to eschew the desire to make everything perfect!
Look for Less: Macondry Brown Teakwood Accent Table , $86
When leaning more modern with your larger upholstered pieces like a sofa, mixing in a natural material, like wood, gives your overall scheme a more relaxed vibe.
Look for Less: West Elm Emmerson Sofa , $1,099
There is a wonderful, casual element to this throw that helps to keep the overall design feel carefree and approachable.
_**Actually used at the SLS Baha Mar._This dining chair is striking in its simplicity. The soft curves and the woven seat make this otherwise simple chair an impactful addition to any room.
Look for Less: Natural Beech Dining Chair , $219
To keep with the textural palette of this interior, we suggest a rug with slightly organic undertones. A neutral colorway like this rug has lasting power and grounds an eclectic furniture grouping.
And last, but certainly not least, no space is finished without a little adornment on the walls! We particularly love the vibrancy of these three prints to accompany our above selections:
Do you love this design as much as we do? What hotel-inspired look would you like to see next?
We love this twist on a home update, and can't wait to pick up some of these pieces for our own space. To follow more work from Avenue ID, follow them on Instagram and visit their website here.
Xx Team GM
Photos: Avenue ID