While we tend to think that we can literally do it ALL, it's no secret that something as simple as getting dinner on the table at the end of the day can be much easier said than done. Whether your daily 9-5 means work, taking care of your children, going to school, or something else, we're here to introduce you to the magic of food delivery services—and how you can actually keep a healthy lifestyle even when it seems like you don't have enough hours in the day.
Let us start by saying this is not at all an ad… We genuinely love how easy these food delivery programs make our lives, and in fact, Gray even uses one of the programs we'll be mentioning below! That said, we're pretty obsessed with the modern age and the fact that we can get fresh ingredients delivered straight to our homes on a weekly basis so we don't fall victim to that take-out habit that always seems to tempt us after a long day of work (and drain our wallets in the process). So, keep scrolling to read about six food delivery services you need to know:
Cost: Contact for pricing HERE
Ability to skip/pause plan: N/A
Meal delivery options: Personalized catering, private services, HC at home
Requires cooking: No
Haute Chefs is Gray's personal Los Angeles-based fave and one he orders weekly—and it's easy to see why! Not only does the company cater, but they also offer weekly healthy meal delivery so you don't have to guess about the quality of your dinners. They customize your plan based on your palate, schedule, health goals, and dietary restrictions, so it's basically like having a private chef—almost. (Although, you can actually hire a private chef through them if you're into that sort of thing.) They literally have catered to the stars (including names like Jessica Alba, Nicole Richie, and Ben Affleck), so you can dine feeling like you're one of them! They'll take every personal need and preference into consideration when curating your menu, and make your meals perfectly suitable for your lifestyle and health goals.
Cost: Starting at $71.94 per week ($25 off your first order HERE)
Ability to skip/pause plan: Yes
Meal delivery options: Dinner
Requires cooking: Yes
The thing we love about Green Chef is that the meals are uber quick (about 30 minutes to prepare) and they're all made with USDA-certified organic ingredients. They offer tons of unique menus including vegetarian, vegan, omnivore, carnivore, gluten-free, Paleo, AND keto, so you're sure to find something that suits your lifestyle. Plus, their meal options immediately appeal to the health nuts in us with titles like dill-roasted chicken, lemon-pepper tuna, kale-stuffed chicken, and vegan crab cakes. YUM. You can choose from a 2-person plan that includes three meals a week, or their family plan that includes two wholesome dinners for a family of four.
Cost: Starting at $119 per week
Ability to skip/pause plan: Yes
Meal delivery options: Breakfast, lunch, & dinner
Requires cooking: No

Sakara's meals are actually designed for a "clean eating" diet that is intended to deliver results, and they offer the option to have all three meals from breakfast to dinner delivered, if you choose. Each meal is made of organic, plant-based ingredients (with plenty of plant-based protein), and is also dairy-free, gluten-free, non-GMO, and free of refined sugars. (Honestly, could you even ask for more?) The company is based on their 9 Pillars of Nutrition, starting with ideals like "no calorie counting" and "eat the rainbow." You can read more about them here, and click here to sign up. Trust us, the meals are just as beautiful as they are delicious, and there's not a thing to feel guilty about on this program.
Cost: Starting at $49.99 per week
Ability to skip/pause plan: Yes
Meal delivery options: Breakfast, lunch, dinner
Requires cooking: No
If you're not keen on cooking and prefer a ready-made option, Freshly is a service you might want to try. They deliver all natural, gluten-free meals packed with protein, and all you have to do is reheat and eat. The meals are whipped up by Freshly's chefs and never frozen, but they do require a few minutes in the microwave before eating. If your goal is convenience and keeping things cost-effective, then you won't be disappointed! They offer tons of meal options from garlic and herb shrimp to Sicilian-style chicken parm and veggie baked penne, and each one is individually packaged so you can transport to work if needed. Plus, there are meal options for every preference—low carb, vegetarian, high protein, low calorie, and Paleo.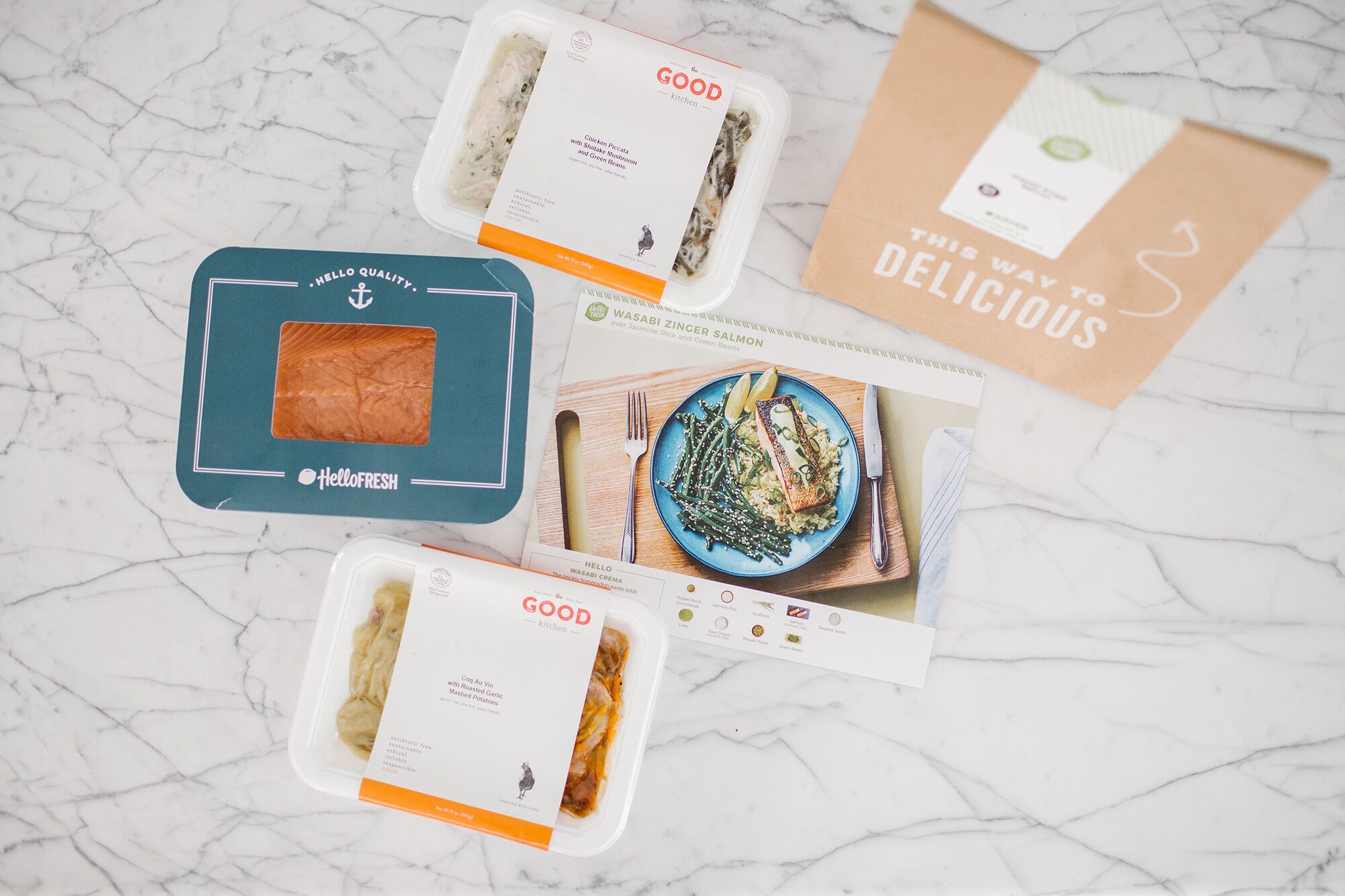 Cost: Starting at $49.99 per week
Ability to skip/pause plan: Yes
Meal delivery options: Dinner
Requires cooking: Yes
If you don't mind cooking but just wish you didn't have to go grocery shopping on the regular, then Hello Fresh is a great option. Chefs and dietitians work together to curate 15 different recipes weekly, and you are then given the option to select your meals from a personal menu for your next delivery (but be aware that the number of options varies depending on the plan you choose). Or, you can simply leave it to Hello Fresh to make your selections if you want to be surprised! Each delivery is full of fresh, wholesome ingredients, and they even offer three different plans to suit any lifestyle—veggie-friendly, classic, or their family plan. While this service isn't 100% "clean" (think pasta, cheese, and tangy sauces), we still love their meals for their wholesome ingredients and hearty health-conscious recipes.
Cost: Starting at $12 for a 2-serving meal
Ability to skip/pause plan: Yes
Meal delivery options: Breakfast, lunch, dinner & snacks/sides
Requires cooking: Yes
If you want the widest variety of options and actual diet-approved meals, then Chef'd is your service. They offer tons of plans including an American Diabetes Association Meal Plan, an Atkins Meal Plan, the Weight Watchers meal plan, and even the New York Times Cooking Meal Plan full for the gourmand. You can browse their meal options by cooking style, meal type, skill level, dietary lifestyle, and more—so you can always find an option, even if you're vegetarian, vegan, gluten-free, paleo, diabetic, or have allergies. Talk about options! The kicker about Chef'd is that you don't even have to sign up for a plan at all. They include the option to order single meal kits with 2-4 servings, so you don't have to commit to anything if you don't want to.
Have you ever used a healthy meal delivery service? Which one is your favorite?
We don't know about you, but this post is making us hungry… Lunch break, anyone? Happy dining!
Xx Team GM

Photos: Gray Malin, Jessi Burrone for GrayMalin.com