Happy first day of Spring, friends! Even though it may not feel like it right now, sunny days and warm weather are just around the corner! With all of us spending time at home, now is the perfect time to tackle a new home decor project. One I've recently embraced is bringing faux florals into my home. In the past, I've always leaned towards fresh flowers, but I've recently discovered that if you invest in quality faux florals they are just as beautiful and come with so many benefits.
Since my kids have started to become more mobile, they grab anything they can possibly get their hands on. Obviously, this includes floral arrangements. After a few instances where they knocked over my flowers, I knew I needed to find some kind of solution. There are so many advantages to using fake flowers in your home, but for me, the biggest one right now is that I don't have to worry about them being knocked over because they're mess-free.
When switching to faux florals I believe in investing upfront to get the most value. Yes, fake flowers can be more expensive upfront, but they can really save you money down the line since you don't have to change them out as often. I ordered my fake flowers from Diane James Home and I'm so happy with how beautifully they turned out. Today, I wanted to share some ways you can use fake flowers to bring some sunshine into your home.
In Your Front Entryway
Although we're not coming and going from our homes too much right now, the day will come where we are again and there's nothing better than being greeted by beautiful blooms the moment when you walk in the front door.
On Your Desk
If you're working from home, chances are you could use a little bit of sunshine to brighten up your day. One of the best ways to do this is by putting a beautiful flower arrangement on your desk so you see it whenever you look up from your computer.
In Your Kitchen
In most homes, the kitchen is a space where everyone tends to congregate. At least that's definitely the case in my house. I love having beautiful flowers on my center island because it brings life to the space. A lot of times people won't notice that flowers aren't there, but they almost always notice when they are. I can't tell you how many times I get comments on flowers in my kitchen when we're all sitting around the center island just hanging out.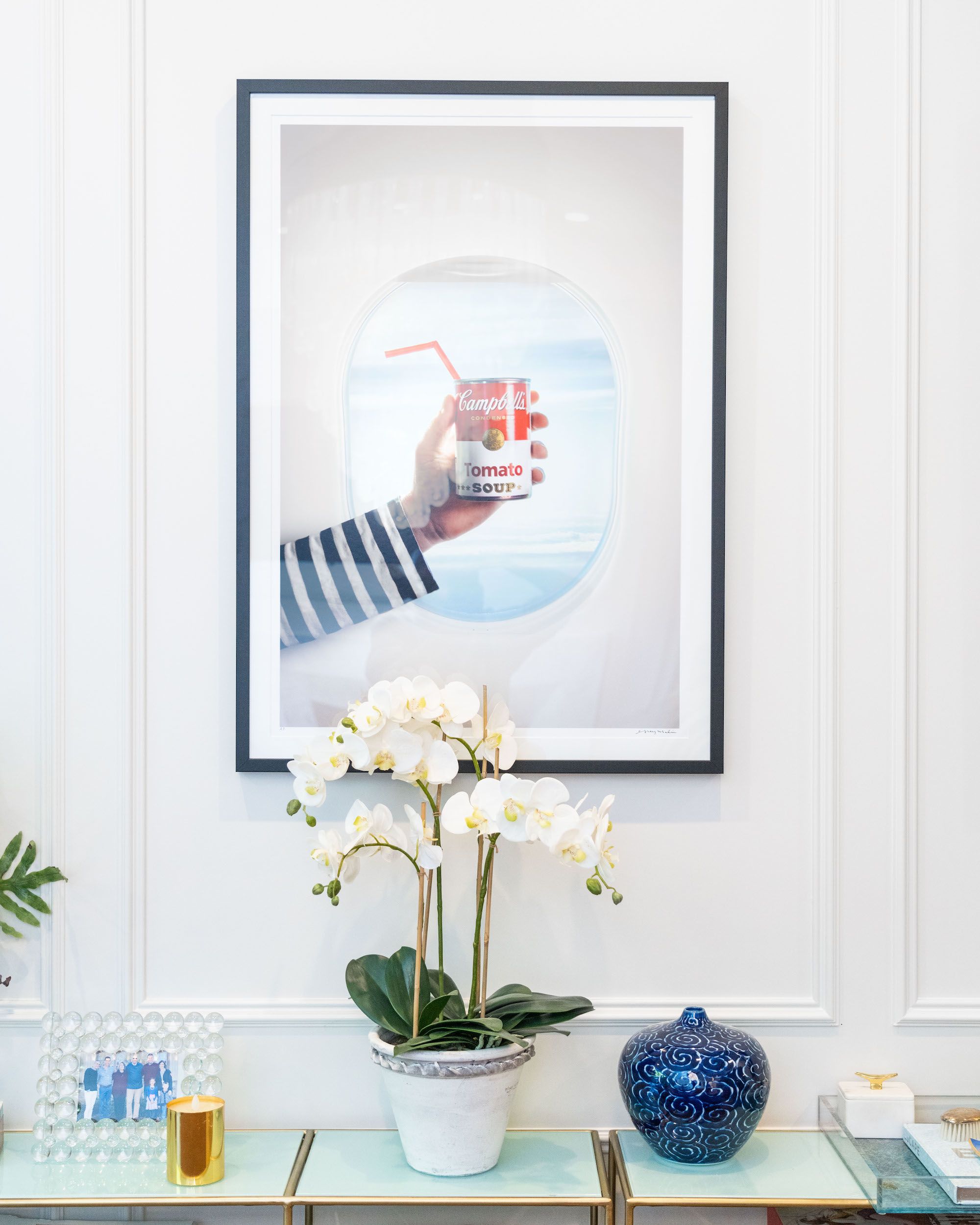 In Your Living Room
Formal living rooms can tend to feel stale, which is probably why they're going out of style. I love having a formal living room, so I brought some faux florals into the room to help it feel fresh. Even if they're just a small arrangement like the hydrangeas I put on our coffee table, it still makes an impact.
I'm so glad I've made the switch to faux florals. As someone who loves to buy flowers at home, faux flowers have truly made my life so much easier and I think you'll love them too
Cheers!
Xx
Gray
{"slides":[{"label":"Gray's Favorite Inrooms Vol. 4","url":"/lifestyle/gray-s-favorite-inrooms-vol-4","image":"https://res.cloudinary.com/gray-malin/image/upload/c_scale,w_1000,q_50,f_auto/gray-malin/blog_posts/hero_images/000/001/876/original/4-unnamed_(1)-Edit-Edit-Edit.jpg?updated=1614888819"},{"label":"Our Favorite Ways to Style Bon Voyage Prints","url":"/lifestyle/our-favorite-ways-to-style-bon-voyage-prints","image":"https://res.cloudinary.com/gray-malin/image/upload/c_scale,w_1000,q_50,f_auto/gray-malin/blog_posts/hero_images/000/001/874/original/0-ANTH_Gray_Malin_410_post_PD.jpg?updated=1614208369"},{"label":"Gray's Favorite Inrooms Vol. 3","url":"/lifestyle/gray-s-favorite-inrooms-vol-3","image":"https://res.cloudinary.com/gray-malin/image/upload/c_scale,w_1000,q_50,f_auto/gray-malin/blog_posts/hero_images/000/001/872/original/3-AG-20.JPG?updated=1613776972"},{"label":"Gray's Favorite Inrooms Vol. 2","url":"/lifestyle/gray-s-favorite-inrooms-vol-2","image":"https://res.cloudinary.com/gray-malin/image/upload/c_scale,w_1000,q_50,f_auto/gray-malin/blog_posts/hero_images/000/001/835/original/0-2021-02-04_copy.jpg?updated=1612557120"},{"label":"See How Samantha of Preptista Styled Gray Malin Minis","url":"/lifestyle/see-how-samantha-of-preptista-styled-gray-malin-minis","image":"https://res.cloudinary.com/gray-malin/image/upload/c_scale,w_1000,q_50,f_auto/gray-malin/blog_posts/hero_images/000/001/834/original/0-Mini_feat_Sam-1_copy.jpg?updated=1612305716"},{"label":"Gray's Favorite Inrooms Vol. 1","url":"/lifestyle/gray-s-favorite-inrooms-vol-1","image":"https://res.cloudinary.com/gray-malin/image/upload/c_scale,w_1000,q_50,f_auto/gray-malin/blog_posts/hero_images/000/001/832/original/7-DSC_4907.jpg?updated=1611961857"},{"label":"10 Favorite Prints for a Nursery","url":"/lifestyle/10-favorite-prints-for-a-nursery","image":"https://res.cloudinary.com/gray-malin/image/upload/c_scale,w_1000,q_50,f_auto/gray-malin/blog_posts/hero_images/000/001/815/original/0-unspecified-7.jpg?updated=1608326131"},{"label":"5 Ways to Make Your Holiday Tablescape More Festive","url":"/lifestyle/5-ways-to-make-your-holiday-tablescape-more-festive","image":"https://res.cloudinary.com/gray-malin/image/upload/c_scale,w_1000,q_50,f_auto/gray-malin/blog_posts/hero_images/000/001/813/original/0-Tablescape-10_copy.jpg?updated=1608162347"}],"label":"Have You Seen?"}
{"id":null,"number":null,"item_total":"0.0","total":"0.0","ship_total":"0.0","state":"cart","adjustment_total":"0.0","user_id":null,"created_at":null,"updated_at":null,"completed_at":null,"payment_total":"0.0","shipment_state":null,"payment_state":null,"email":null,"special_instructions":null,"channel":"spree","included_tax_total":"0.0","additional_tax_total":"0.0","display_included_tax_total":"$0.00","display_additional_tax_total":"$0.00","tax_total":"0.0","currency":"USD","considered_risky":false,"canceler_id":null,"display_item_total":"$0.00","total_quantity":0,"display_total":"$0.00","display_ship_total":"$0.00","display_tax_total":"$0.00","display_adjustment_total":"$0.00","token":null,"checkout_steps":["address","delivery","complete"],"bill_address":null,"ship_address":null,"line_items":[],"payments":[],"shipments":[],"adjustments":[],"credit_cards":[],"promotions":[],"total_shipment_cost":"$0.00","permissions":{"can_update":false},"use_shipping_for_billing":true,"use_new_ship_address":true,"use_new_bill_address":false,"selected_ship_address":null,"selected_bill_address":null,"display_completed_at":null,"item_count":0,"subtotal_minus_promos":"$0.00","coupon_codes":[],"includes_framed_items":false}
This site uses cookies to allow better navigation. By closing this banner, scrolling this page or clicking any of its elements, you are giving consent to all cookies. To learn more and to change your preferences please see our Cookies Policy.