Hi Everyone!
Words can not express how much I enjoyed this past weekend in Montauk! I was there celebrating the newly refreshed boutique hotel, Surf Lodge and its exclusive inclusion of my artwork in their 21 rooms, as well as prominently displayed behind the front desk of the lobby. I can not wait to walk you through the rooms as well as the weekend, overall.
But first, a little bit of back story on how this came to be. I was first introduced to the owner of Surf Lodge, Jayma, and interior designer, Fiona Byrne, though a mutual friend of us all, Kristin, who just so happened write this incredible article about my book, BEACHES. Once the connection was made, incorporating my work into the refresh project moved quickly as it was an obvious fit, the A la Plage series needed to be in Surf Lodge. Fast forward a couple months, and voila - we're all celebrating together! OK! Now that we're all caught up lets...
TOUR THE ROOMS
Kicking off the tour with Fiona, she first took me into Suite 21, which was simply put - beautiful. We walked in and my eyes immediately went to the custom sized Grand Saline Beach, St. Barths hanging above the couch. I quickly got comfortable flipping through BEACHES, which guests find in every room to enjoy and purchase in the gift shop, if they'd like.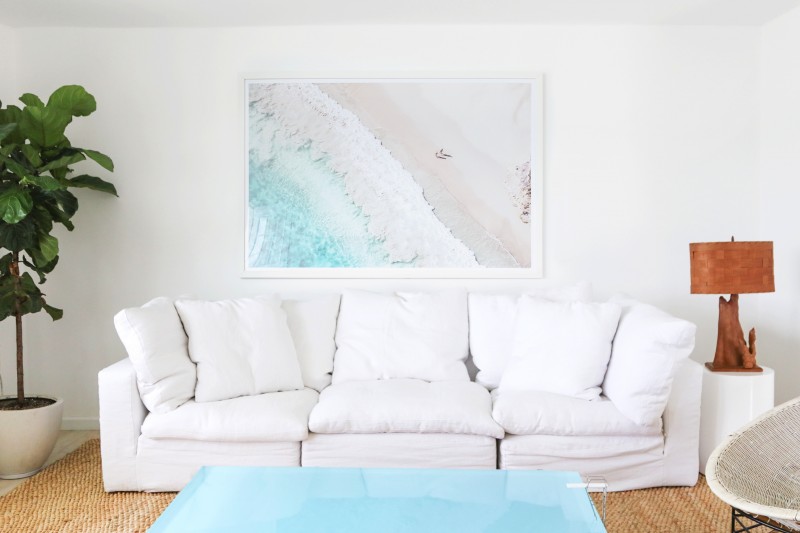 Continuing on into the guest bedroom, I loved how Fiona decorated with I AM BUSY,the only non A la Plage image chosen for the refresh. Hopping in the comfy bed, I needed to make sure to express how clearly verrrry busy I am.
Moving into the master bedroom, it was such a thrill seeing "Rio Paddle Boarders," from an upcoming release from Rio de Janiero in August, come alive on the walls. Jayma is Brazilian, so I was happy to give her a sneak peek at these images and even happier when she connected with them, so well.
AND WE'RE STILL TOURING...
In some rooms you'll find Bondi Beach Surfers 2 while in others more first looks at Rio are revealed, as well as more from St. Barths.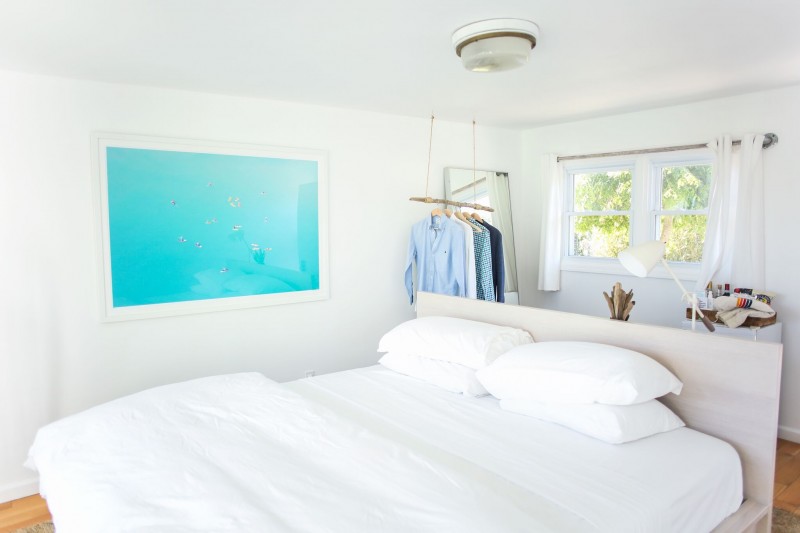 Swooning over this large framed Rio Paddle Boarders..
Floating in Rio...Do you want to stay here, yet?! Well, I'm just getting started on recapping the weekend, so stay with me. On a quick side note, I loved Surf Lodge so much that I'm already planning my return, and you can count on a TRAVEL GUIDE: Montauk with Fiona as my host with the most, in the very near future, so keep a look out for that but for now...
THE COCKTAIL PARTY
Naturally, I brought the swan with me and she totally stole the show.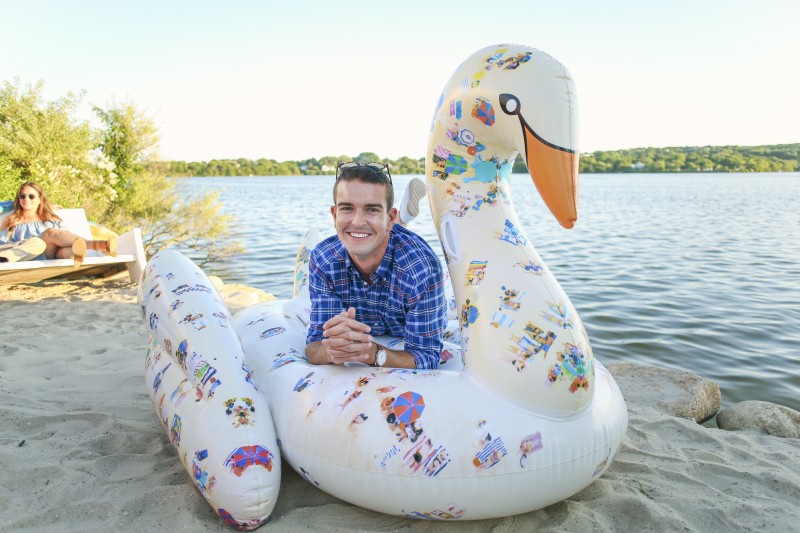 Fiona and Jayma got in on the photo moment fun too, then...
F
iona and I enjoyed a couple sips and snaps as our as our guests began to arrive.
Gray with Chloe Melas of CNN; Fiona with Athena of Eyeswoon
]
Paige Yingst & Alle Fister; Jeff Richardson, Gray, and friend, Steve.
Chatting with Alex Postman of CondeNast Traveler...
as well as with Stephanie Mark of The Coveteur.
Fiona catching a few last moments of the golden hour sun
then after a couple quick swings, it was...
DINNER PARTY TIME
The rosé flowed while every one took their seats. We dined on raw bar towers of lobster, crab, shrimp and clams followed by every appetizer you could think of from Surf Lodge's delicious menu; entrees of New York strip steak, roasted chicken with lemon quinoa and roasted red snapper in a sesame ginger sauce...every bite was better than the last.
Closing the night out with a few last selfies, the night was a success and everyone was full and happy.
Thank you for joining me on the tour of the newly refreshed Surf Lodge as well as coming behind the scenes of this magical night. It could not have happened without the most incredible host, Jayma, and the uber stylish Fiona...who you'll see again very soon with my Travel Guide to Montauk. Until then..
Cheers xx GM
Photos by: Nicholas Scarpinato Douglas Lyle Thompson Emily Winiker