Hi Everyone,
As we near Thanksgiving, I thought today would be a great day to tour a room that everyone is always thankful for its occupant...the nursery. We've already had the pleasure of touring her office but today's tour is extra special, as Whitney Port welcomes us into her baby boy, Sonny's room.
Awww! I am dead with the cutest. Also, I am so proud to have a framed print from my latest installment of Gray Malin at the Parker in Sonny's room.
Whitney, what inspired you to choose this particular print?
I actually LOVE elephants. I took a trip to Africa a while back and someone there told me my spirit animal was an elephant and ever since I have been obsessed. I was immediately drawn to this print because the colors are also so complementary to the tones in my neutral nursery! It is playful but also so classic
Love it! That is an excellent inspiration story, not to mention a decor accessory you can continue to collect!

What I love about the Parker series for nursery decor is that the art grows with the child, rather than it being grown out of. Do you think you'll always keep this piece in his room?
This piece will grow with him forever! It is playful but not immature. I could actually see this in any room of our home!
Was the process of decorating the nursery different from other rooms?
Designing the nursery was so fun for me! Not only did I want it to be aesthetically pleasing but also "work" well. I needed certain pieces for their functional aspects but wanted the room to also feel like a calming oasis for Sonny. My favorite part of his nursery is the daybed that the piece of art sits above. It is so nice to have a piece of furniture to lie down on and relax while he rests. If you have the room in your nursery, I highly recommend it! Sonny loves his changing table the best! For some reason he is always the smiliest on it! Maybe it's because he knows he's about to get a fresh diaper!
Haha! Makes perfect sense to me, OK..last question
Are there any other accessories or decor components that have a special story attached to it?
There's a little pillow that hangs on his doorknob that says "Whitney is sleeping..Shhhh". Something my mom put on the door knob so people respected my sleep! I love that it's now on his door..
So SWEET! Thank you so much Whitney for sharing Sonny's room with us and your inspiration behind all of the decor choices. To see more, be sure to check out Whitney's home tour on People.
Before we go, I'm inspired to go back through some of my favorite nurseries decorated with the Parker series. Starting with my first installment in 2015 to the final, which was released this year. I'm confident that all of these pieces will stand the test of time. They sure do look good here, though!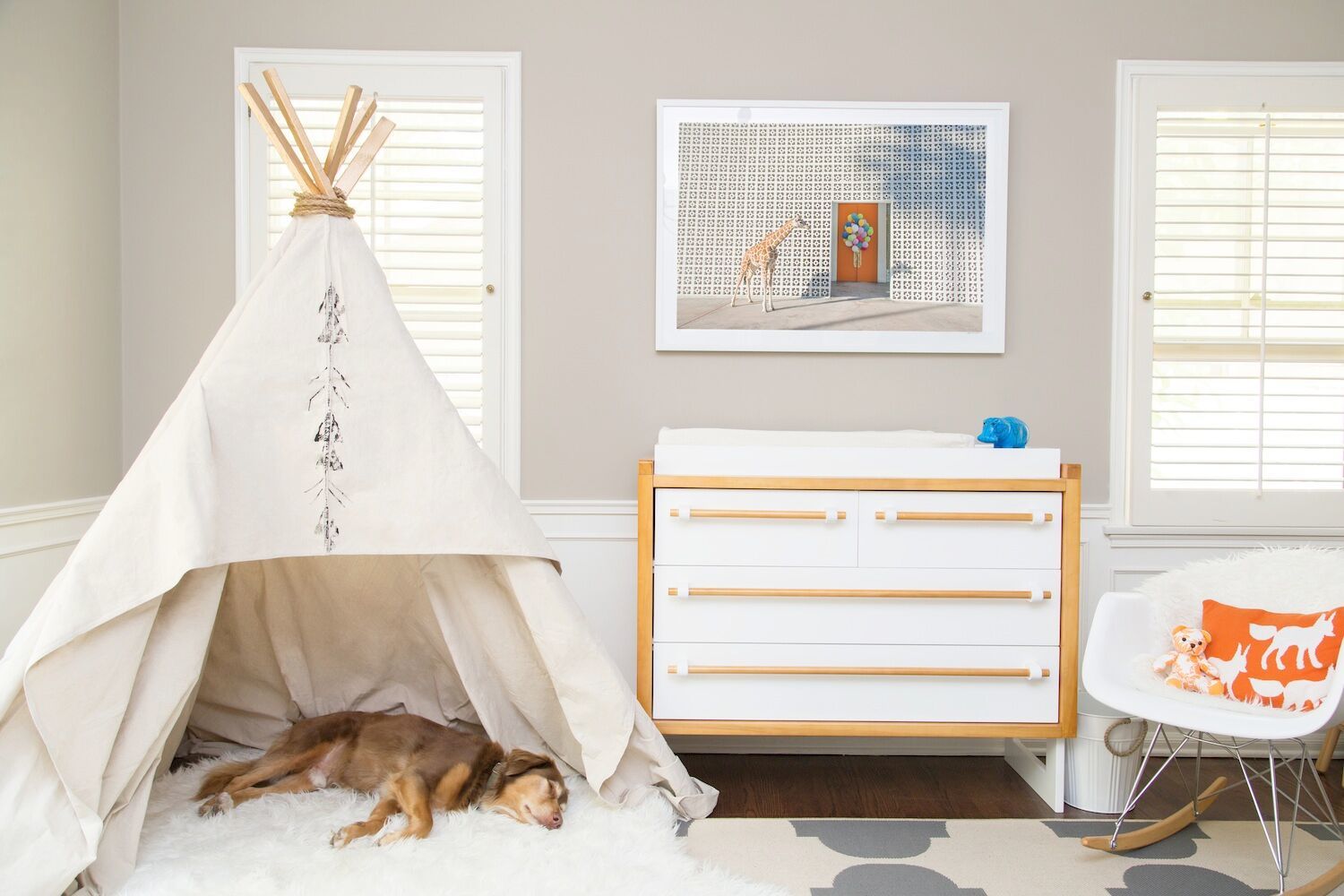 If you have a little one on the way, I hope this offered a little inspiration! Time is in your favor, too as today, we officially launched 30% Off ALL Prints Site Wide...so there's no time like the present to gift your newest member of the family.
Cheers,
xx
GM
Whitney photos by Nicole Gerulat for Joss and Main
{"slides":[{"label":"Instant Refresh","url":"/lifestyle/instant-refresh","image":"https://res.cloudinary.com/gray-malin/image/upload/c_scale,w_1000,q_50,f_auto/gray-malin/blog_posts/hero_images/000/001/984/original/Rainbow_Ridge-1.jpg?updated=1643241774"},{"label":"Amy Tangerine's Vibrant Mid-Century Modern Los Angeles Home","url":"/lifestyle/amy-tan-s-vibrant-mid-century-modern-los-angeles-home","image":"https://res.cloudinary.com/gray-malin/image/upload/c_scale,w_1000,q_50,f_auto/gray-malin/blog_posts/hero_images/000/001/948/original/0.jpg?updated=1638900812"},{"label":"Gray's Holiday Home Tour 2021","url":"/lifestyle/gray-s-holiday-home-tour-2021","image":"https://res.cloudinary.com/gray-malin/image/upload/c_scale,w_1000,q_50,f_auto/gray-malin/blog_posts/hero_images/000/001/945/original/Holiday_Home_Tour19.jpg?updated=1637510540"},{"label":"Inside Gray's California Home","url":"/lifestyle/inside-gray-s-california-home","image":"https://res.cloudinary.com/gray-malin/image/upload/c_scale,w_1000,q_50,f_auto/gray-malin/blog_posts/hero_images/000/001/238/original/grays-front-of-house-7-edit.jpg?updated=1554495773"},{"label":"Marie Flanigan's Office Design","url":"/lifestyle/marie-flanigan-s-office-design","image":"https://res.cloudinary.com/gray-malin/image/upload/c_scale,w_1000,q_50,f_auto/gray-malin/blog_posts/hero_images/000/001/939/original/NOYB_Guest_House_Living_Room_-_day_trip_copy_(1)_(1).jpg?updated=1630440789"},{"label":"Jamie Chung's California Chic Style","url":"/lifestyle/jamie-chung-s-california-chic-styleni0AJ2c","image":"https://res.cloudinary.com/gray-malin/image/upload/c_scale,w_1000,q_50,f_auto/gray-malin/blog_posts/hero_images/000/001/938/original/20210731_GRAYMALIN_Shot1b_copy_(1).jpg?updated=1630435138"},{"label":"Tour Gray's Lake Home Renovation","url":"/lifestyle/tour-gray-s-lake-michigan-home","image":"https://res.cloudinary.com/gray-malin/image/upload/c_scale,w_1000,q_50,f_auto/gray-malin/blog_posts/hero_images/000/001/634/original/0a-rainbowridge.jpg?updated=1592009339"},{"label":"Andrea Denes's Blissful Chicago Home","url":"/lifestyle/andrea-denes-s-blissful-chicago-home","image":"https://res.cloudinary.com/gray-malin/image/upload/c_scale,w_1000,q_50,f_auto/gray-malin/blog_posts/hero_images/000/001/487/original/00-header.jpg?updated=1574797181"}],"label":"Have You Seen?"}
{"id":null,"number":null,"item_total":"0.0","total":"0.0","ship_total":"0.0","state":"cart","adjustment_total":"0.0","user_id":null,"created_at":null,"updated_at":null,"completed_at":null,"payment_total":"0.0","shipment_state":null,"payment_state":null,"email":null,"special_instructions":null,"channel":"spree","included_tax_total":"0.0","additional_tax_total":"0.0","display_included_tax_total":"$0.00","display_additional_tax_total":"$0.00","tax_total":"0.0","currency":"USD","considered_risky":false,"canceler_id":null,"display_item_total":"$0.00","total_quantity":0,"display_total":"$0.00","display_ship_total":"$0.00","display_tax_total":"$0.00","display_adjustment_total":"$0.00","token":null,"checkout_steps":["address","delivery","complete"],"bill_address":null,"ship_address":null,"line_items":[],"payments":[],"shipments":[],"adjustments":[],"credit_cards":[],"promotions":[],"total_shipment_cost":"$0.00","permissions":{"can_update":false},"use_shipping_for_billing":true,"use_new_ship_address":true,"use_new_bill_address":false,"selected_ship_address":null,"selected_bill_address":null,"display_completed_at":null,"item_count":0,"subtotal_minus_promos":"$0.00","coupon_codes":[],"includes_framed_items":false,"contains_subscription":false}
This site uses cookies to allow better navigation. By closing this banner, scrolling this page or clicking any of its elements, you are giving consent to all cookies. To learn more and to change your preferences please see our Cookies Policy.