Yes, we totally understand that you may not even be thinking about Valentine's Day gifts yet, but trust us—it is bound to creep up on you, and you don't want to be caught empty-handed! We fall victim to the last-minute gift hunt almost every V-Day, but not this year… We're getting a jump on gifting for that special someone in our lives, and we highly recommend you do, too. To give you a little push, we're sharing the sweetest, chicest Valentine's Day gifts for the most important people in your life, whether for him, for her, or just for your besties. So keep scrolling for 30 Valentine's Day gift ideas, and make sure to hit "checkout" before these goodies aren't available anymore....yes, we're talking about MINIs.
For Her
We don't know about you, but we think finding Valentine's Day gifts for her is one of the easier tasks on our to-do list. From pretty home goods to red and pink accessories, these gifts make shopping for the special lady on your list a piece of cake. Our personal pick would be The Honeymooners from Gray Malin at the Beverly Hills Hotel, but hey, that's just us…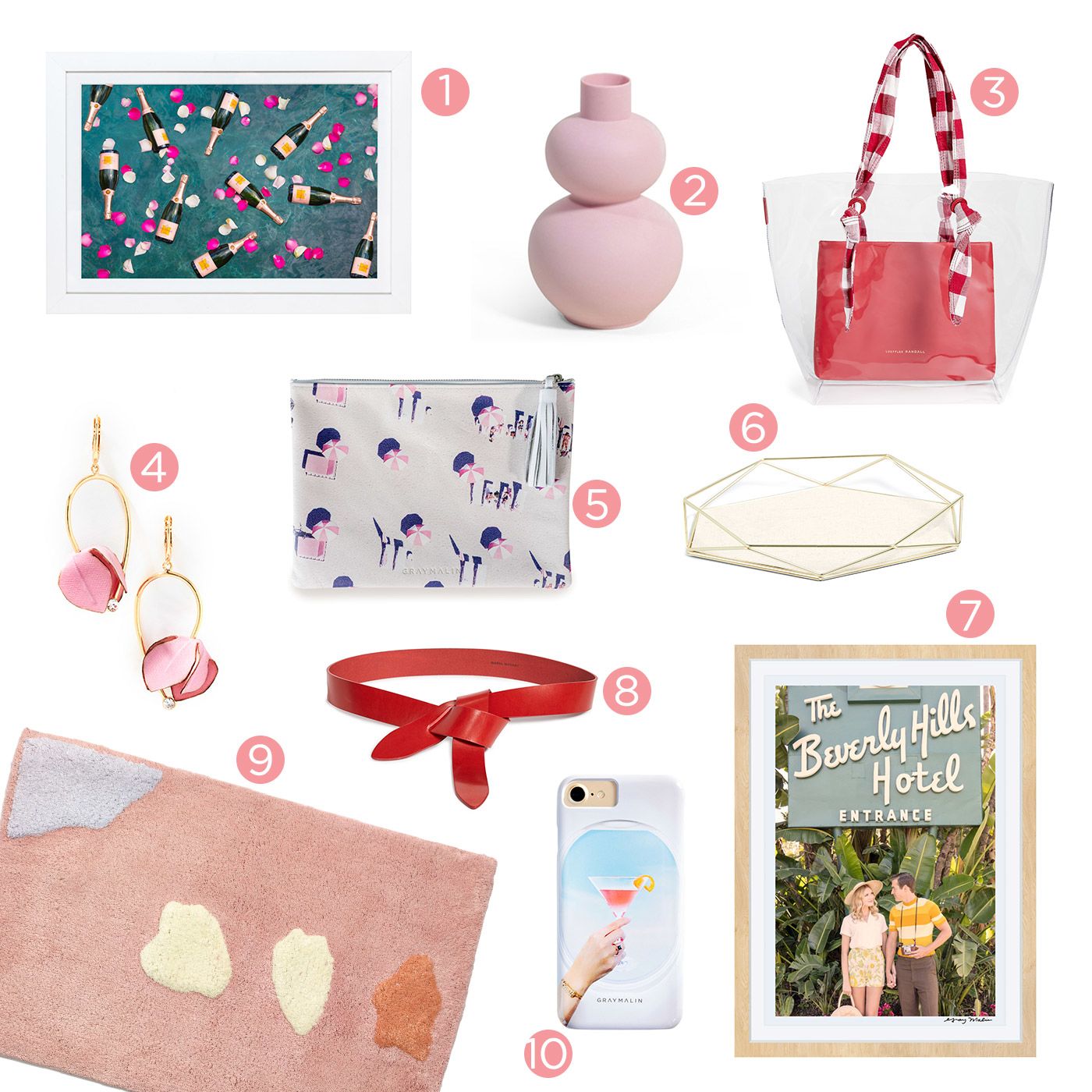 1. Splash of Rosé Mini, $199 | 2. Mini Tiered Vase, $30 | 3. Loeffler Randall Lydia Tote, $295 | 4. Marni Flower and Strass Earrings, $350 | 5. The Pink Umbrellas Pouch, $155 | 6. Prisma Jewelry Tray, $20 | 7. The Honeymooners, Beverly Hills Hotel Print, $299+ | 8. Isabel Marant Lecce Belt, $160 | 9. Cold Picnic Islands Bath Mat, $60 | 10. The City Girl iPhone Case, $49
For Him
Ah, gifting for guys… Some of the men in your life may be a cinch to shop for, but in our experience, Valentine's Day gifts for guys aren't the easiest to nail down. Sure, guys always say "Get me whatever," or "I don't really want anything specific," but that usually leaves us grasping at straws. Luckily, we narrowed it down to 10 foolproof picks for the guys in our lives, and you can shop them all below…
1. Parachute Waffle Robe, $119 | 2. Le Labo Santal 33 Eu de Parfum, $80+ | 3. The Reef, Bora Bora (Vertical) Mini Print, $199 | 4. Shinola Leather Card Case, $125 | 5. The Gray Malin at the Parker Playing Card Set, $35 | 6. BEACHES Signed Collectors Edition Book, $125 | 7. Gucci 'Damo' Driving Shoe, $520 | 8. Scotch & Soda Corduroy Cap, $59 | 9. Crosley Radio Turntable & Speakers Entertainment System, $169 | 10. Parachute Windowpane Alpaca Throw, $249
For Your Besties
We all know that V-day isn't just about significant others. Some of our longest relationships are those with our best friends, and we think they deserve to be celebrated on this holiday too. But how do you choose the perfect Valentine's Day gifts for friends when they seem to have it all? We scoured the Web for a few gifts worthy of any bestie, and we think you'll love them just as much as we do…
1. The Bon Voyage Coaster Set, $95 | 2. Jonathan Adler Secrets Canister, $128 | 3. Miami Pink Umbrellas Mini, $199 | 4. SunnyLife Ping Pong Play On Set, $24.50 | 5. Le Creuset Mini Round Cocettes, $20 each | 6. Marshall Acton Cream Multi-Room Wifi Speaker, $299 | 7. Lounging Ladies, Beverly Hills Hotel Print, $299+ | 8. Supernova Electric Aromatherapy Diffuser, $55.90 | 9. Jonathan Adler Brass Tic Tac Toe Game, $195 | 10. Palm Tree Gold Taper Candle Holder, $49.95
Do any of these gifts look like the perfect match for the loved ones on your list? Who are you buying for this year?
We honestly can't resist snagging a couple of things for ourselves… Because #selfcare, right? ;)
Happy V-day to you and yours,
Xx Team GM