With Halloween just a few short days away, we're making sure all our spooky plans are set and in order—especially our costumes! Because what is Halloween without an impeccably planned costume? Whether you're taking on the look of your favorite movie character, working a GM inspired costume, or something else, it's no secret that your costume can make or break a successful Halloween night. Okay, so we know it is easier said than done, and we'll be the first to admit that we're not always the BEST planners (even when it comes to something as fun and thrilling as our fright night getups). But don't panic—even if you've left your costume planning for the eleventh hour, we've put together a few guidelines to help you concoct a last minute costume out of items you probably already have hiding in your closet. We haven't got another second to waste, so let's get to it…
1. BLACK CAT
…Duh! One of the first costumes that comes to mind (and is probably one of the easiest to execute) at the last minute is the classic black cat. All you need are a few pieces to black out your outfit from head to toe, some cheap eyeliner or face paint for some cat whiskers, and you're good to go! Here's how we put the look together:
Zella 'Live In' Leggings, $52 24/7 Waterproof Eyeliner, $13 Chuck Taylor All Star Chuck II, $74.95 Cat Ear Headband, $4.99 Softspun Knit V-Neck Tunic, $44.95
2. TOURIST
Not only is posing as a tourist totally easy, but it can also get pretty comical. Go as simple or theatrical with this one as you wish, but one thing is for sure—if you don't have these exact items in your closet, we're pretty sure your dad or the local thrift store will. Here's what we put together for this look:
Hang Ten Tasty Vibes Button Down Shirt, $59 UO Souvenir Belt Bag, $19.99 Zinka Colored Nosecoat Waterproof Sunblock, $8.99 Teva Men's Omnium Closed-Toe Sandal, $63 GAP Everyday Shorts, $21.99 Black Cotton/Leather Camera Wrist Strap, $12.90
3. ZOMBIE
With all the latest "distressed" clothing trends in full swing, this one is much easier than you might have previously thought. All you've got to do is gather your most distressed denim, tops, and a pair of old beat up sneakers, and you're half way there. Top off the look by smudging some dark makeup on your face as dirt and blood, and walk around with that zombie look in your eyes. Done!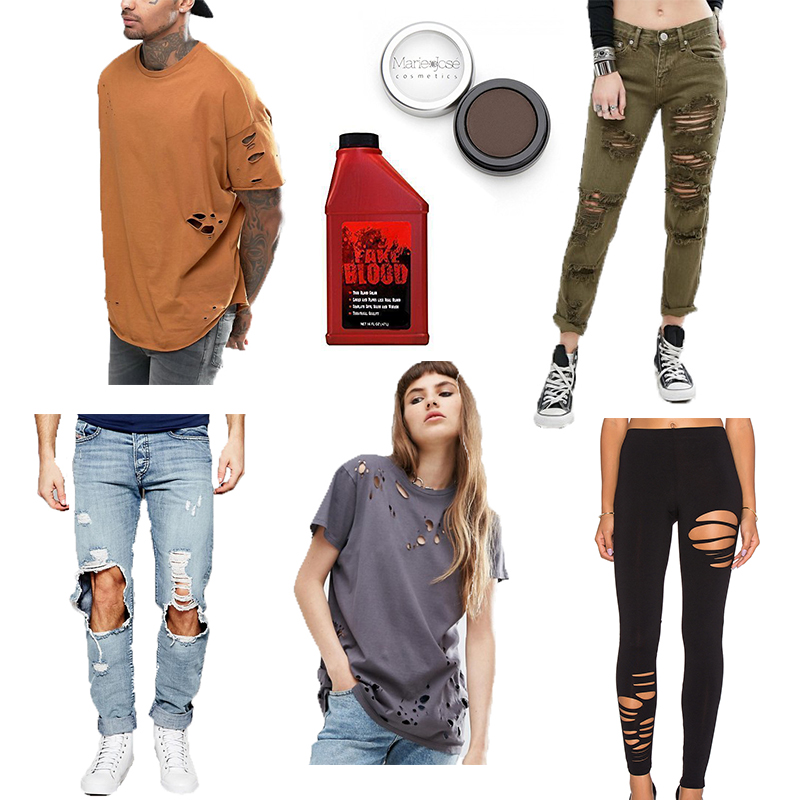 Reclaimed Vintage Distressed Tee, $28.50 Fake Blood, $7.75 Dark Brown Powder, $13 Extreme Distressed Boyfriend Jean, $62 Diesel Men's Extreme Distressed Slim Fit Jeans, $126 ASOS Distressed Boyfriend Tee, $26 David Lerner Ripped Legging, $100
4. LUMBERJACK
Not only is this look a fun one to wear, but it's nice and cozy on a cool fall night. (Not to mention, it's a good excuse to pull out those overalls that may have been gathering dust in your closet.) All you need for this costume is a warm checked flannel, some sturdy jeans or overalls, worker boots, and a beanie. If you really want to take it home, create a makeshift (and safe) axe out of household items. Say, for instance, a paper towel roll and a couple pieces of grey cardboard glued together. That's it!
American Rag Overalls, $60 UO Marled Beanie, $15 Cole Bleached Shadow Plaid Flannel, $54 Buffalo Shadow Plaid Flannel, $49 ASOS Fisherman Beanie in Olive, $8.50 Boohoo Worker Boot, $32
5. MIME
This is one of our all-time faves, because we love any excuse to wear stripes. Plus, it's not every day you wear a neckerchief and suspenders—and Halloween is the perfect opportunity to have fun with it. For this look, we threw on a striped tee, black leggings, suspenders, white gloves, and a hat. Top off with a red lip and some white face paint, and you're out the door. Here's how to get started:
ASOS Pork Pie Hat in Black Felt, $30 A&R Sports Knit Gloves, $2.99 H&M Suspenders, $9.99 Lime Crime Velvetine Liquid Lipstick, Red Velvet, $20 Yummie 'Rachel' High Waist Leggings, $37 Topshop Mixed Stripe Long Sleeve Tee, $40 Urban Outfitters Basic Bandana, $6 We had so much fun putting these looks together with pieces from our closets, and we hope one of them suits your last-minute costume demands. With a lot of things, time is of the essence, but this is proof that when it comes to costume planning, even last minute concoctions can make a memorable look. If you use one of these ideas, make sure to tag us so we can take a peek. Have a happy Halloween weekend!
Xx
Team GM
Photos: Gray Malin