Hi Everyone,
It only takes one visit to be entranced by Cinque Terre. If you'd like that getaway year long, I recommend taking advantage of our 25% off sale on all La Dolce Vita images, including those from Cinque Terre.
Cinque Terre is not the name of the town, rather it means "Five Towns" and is a nationally protected historical region in Italy. The most famous of these towns is Monterosso which contains the most dining and lodging options. Monterosso, while one town, actually has two halves that can only be traversed in the portion of the town closest to the coastline, along a walking path. Insider tip: parking is tight! Bring lots of euro coins as the meters tend to only take coins and can cost up to 50 euro per day.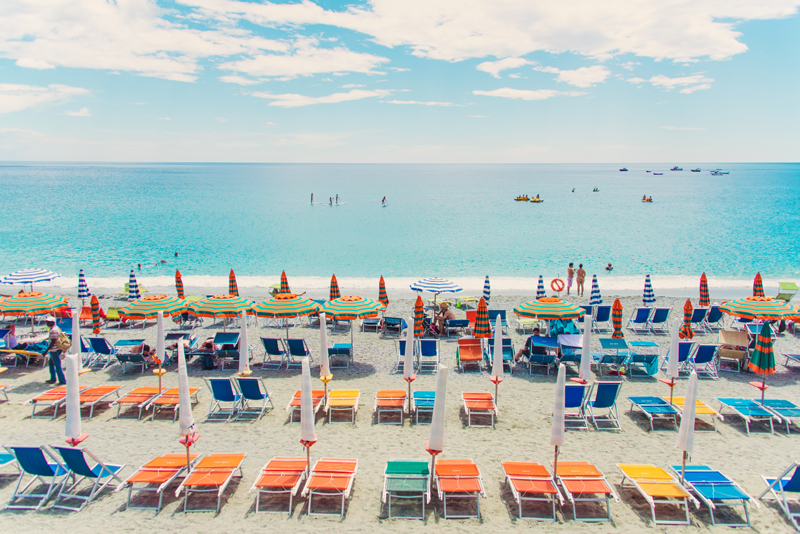 The town was once unified but was divided after a massive landslide in 2011. Not to worry - the town is still quite small, accessible, and charming on both halves.
Along the various chic beach clubs is the iconic Bagni Eden which overlooks the iconic Eden Rock which is featured in many of my most popular Monterosso images. Do not miss a day here at this beach club! It is the perfect mix of tourists and true locals soaking up the summer sun and dipping into the warm aqua water.
Excerpt from 2015 Travel Journal ~
Jeff had never been swimming in the Mediterranean Sea so we took his first honorary lap together which was an exciting moment!
"Monterosso is not the only place to visit, however. There's actually a train that goes between the other four towns that you can easily take: Vernazza, Corniglia, Manarola, and Riomaggiore. Make it a point to visit each, you can do it all in one day by train, and each is truly unique and historical. Driving to these towns would take forever because there are no roads connecting them- you would have to drive way back inland and into each town. Only the train connects each of the towns directly. Most importantly, food! Don't miss dinner in Monterosso at L'Ancora della Tortuga. This restaurant overlooks the most gorgeous view in Monterosso, high up on a cliff out onto the sea, and with a birds-eye view on Eden Rock."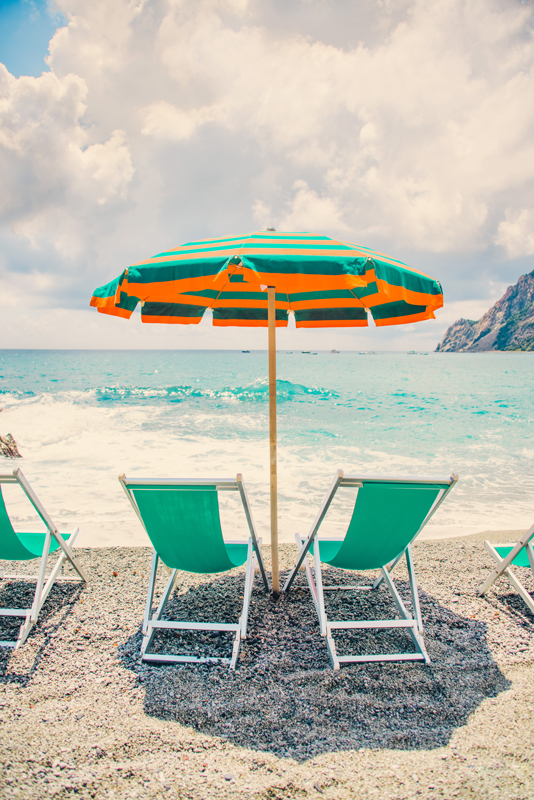 Having fun, yet? We're just getting started..lets pack our bags for the Amalfi Coast.
xx GM
{"slides":[{"label":"Gray's Guide to Northern Michigan","url":"/lifestyle/gray-s-guide-to-northern-michigan","image":"https://res.cloudinary.com/gray-malin/image/upload/c_scale,w_1000,q_50,f_auto/gray-malin/blog_posts/hero_images/000/001/932/original/0.jpg?updated=1624311160"},{"label":"Our Favorite Wintery Destinations","url":"/lifestyle/our-favorite-wintery-destinations","image":"https://res.cloudinary.com/gray-malin/image/upload/c_scale,w_1000,q_50,f_auto/gray-malin/blog_posts/hero_images/000/001/814/original/0-the-field_copy.jpg?updated=1608319096"},{"label":"Our 10 Destinations We Can't Wait to Get Back to","url":"/lifestyle/our-10-destinations-we-can-t-wait-to-get-back-to","image":"https://res.cloudinary.com/gray-malin/image/upload/c_scale,w_1000,q_50,f_auto/gray-malin/blog_posts/hero_images/000/001/802/original/0-Lake_Como_by_Boat.jpg?updated=1606505257"},{"label":"Gray's Guide to Maine","url":"/lifestyle/gray-s-guide-to-maine","image":"https://res.cloudinary.com/gray-malin/image/upload/c_scale,w_1000,q_50,f_auto/gray-malin/blog_posts/hero_images/000/001/692/original/0-Old_Orchard_Beach_Pier__Maine.jpg?updated=1596571592"},{"label":"Gray's Favorite Beaches in the USA","url":"/lifestyle/gray-s-favorite-beaches-in-the-usa","image":"https://res.cloudinary.com/gray-malin/image/upload/c_scale,w_1000,q_50,f_auto/gray-malin/blog_posts/hero_images/000/001/680/original/9-surfside-beach-nantucket.jpg?updated=1593559394"},{"label":"Gray's Favorite Beaches Around the World","url":"/lifestyle/gray-s-favorite-beaches-around-the-world","image":"https://res.cloudinary.com/gray-malin/image/upload/c_scale,w_1000,q_50,f_auto/gray-malin/blog_posts/hero_images/000/001/645/original/16-Second_Beach_Sunbathers__Newport.jpg?updated=1593041015"},{"label":"Gray's Guide to New Zealand","url":"/lifestyle/gray-s-guide-to-new-zealand","image":"https://res.cloudinary.com/gray-malin/image/upload/c_scale,w_1000,q_50,f_auto/gray-malin/blog_posts/hero_images/000/001/633/original/0-IMG_0991_copy_2.jpg?updated=1591833993"},{"label":"Gray's Guide to Capri","url":"/lifestyle/city-guide-capri","image":"https://res.cloudinary.com/gray-malin/image/upload/c_scale,w_1000,q_50,f_auto/gray-malin/blog_posts/hero_images/000/000/109/original/two-umbrellas-laa-fontalina-capri.jpg?updated=1493143453"}],"label":"Have You Seen?"}
{"id":null,"number":null,"item_total":"0.0","total":"0.0","ship_total":"0.0","state":"cart","adjustment_total":"0.0","user_id":null,"created_at":null,"updated_at":null,"completed_at":null,"payment_total":"0.0","shipment_state":null,"payment_state":null,"email":null,"special_instructions":null,"channel":"spree","included_tax_total":"0.0","additional_tax_total":"0.0","display_included_tax_total":"$0.00","display_additional_tax_total":"$0.00","tax_total":"0.0","currency":"USD","considered_risky":false,"canceler_id":null,"display_item_total":"$0.00","total_quantity":0,"display_total":"$0.00","display_ship_total":"$0.00","display_tax_total":"$0.00","display_adjustment_total":"$0.00","token":null,"checkout_steps":["address","delivery","complete"],"bill_address":null,"ship_address":null,"line_items":[],"payments":[],"shipments":[],"adjustments":[],"credit_cards":[],"promotions":[],"total_shipment_cost":"$0.00","permissions":{"can_update":false},"use_shipping_for_billing":true,"use_new_ship_address":true,"use_new_bill_address":false,"selected_ship_address":null,"selected_bill_address":null,"display_completed_at":null,"item_count":0,"subtotal_minus_promos":"$0.00","coupon_codes":[],"includes_framed_items":false,"contains_subscription":false}
This site uses cookies to allow better navigation. By closing this banner, scrolling this page or clicking any of its elements, you are giving consent to all cookies. To learn more and to change your preferences please see our Cookies Policy.