Hi Everyone,
Happy Memorial Day! I hope everyone is enjoying their long weekend. For the last few years, I've come to the Hamptons for Memorial Day to spend the weekend with close friends at their amazing vacation home. To kick off this extra day, I thought I'd share my 5 favorite things to do when you're in the Hamptons.
First - make friends with people who have a vacation house...haha..just kidding. ;) But seriously, you definitely want to stay somewhere with a great pool and preferably a close ride to the beach, so you can mix up your leisure time in the sun
# 1 THE POOL!
Head to a friend's a pool with a bottle
of

rosé and have a day in the summer sunshine
Psst..super excited to give you a sneak peek for our latest collaboration - Gray Malin x Funboy, which is this very chic swan I'm lounging on with my Bondi Beach print. Kind of incredible, right? More of that in the next week or so, but for now back to the pool....
# PICNIC - No elaboration needed.
This weekend in particular, I'm prepping for next Saturday's Veuve Clicquot Polo Classic, where I'll be enjoying the Rosé Garden, to say the least. Excited to check out the east coast version, as I really enjoyed myself last year in Los Angeles.
# 3 Once you're ready to venture out, RENT BIKES
Get one with a basket at Rotations bike shop! Take a bike ride along Gin Lane for views - of the ocean and the amazing homes. But you can't ride it on Main Street - insider TIP! You can however enjoy some delicious fro yo with sprinkles and walk along Main Street in Southampton.
# 4 - DINE OUT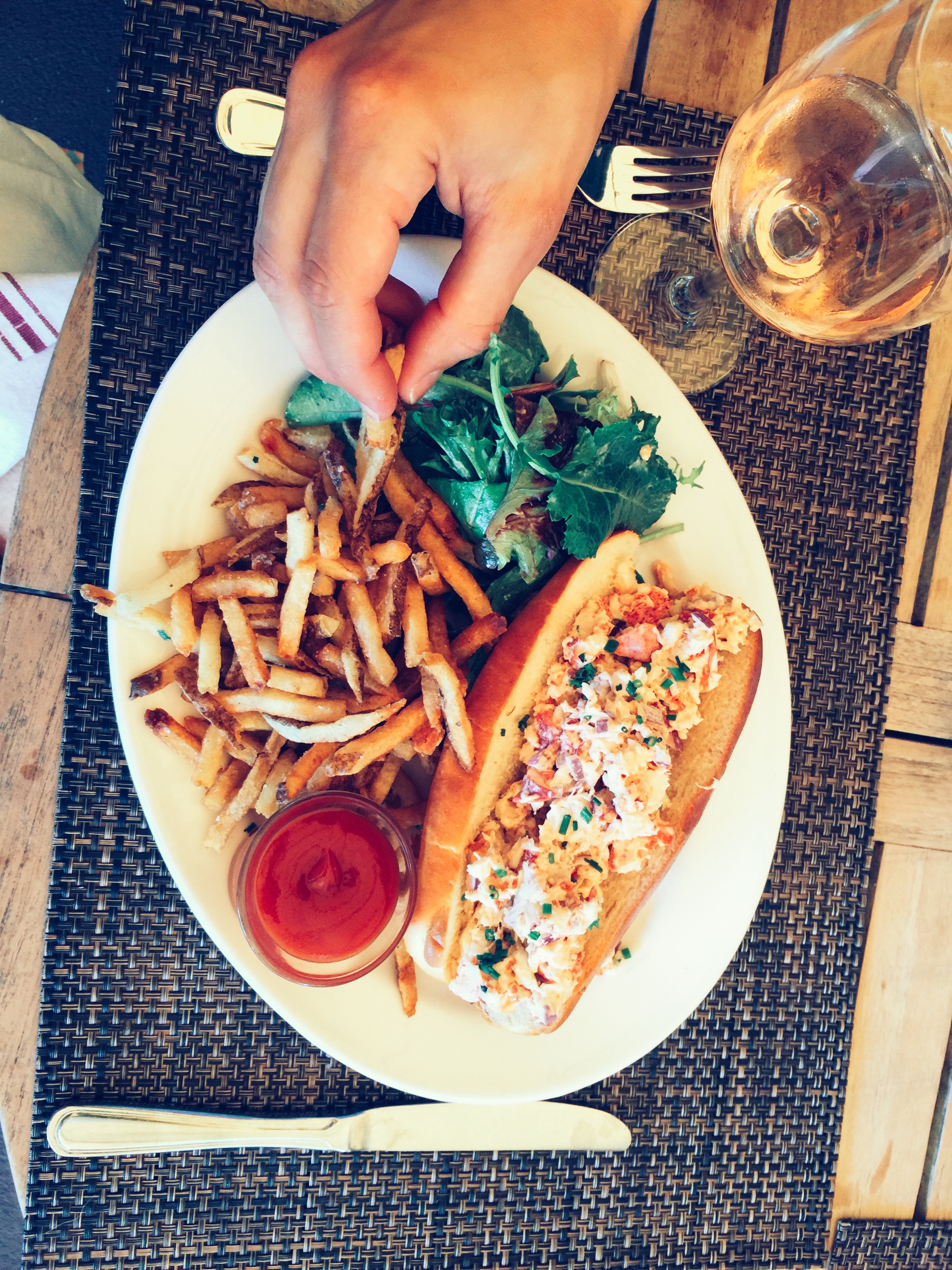 #5 GET ON A BOAT!
One of the biggest treats is to go out on a day boat with a captain at hand to take you out for a casual afternoon cruise featuring...you guessed it,rosé
And that's it for your Hamptons Guide! I could go one because I truly do love coming here and there's just lots of cute little things to get into but for now, I think this is a great start for you to enjoy. As for me..it's back to the pool.
Cheers
xx Gray
{"slides":[{"label":"Gray's Guide to Northern Michigan","url":"/lifestyle/gray-s-guide-to-northern-michigan","image":"https://res.cloudinary.com/gray-malin/image/upload/c_scale,w_1000,q_50,f_auto/gray-malin/blog_posts/hero_images/000/001/932/original/0.jpg?updated=1624311160"},{"label":"Our Favorite Wintery Destinations","url":"/lifestyle/our-favorite-wintery-destinations","image":"https://res.cloudinary.com/gray-malin/image/upload/c_scale,w_1000,q_50,f_auto/gray-malin/blog_posts/hero_images/000/001/814/original/0-the-field_copy.jpg?updated=1608319096"},{"label":"Our 10 Destinations We Can't Wait to Get Back to","url":"/lifestyle/our-10-destinations-we-can-t-wait-to-get-back-to","image":"https://res.cloudinary.com/gray-malin/image/upload/c_scale,w_1000,q_50,f_auto/gray-malin/blog_posts/hero_images/000/001/802/original/0-Lake_Como_by_Boat.jpg?updated=1606505257"},{"label":"Gray's Guide to Maine","url":"/lifestyle/gray-s-guide-to-maine","image":"https://res.cloudinary.com/gray-malin/image/upload/c_scale,w_1000,q_50,f_auto/gray-malin/blog_posts/hero_images/000/001/692/original/0-Old_Orchard_Beach_Pier__Maine.jpg?updated=1596571592"},{"label":"Gray's Favorite Beaches in the USA","url":"/lifestyle/gray-s-favorite-beaches-in-the-usa","image":"https://res.cloudinary.com/gray-malin/image/upload/c_scale,w_1000,q_50,f_auto/gray-malin/blog_posts/hero_images/000/001/680/original/9-surfside-beach-nantucket.jpg?updated=1593559394"},{"label":"Gray's Favorite Beaches Around the World","url":"/lifestyle/gray-s-favorite-beaches-around-the-world","image":"https://res.cloudinary.com/gray-malin/image/upload/c_scale,w_1000,q_50,f_auto/gray-malin/blog_posts/hero_images/000/001/645/original/16-Second_Beach_Sunbathers__Newport.jpg?updated=1593041015"},{"label":"Gray's Guide to New Zealand","url":"/lifestyle/gray-s-guide-to-new-zealand","image":"https://res.cloudinary.com/gray-malin/image/upload/c_scale,w_1000,q_50,f_auto/gray-malin/blog_posts/hero_images/000/001/633/original/0-IMG_0991_copy_2.jpg?updated=1591833993"},{"label":"Gray's Guide to Capri","url":"/lifestyle/city-guide-capri","image":"https://res.cloudinary.com/gray-malin/image/upload/c_scale,w_1000,q_50,f_auto/gray-malin/blog_posts/hero_images/000/000/109/original/two-umbrellas-laa-fontalina-capri.jpg?updated=1493143453"}],"label":"Have You Seen?"}
{"id":null,"number":null,"item_total":"0.0","total":"0.0","ship_total":"0.0","state":"cart","adjustment_total":"0.0","user_id":null,"created_at":null,"updated_at":null,"completed_at":null,"payment_total":"0.0","shipment_state":null,"payment_state":null,"email":null,"special_instructions":null,"channel":"spree","included_tax_total":"0.0","additional_tax_total":"0.0","display_included_tax_total":"$0.00","display_additional_tax_total":"$0.00","tax_total":"0.0","currency":"USD","considered_risky":false,"canceler_id":null,"display_item_total":"$0.00","total_quantity":0,"display_total":"$0.00","display_ship_total":"$0.00","display_tax_total":"$0.00","display_adjustment_total":"$0.00","token":null,"checkout_steps":["address","delivery","complete"],"bill_address":null,"ship_address":null,"line_items":[],"payments":[],"shipments":[],"adjustments":[],"credit_cards":[],"promotions":[],"total_shipment_cost":"$0.00","permissions":{"can_update":false},"use_shipping_for_billing":true,"use_new_ship_address":true,"use_new_bill_address":false,"selected_ship_address":null,"selected_bill_address":null,"display_completed_at":null,"item_count":0,"subtotal_minus_promos":"$0.00","coupon_codes":[],"includes_framed_items":false,"contains_subscription":false}
This site uses cookies to allow better navigation. By closing this banner, scrolling this page or clicking any of its elements, you are giving consent to all cookies. To learn more and to change your preferences please see our Cookies Policy.