Hi Everyone,
One of my favorite cities in Europe is Barcelona, there is so much creative energy and culture, it's one of the best cities to just get lost in! If you prefer a little bit more of an agenda though, I'm here to help.
WHERE TO STAY
Le Meridien Barcelona in the "Old City"
I definitely recommend staying in the city over the beach. I know..I know, this is probably a bit shocking coming from me, but trust me, there is just so much to do, you'll want to have easy access to all the fun, not to mention the beach is a sight seer's dream bike ride away...but more on that in a bit. Once you're settled in, stroll Plaça de Catalunya to get your bearings then either retire back to Le Meridien's rooftop bar or mix it up by crossing the street to Hotel 1898. My husband and I stayed here in 2014, so I have great memories of the roof-top bar, restaurant lounge and pool with sweeping views over the entire city. This is also another great option of where to stay! The decor and architecture very interesting and worth noting.
ACTIVITY
It is SO much fun to weave through the narrow medieval streets of old town on a bicycle. Your guide will share fun facts on everything from Catalan culture to the myths of the city- including some hot gossip that's been whispered for centuries. Make your way to the Barcelona's Arc de Triomphe, which was originally supposed to be the Eiffel Tower but the people of Barcelona disliked its design, so it never came to fruition #crazy. As you cruise down the long open boulevards, you'll enter the famous, Park Ciutadella which is the 'Central Park' of Barcelona. Beautifully kept shrubs and trees line the expansive area along with a stunning fountain from the 1888's World Fair.
Then onto another must see - Sagrada Familia, the famous Gaudi church has been under construction for almost 100 years. It is absolutely breathtaking and like nothing I've ever seen before. Guaranteed, you'll love it so much you'll want to make some extra time in your trip just to go back for more.
Finally arriving at the beach, cycle out to the end of the pier by the marina. The Port Olympico beaches are sparkling in the sun and filled with people as you ride along the esplanade-- a perfect setting for the afternoon.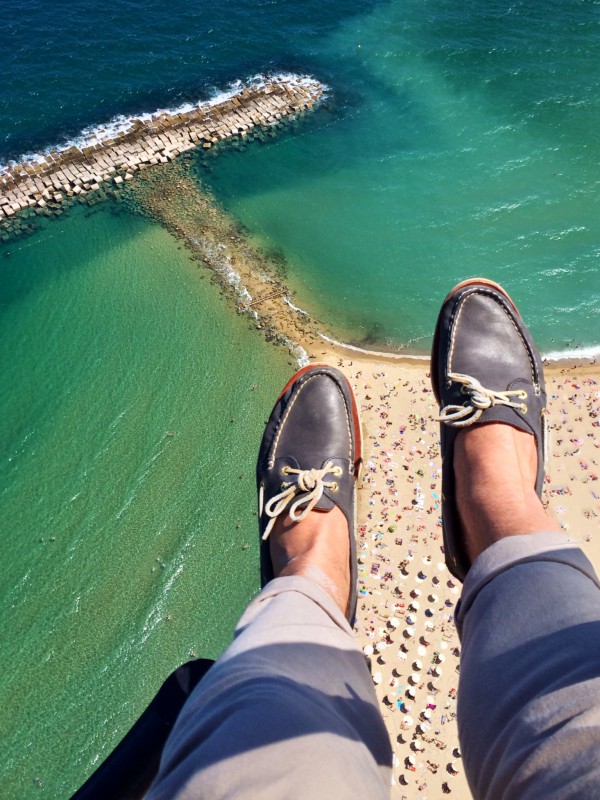 (Left: Barcelona Beach Umbrellas. Right: Barceloneta Beach, Barcelona)
WHERE TO EAT & SHOP
Okay, so I know this picture indicates a bit more of a - WHERE TO SHOP - vibe than where to eat but that's the best part! When I discovered this treasure, I knew I had found my actual personal heaven on earth! I was first drawn to the fabulous La-Dolce-Vita-esque tassled umbrellas on the street (it was like a moth to a flame) and upon crossing the street to examine them closer, I realized we were outside a concept restaurant attached to an interior design store owned (and named after) a famous designer named Jaime Beriestain. If you're anything like me, you will be completely taken by the bouquets of fresh flowers, bottles of Veuve Cliquot placed along the high walls, and the giant Parisian styled bar. As mentioned, the interior designer's home furnishing store is attached, so everything is for sale and there are cute vignettes of various lounge areas set up , so you're quite literally able to dine and experience the world of Jaime all in one go - SO genius. Sit near the front of the restaurant - it's definitely the kind of spot to people watch THE elite society of Barcelona. Regardless of what meal you chose to have, I definitely encourage anyone going to Barcelona to head here for the encompassing experience, then afterwards shop the interior designer's home furnishing store for amazing gifts for friends and family back home...or just for yourself.
DO NOT MISS
Before my first visit to Barcelona, this was the MOST recommended place to visit by all of my friends and social media buddies. Hop in a cab from your hotel, then upon arrival grab a quick coffee con leche and enter the magic that is this park. Within ten minutes you'll be exclaiming, "This is fake!" It is mind boggling that a society in the early 19th Century permitted an artist to create this enchanting world. If only other places in the world had supported the vision of such artists like Gaudi, we would all have incredible places like this to visit.
GET OUT OF THE CITY
BEACH TIME! Costa Dorado is small beach town about 30 minutes out of Barcelona along the Mediterranean Sea. Fun fact - approximately 10 years ago a local family found and restored a beautiful property right on the beach; today is the beautiful Le Meridien Ra resort, which is where I shot my series Poolside, Mediterranean.
After checking into your room, enjoy a few sips of çava while strolling the beautiful property, and if you're feeling extra indulgent, I highly suggest treating yourself to some relaxation at their incredible spa.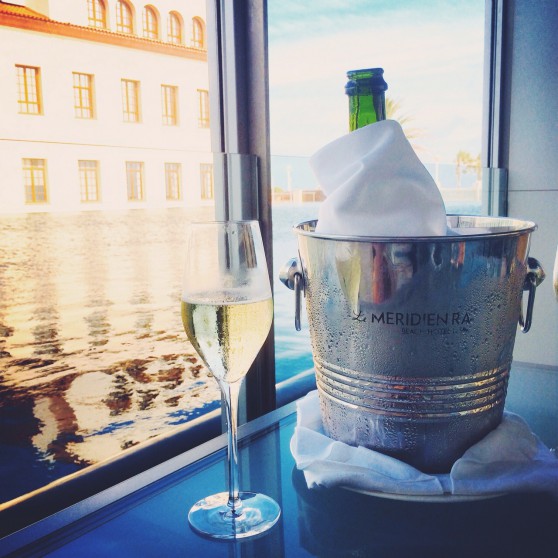 Finish your night off with dinner at the restaurant on the property named, D. O. which uses only local vegetables, meat and various other ingredients to prepare remarkable dishes.
And there you have it! Hope this helps plan or has inspired a future trip to Barcelona, to see more from this wonderful city.
xx Gray