Hi everyone,
Have you seen my series Seaside Circus, yet? Inspired by endless summer days, this series captures the joy of the beach featuring acrobats in vintage wardrobe. It's been so exciting to see finally see this series come to life since shot it just about one year ago. I felt like releasing this series was the best way to celebrate the beginning of summer and to will some sunshine into all of our lives right now.
Last June, my team and I traveled to a small beach town right outside of Barcelona for our annual team retreat. Although I (typically) get to travel all year long with a small portion of my team, it's always such a treat when we all get to go on an adventure together. For this trip, we had a small photoshoot planned and it was so much fun working on it altogether. We worked with a team of acrobats and a vintage stylist from Barcelona to pull the whole thing together.
Something that was particularly fun about the this project in comparison to others is that we didn't have too much of a plan. When we started out, we showed the acrobats some inspiration images we had brought along, but that was about it in terms of planning. From there I let them run with it. A lot of these shots were composed of the team just trying out a pose and then other acrobats joining in. It was so fun to see them get creative and push themselves to see what they could do. I was in awe!
I would say that one of the most special parts of this series for me was working on it with the entire team. Most of them didn't really know what to expect when we started, but it was so much fun to see everyone get creative and share ideas as we went along. We created so many unforgettable memories while on our trip and whenever I look back at this series, I will always remember all the fun we had together as a team.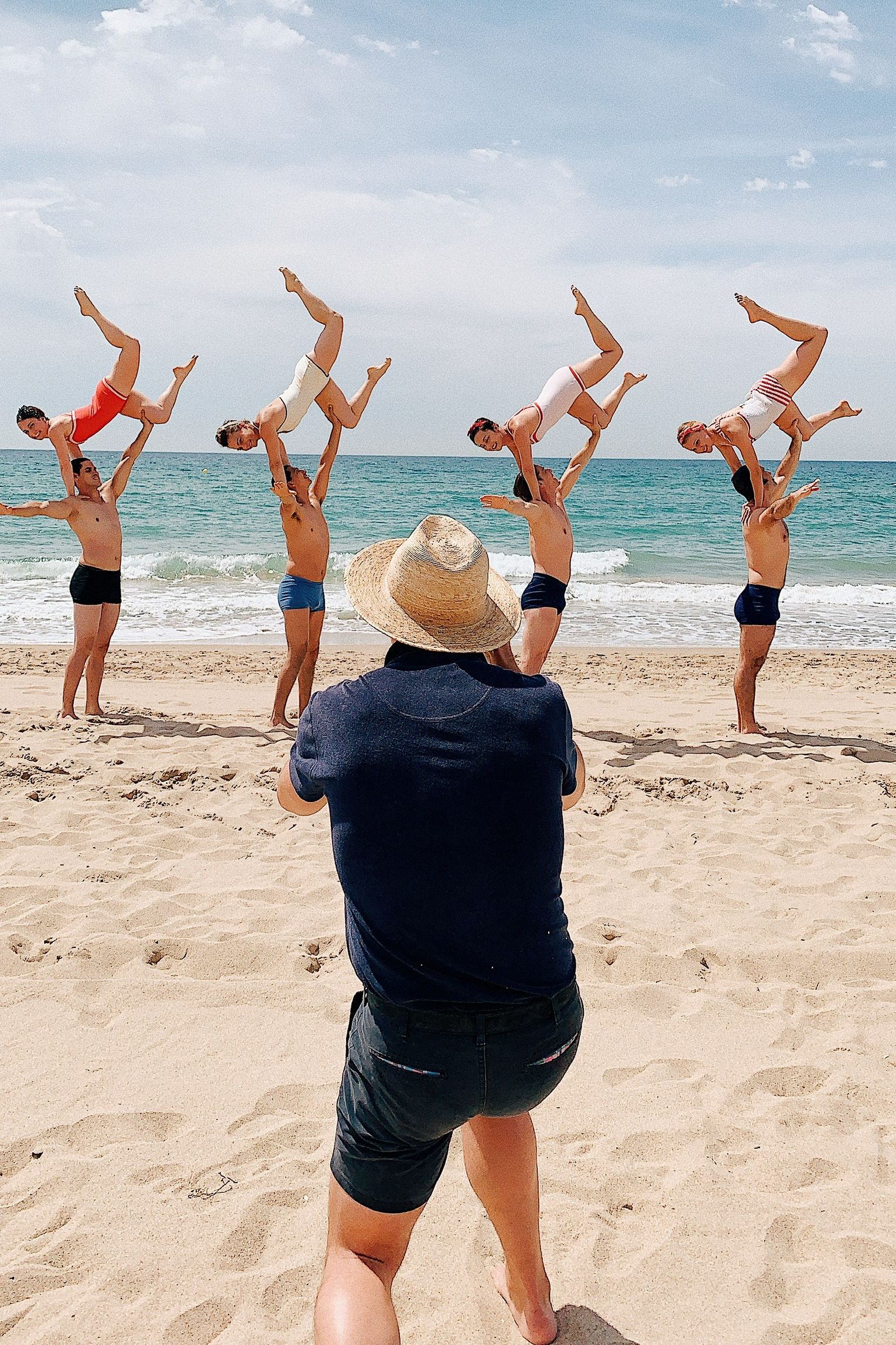 It's always so fun to share these behind the scenes peeks with you whenever I launch a new series. It's the closest thing to bringing you all on set with me. It also gives me an opportunity to look back and reflect on my creative journey. I hope you all love the series as much as I do.
Do you have a favorite shot? You can see them all here.
Cheers!
Xx
Gray
{"slides":[{"label":"New Beach Totes","url":"/lifestyle/new-beach-totes","image":"https://res.cloudinary.com/gray-malin/image/upload/c_scale,w_1000,q_50,f_auto/gray-malin/blog_posts/hero_images/000/001/926/original/0_-_Tote_Bag.jpg?updated=1620882995"},{"label":"10 Parker Prints You Need Now","url":"/lifestyle/10-parker-prints-you-need-now","image":"https://res.cloudinary.com/gray-malin/image/upload/c_scale,w_1000,q_50,f_auto/gray-malin/blog_posts/hero_images/000/001/923/original/0-Free_Framing2268-parker.jpg?updated=1619483591"},{"label":"Ride in Style with Gray Malin x Alto","url":"/lifestyle/ride-in-style-with-gray-malin-x-alto","image":"/images/missing.jpg"},{"label":"Gray Malin Virtual Book Tour","url":"/lifestyle/read-all-about-it-gray-malin-virtual-book-tour","image":"https://res.cloudinary.com/gray-malin/image/upload/c_scale,w_1000,q_50,f_auto/gray-malin/blog_posts/hero_images/000/001/924/original/Blog_Banner-new_crop.jpg?updated=1619743001"},{"label":"Introducing Gray Malin x Supergoop! ","url":"/lifestyle/introducing-gray-malin-x-supergoop","image":"https://res.cloudinary.com/gray-malin/image/upload/c_scale,w_1000,q_50,f_auto/gray-malin/blog_posts/hero_images/000/001/921/original/0-SUPERGOOP_GRAYMALIN_03_SGKIT_PRINTBACKDROP_FINAL_JENNA_GANG_v4.jpg?updated=1619476149"},{"label":"Introducing the Gray Malin App + How to Use It","url":"/lifestyle/introducing-the-gray-malin-app-how-to-use-it","image":"https://res.cloudinary.com/gray-malin/image/upload/c_scale,w_1000,q_50,f_auto/gray-malin/blog_posts/hero_images/000/001/888/original/0-0App_Launch-11-web_asset.jpg?updated=1618947736"},{"label":"Introducing New Games For Summer","url":"/lifestyle/introducing-new-games-for-summer","image":"https://res.cloudinary.com/gray-malin/image/upload/c_scale,w_1000,q_50,f_auto/gray-malin/blog_posts/hero_images/000/001/887/original/Games_Lifestyle-27.jpg?updated=1618533802"},{"label":"Discover Gray Malin Collector's Edition","url":"/lifestyle/discover-gray-malin-collector-s-edition","image":"https://res.cloudinary.com/gray-malin/image/upload/c_scale,w_1000,q_50,f_auto/gray-malin/blog_posts/hero_images/000/001/886/original/0-Collectors_Edition-23.jpg?updated=1617673131"}],"label":"Have You Seen?"}
{"id":null,"number":null,"item_total":"0.0","total":"0.0","ship_total":"0.0","state":"cart","adjustment_total":"0.0","user_id":null,"created_at":null,"updated_at":null,"completed_at":null,"payment_total":"0.0","shipment_state":null,"payment_state":null,"email":null,"special_instructions":null,"channel":"spree","included_tax_total":"0.0","additional_tax_total":"0.0","display_included_tax_total":"$0.00","display_additional_tax_total":"$0.00","tax_total":"0.0","currency":"USD","considered_risky":false,"canceler_id":null,"display_item_total":"$0.00","total_quantity":0,"display_total":"$0.00","display_ship_total":"$0.00","display_tax_total":"$0.00","display_adjustment_total":"$0.00","token":null,"checkout_steps":["address","delivery","complete"],"bill_address":null,"ship_address":null,"line_items":[],"payments":[],"shipments":[],"adjustments":[],"credit_cards":[],"promotions":[],"total_shipment_cost":"$0.00","permissions":{"can_update":false},"use_shipping_for_billing":true,"use_new_ship_address":true,"use_new_bill_address":false,"selected_ship_address":null,"selected_bill_address":null,"display_completed_at":null,"item_count":0,"subtotal_minus_promos":"$0.00","coupon_codes":[],"includes_framed_items":false,"contains_subscription":false}
This site uses cookies to allow better navigation. By closing this banner, scrolling this page or clicking any of its elements, you are giving consent to all cookies. To learn more and to change your preferences please see our Cookies Policy.