Hi Everyone,
To celebrate the kick off of our 25% OFF ALL AUSTRALIA BEACH AERIALS sale today, I am listing off what I consider to be The Best Beaches in Australia. Since first visiting Australia in 2011, I have been back numerous times for both work and pleasure, and I still feel like I've barely scratched the service. Surrounded by the Pacific and Indian oceans, this country and continent are well known for its plentiful beaches. And, although I have yet to visit them all, I have had the good fortune to visit multiple sandy stops along the country's vast coastline. Therefore, this will be a list that will inevitably ebb and flow as my exploration of Australia continues. For today, though and in no particular order, let's begin with...
MOST FAMOUS: Bondi Beach
I'm pretty sure any list about Australia's best beaches would have to include Sydney's Bondi Beach. It's most definitely Australia's most well known beach, which is evident by the constant influx of visitors on the daily. Don't let the crowds discourage you, though as Bondi Beach is well worth the visit. Want a quintessential day at Bondi Beach? Get out in the water for a swim or surf lesson, then head to Icebergs Pool for a dip, a sip and a view of the busy beach below.
MOST BEAUTIFUL: Whitehaven Beach
Located right in the middle of the Whitsunday Islands, Whitehaven Beach ranks high on countless lists regarding the best beaches of Australia as well as the world, as a whole. I give it the superlative of "Most Beautiful," because I was literally awe-struck when I first laid eyes on its pillow-like white sand. The largest of the 74 islands that comprise the Whitsundays, Whitehaven Beach offers secluded walks atop pristine sands and crystal clear waters to wade into or cruise along for a day trip.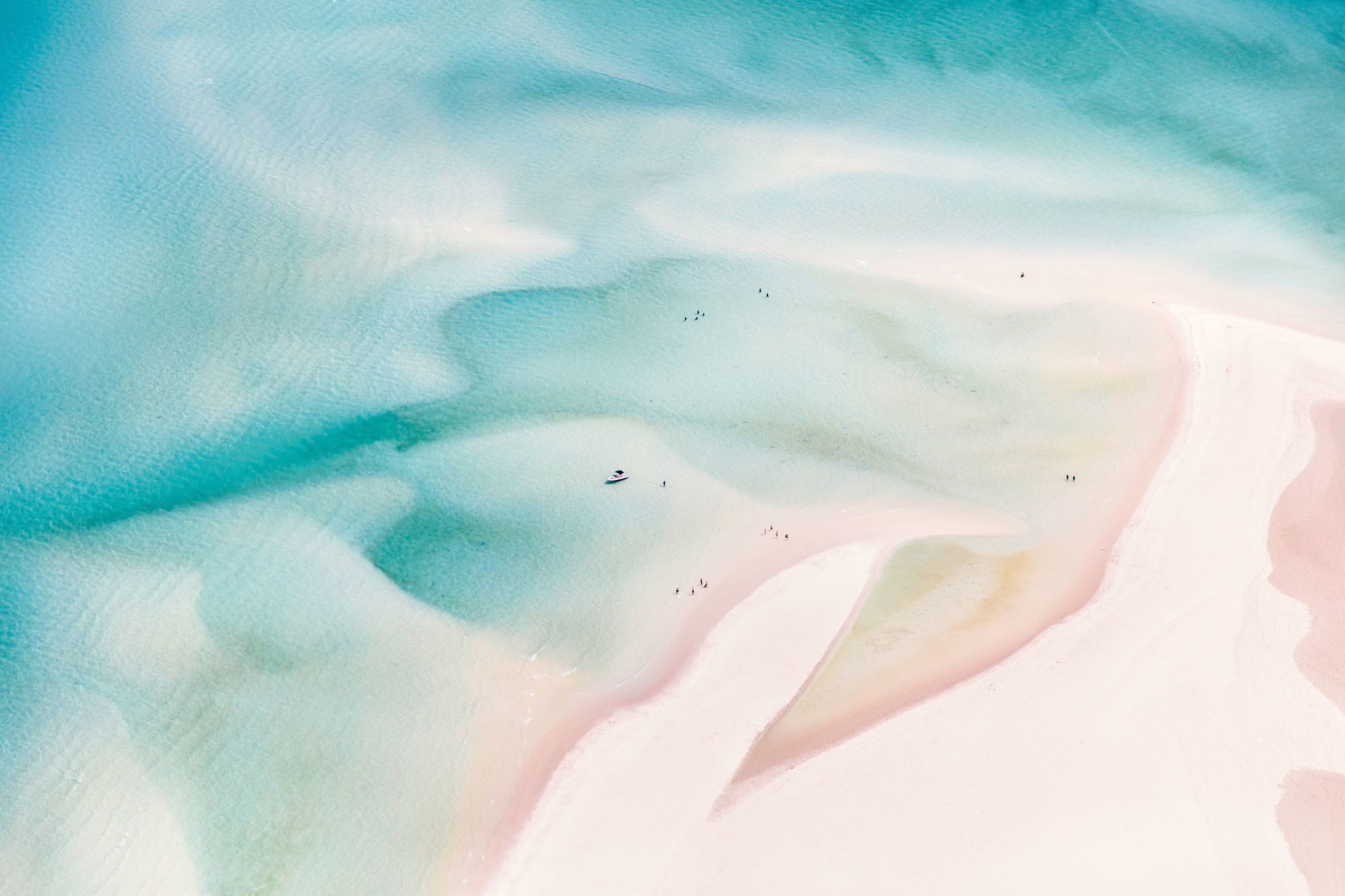 BEST SURFING: The Pass, Byron Bay
I loved this little Australian beach town so much that I wrote an entire Byron Bay Travel Guide to my document my experience. It really is as magical as you've heard, so if you're traveling to Australia, I highly encourage a visit to Byron Bay. For those who do surf, one of the best places to paddle out is The Pass, Byron Bay. It's my understanding that the positioning of the bay creates "long, tubing right-handers that are considered world class" and puts the Pass into the Top 15 best surf beaches in Australia.
BEST BEACH DAY - Wategos Beach
North of Cape Bay, Wategos Beach is ideal for a day filled with beach day activities like: picnics, swimming, paddle boarding and surfing. With sheltered clear water, rocks sprinkling the sand, gentle waves that are perfect for long-boarders yet safe for all ages, this is as accessible as it is beautiful.
In need of a hotel? I recommend Watermark at Wategos. You're guaranteed to have an extremely hospitable bartendar to mix up some cocktails, then (at your leisure) walk out to enjoy the stunning sunset at Wategos Beach.
AUSTALIAN'S FAVORITE: Manly Beach
As noted earlier, Bondi Beach is Austalia's most famous beach but if you ask a local in Sydney what their favorite is, the liklihood is high that they'll respond with - Manly Beach. A short 30 minute fairy ride from Sydney, Manly Beach offers up soft sands, ocean waters perfect for both swimming and surfing. Upon arrival, things like schedules and responsilities melt away and a relaxed day at this popular Australian beach will ensue.
MOST FAMILY FRIENDLY - Bronte Beach
With underwater rocks, Bronte Beach is known as a challenging water to swim and surfing that's best left to the experience rider. However, these same rocks create the Bronte Beach Pool, a natural saltwater pool tucked within providing a safe place for parents with young kids to enjoy a splash or two.
MOST RELAXED: Coogee Beach
Now, I know that the secluded beaches of Whitehaven are technically the most relaxed, however I'd argue that a beach doesn't have to be empty to be relaxed. With the famous Bondi to Coogee scenic walk concluding in this suburban beach town, Coogee gives off a much more laidback vibe in comparison its popular big sister, Bondi. The beaches are vast, the waters tranquil and the non-beach scene vibrant with lots of epic views available to take in while enjoying a sip or two.
What do you think? Did your favorite Australian beach make my list? I know there are plenty still to mention, therefore I intend to keep up with this list and make changes accordingly. In the meantime, though I hope you enjoyed this list and motivated to have your favorite Australian beach adorn your walls. If so, now is the time, enjoy 25 % OFF all Aerial Photography of Australia's best beaches today through Thursday!
Cheers,
xx
GM
Header: Bondi Beach Diagonal