The Art of Having Fun
Sips & Snacks: The Best Australian Recipes from Celeb Chef Guy Turland
We're no stranger to the beaches of Australia, but when it comes to authentic Australian food and drinks, we knew we needed to enlist a little extra help. In case you're new to the Aussie calendar, Australia Day is happening tomorrow, January 26th, so we called on celebrity chef Guy Turland (who is an Aussie himself) and G'DAY USA to bring you all a few recipes from down under that you won't want to miss. But before we get started, let us introduce you to our VIPs…
For the past 15 years, G'DAY USA (Australia's premier public and economic diplomacy program in the U.S.) has brought together leaders from government, creative industries, business, and more to foster deeper Australia-U.S. ties. They spotlight ideas, talent, and innovation made by Australians in the U.S., and this year honorees include Liam Hemsworth, Deborah Riley, and Helen Reddy.
Australian Chef, Guy Turland.
Our personal chef here on the blog today, Guy Turland, is based in Sydney, Australia, where he owns a wholefood café, Bondi Harvest—don't worry about missing out, he has a location right here in our own Los Angeles, too!—and this year he is partnering with G'DAY USA to cater their VIP kick-off event at Tastemade Studios in Santa Monica. Guy has captured food-lovers throughout SoCal and across the U.S. with his health-conscious recipes, and we are honored to have him share his recipe secrets with us! So now that we have introductions out of the way, let's get cooking, shall we? Keep scrolling for five Aussie recipes straight from Guy himself, and where you can find them if you ever head down under…
BYRON BAY
![](https://res.cloudinary.com/gray-malin/image/upload/c_scale/gray-malin/blog-uploads/3- Two_Waves.jpeg-jyc0mmI)
Cauliflower Steak with Beet Hummus
Ingredients:
1 small cauliflower
2 tablespoons olive oil
1 bunch thyme
1 lemon, sliced
360 g (12. oz/2 cups) cooked chickpeas
150 g (5. oz/1 cup) grated beetroot
2 tablespoons olive oil
2 tablespoons tahini
1 garlic clove
finely grated zest and juice of 1 lemon
1 cup rainbow carrot salad
Directions:
Preheat the oven to 350-degrees Fahrenheit. Line a large baking tray with baking paper.

Cut the cauliflower in half or thirds and then trim the outside sections to create two or three thick steaks.

Heat the oil in a large frying pan over medium heat.

Cook the cauliflower for about 10 minutes each side, until caramelized.

Transfer the cauliflower to the baking tray.

Season with salt and pepper and top with thyme and

lemon slices. Bake for 15–20 minutes, until soft and golden.

To make the beetroot hummus, place the chickpeas, beetroot, olive oil, tahini, garlic, lemon zest and juice into a blender or food processor and blend until combined and smooth. Season with salt and pepper to taste.

Remove the thyme and lemon. Serve cauliflower steaks with beetroot hummus and rainbow carrot salad.
GREAT BARRIER REEF
Summer Seafood Bake
Ingredients:
1 litre (34 fl oz/4 cups) chicken stock
750 ml (26 fl oz/3 cups) white wine
2 bay leaves
pinch saffron threads
6 lemons
4 small kipfler potatoes, scrubbed and halved
1 whole garlic bulb, bashed and broken into cloves
1 small red chilli, finely chopped
4 clams
4 mussels
1 cup seaweed, such as nori, sea lettuce or kombu (optional)
2 onions, diced
2 corn cobs, cleaned and halved crossways
1 bunch thyme, leaves picked
4 scallops, in closed shells
4 prawns (optional), unpeeled
4 oysters (optional), shucked
150 g (5. oz) butter
1/3 cup parsley leaves, chopped
1/3 cup tarragon leaves, chopped
toasted sourdough, to serve
1 cup macadamia aioli
Directions:
Combine the stock, wine, bay leaves, saffron and 3 halved lemons in a large pot. Bring to the boil over high heat.

Add the potatoes, garlic and chili. Cover and cook for 3 minutes. Add the clams, mussels, seaweed (if using), onion, corn and thyme and cook for 8–10 minutes, until the corn is tender.

Add the scallops, prawns, oysters (if using), butter, parsley and tarragon. Season with salt and pepper and cook for 5 minutes. Use a slotted remove all the goodies and serve them in the middle of the table. Serve with remaining lemons cut into slices.
MELBOURNE
Vanilla Coconut & Lemon Rind Waffle with Caribbean Rum & Coconut Caramelized Pineapple
Serves 4- 6
Ingredients:
2 cups flour
4 teaspoons baking powder
1/2 teaspoons sea salt
1/4 cup coconut or brown sugar
2 eggs
1/2 cup coconut oil
2 cups coconut milk
1 vanilla bean
rind of one lemon
340 g (12 oz/2 cups) peeled, cored and diced pineapple
500 ml (17 fl oz/2 cups) spiced rum
1 tablespoon coconut sugar
1 teaspoon finely grated fresh ginger
2 sprigs thyme, leaves picked
2 tablespoons coconut flakes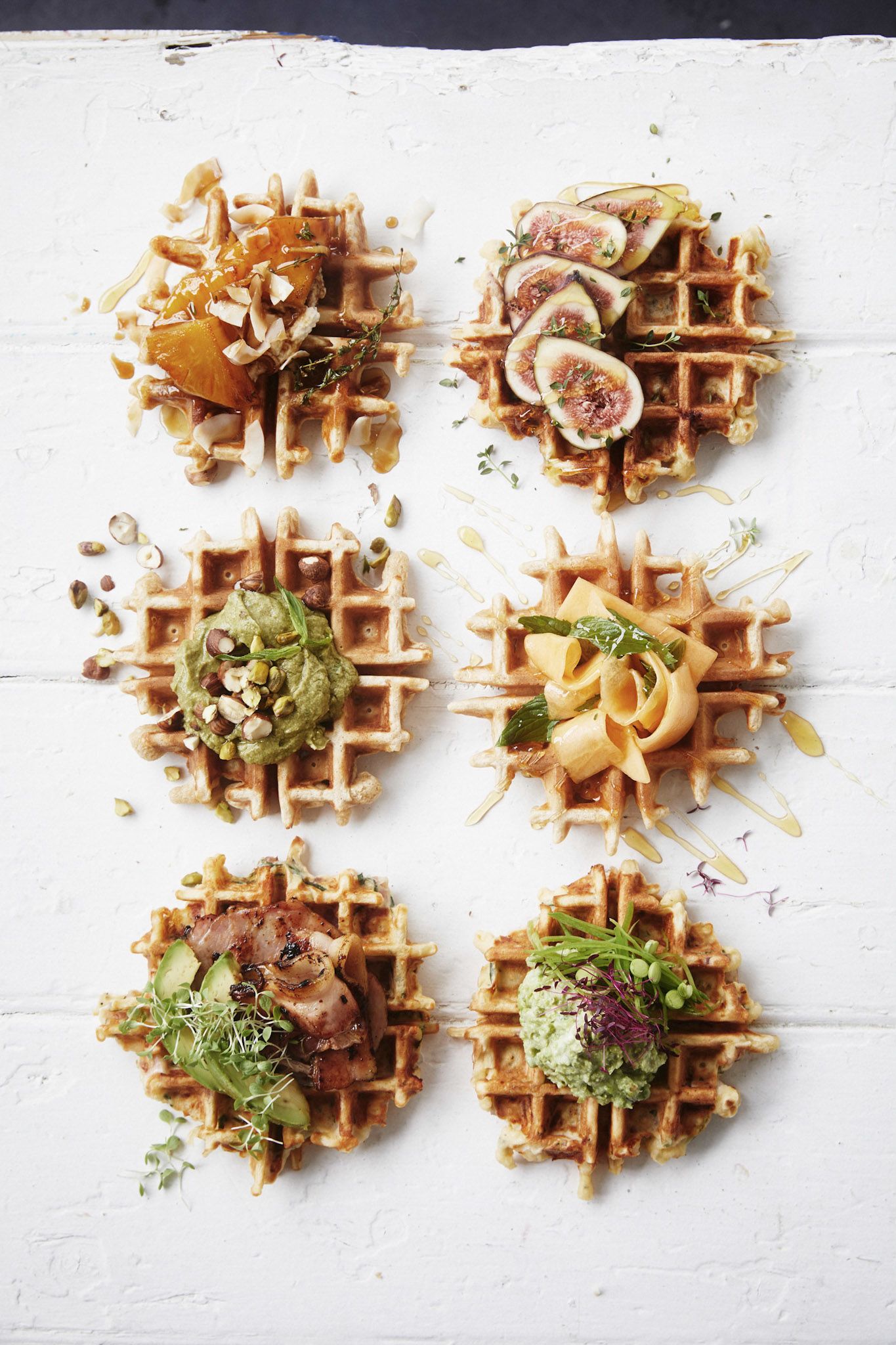 Directions:
Sift flour, baking powder, sugar and salt into a bowl. In another two bowls, separate eggs into whites and yolks.

Add milk, oil, lemon rind and vanilla to the egg yolks and stir together. Add dry ingredients and mix well. Beat egg whites until firm peaks form and fold through batter.

Oil waffle iron and then cook waffles in batches for about 6–10 minutes until golden. Serve with your favourite waffle topping.

Add the pineapple to a hot frying pan and cook over medium-high heat until tender and caramelized. Meanwhile, mix the rum, sugar, ginger and thyme. When the pineapple is ready, add to the rum mixture and leave to marinate for 2 minutes. Spoon over waffles and garnish with toasted coconut.
SYDNEY
Berry Splice, Vanilla & Coconut Chia Seed Pudding
Serves 4–5
Ingredients:
500 ml (17 fl oz/2 cups) coconut milk
60 ml (2 fl oz) maple syrup
teaspoon vanilla extract (or vanilla bean, split, seeds scraped)
80 g (2. oz) chia seeds
2 tablespoons coconut flakes, toasted
Berry Compote:
145 g (5. oz/1 cup) mixed frozen berries (or fresh)
1 tablespoon maple syrup
finely grated zest and juice of 1 lemon
1 teaspoon finely grated fresh ginger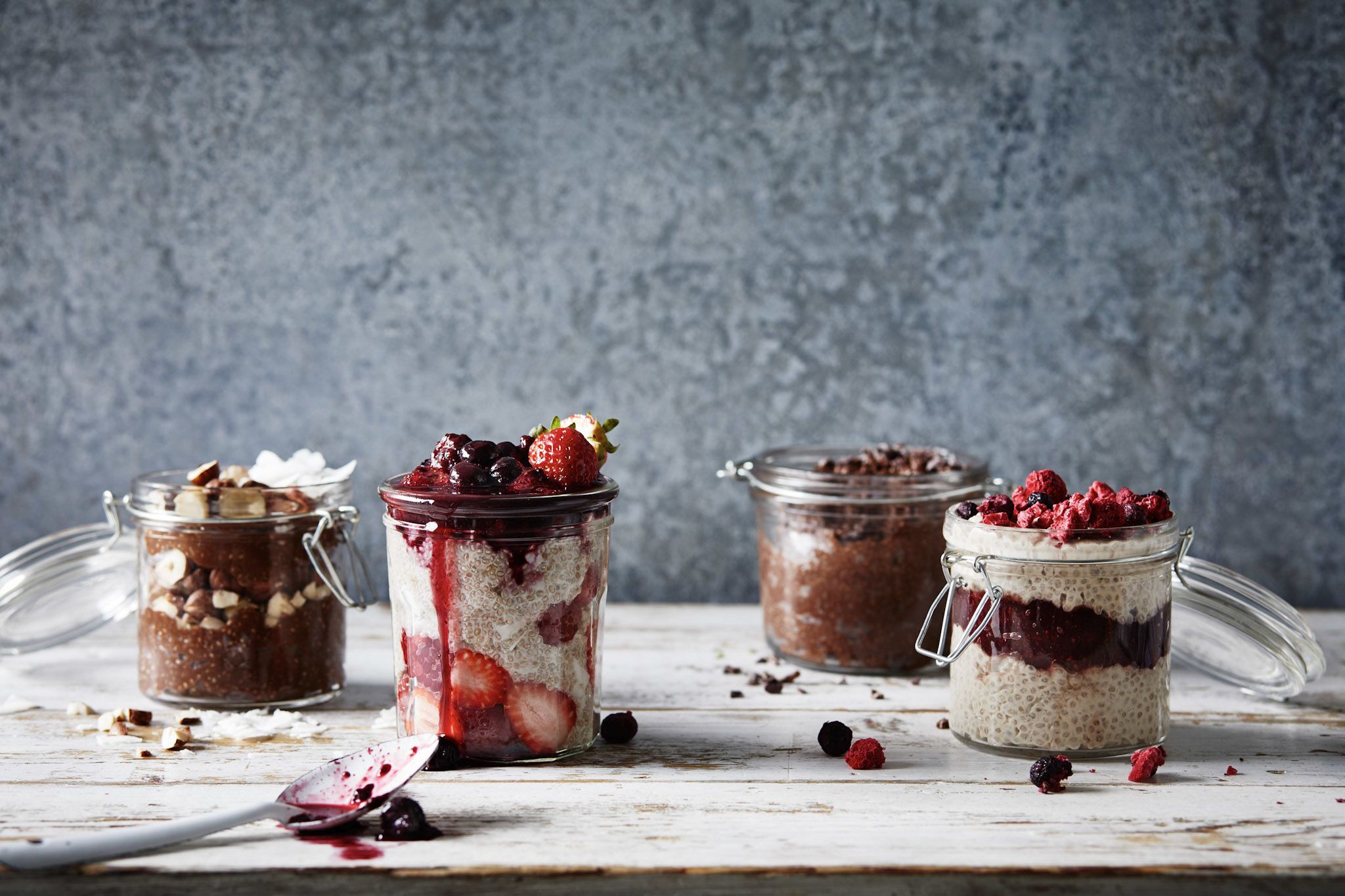 Directions:
To make the berry compote, combine the berries, maple syrup, lemon zest, juice and ginger in a saucepan over low heat. Cook for 10 minutes, or until berries have collapsed to a jammy consistency and the flavours have come together. Transfer to a bowl and leave to cool.

For the pudding, mix the coconut milk, maple syrup and vanilla extract or seeds in a mixing bowl. Add the chia seeds and mix well. Cover and place into the fridge for at least 3 hours (but ideally overnight) to thicken.

Layer berry compote and chia pudding into bowls, or into glass jars ready to take to work, topped with toasted coconut.
WHITSUNDAYS
Lassi Pops
Makes 4
Ingredients:
1 large mango, flesh chopped
1/2 teaspoon ground turmeric
½ teaspoon cayenne pepper
1 tablespoon honey or maple syrup
12 raspberries
260 g (9. oz/1 cup) coconut yoghurt
Directions:
Place the mango, turmeric, cayenne and honey into a high powered blender and blitz until smooth.

Pour half the mixture into four 100 ml (3. fl oz) ice block moulds, dividing evenly. Freeze for 2 hours, inserting the sticks when the mixture is starting to become firm.
Are you celebrating Australia Day? Have you ever tried any of these dishes and drinks?
Aussie or not, we think this is a day worth celebrating—especially with some authentic Australian food and drinks. And once again, a big thank you to Guy for sharing his Aussie recipe secrets with us!
Cheers,
Xx Team GM
Photos: Guy Turland, Gray Malin
Have you seen?
5 Quick & Healthy Soups to Reset Your Clean Eating
Nutritionist Approved Wines
Nutritionist Approved Wines
3 Cocktail Recipes Inspired by Our Favorite Pop Culture Icons